Your Daily Phil: A new 'donate now, pay later' platform + Breaking the 'stained-glass ceiling'
Good Tuesday morning!
In today's Your Daily Phil, we report on a new platform that helps people pace their giving, and feature an op-ed by Rabba Sara Hurwitz about increasing Yeshivat Maharat's enrollment. Also in this newsletter: Ronald Lauder, Lili Kaufmann, Liam Elkind and George R.R. Martin. We're also keeping an eye on today's midterm elections and their impact on philanthropy. We'll start with the scene last night at a gala celebrating Israeli culture.
While the eyes of the world were trained on Israel last week as its citizens went to the polls, a different set of Israeli newsmakers took the stage last night in New York City for a gala dinner hosted by the America-Israel Cultural Foundation, which supports the careers of Israeli artists.
The crowd that gathered at the New-York Historical Society was there to honor the four recipients of the organization's Israeli Culture and Arts awards: A-list actors Shira Haas and Gal Gadot, renowned pianist Yefim Bronfman and Ido Tadmor, a prominent choreographer.
In between performances by a jazz trio, an opera singer and other musicians and dancers, the awardees all stressed the importance of arts funding, which had been depleted when COVID-19 kept audiences away from performance venues. During the pandemic, AICF launched a $2 million relief fund that helped support 1,800 artists. The organization has an annual budget of $3 million.
Haas praised "the amazing talent that we have in this very tiny country… in a world [where] sometimes — the value of art and culture can be left behind." Speaking via video because she has the flu, Gadot said, "??Now more than ever, it's important we stand strong as a community and be proud of who we are and in our heritage."
And while there wasn't overt talk of Israel's shifting political winds, several speakers alluded to the power of culture and arts to acquaint people with Israeli society beyond violence, politics and geopolitical conflict. Iris Reff Ronen, the group's CEO, called the artists and performers "the best ambassadors the State of Israel can wish for."
"You know that it's fragile, and you know that it has its challenges," Asaf Zamir, the consul general of Israel in New York, told the crowd, referring to the U.S.-Israel relationship. "When I was young and grew up here, Israel was just this general positive buzzword… Today, it kind of is taking a different direction… But I've seen firsthand how people suddenly view Israel differently through watching a TV show or a movie, or seeing a concert."
waiting game
A new platform is letting donors give now and pay later
Nora Gorenstein, CEO of the Jewish Federation of Western Massachusetts, said monthly recurring credit card donations can be a vehicle for uncertainty. Now, when prospective donors log onto the federation's donation page, a new button appears — a blue oval with four words in the middle: "Donate now, pay later!" Buttons such as those are showing up on the sites of nearly 40 nonprofits, courtesy of a new platform called B Generous, reports eJewishPhilanthropy's Ben Sales.
From for-profit to nonprofit: The idea behind B Generous, according to founder Dominic Kalms, is to bring the increasingly popular concept of "buy now, pay later" to nonprofits, which Kalms hopes will enable people to give larger donations than they generally do by spacing them out over time. Kalms, 34, said his larger goal is to bring financial technology tools innovated by the for-profit sector to the world of philanthropy. Kalms says the flexibility offered in the U.S.'s $870 billion e-commerce market should also be available to American donors, who collectively gave $484 billion to charity last year.
The details: Here's how it works: A donor who logs onto the Western Massachusetts federation website and clicks on the "Donate now, pay later" link selects an amount to donate — say, $250 — and then chooses to pay it off in three months ($83.34 per month) or six months ($41.67 per month). They are then asked for their email address and cell phone number and then, after their identity is confirmed, the donor inputs their address and birthday to begin a soft credit check. Seconds later, once they're approved, they can donate the amount selected. The federation immediately gets the entire $250. Meanwhile, the donor becomes eligible for a tax deduction for that amount, and faces neither interest payments nor late fees if they default.
The fees: If it feels too good to be true, the catch is that the nonprofits receiving the donations pay fees of anywhere from 8.25% to nearly 15% on donations (the Western Massachusetts federation pays nearly 13% — or approximately $32.37 on a $250 gift), though Kalms said 75% of donors opt to cover part or all of the fees themselves. The fee is divided between B Generous and Drake Bank, based in St. Paul, Minn., which is backing the donations. Because the bank enjoys that profit margin, it assumes risks for any default, though Kalms is doubtful that defaults will be a major issue.
changing the landscape
How Yeshivat Maharat is building a field of women Orthodox rabbis
"In its 14 years, Yeshivat Maharat has produced nearly 60 strong, passionate graduates… This year, we have 33 new students enrolled across our three rabbinic ordination and preparatory programs, in which their education will be modeled on traditional yeshivot but grounded in preparing them to be 21st-century leaders. Enrollment is up, philanthropy dollars are being directed to bolster this field and there is a communal appetite to employ female clergy. What lessons can we learn about the present and future of Orthodox female clergy from the history of Maharat so far?" Rabba Sara Hurwitz, co-founder and president of Yeshivat Maharat in Riverdale, N.Y., writes in an opinion piece for eJewishPhilanthropy.
Gathering the data: "Last year, Maharat retained Rosov Consulting to gather data on our alumnae and discovered that 'Some alumnae are confronted with a multiplicity of barriers and antagonism… that may include… lack of opportunities and upward mobility in certain roles, and, in some cases, discrimination by decision makers. There is certainly a shared sentiment that a glass ceiling for female rabbis exists in the Orthodox world.'"
Breaking the "stained-glass ceiling": "Even as women join the ranks of Orthodox rabbinic leadership, it is clear that a stained-glass ceiling prevents them from progressing to senior positions. This lack of mobility is a very real obstacle to transforming the role of female leaders in the Orthodox community… In addition to limited senior level positions, the pay scale for Orthodox women has not been transparent and, based on research, has been at a much lower rate."
Systemic inequity community-wide: "Up until just a few years ago, we assumed that this problem was unique to the Orthodox community — after all, women's historical exclusion from Orthodox leadership has led to systemic inequity as women were denied roles in community-wide leadership and decision-making. However, organizations like Advancing Women Professionals in the Jewish Community, the SRE Network and the Gender Equity in Hiring Project have shown women across the community are struggling with transparency and equity. The very same questions and research we have been conducting to create more transparent salary bands and ensure that women are paid as professionals rather than volunteers were already on the table for discussion. This needs to be a communal conversation; organizations across the field need to demand greater transparency in general."
Worthy Reads
Lauder's Largesse: The New York Times' Nicholas Fandos and Dana Rubinstein interview philanthropist Ronald Lauder about his philanthropic and political giving. "Though he has spent magnitudes more money over the years on art and philanthropy to Jewish causes, major political giving is not new to Mr. Lauder. He has spent at least $35 million in the last few decades supporting mostly Republicans for state and federal office, including some $200,000 for former President Donald J. Trump. He also spent seven figures on the campaign to preserve the entrance exams for elite public high schools in the city, like the one he graduated from. The most expensive race he invested in until now was his own. In 1989, when Mr. Lauder ran for mayor in the Republican primary against Rudolph W. Giuliani, he spent $14 million, or around $33 million in today's dollars." [NYT]

Recoverable Grants for Change: Financial advisors who serve philanthropic families can use recoverable grants "to help keep the focus on high-impact philanthropy that drives systemic, long-lasting change," Liz Sessler writes for CNBC. "A recoverable grant is just what it sounds like — a giving strategy that allows for charitable capital to be 'recovered,' typically to a charitable vehicle such as a foundation or donor-advised fund, if the non-profit organization achieves its agreed-upon objectives. This return of capital option enables donors to potentially multiply their charitable impact over many years by reusing the same funds for future grantmaking. It is, quite literally, a gift that has the potential to keep on giving." [CNBC]

Playing with Philanthropy: Nonprofits can use games as platforms to fundraise and connect with small donors, Steve Kane writes in NonProfitPRO. "[A]n enormous part of the population is already playing online games. In fact, approximately 227 million Americans play such games, meaning around 70% of the population already engages with technologies holding the potential to become fundraising tools… Players feel deep satisfaction connecting their leisure activities to giving back. According to the Charities Aid Foundation, gamers are interested not only in the philanthropic initiatives of gaming companies but in using games themselves as platforms for giving. So, a games company that integrates philanthropy directly into its model will likely reap rewards in enhanced player loyalty and engagement, and nonprofits utilizing these games will see a consistent stream of incoming donations." [NonProfitPRO]
Around the Web
Israeli peer-to-peer lending platformSparkIL has received a three-year $600,000 donation from the Max M. & Marjorie S. Fisher Foundation, in addition to $100,000 from the Jewish Federation of Metropolitan Detroit…
Tampa's Lili Kaufmannis launching the Lili Kaufmann Lilah Tov Overnight Camp Scholarship Fund, which will provide support for children who cannot otherwise afford summer camp…
Yale College senior Liam Elkind, 22, received the Giving Award from the Louisville, Ky.-based Muhammad Ali Foundation for his work co-founding Invisible Hands, which helps provide food access and medical supplies to at-risk community members during the COVID-19 pandemic. Dr. Anthony Fauci and World Central Kitchen were among the recipients of other awards from the Ali Foundation…
"Game of Thrones" creator George R.R. Martin pledged $5 million to establish a professorship and a writing workshop at Northwestern University: $3 million to create the George R.R. Martin Summer Intensive Writing Workshop, which will provide instruction for journalists seeking to launch careers in creative writing, and another $2 million to create and endow the George R.R. Martin Chair in Storytelling…
Pic of the Day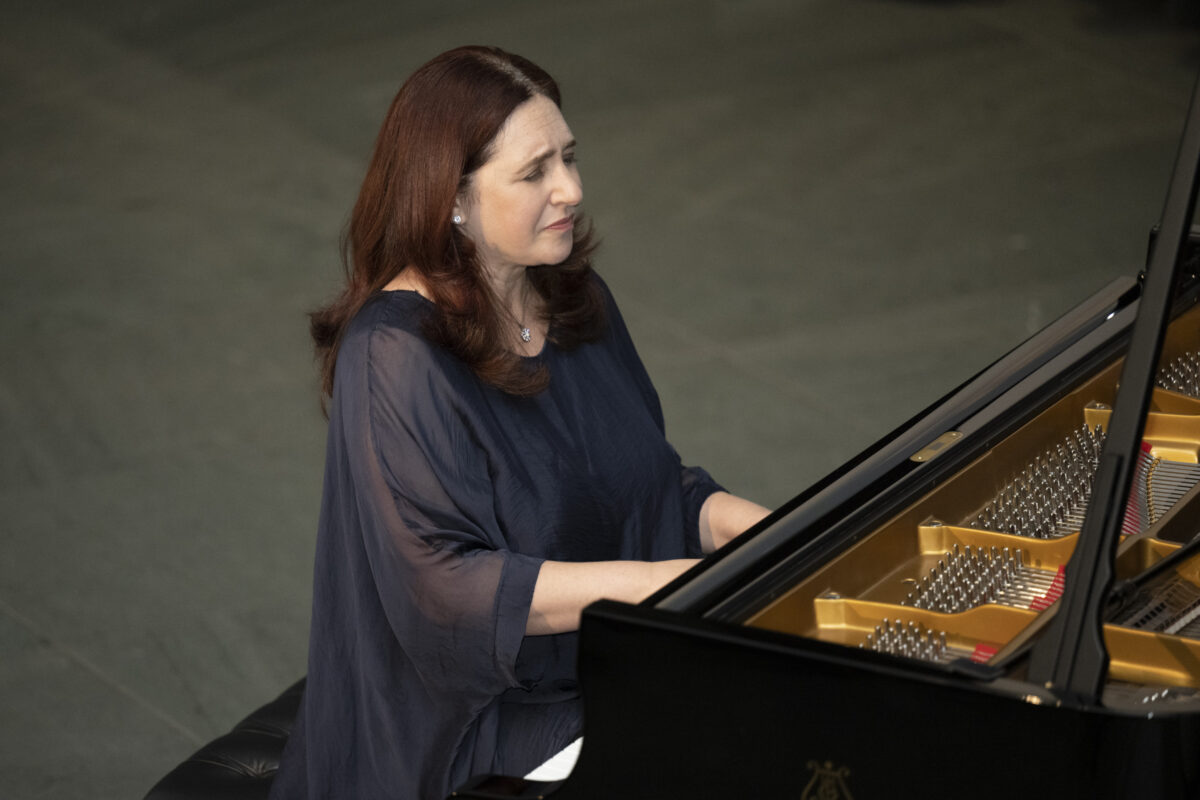 Classical pianist Simone Dinnerstein performs at the Art Students League Gala last night at the Museum of Modern Art in New York City.
Birthdays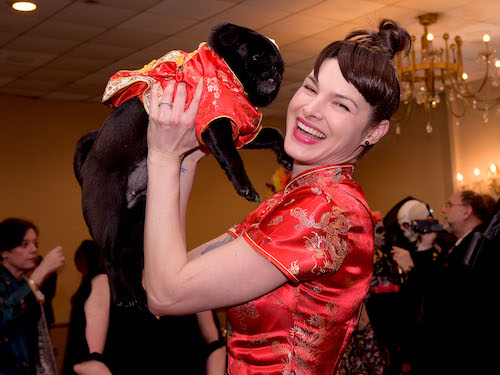 Professional poker player and fashion designer, Beth Shak…
Film producer, he won the Academy Award in 1967 for Best Picture for "In the Heat of the Night," Walter Mirisch… Former U.S. attorney for New Jersey, later a U.S. District Court judge, now a criminal defense attorney, Herbert Jay Stern… Actress, comedian and writer, she played the recurring role of Doris Klompus on "Seinfeld," her solo theater shows include "Yenta Unplugged" and "The Yenta Cometh," Annie Korzen… French heiress, pediatrician, businesswoman and philanthropist, Léone-Noëlle Meyer… CEO of the Clinton Health Access Initiative, he was a senior White House aide to President Bill Clinton, Ira C. Magaziner… Leader of the Sephardic baal teshuva movement in Israel, Rabbi Amnon Yitzhak… Senior managing director and global head of government affairs for Blackstone, Wayne Berman… Chief operating officer at Forsight, Michael Sosebee… Financial consultant at Retirement Benefits Consulting, Michelle Feinberg Silverstein… Former Israeli minister of education, now a member of Knesset for the Likud party, Yoav Galant… Television producer, she is the co-author of Sheryl Sandberg's 2013 book Lean In, Helen Vivian "Nell" Scovell… NYC-area attorney, Charles "Chesky" Wertman… Principal at Lore Strategies, Laurie Moskowitz… Chair of the Jewish Public Affairs Committee of California, Allison Gingold… Popular Israeli female vocalist in the Mizrahi music genre, Zehava Ben… Sports journalist for ESPN Deportes, he was born in Ashkelon and has covered both the World Cup and the Summer Olympics, David Moshé Faitelson… Founder of Ayecha, Yavilah McCoy… Congregational rabbi in Paris and co-leader of the Liberal Jewish Movement of France, Delphine Horvilleur… CEO of Gold Star Financial Group, Daniel Milstein… Israeli singer, Lior Narkis… Deputy assistant secretary of state for regional security, Mira Kogen Resnick… Director of high school affairs at the American Jewish Committee, Aaron Bregman… Film and television actor, Jared Kusnitz… Member of the Johns Hopkins class of 2026, Cameron Elizabeth Fields… VP of marketing and communications at StoryFile, Alana Weiner… Allan Waxman…