Your Daily Phil: WhatsApp founder Eugene Fooksman encourages social impact lending in Israel
Good Wednesday morning!
Ed. note: The High Holy Day publishing season continues. In honor of Yom Kippur, Your Daily Phil will return on Monday.
The Jewish National Fund-USA (JNF-USA) hosted a virtual conversation between four young Jews last night that discussed how the community can "reclaim the Zionist narrative."
"The definition of Zionism, our people's movement for self-determination, has been hijacked," said JNF-USA CEO Russell Robinson, in an introductory segment, moderated by Hen Mazzig, an Israeli writer, speaker and activist. Digital activist Amy Albertson, law student Ysabella Hazan and artist and musician Noah Shufutinsky also participated in the discussion.
Mazzig opened the conversation by asking participants about their most provocative ideas, to which Hazan said that Jewish education overemphasizes the idea of Israel as a safe haven for the Jewish people.
"We lose the idea that we're indigenous to this land, that this is the land we come from, that we are connected to," she said.
Shufutinsky, a Black Jew who lives in Israel, said Jews should be able to enjoy and maintain their connection to Israel just like Black people should resist being separated from Africa, the "mother continent."
ACTIVE INVESTING
Eugene Fooksman hopes to set an example as an 'impact lender' in Israel
Thanks to a suggestion by Eugene Fooksman, one of WhatsApp's founding engineers, Israeli small businesses and nonprofits now have a new source of low-interest loans — Keshet, the country's first donor-advised fund (DAF), reports eJewishPhilanthropy's Helen Chernikoff.
Original inspiration: "The donor who started this was Eugene," Maya Natan, CEO of Keshet, told eJP. "The first grant he wanted to do was an 'impact loan,'" she added, using the term for low-interest credit extended to an enterprise with social value. DAFs are increasingly popular — they are the fastest-growing vehicle in American philanthropy and held $142 billion in charitable assets in 2019, the most recent year for which complete data is available. Donors receive an immediate tax deduction upon depositing funds into the account. From there, they can donate the money to charity, or direct the fund to invest it for them, and donate it later. However, a DAF holder can also make impact loans instead of, or in addition to, donations; this is what Fooksman, who lives in San Francisco, wanted to do with Keshet, which is located in Shefayim, a kibbutz in central Israel.
Runway ahead: Keshet, which is a nonprofit itself, and about a year old, wasn't offering this service when Fooksman approached them, but both he and Natan knew a partner who could help make it possible — Ogen, Israel's "social bank." Also a nonprofit, Ogen's mission is to provide financial education and broaden access to capital by making impact loans to small businesses and nonprofits. "Americans need to know that everything we do in Israel in philanthropy is a first, and changes the landscape of giving in Israel," Natan said. "So every time we see a potential avenue to support giving, we try to do it."
Help in lean times: Ogen offers a $60 million social loan fund already supported by two American DAFs — the Jewish Communal Fund, based in New York, and the Jewish Federation and Endowment Fund of San Francisco — in addition to individuals and foundations, said David Angel, Ogen's vice president of partnerships. "Making an impact investment can be time-consuming and complex," Angel said. "In Israel, there are forms that have to be signed. It's a time-consuming endeavor for busy people." Ogen facilitates that process by vetting the borrowers. Angel gave the example of an owner of an events hall in Beersheva who had to stop operating his business when the pandemic hit, but still had to pay suppliers, which he did with help from an Ogen loan. Now that weddings and other celebrations are again allowed, the owner's business is thriving.
GLOBAL JEWISH PEOPLEHOOD
The Jews we don't see and don't fund – and why they matter
"Jewish philanthropy in the United States is directed largely to two regions: North America — home to the majority of Jews and the majority of fundraising dollars — and Israel," writes Barbara Birch, president and CEO of ORT America, in an opinion piece for eJewishPhilanthropy.
Sustaining authentic cultures at home: "We celebrate the contributions of Jews of different backgrounds who represent the vast tapestry of the Jewish people. But we tend to focus on Jewish diversity in the United States. What about the Jews living in their countries of origin and what about their deep-rooted cultures, customs and traditions? In those places, Jews maintain their cultural legacy by living it, not through memories and homages to their grandparents who came from Ukraine or Morocco and likely get watered down from one generation to the next."
Our giving perspective needs to be wider: "In a world of digital connectivity, ease of international travel and a global economy, we are not so far removed from our fellow Jews. We should see them, appreciate them and compare our similarities and differences. We should also make sure they remain strong."
ALUMNI AS PARTNERS
When you change lives, they will want to change yours
"Our approach with program alumni has historically been that we help you, then you live your life. For that reason, we never had a formal alumni program. COVID-19 not only forced us to reconsider our organization's business model, it also created an opportunity to rethink our relationship with our 2,000 program alumni," writes Chaim Landau, director of development and partnerships at the Metiv Israel Psychotrauma Center in Jerusalem, in an opinion piece for eJewishPhilanthropy.
An alumna writes: "Last Rosh Hashanah, Matan, one of our alumni, reached out to us. 'The program changed my life,' he wrote. 'I heard that programming has stopped as you can no longer send veterans abroad, but you also have 120 teams of IDF veterans on your wait list. How can I help?'"
Alumni power: "From that email came the idea of a crowd-funding campaign, led by [program] alumni, most of whom had not been in touch with us for years. The campaign raised over $2 million NIS ($620,000) from 6,500-plus Israeli donors. The funds will allow us to provide the program in Israel. This was the first time our organization had ever received serious donor funds in Israel. Within the span of two weeks we increased our Israeli donor base from dozens to thousands."
Moving forward: "More than the funds itself, the long-term significance to our organization is the creation of an Israeli societal and economic support base, fueled by our reengaged alumni. This is especially crucial as we move beyond providing direct services to ever-increasing numbers of veteran units."
Worthy Reads
Falling Flat: Upper-middle-class young Americans are embracing the "lie flat" movement started in China by burned-out factory workers who are protesting the economic and social pressure to succeed by leaving the workforce, reports Allison Schrager in Bloomberg. While many of these people will return to work due to economic need, they should be mindful that they are taking a risk in absenting themselves from work during their 20s and 30s, when the pace of pay increases, development and networking is highest. "The economy is undergoing a big transition. It will be a messy and unpredictable process," Schrager concludes. "One group that will certainly lose out is the people who opt out entirely." [Bloomberg]
Expectations Management: In Alliance Magazine, Sémia Bey and Henry Peter explore the ways in which philanthropy is becoming intertwined with business as corporations increasingly act in the interest of not just their shareholders, but a range of stakeholders. Philanthropy is one way companies can support public welfare, and doing so also makes good business sense, because they risk "sanctions" if they are perceived as bad or indifferent social actors, Bey and Peter note. "Companies have become modern philanthropists, completing the important role of the more 'traditional' actors of the philanthropy sector," they conclude. [Alliance]
Straight Talk: While the conservative Philanthropy Roundtable's tendency to sharpen its rhetoric and initiate public debates is new, the substance of those discussions is indicative of deep, long-standing political divides in philanthropy that leaders across the spectrum are increasingly acknowledging, writes Philip Rojc in Inside Philanthropy. Liberals who focus disproportionately on the Roundtable's new tone are missing the more important point — that philanthropy should stop trying to pretend to be "apolitical," according to Rojc: "In the longer arc of history, change breeds conflict and conflict breeds change. And it's unreasonable to expect American philanthropy to be immune from that." [InsidePhilanthropy]
Community Comms
Advance. Yes, you can move forward in your career serving the community you love. Discover Spertus Institute's MA in Jewish Professional Studies.
Be featured: Email us to inform the eJP readership of your upcoming event, job opening, or other communication.
Word on the Street
Rabbi Joanna Samuels has been named chief executive officer of Manhattan's Marlene Meyerson JCC, effective following Rabbi Joy Levitt's retirement in December… The U.K. Board of Deputies appointed Michael Wegier as its new chief executive… Ziva H Rubenstein will join the Israel Movement for Reform Judaism, leading the department for Israel-Diaspora relations, effective October 1… New research from University College London's Centre for Holocaust Education found "widespread misunderstanding" about the Holocaust among secondary school teachers… On Simchat Torah, a Czech Torah scroll from the historic collection of the Memorial Scrolls Trust, will be allocated to the Progressive Jewish Community of Prague Ec Chajim… Carnegie Mellon University announced a $10 million gift from alumnus and trustee Frank Brunckhorst, in support of the university's Neuroscience Institute and a new science building… The Bill & Melinda Gates Foundation released its annual Goalkeepers report…
Pic of the Day
Ida Nudel, a former refusenik and an activist for Soviet Jewry, died Tuesday in Israel. She was 90. Nudel immigrated to Israel in 1987, following a 16-year battle against the Soviet regime to allow her to move to the State of Israel, including four years in a Siberian prison. She was a symbol of strength for Jews who fought to immigrate to Israel and an inspiration to millions more.
Birthdays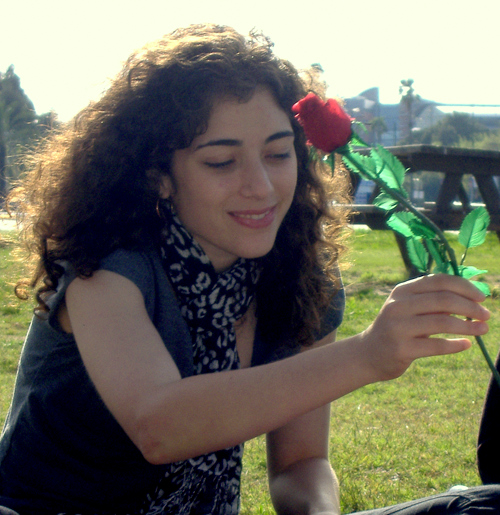 Singer and actress, she was the 2009 winner of the Israeli version of "A Star is Born," Roni Dalumi…

Founder and former CEO of Elektra Records, he is a member of the Rock and Roll Hall of Fame, Jac Holzman… Professor at the Hebrew University and a leading scholar of the Dead Sea Scrolls, Emanuel Tov… Chief rabbi of Migdal HaEmek, known as the "Disco Rabbi," Rabbi Yitzchak Dovid Grossman… Professor of Education at Wheelock College in Boston, Diane Levin… NYC-based composer and multi-instrument musician, Ned Rothenberg… Business litigator in the Miami office of Gunster, Aron U. Raskas… Film executive, she produced "The Hunger Games" film series, Nina Jacobson… Managing partner and chief technology officer at Differential Ventures in Philadelphia, he is also the founder of a series of kosher restaurants, David Magerman… NPR's media correspondent, David Folkenflik… Actor, best known for his roles on "Sports Nigh"t and "The Good Wife," Josh Charles… Comedian, writer and actress, Kira Soltanovich… VP of Leadership at the Anti-Defamation League, Deborah Leipzig… Chicago public school teacher, event organizer and fundraiser, Shayla Rosen… Author and education correspondent at NPR, Anya Kamenetz… Data scientist, economist and author of the 2017 New York Times bestseller Everybody Lies, Seth Stephens-Davidowitz… Israeli model and beauty queen, Yael Markovich… Brand manager at GlaxoSmithKline, Jonah Raskas… Tomer Zvi Elias… Chief strategy officer at PW Communications, Amanda Bresler… Reporter at The New York Times covering NYC education, Eliza Shapiro… Miss Israel 2012, Shani Hazan…

Email Editor@eJewishPhilanthropy.com to have your birthday included.