Your Daily Phil: Study shows most Jewish educators like their colleagues + Camp Harlam's new ADA-accessible bunk
Good Thursday morning!
Ed. note: There won't be a Your Daily Phil on Friday. We'll see you on Monday!
Footsteps, which helps people who have decided to leave a Haredi community, has received a $200,000 grant from the Charles H. Revson Foundation to pilot a vocational training scholarship program, Footsteps CEO Lani Santo told eJewishPhilanthropy.

"Like all vulnerable communities, we experienced the pandemic as a destabilizing force in the lives of our members, many of whom were just getting on their feet after leaving their insular communities as the pandemic began in 2020," Santo said.

The foundation will also be supporting the Footsteps Career Fellowship, a program that places participants who have no workforce experience or want to explore a new career path in an eight-week summer internship. The fellowship also offers mentorship, workshops and a stipend, and had been on hold due to COVID-19 and related funding shortages.
WORK FRIENDS
Most Jewish educators surveyed by a new landmark study like their colleagues

About 80% of the more than 1,000 Jewish educators recently surveyed by the Collaborative for Applied Studies in Jewish Education (CASJE) feel they are pleased with the people they work with, Arielle Levites, CASJE's managing director, told eJewishPhilanthropy's Helen Chernikoff. "Workplace environments matter," Levites said. "Feeling positively about one's workplace helps retain talent in the field."
 
Good vibes: These positive feelings about the workplace come from a shared sense of mission that contributes to a sense of satisfaction, self-efficacy and commitment, Levites said. According to the survey, 76% of respondents said they were able to get help and support from their colleagues when they needed it, and the same percentage said cooperation and sharing of ideas was encouraged. Almost 80% said they were treated with respect on a day-to-day basis, and felt valued as a professional by their colleagues.
 
Broader concerns: A day school educator quoted in the report described his school as "the most collaborative experience professionally I've ever seen … The only ego is, can we teach kids Torah better? The school is totally focused on the betterment of the children." These findings are a bright spot in a broader project, CASJE's four-part "Career Trajectories of Jewish Educators Study," that has also revealed "troubling" indications that Jewish education as a field needs to improve workplace conditions for educators "across the board," said Wendy Rosov, whose Rosov Consulting firm participated in the CASJE project.
 
Collaborative vs. collegial: Even seemingly good news about collegiality can have a downside, said Sharon Feiman-Nemser, the founder of the Jack, Joseph and Morton Mandel Center for Studies in Jewish Education at Brandeis University. However, research has shown that in similarly warm educational environments, colleagues feel constrained in their speech. "Collaborative" workplaces are more conducive to professional education than "collegial" ones, where "norms of politeness and the desire for harmony inhibit serious professional exchange," she said.
 
Read the full article here.
SOCIAL CAPITAL
Shared spaces, chance encounters and life-changing moments
"I remember the electric thrill I felt the first time I met a 'celebrity.' I was no more than eight or nine years old, yet I can still picture the scene perfectly. It happened in the well-appointed lobby of our suburban synagogue, just outside the wooden doors that led to the sanctuary. I remember the people, the smells, the look of the furniture, the color of the carpet. Most of all, I remember the goosebumps and the barely containable glee that I was face to face with the one and only Larry Kane," writes Todd Sukol, executive director of the Mayberg Foundation, in an opinion piece for eJewishPhilanthropy.
 
Enthusiasm vs. uneasiness: "It is hard to reconcile the unbridled youthful enthusiasm of that moment with the adult uneasiness I feel watching the nightly news so many decades later. The United States finds itself in a time of extraordinary political and ideological polarization. A pandemic has taken lives, strained our economy and drained our psyches. Racial tensions and class inequity seem to be outpacing sensible and sustainable policy solutions at home as the international geopolitical landscape becomes increasingly complex. Rays of hope exist too: medical breakthroughs, market optimism and isolated flashes of cooperation. But is it enough? Are we too corrupted, too entrenched, too selfish to sustain progress toward a robust version of western democracy and civility?"
 
Civility and humanity: "Among the bright spots I have seen this past year is the joint television commercial produced by opposing candidates in the Utah gubernatorial election. They appeared together to tell the world that although they have strong differences, they respect each other as human beings. They modelled civility and humanity; disagreement without hatred. The ad was refreshing and restorative. I couldn't help wondering if it was their shared Mormon faith that brought them together to remind us how badly we need one another."
 
Read the full piece here.
#SUMMER2021
Camp welcomes us all home
"At camp, we have a tradition of 'welcoming home' anyone who enters our community, whether it's for the first time or the 10th," writes Lori Zlotoff, inclusion coordinator at URJ Camp Harlam, in an opinion piece for eJewishPhilanthropy.

All inclusive: "This philosophy is at the forefront of everything we do — from our camper care department fulfilling the needs of individual campers, to our food services accommodating every food allergy and eating lifestyle, to our affinity groups that gives our Jews of Color and LGBTQ+ campers a place to share their identity with others. This is especially true when we think of the ways in which we have been responsive to needs due to the physical and cognitive disabilities of campers. Because we received a grant to make capital improvements for increased accessibility through Foundation for Jewish Camp's Yashar Initiative, we have been able to respond in incredibly meaningful ways."

Feeling normal: "At Harlam this summer, we 'welcomed home' a new camper with a prosthetic leg into our rising eighth grade unit. When Jacob lost his leg after being diagnosed with Ewing's sarcoma in 2018, his mothers were hopeful that he one day would be able to live a normal life of a teenage boy. Thanks to the Yashar grant, we built a brand new ADA-accessible bunk in boys camp and were able to make their dream possible this summer. As a community, we were thrilled to be able to offer this camper the ease of accessibility as he prepared for his first summer at Harlam. For the moments that he doesn't put on his leg (like when he goes to the pool), it's helpful to have the ramp for him to easily leave and enter the bunk. The handicapped accessible shower with the shower seat makes it possible for Jacob to shower more easily. He wrote home to his moms during the first week of camp and told them, "I love camp because I finally feel normal."

Read the full piece here.
Worthy Reads
Deceptively Sweet: An Atlanta charity, the Georgia Peach Youth Club of America, said it was a work and recreation program for at-risk teenagers. But Georgia Attorney General Chris Carr called the program a "labor-intensive human trafficking ring" when he announced indictments of 14 people, including the organization's CEO, CFO and secretary, reports Henri Hollis in The Atlanta Journal-Constitution. The organization was linked to the Nine Trey Bloods street gang, which is itself connected to the United Blood Nation gang in Los Angeles, Carr said. The Georgia Peach Youth Club of America had been awarded 501(c)(3) status, and filed annually with the IRS as required by law in 2016, 2018 and 2019; however, because it reported less than $50,000 a year in gross receipts, it didn't need to divulge more detailed information. [AJC]

Silver Lining: The increase in the number of COVID-19 cases nationwide attributable to the spread of the highly contagious Delta variant gives managers an opportunity to rethink their plans for a return to the office, writes Rich Barton, cofounder and CEO of Zillow, in Fortune. In July 2020, Zillow announced a "work from anywhere" culture, and productivity has remained high at the new, remote-first company. "We are not advocating for the elimination of the office, or for a work culture in which employees never see each other in person. Instead, the office should evolve into a flexible hub of collaboration and a welcoming place for employees and teams when they need it," Barton concludes. [Fortune]

Targeted Investment: In the Milwaukee Journal Sentinel, Sarah Hauer reports that Northwestern Mutual Life Insurance Co. will try to address inequality and the racial wealth gap by creating a $100 million impact fund that will invest in Black communities in the Milwaukee area and nationally. Based in Milwaukee, Northwestern Mutual has more than $308 billion in total assets; one of the new impact fund's first investments is in The Gateway Capital Fund, a Black-led venture capital fund. "While we believe the number of great ideas per capita is equally distributed, the capital and resources aren't," said Dana Guthrie, who manages The Gateway Capital Fund. [MilwaukeeJournalSentinel]
Community Comms
Make an Impact. Spertus Institute seeks a Director for its acclaimed Center for Jewish Leadership. Find out more
Be featured: Email us to inform the eJP readership of your upcoming event, job opening, or other communication.
Word on the Street
The University of Wisconsin–Madison no longer expects Taiwan-based electronics manufacturer Foxconn Technology Group to honor a $100 million pledge it made three years ago… The Edith & Martin Stein Family Foundation is making a $5 million gift to the Boca Raton Arts District Exploratory Corporation in support of a planned arts and innovation center in Mizner Park… The M B Foundation, also known as the Mossad Horav Aryeh Halevy, is being investigated by the U.K. Charity Commission over "serious financial and governance concerns"… J Street has delayed two August delegations to Israel, one for House members and another for congressional staffers, amid mounting concerns over the surging Delta variant of the coronavirus… TOM: Tikkun Olam Makers launched its first-ever Global Innovation Challenge, a competition to create affordable, open-source solutions for the needs of people with disabilities… This month, 145 ShinShinim (gap-year emissaries) will depart for communities around the world on behalf of The Jewish Agency for Israel to begin their year of voluntary service… Julie Diamond, CEO emeritus of the Oregon Jewish Community Foundation, has died…
Pic of the Day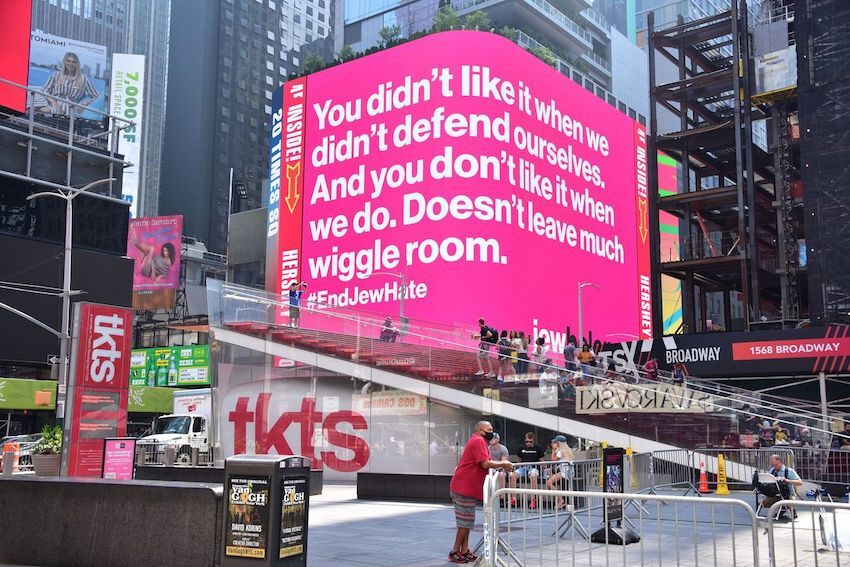 JewBelong, an organization which conducts outreach to unaffiliated Jews, is running a campaign this summer that uses Times Square billboards to raise awareness about antisemitism.
Birthdays
Founding editor of The Times of Israel, David Horovitz… 
Hungarian-American investor, George Soros (born György Schwartz)… Retired Beverly Hills attorney, Sheldon S. Ellis… Television writer, creator of Dallas and Knots Landing, David Jacobs… Television screenwriter, producer and author, Gail Parent… NYC-born historian and author, William Rubinstein… Attorney in Ontario, Canada who served as president of the Canadian Jewish Congress, Lester Scheininger… U.S. diplomat, Karyn Allison Posner-Mullen… Director of management operations at the University of Texas Health Science Center at Houston, Fredi Bleeker Franks… Sales manager of Illi Commercial Real Estate in Encino, CA, Stuart Steinberg… Israel's resident ambassador to Albania and non-resident ambassador to Bosnia and Herzegovina, Noah Gal Gendler… Former member of Knesset from the Yesh Atid party, Haim Yellin… Rabbi at Brookline's Temple Beth Zion, Claudia Kreiman… SVP for external engagement at NYC's Educational Alliance, Anya Hoerburger… Chief marketing officer at Cross Campus, Jay Chernikoff… Senior product manager at NYC-based Dynamic Yield, David Fine… CEO and co-founder of Forsight, a leading prop tech AI and machine learning company, Ariel Applbaum…
 
Email Editor@eJewishPhilanthropy.com to have your birthday included.