Your Daily Phil: Zelensky addresses Conference of Presidents + Lion of Judah raises $1 billion since launch
Good Tuesday morning and happy International Women's Day!
Ukrainian President Volodymyr Zelensky called Russian President Vladimir Putin's actions in Ukraine "pure Nazi behavior" in an impassioned plea to American Jewish leaders on Monday morning.

Zelensky addressed members of the Conference of Presidents of Major American Jewish Organizations over Zoom. Dressed in the green T-shirt that has become his uniform since Russia began its invasion last month and sitting next to a Ukrainian flag, Zelensky, who is Jewish, drew comparisons between Moscow and the Nazi regime, accusing Russian troops of indiscriminately killing civilians.

"All of this already happened in Europe," he said, speaking through Zoom's translation function. "All of this happened during Nazi times… They see an ordinary city, they block all the roads… and don't let people out. They don't let people out from those towns and cities, even those who simply want to leave or run away, they don't let them out. They don't allow us to bring food in. They don't allow us to bring the water in. They disconnect the internet, the TV, electricity. This is Nazi behavior. This is Nazism. This is just ordinary Nazism. This is no different from the Warsaw, the Polish ghettos."

Zelensky also drew a parallel between attacks on Ukraine and the historical persecution of Jews, and called on the world "to wake up." "The question of the survival of the Ukrainian nation — the question will be the same as antisemitism," he said. "It's going to be exactly the same. All of these millions of people are going to be exterminated. And this is a big tragedy."

Conference of Presidents CEO William Daroff told Jewish Insider, "During this troubling and chaotic time for Ukraine, President Zelensky's appeal to the leadership of the Conference of Presidents is particularly salient given his role as a member of the Jewish community whose citizenry are suffering in ways unseen in Europe for many decades. In tandem with American Jewry donating tens of millions of dollars for rescue and relief efforts in Ukraine, we stand shoulder-to-shoulder with our Ukrainian brothers and sisters praying for peace and continued U.S. leadership to end the conflict."

Read more here.
INFORMAL DIPLOMACY
Israeli and Ukrainian young adults meet virtually amid the bombing
Monday also saw diplomacy of a different sort between Ukraine and Israel, when dozens of young people from both countries met on Zoom to discuss the war. Israelis expressed solidarity with their Ukrainian peers, who vowed that they were determined to protect their country, reports eJewishPhilanthropy's Esther Kustanowitz.
Meeting of the youth: The virtual meeting was convened by Israel-is, which aims to train young Israelis to be unofficial ambassadors, while the Ukrainians came from the Ukrainian Leadership Academy (ULA), which aims to train that country's future leaders. The Ukrainians had evacuated to the western part of the country to escape the fighting; still, fearing potential airstrikes, some of them Zoomed in as a group from a bomb shelter.
People-to-people: "As young Israelis, we believe in the power of connection, we believe in the power of people to people meetings, and the ability to come together and hear people's experiences and stories," said Matan Dansker, Israel-is' director of strategy. "When we are seeing what's happening in your country, the first thing that we want to do is to listen."
Hope for victory: In addition to the young people, Natan Sharansky, the prominent former Soviet refusenik, addressed the group. "For the next 1,000 years, Russia will have to deal with this, how to restore their self-respect as a place among the nations," said Sharansky, the former chair of The Jewish Agency for Israel, who was born in Donetsk, Ukraine. "At this moment, you're showing what it means when people rediscover their identity, when people feel themselves very deeply connected, passionate, to their history, to the people, to their land…We will pray for you, help you, and if sometimes, we think that our governments don't help enough, we'll continue lobbying to make sure that support of your struggle — which is so important for all of us, for all the peoples — will be victorious."
Future changemakers: "These people are meant to be the new elite of Ukraine and the leaders of Ukraine," ULA program manager Andrij Maruš?ak said. "That's why we are giving them the best education we can and the values that we want them to spread around and to be the changemakers in their society."
LION of judah
Jewish women philanthropists leading the way
"Half a century ago, two Jewish women in Miami, Norma Kipnis-Wilson and Toby Friedland, both of blessed memory, got together over a bagel and coffee to brainstorm ideas of how to raise funds to help the tens of thousands of Jews who were fleeing the Soviet Union each year and arriving in the United States. They decided to establish a new philanthropic program called the Lion of Judah, setting the threshold for participation at the cost of resettling a single family — $5,000. Before long, Jewish women across the country were engaged in a groundbreaking, transformational endeavor that, for the first time on such a large scale, mobilized women's philanthropic capacity and their ability to change the world," write Carolyn Gitlin and Shelly Kupfer, respectively chair and immediate past chair of the National Women's Philanthropy board of The Jewish Federations of North America, in an opinion piece for eJewishPhilanthropy.
$1 billion raised: "To date, more than a billion dollars has been raised through the Lion of Judah program to aid Jews in North America, in Israel and around the globe. Perhaps the most successful development vehicle of all time in the Jewish world, there are now no fewer than 18,000 Lions of Judah worldwide, with the minimum annual philanthropic gift still at $5,000. As the crisis in Ukraine looms, we still see how vital our philanthropy is to Jews around the globe. Today, we stand on the shoulders of the two extraordinary Jewish women who were the visionary founders of Lions of Judah, as we educate and inspire the women of today to follow in their footsteps."
International Women's Day: "As we celebrate International Women's Day on March 8 (a component of Women's History Month in the United States), we find ourselves at a turning point in terms of the prominent place of Jewish women in the world of charitable giving… The world of philanthropy is waking up to the game-changing emergence of women as the largest and most influential group of charitable donors in our society."
A RESIDENT AND AN ALIEN
A tale of three cities: Boston, Haifa, Dnipro …the universal and particular in Jewish life
"An ideological divide seems to run through the heart of the American Jewish community," writes Barry Shrage, former president of CJP, Greater Boston's Jewish federation, in an opinion piece for eJewishPhilanthropy.
Particularists and universalists: "On one side the particularists who insist that Jewish survival requires greater emphasis on the particular priorities of Jewish life, saving Jews and saving Judaism, Jewish rescue in lands where Jews are in danger, the fight against antisemitism and support for Israel, Jewish culture and Jewish learning. On the other side, universalists who claim that Jewish life is all about "tikkun olam," being a good person and making the world a better place, and advocacy for the poor and dispossessed. In the end our Jewish community needs to affirm the centrality of both. Understanding this duality is essential to understanding ourselves and the nature of our dual identity bound by two different covenantal experiences.
Rav Soloveitchik wrote: "We are members of an enigmatic covenantal community which was formed with our ancestor Abraham. Who was Abraham? What is this 'enigmatic covenant' and what can Abraham's life teach us as we face the challenges of Jewish existence in the 21st century? Rav Soloveitchik differentiates the two covenants that define our existence as a Jewish people. The first is the 'enigmatic covenant' with Abraham — the Patriarchic Covenant — which seems to require nothing but brit millah — circumcision. The second is the clear legal contract at Sinai, which requires and commands everything else."
Worthy Reads
Uplifting Story: A diverse online community of 2,500 women focused on empowerment through strength training includes women of all faiths and athletic levels, Alan Rosenbaum writes in The Jerusalem Post. The group was founded by Sarah Illouz, a CrossFit enthusiast and weightlifter, who calls it a supportive space with zero drama, and notes the benefits of lifting. "We have a very diverse community," she says. 'We have super beginners and professional athletes, and we also have women of all different religions – Muslim, Christian, Jewish, observant, secular, Masorti – supporting each other and empowering each other. It's an amazing community. There is zero drama, everyone helps each other, and it is amazing.' Chuckling, she notes that her seventy-three-year-old mother has joined the group." [JPost]
Diversifying the Bookshelf: The 35-year-old Matan Women's Institute for Torah Studies has launched a new program called "Kitvuni," which aims to populate shelves with books by women Torah scholars and educators, Chaya-Bina Katz, the group's CEO, writes in The Jerusalem Post. "With many women now as knowledgeable as their male counterparts, the time is ripe for the next stage in the advancement of women's learning – the creation of female authored Torah scholarship. In Jewish homes where study is important, several key texts can be found – anything from the Talmud, to the Shulhan Aruch and the Mishna Brura. It is time that these books be joined with texts written by women and from the female perspective… When my daughters go to the bookshelf, they will have a diverse selection of texts to choose from – those written by men and now those authored by women. That will be another sign that we have arrived." [JPost]
Sobel, Not Pollock: While most art lovers identify the splatter/drip technique with Jackson Pollock, the technique was actually pioneered by Janet Sobel, a 45-year-old Ukrainian-born grandmother with no previous artistic training who began fiddling around with her son's painting supplies, writes the BBC's art critic, Kelly Grovier. "With no inculcated allegiance to any artistic school or prejudice regarding the appropriateness of materials, Sobel began playing both with what a painting can say and how it can say it. Using unconventional implements such as glass eye-droppers to squirt paint and the strong suck of a vacuum to drag wet splatters into thin gossamers that no traditional brush could spin, she assaulted the surface of canvases laid out on the floor, orchestrating a liquid lyricism of spills, splashes and spits the likes of which had never before been seen." [BBC]
Haredi Women's Power: In the UK Jewish News, Karen Glaser profiles three women who broke with various Haredi, or ultra-Orthodox, community expectations, including Gitta Strassman, co-founder of an online support group for single mothers, called Superwomen; Gitty Heller, who left a violent marriage and now supports other Haredi women suffering from domestic violence; and Faigy Rosenthal, a teacher who thinks "it's important that my pupils know you can still have a meaningful life without a husband in the frame." "When Charedim divorce, they often say goodbye to Charedi life too, and that's a terrible shame. Because the truth is a single mother can light the candles and make kiddush on Shabbos. And you can be an educated professional… I always tell my students to explore every educational opportunity they are given. Being a Charedi woman needn't mean being stuck in the kitchen baking babkas," [Rosenthal said]." [UKJewishNews]
Community Comms
Be featured: Email us to inform the eJP readership of your upcoming event, job opening, or other communication.
Word on the Street
Odessa's Jewish community evacuated its most vulnerable members on Monday amid fears the city could be Russia's next target in the war on Ukraine…
Ira Wise has been named director of lifelong learning at Congregation Emanu-El of the City of New York…
The Metropolitan Opera will stage a benefit concert on March 14 for Ukraine relief efforts that will be broadcast on radio worldwide…
Lowe's announced a five-year, $100 million investment in the communities it serves – the company's largest-ever commitment of its kind – with a new community impact program called Lowe's Hometowns…
The San Francisco Museum of Modern Art received a gift of nearly 350 paintings, sculptures, drawings, photographs, design, objects and media art works from the estate of Norah and Norman Stone as well as an unrestricted bequest of more than $10 million…
New York City-based Fountain House received a $12 million gift from philanthropist MacKenzie Scott. This brings her December round of giving, announced so far, to $443.5 million…
Pic of the Day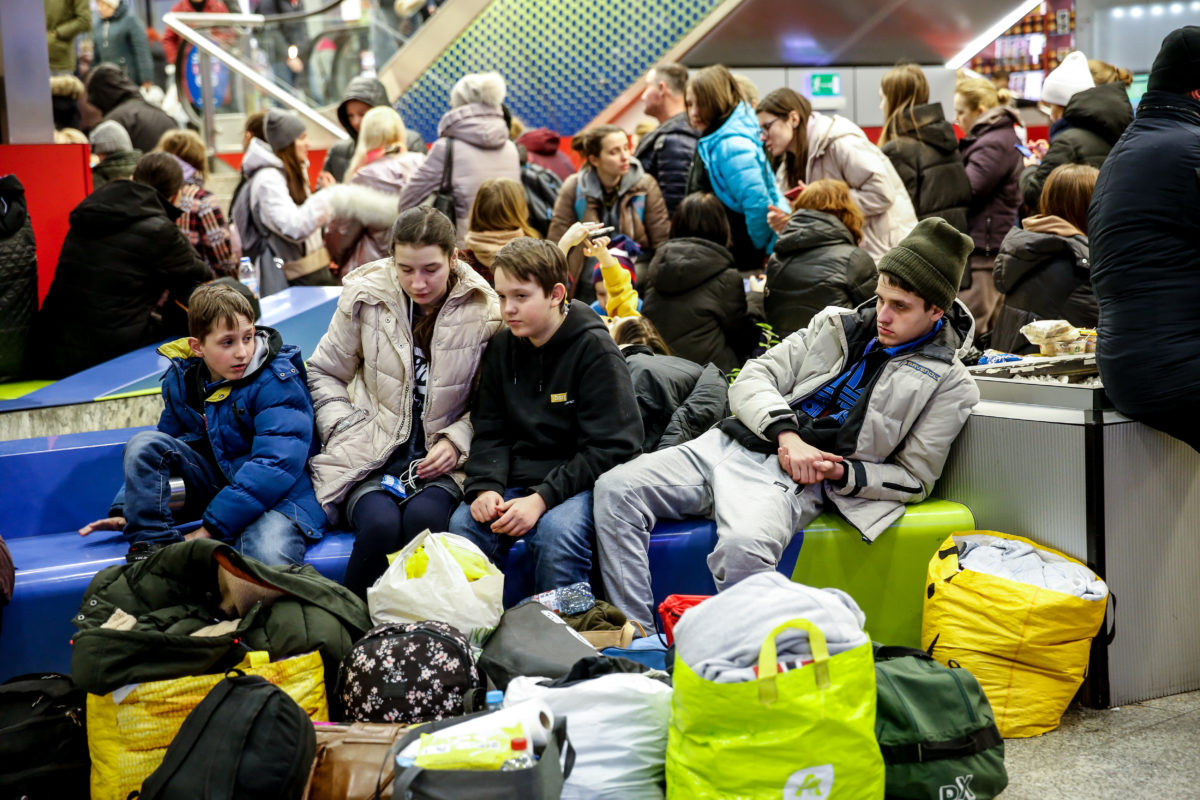 Ukrainian refugees gather on Monday in a departure hall for their connecting train after arriving at the main railway station in Krakow, Poland. According to the U.N. refugee agency, more than 1.7 million refugees have left Ukraine and more than one million of them have relocated to Poland.
Birthdays
Emmy- and Golden Globe Award-winning actress, Camryn Manheim…
Jazz pianist, composer and music director, Dick Hyman… Congressman from California, Alan Stuart Lowenthal… Former chairman of the BBC and member of the House of Lords, Baron Michael Grade (family name Winogradsky)… Judaism and science blogger, Roger Price… Lyricist, singer-songwriter and New York Times best-selling author, Carole Bayer Sager… Licensed clinical psychologist and director of couple therapy training at the Chicago Center for Family Health, Dr. Mona Fishbane… Senior fellow on national security and international policy at the Center for American Progress, Alan Makovsky… Brenda Krantz.. Former chair and CEO of MGM, now vice-chair of DraftKings, Harry Evans Sloan… Public affairs producer and weekend assignment editor at KDKA News in Pittsburgh, Aviva Radbord… Former governor of Virginia and U.S. senator, his mother was from a Sephardic Jewish family in Tunisia, George Allen… Retired in 2016 after 29 years as the executive director of the Jewish Federation of Greater Rochester, N.Y., Larry Fine… Host and managing editor of the WNYC radio program "On the Media," Brooke Gladstone… Director of operations at Consilium Services, Bunny Silverman Fisher… President of the World Bank Group, David Malpass… DC-based labor and employment attorney at Bredhoff & Kaiser, Bruce R. Lerner… Founder and CEO of 32 Advisors, LLC, previously president of UBS Investment Bank, Robert Wolf… VP of talent acquisition at Sageview Consulting, specializing in placements at Jewish federations and nonprofits, Carin Maher… VP for studies at the Carnegie Endowment for International Peace, Evan A. Feigenbaum… Albany reporter for New York's news channel NY1, Zack Fink… Congressman from New Jersey since 2017 (D-NJ-5), Joshua S. Gottheimer… Marketing and communications director at the Center for Open Science, Alexis C. Rice… Executive director of Masbia soup kitchen in Brooklyn and Queens that serves over two million meals per year, Alexander Rapaport… COO of social networking site Raya, Jared Morgenstern… Director at PJT CamberView, Eric Louis Sumberg… Founder and CEO of Delta Flow Solutions, Jeff Sonderman… Policy director at the Washington State Hospital Association in Seattle, David Streeter… Actress best known as the store manager Lily Adams in AT&T commercials, she starred in the 2019 film short "The Shabbos Goy," Milana Vayntrub… Project manager at Everybody Votes Campaign, Lauren Farber… Law clerk for a federal district court judge, Nathaniel Sobel… Program analyst at Mathematica Policy Research, Karen Katz… Senior manager of public policy and strategic engagement in the Washington office of PepsiCo, Taylor Jaye Lustig… Senior instructor and curriculum coordinator at Poker Powher, Amanda Helen Botfeld… Director of client success at LeagueSide, Alexa Chavin… Senior analyst on the partnerships team at Optum Ventures, Miriam Applbaum…
Email Editor@eJewishPhilanthropy.com to have your birthday included.