Your Daily Phil: Mike Bloomberg visits Israel to launch new mayors' center + Another view on HUC
Good Monday morning!
Almost a decade after he left New York's City Hall, Michael Bloomberg's eye is on urban politics half a world away: In Israel this past weekend, Bloomberg launched an initiative to give leadership and management training to 20 mayors across the country.
The Bloomberg-Sagol Center for City Leadership was inaugurated Sunday evening amid a who's-who of Israeli politics and business. The attendees met first at an event on the Tel Aviv University campus, where the center will be housed, and then poolside at the home of Yossi Sagol, whose family — Israeli plastics moguls — contributed to the center's $9 million in funding along with Bloomberg Philanthropies.
In Israel, it seems, Bloomberg's appeal cuts across partisan lines. On Sunday, he rubbed elbows with Jerusalem Mayor Moshe Lion (on the right) and Tel Aviv Mayor Ron Huldai (on the left), as well as Israeli President Isaac Herzog. He's also friends with Nir Barkat, the former Jerusalem mayor who, like him, grew wealthy in the private sector before moving to city government. The Sunday dinner included three government ministers from different, and occasionally clashing, political parties: Yamina's Ayelet Shaked, New Hope's Gideon Saar and Meretz's Tamar Zandberg. They sat at three separate tables, according to a guest list obtained by Jewish Insiderand eJewishPhilanthropy.
Other attendees included U.S. Ambassador to Israel Tom Nides, former Israeli Ambassador Michael Oren and the heads of Israel Bank Discount and Bank Leumi. Oakland, Calif., Mayor Libby Schaaf, who is Jewish, spoke at the event, and is a past participant in a Bloomberg initiative to train mayors at Harvard University, which provided the model for the Bloomberg-Sagol Center.
"I encountered the Bloomberg Harvard City Leadership Initiative and realized that Israel was the perfect fit for such a program, particularly in view of its size, the relatively small number of mayors, and the ability to make a significant impact," Yossi Sagol told eJP.
The center has been in development since 2018, and will focus on using data in governance, engaging the public, crisis management and negotiation — as well as engaging mayors from smaller cities and from Israel's demographic minorities, like Haredi Jews and Arabs. It will open later this year, and comes amid a wave of terror attacks that have killed 11 people and have occurred in or near Israeli urban centers, from Tel Aviv to Beersheva. It is launching less than a year after violent clashes rocked mixed Arab-Jewish Israeli cities during last May's conflict between Israel and Hamas in Gaza.
"Most mayors, when they come into office, haven't had experience in executive capacities, running large organizations with lots of employees, so they have to learn all of this stuff on the job," Jim Anderson, government innovation lead for Bloomberg Philanthropies, told eJP. "In the private sector, if you're a CEO, the first thing your board of directors does is give you a leadership coach… But for a mayor, there's nothing."
Personal Stake
For JFNA's chief lobbyist, the Ukraine crisis is personal
Elana Broitman, The Jewish Federations of North America's chief lobbyist, has spent recent weeks lobbying in Washington, D.C., for more aid for Ukraine, expediting processing for visa holders and pushing for other ways to help Ukrainian refugees enter and remain in the United States. But for Broitman, JFNA's agenda isn't just a job. It's an outgrowth of her experience fleeing Ukraine as a child, Jewish Insider's Marc Rod reports.
Coming to America: Broitman came to the U.S. from Odesa, Ukraine, in the mid-1970s when she was 9, "thanks to the lobbying of the Jewish community," and with the assistance of HIAS, the Jewish refugee resettlement agency, she told JI in a recent interview. The family arrived in the U.S. with few belongings — books, a set of silverware, and one piece of luggage each. Soviet border guards even ripped open her 4-year-old sister's teddy bear to check for valuables. In the U.S., her family settled first in Hazleton, a small town in Pennsylvania, before relocating to Texas.
First steps: "The JCC, one of the local synagogues, really welcomed us. They embraced us and helped my parents find jobs," she said. "And the Jewish community in this little town called Hazleton was just incredible, really embraced us… the Jewish community sent my sister and me to Jewish summer camp, nothing we could have afforded."Broitman said it has been "heart-wrenching" to watch the images coming out of Ukraine, observing that the refugees "look just like my parents or grandparents" and "live in buildings that look just like the ones I grew up in." She added, "It's so reminiscent of stories I heard from my grandparents when we were fleeing, for example, Odesa, which ended up being occupied."
Culmination: Broitman is now leading JFNA's lobbying on issues including aid for Ukraine, expediting processing for visa holders, the renewal of the Lautenberg Amendment — which allows Ukrainian religious minorities, including Jews, to be reunited with family members in the U.S., and Temporary Protected Status — which allows Ukrainians already in the U.S. to remain here. "It is incredibly heartwarming and I feel like my life has led here," she said. "The Lautenberg Amendment is born out of the Jewish experience, was put there by a Jewish senator — to now be able to bring it full circle to help the people who need to get out right away is incredibly gratifying."
Loaded Language
Green is the new pink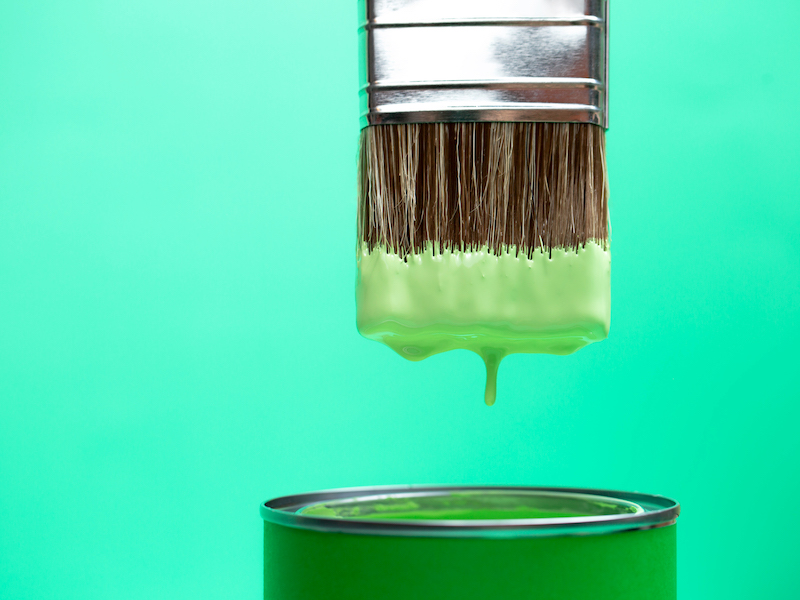 "'Pinkwashing' and 'greenwashing' are both terms that predate their present usage as an antisemitic bludgeon. 'Pinkwashing' accusations have been leveled against corporations and nations alike with legitimacy, criticizing the promotion of rainbow apparel and tourism as tools for profit or distraction, rather than a commitment to the cause," writes Tyler Harris Gregory, CEO of the Jewish Community Relations Council of San Francisco, the Peninsula, Marin, Sonoma, Alameda and Contra Costa Counties, in an opinion piece for eJewishPhilanthropy.
Ulterior motive?: "Where these 'washing' arguments run afoul in the case of Israel is what I call the 'missing link.' Proponents state that Israel's progress on climate issues and LGBTQ rights are simply a 'cover-up' for its bad deeds when it comes to the Israeli-Palestinian conflict. These arguments (1) erase the humanity of the people of Israel by conflating them with their government, something unheard of for people of other nations; (2) delegitimize the advocacy efforts of LGBTQ and climate activism in Israel and their contributions to their respective global movements; and (3) in the case of greenwashing, imagine that Israel somehow sits on another planet, immune from the problem of climate change, and can be ostracized. What is the 'missing link' to their legitimacy? Antisemitism — the classic trope that Jews are conspiratorial and not trustworthy. Proponents of these arguments are insinuating that Jews' work cannot be taken at face value and there must be an ulterior motive."
Partnering with credible organizations: "Yet education on these issues will fall on deaf ears if the messenger isn't credible or is perceived as threatening to the mission of these organizations – and that's where community relations comes in. In the case of the LGBTQ Task Force, it was LGBTQ Jewish leaders who led the fight, including queer rabbis and LGBTQ Jewish organizations with a track record on these issues, working in partnership with secular organizations that had earned our trust."
Beyond Buildings
It is not 'the hidden battle for the soul of Reform Judaism'
The debate about the future of HUC-JIR's campuses and the future of Reform Judaism is not a "hidden battle… raging over the future of American Reform Judaism," writes Rabbi Marla J. Feldman, in an opinion piece for eJewishPhilanthropy in response to Rabbi Lance Sussman's article "The hidden battle for the soul of Reform Judaism." It is a "debate about buildings and finances and rabbinical education."
Jewish identity is not a building: "If the pandemic has taught us anything, it is that buildings do not define Judaism or Jewish life, and that rich Jewish experiences and learning can take place outside of our hallowed halls. Despite our inability to be in-person during these past few years, Jewish scholarship and rabbinical education thrived. HUC-JIR students continued to prepare themselves for leadership. Professors continued to teach and nurture their students. Congregations and other Reform institutions continued to meet the needs of our constituents. We adapted as we always have when facing times of change. Our solutions were sometimes imperfect and unsatisfying, and sometimes heroic and uplifting. But our inability to worship, study, or celebrate together in our buildings did not define us."
Training, not location: "So, too, the physical location in which a few dozen rabbinical students receive their education also will not define us. If they are properly trained and educated, they should be able to serve in any community they choose (or that chooses them), whether urban or suburban, large or small, Midwest or coastal. Rabbis trained in Los Angeles or New York are no less qualified to serve a community in Chicago or Denver than those who studied in Cincinnati, just as students trained in 'fly-over country' have for generations been amply equipped to serve communities anywhere their professional journeys take them. It is not the location of their desks that will shape these future leaders, but rather the quality of their training, the integrity of our movement's leadership, and the influence of inspiring mentors and role models."
Worthy Reads
Laundering Oligarchs: How have Russian oligarchs managed to sanitize their reputations so that they are now seen as philanthropic heroes, Casey Michel asks in New York magazine's Intelligencer column: "These oligarchs from Russia (and elsewhere) aren't simple businesspeople looking to create jobs or revitalize local economies. As people in Russia well know, the oligarchs are little more than parasitic figures extracting wealth and hiding it in the West — attempting not only to conceal their finances but to target key industries and expand resources for the benefit of the Kremlin's malign campaigns. ??Moscow's outrageous invasion should convince western officials to create new transparency requirements for nonprofits willing to accept donations from oligarchs — and to finally reveal just how much money they've taken from those close to the Kremlin. This would both build on renewed pro-transparency momentum for things like real estate and shell companies and illuminate how oligarchs have turned to universities, think tanks, museums, and more to transform themselvesfrom Kremlin insiders into supposed philanthropists." [NYMag]

Palm Beach 'Youthquake': Palm Beach, Fla. — a "cloistered resort town that is known for its septuagenarian snowbirds" — is being taken over by 20- and 30-somethings, Bob Morris reports in The New York Times: "The narrow island of Palm Beach — 16 miles long with many billionaires according to a 2021 Forbes ranking and a median sale price for a single-family home of about $9.9 million according to Redfin — has drawn young arrivistes from New York City and elsewhere, who fled during the pandemic. Many, at first, stayed with their parents, then bought houses and, finding life and parties better, have decided to stay." [NYTimes]

A Disconnect on Connections: Many maintain that technology is making us lonelier and more susceptible to mental health issues, Manvir Singh writes in Wired, but this alarming picture may not be true: "The mantra that technology worsens depression through sedentism and isolation is only part of the story. New technologies may turn us into homebound loners, but by lessening our reliance on bodies and social bonds, they also help buffer us from nature and social drama—vagaries that have likely caused distress since the origin of our species. […] The impulse to blame anxiety and depression on technology isn't surprising. It taps into familiar fables of an Edenic past. And it blames modern problems on the exciting, eye-catching, sometimes scary innovations that regularly reconfigure society. But if our goal is to create a happier, healthier society, we benefit not from waving the banner of a fetishized past but from embracing technology and harnessing its therapeutic powers." [Wired]
Community Comms
Be featured: Email us to inform the eJP readership of your upcoming event, job opening, or other communication.
Word on the Street
Ty Alhadeff was named director of the Sephardic Leadership Institute at JIMENA (Jews Indigenous to the Middle East and North Africa)…
The Jewish Federations of North America, in partnership with The Jewish Agency for Israel, the American Jewish Joint Distribution Committee and IsraAID, launched a volunteer hub to aid Ukrainian refugees. The effort was first reported in eJewishPhilanthropy last week…
Volunteers from UJA-Federation of New York packed 100 Passover food boxes for the Metropolitan Council on Jewish Poverty on Sunday at the Met Council's Manhattan offices…
The Jewish Federation of Greater Harrisburg (Pa.) finalized its purchase of the city's Dixon University Center, which formerly housed the headquarters of Pennsylvania's State System of Higher Education, from the state…
The Jewish Community Foundation of Greater Hartford is celebrating its 50th anniversary with a 20,000-piece, community-created mosaic at West Hartford's Mandell Jewish Community Center…
Pic of the Day
Israeli soldiers and Colel Chabad volunteers prepare gifts for Ukrainian refugee children arriving last week at Ben Gurion Airport in Israel.
Birthdays
Author of books about her childhood experiences as a Jewish girl in the Netherlands during the Holocaust, Johanna Reiss…
Retired MLB player for the Orioles, Senators, Athletics, Rangers and Angels, Mike Epstein… Sherman Oaks, Calif., resident, Gloria Margulies… French-German politician who is a Green Party leader in Europe, Daniel Cohn-Bendit… Hungarian dramatist, novelist and essayist, György Spiró… Professor of history at American University, Allan Jay Lichtman… Professor emeritus of English at the University of Pennsylvania, Charles Bernstein… Visiting fellow at the United States Studies Centre at the University of Sydney, Bruce Wolpe… Petah Tikva-born, Emmy Award-winning film director, producer and writer, Simcha Jacobovici… Retired partner from the M&A group at Skadden, David J. Friedman… Founder and president of Stutzman Public Affairs, Robert Stutzman… Tel Aviv-born animator and film director, Tatia Rosenthal… Former member of the Knesset, Yoel Hasson… Israeli social activist promoting the rights of the disabled, Hanna Akiva… NYC-based artist and founder of the Midnight Society, an artist run curatorial project, Abshalom Jac Lahav… Actress since she was 6 years old, Natasha Lyonne (born Natasha Bianca Lyonne Braunstein)… Israeli journalist, Haviv Rettig Gur… Actress and YouTube personality, Lisa Schwartz… Israel's top men's tennis player, who had broken into the top 30 of world rankings, David "Dudi" Sela… NYC-based freelance editor and lifestyle writer, Daisy Melamed Sanders… Writer at "Big Shot" and young leader in the Los Angeles Jewish community, Leslie Schapira… JCRC director at the Jewish Federation of Greater Philadelphia, Jason Holtzman…
Email Editor@eJewishPhilanthropy.com to have your birthday included.