Your Daily Phil: JewBelong's Passover prep + J.J. Greenberg Award goes to Jonathan Horowitz
Good Thursday morning!

The Jewish Funders Network (JFN) named Jonathan Horowitz of the Klarman Family Foundation the 18th winner of its J.J. Greenberg Memorial Award, which honors foundation professionals who are working in grantmaking and are under the age of 40 for "extraordinary leadership" in Jewish philanthropy.

Horowitz, 37, is director of national and democratic initiatives at The Klarman Family Foundation.

In his acceptance speech, Horowitz contrasted the Passover Seders of his childhood favorably with the intimidating boardroom at his first job as a program officer, which "created distance in relationships," he said. "When I think about the culture of Jewish philanthropy many of us dream about, it looks a lot less like our boardrooms and a lot more like our seders — intergenerational, diverse, democratic, messy, and fun."

Prior to joining The Klarman Family Foundation as a senior program officer in 2016, Horowitz was a vice president of global philanthropy at JP Morgan Chase & Co, managing the firm's New York metropolitan area grantmaking in the fields of financial empowerment and economic development. Before that, he was a program manager at JFN. Horowitz earned an MPA from New York University and a BA from Brandeis University. He serves on the boards of Slingshot and UpStart.
FUnny Stuff
'Tis the season for JewBelong's outreach — Passover
For some people, the Passover Seder is an intricate, intellectual and spiritual event that starts weeks ahead of time with the creation of a personal Haggadah and lasts until the early hours of the morning after the ritual meal. For others, it might be about the kids. Plastic frogs are scattered across the table. Some people come in costume, and children press scallions into service as whips, imitating the Egyptians. And then there's a big crowd that's holding Seder because it's the one of the only Jewish holidays they celebrate, and they want to feel connected, and have fun. The Jewish outreach organization JewBelong aims to serve that last group. "We want people to be saying, 'How can I turn away this valuable gift?'" JewBelong co-founder Archie Gottesman told eJewishPhilanthropy. "Judaism doesn't show itself off like that enough."
Irresistible gift: JewBelong just announced that it's offering a virtual Seder called "Burning Man-ischewitz," a riff on the popular alt music and art festival held annually in the Nevada desert. Gottesman's husband converted, and her experience of seeing an often-lackluster Judaism through his "rookie" eyes helped inspire the creation of JewBelong.
Pivot to video: The pandemic spurred JewBelong to act on a longstanding plan to produce more video, Gottesman said. Pre-COVID, most of its content was text, to be read online or printed out. This year, the group will host two online Seders, described on the website as two "showings" of Burning Man-ischewitz. A suite of new videos for the holiday features a sloshed Elijah, who's drunk 20,000 cups of wine, and a Seder-goer who confides that he tailgates first: "There's going to be a lot of history before you get a biscuit."
Bringing Back Bacon
Nonprofits welcome the return of congressional earmarks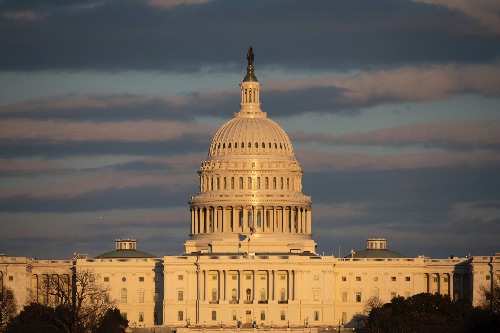 The House Republican Conference voted yesterday to withdraw its decade-long ban on earmarks, a congressional funding practice that enables individual lawmakers to request designated funding for projects in their districts. Their decision comes after Democrats, now in control of both chambers, pledged to bring back the controversial spending practice — a move welcomed by many nonprofits, Jewish Insider's Marc Rod reports.
Doing good: Robert Goldberg, the senior director of legislative affairs for the Jewish Federations of North America, who has been a lobbyist for the organization since 2001, described the return of earmarks as a positive step for community programs. "They can do a lot of good," Goldberg said.
'Challenge grants': JFNA historically assisted the agencies under its umbrella with the earmark application process, a role that it is resuming with the return of earmarks on Capitol Hill. From 2002 to 2010, Goldberg said, JFNA helped organizations secure nearly $32 million across 110 earmarks. "I think of them as challenge grants," Goldberg argued, pushing back on the negative reputation earmarks can have. "If there's something that you need or wanted to do, but didn't necessarily have the resources or financial impetus to do it, this is an opportunity to reach out to a member of Congress to ask them to support an innovative initiative."
Presidential Address
Resilience isn't enough. We need renaissilience.
"The crisis we face today is an opportunity for bold action; for courageous reimagining, for recreating our communal structures in ways that are more adequate and relevant to our times," writes Andres Spokoiny in his annual message to Jewish Funders Network members.
The collective project: "As funders, we need to do things that may be counterintuitive and countercultural. We need to fund and nurture diverse spaces; we need to double down on programs that create bridges and a shared language, spaces that can be 'the public square' of the Jewish community. Sometimes we may need to fund things that we don't fully agree with. We may be tempted, for example, to cut funding to a JCC that hosts a program with which we disagree ideologically, but that JCC serves as a communal public square and that will, by definition, include things we won't like."
Courage and bold action: "The crisis we face today is an opportunity for bold action; for courageous reimagining, for recreating our communal structures in ways that are more adequate and relevant to our times. Our community system is precious, but it's also the product of very specific historical circumstances; circumstances that have now changed."
Hybrid solution
Designing the post-pandemic meeting
"Going back to the office does not mean going back to how it used to be, nor should it," write Rae Ringel and Maya Bernstein in an opinion piece for eJewishPhilanthropy.
Opportunity: We can view the return to a hybrid model as a problem we need to fix, and many are doing just that: trying to "solve" the hybrid "problem." We would like to argue the opposite: the hybrid model is not a "problem" but an opportunity, and it should not be "solved," but rather explored, designed, and ultimately celebrated. What we have learned is that hybrid is no longer the problem, it is the solution. Giving presentations, running meetings, gatherings, and brainstorming sessions can actually be better in this hybrid mode.
Meetings of the future: We acknowledge that it is really difficult to engage people virtually and in-person at the same time. But it is inevitable – it's going to be happening more and more. Instead of going "back" to how we used to run hybrid meetings, primarily focused on the people in the room, we encourage companies and organizations to use a design cycle to imagine and realize the most productive and effective hybrid meetings – the meetings of the future.
Worthy Reads
SCOTUS Bar: The Supreme Court is about to hear another case that will help answer the ongoing question of how, and to what extent, the government can fund education in religious schools, columnist George Will writes in the Washington Post. Last year, the court held that if the state of Montana subsidizes private education, it must also subsidize private religious schools. Now the court will hear a case out of Maine, whose position is that parents can only use state funds to pay tuition at a religious school if the school does not promote the faith with which it is associated. "That is, parents can only pick religious schools that are not very serious about religion," Will observes. [WaPo]
Expert Advice: In the Chronicle of Philanthropy, Maria Di Mento collects tips on how to find major donors by interviewing a range of powerhouse fundraisers. Michael O'Neill, senior vice president of university advancement at Villanova University, encourages the use of Zoom or FaceTime to introduce prospective donors to current ones. Major-gift prospects often leave clues in the form of demonstrated interest, through a corporate matching campaign, for example, says Sarah Fonder-Kristy, chief development officer at the Atlanta Community Food Bank. And Rachael Rosselli, regional philanthropy officer at the American Red Cross of Massachusetts, urges fundraisers to manage their own expectations: Bringing a major donor on right now can take up to a year. [ChroniclePhilanthropy]
Solid Board: Nonprofit boards can continue to do valuable work in the online era, suggest Jon Huggett, first chair of the Social Innovation Exchange, and Mark Zitter, chair of SFJAZZ, in the blog of Stanford Social Innovation Review, but it takes a lot of deliberate work on the part of the chair to keep everyone engaged and on-task. Arnold Baker, chair of the Davis County Food Bank, resolved the stalemate by replacing the lengthy agenda with one that focused on three issues; incorporating breakout rooms, polls, visual votes and chat-box questions and enlisting other trustees to help him make these changes. He also initiated office hours. [SSIR]

Reviving history: The language-learning app Duolingo is adding Yiddish to its course offerings beginning next month. The company hopes that the classes will appeal not just to those looking to learn their ancestors' tongue, but to a broad audience interested in picking up the language. "I always stress that our courses are for everyone and anyone who wants to improve their lives and learn a language," a Duolingo spokesperson told Jewish Insider. "We just think that there's a lot of value in linguistic diversity." [JewishInsider]
Community Comms
Apply! Want to join the team at Jewish Insider/eJewish Philanthropy? We're looking for a top-notch philanthropy editor. Learn more here.
Be featured: Email us to inform the eJP readership of your upcoming event, job opening, or other communication.
Word on the Street
The Jewish Funders Network has announced the establishment of the Ilia Salita Excellence in Research Award, funded by the Genesis Philanthropy Group… The Yeshiva University men's basketball team holds the longest winning streak in the country… Carnegie Mellon University and the University of Pittsburgh are jointly launching a new center to study extremist hate… The Jewish Museum of Florida-FIU has been gifted a large-scale aerial sculptural installation by Mira Lehr titled "Sacred Dreams"… A new report from the Institute for Jewish Policy Research offers insights into the working lives of British Jews both prior to, and during the early stages of the pandemic…
Pic of the Day
The Jewish Book Council interviewed Israeli author Yaniv Iczkovits, whose award-winning novel The Slaughterman's Daughter was recently translated into English.
Birthdays
Professor of modern Jewish history and Holocaust studies at Emory University, Deborah Esther Lipstadt…

Screenwriter and film executive, best known for co-writing the screenplay for "Jaws" and its first two sequels, Carl Gottlieb… National columnist with Creators Syndicate and contributor to CNN Opinion, Froma Harrop… One-half of the eponymous Ben & Jerry's ice cream (Jerry is four days older), Ben Cohen… French businessman, CEO and chairman of Électricité de France and a board member of Societe Generale, Jean-Bernard Lévy… Former crisis response team manager for the City of Los Angeles, Jeffrey Zimerman, MSW… Head coach of the Auburn Tigers men's basketball team, he also served as the gold medal winning head coach for the Maccabi USA men's basketball team at the 2009 Maccabiah Games, Bruce Pearl… Dean of the Rabbinical School at the Jewish Theological Seminary, Rabbi Daniel S. Nevins… Filmmaker, writer and stand-up comedian, Jake David Shapiro… Identical twin brothers and former yeshiva students, both singers and songwriters who recorded as "Evan and Jaron," Evan Lowenstein and Jaron Lowenstein… Singer songwriter and lead vocalist for the pop rock band Maroon 5, Adam Levine… Actor, comedian and writer, Adam Pally… Sales manager at IKO Industries Ltd, Ariel Koschitzky… MBA candidate at Georgetown's McDonough School of Business, Michael Schapiro… Actor and television producer, best known for his role on the Netflix original series "Orange Is the New Black," Alan Aisenberg…