Your Daily Phil: Endowments for Calif. Hillels + Reflecting on Victory Day
Good Tuesday morning!
When Hillel at the University of California, Los Angeles opened its new building two decades ago, it was a dramatic expansion for the campus group, enabling it to grow the number of students it served from 400 to more than 1,800 today. But in recent years, Hillel staff also worried that the building would become an albatross.
Maintaining the 22,000-square-foot building meant a sharp increase in staff and costs, and comprises a significant chunk of the organization's $2.4 million budget. And recently, said Rachael Petru, the Hillel's director of philanthropic partnerships, the organization worried that the children of longtime supporters wouldn't donate as much. Would the Hillel have to sell its building in order to maintain its programming and staff?
For now, at least, the answer to those questions is no, eJewishPhilanthropy has learned, thanks to an endowment of the Hillel's executive director position from the Rosalinde and Arthur Gilbert Foundation, a longtime supporter of UCLA and its Hillel. A similar endowment from the Gilbert Foundation will fund the executive director position at the University of California, Berkeley Hillel as well — a school the foundation has also traditionally supported, along with its Hillel. The foundation did not disclose the size of the endowments, which are in the seven figures.
"What we've been looking to do over the last decade is answer an existential threat to most charitable organizations, which is the intergenerational transfer of wealth," Petru told eJP. Before the endowment, she said, the thought was, "We know there's a case to be made that Jewish campus life can be nourished to some degree without a building… If we're going to be losing donors in the next 20 years and we can't replace them dollar for dollar, maybe we need to think about this."
Petru said the gift does not give the Gilbert Foundation any oversight of the hiring or work of the UCLA Hillel's executive director, who is and will remain Rabbi Aaron Lerner, though his title, and that of his counterpart at Berkeley Hillel, will now include the foundation's name. According to Hillel International, fewer than 10 of the 200 Hillel chapters with professional staff have endowed director positions.
The gift is timed to coincide with JFN West, the Jewish Funders Network conference beginning today in Los Angeles. Richard Ziman, the Gilbert Foundation's CEO, called the donations "a savvy investment that leveraged and multiplied existing strengths."
The gift is also a reflection of COVID-19's impact, Petru said. While the donation is meant to secure the future of the Hillel, she said, "The pandemic created a sense of urgency in people looking at mortality and understanding that we can't necessarily plan for the future as we thought."
GOING ONCE
Online auction aims to attract attention to Israel's smaller art museums
In 2019, the artist Jeff Koons made headlines when his sculpture "Rabbit" sold for $91 million — a record for a living artist. Starting today, two more works by Koons will be going on the auction block. And while they are unlikely to set records, they were donated by the artist to support a cause across the ocean from his home base of New York City: a consortium of small Israeli museums, reports eJewishPhilanthropy's Ben Sales.
Opening bids: The digital auction, an annual event of the American Friends of Israeli Museums, aims to draw attention to the museums by catering specifically to art lovers with some disposable income. The starting bids range from $200 for an etching by Hermann Struck titled "New York, Brücke und Schornstein," to $20,000 for one of Koons' pieces, a 2020 sculpture made of porcelain with metallic chromatic coating called "Diamond (Red)." While predicting art auctions is difficult year-to-year, last year's auction raised $188,000 from 30 bidders. Overall, the American Friends of Israeli Museums has raised more than $1 million on behalf of the museums collectively since 2015.
Digital sales: The pandemic created financial difficulties for the museums, which range from a museum of Japanese art in Haifa to the The Tower of David Museum in Jerusalem's Old City. The art auctions were a useful fundraising tool, said Enid Shapiro, the organization's executive director, because they're virtual and the bidders do not need to pay taxes on their purchases. Online art sales also grew during the pandemic. "In terms of fundraising, we could go online quickly with art," Shapiro told eJP. "Ten years ago, eight years ago, nobody bought art online… With COVID it accelerated and there's not that hesitation that you would think."
Leadership
The blessing of renewed beginnings
"We thought we could do our jobs on Zoom and Teams and send a gift box with a customized water bottle and brownie brittle, and it would feel like a conference. But not until we entered this room, did we truly understand the loss, the grief, the disappointments of not being together," said Erica Brown, director of the Rabbi Lord Jonathan Sacks Center for Values and Leadership at Yeshiva University, in the keynote  address at last week's JPro conference, "Going Places, Together," in partnership with The Jewish Federations of North America.
Life during COVID: "Some professional friendships and relationships grew stronger over COVID. But some of these bonds languished in loneliness. We may have done little to relieve them. Some of our colleagues let us down. The boundaries of work and homelife blurred. The pressures of illness and childcare for many created room for little else other than our job responsibilities. Many of us withdrew from our normal work routines and behaviors. We all have regrets to share and apologies to make."
Looking forward, not backward: "Some professional friendships disappeared for a while. Some of us will approach each other sheepishly for not being better colleagues. But we're here now. Finally. So let us seek the happiness of reunions instead of reminders of where we have fallen down. It's been so hard. Let's not use this time to judge because we have a big job ahead… The job involves not only friends but strangers who we hope will become friends… How do we reconstitute our organizations and bring people back and new people in?"
symbols
Explaining Victory Day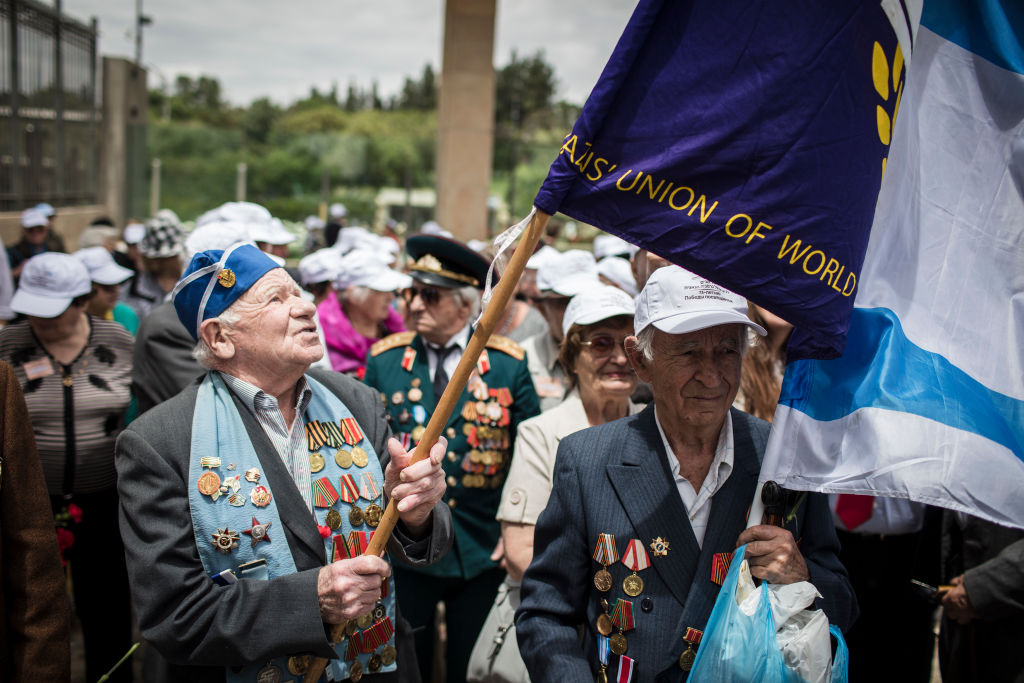 "The Soviet Union used to mark the victory over Nazi Germany on May 9 each year; it was a day later than the V-Days celebrated by the other victors in WWII – the U.S., United Kingdom and France. The explanation for this minor but significant disparity had to do with the fact that Prague — the capital of Czechoslovakia — was liberated on that day, a day later than when Germany formally surrendered," writes Misha Galperin, president & CEO of the Weitzman National Museum of American Jewish History, in an opinion piece for eJewishPhilanthropy.
Childhood images: "My entire childhood, and that of every Soviet citizen starting in the decade of 1940s and continuing uninterrupted through the dissolution of the Soviet Union (and returning with vigor and enhanced special effects since the return of the KGB elite to power) was filled with images, books, films, monuments, commemorations, parades, TV shows, video games, etc. focused on glorifying the Soviet victory in the Second Great Patriotic War."
Jewish soldiers: "Over half a million Soviet Jewish soldiers fought in the regular armed forces and another 100,000 with the partisans and resistance fighters. By the way, Soviet Jews were not the only ones. Fully 50% of all age-eligible Jewish males alive at that point, a total of 1.5 million Jewish soldiers in the world, carried arms for their countries against the Axis powers."
Battlefield deaths: "I never met a family from Russia or Ukraine that didn't have someone, and often more than one someone who fought in the war. In addition to the 6 million Jews who perished in the Holocaust, another half million, at least, died fighting on the battlefields."
Worthy Reads
Tech Belt-tightening: Although the job market seems to be holding strong, things may be cooling off in the technology sector, Tristan Bove writes in Fortune magazine: "Most of the tech companies that have said they will slow hiring or begin layoffs have one thing in common: They all noted a massive shift in the market, as tech stock downturns in the first months of 2022 have led to a cumulative $17 billion in losses for tech companies. There are reasons that belt tightening might be hitting tech particularly hard. Tech companies grew at a startling rate during the pandemic, as many people were stuck at home, and demand for products like games, phones, cloud services, and digital subscriptions soared. As people begin to leave their homes more, those trends are changing. But factors like higher interest rates and recession fears could also apply to other industries. And in times of economic uncertainty, job hopping and high employee turnover may become things of the past." [Fortune]

Portable Holocaust Museum: With help from family and friends and support from the Sgoolai Israel Synagogue, 28-year-old Canadian Jasmine Kranat created an interactive, Holocaust-related multimedia project that can serve areas with no Holocaust museum of their own, CBC News' Rachel Cave writes. "Kranat said she was trying to replicate the kind of experience she had at age 16 at the U.S. Memorial Holocaust Museum in Washington, D.C. 'The memory is with me, even to this day — how emotional I was coming back, how proud I was to be Jewish, how much I wanted everyone else to experience it. I wanted everyone else to see the shoes of the people, the hair that was shaved off the women's heads, the children's toys, the books, the glasses. I thought if we can't take people to that, we need to bring it to them.'" [CBCNews]
Community Comms
Fellowship funding available. Apply for Spertus Institute's accelerated Master's program for Jewish communal executives. Complete your degree in 18 months.
Be featured: Email us to inform the eJP readership of your upcoming event, job opening, or other communication.
Word on the Street
A new Department of Homeland Securityonline portal is accepting applications and allows individual Americans, as well as private and public organizations, to apply to financially sponsor a Ukrainian for travel from Europe to the U.S. President Joe Biden pledged to accept up to 100,000 refugees in the United States.…
The Conference of Presidents of Major American Jewish Organizations confirmed current chair Dianne Lob for a second one-year term beginning June 1. Harriet Schleifer, outgoing national president of the American Jewish Committee, was elected to serve as the subsequent chair beginning on June 1, 2023…
An online auction of 150 items owned by the late Justice Ruth Bader Ginsburg raised $803,650 for the Washington National Opera, one of Ginsburg's passions…
Amazon founder Jeff Bezos donated company shares worth $118 million to unnamed nonprofit organizations…
The University of Pikeville, located in Pikeville, Ky., received a $25 million gift from a donor who wishes to remain anonymous. The donation will help establish a college of dentistry and expand access to health services in Appalachia…
Baltimore's oldest Reform synagogues, Har Sinai Congregation and Temple Oheb Shalom, are celebrating their merger with formal installation ceremonies and a monthlong festival…
The Jewish Theological Seminary will hold an inaugural concert May 10 at the institution's new performing arts center on the Morningside Heights campus…
Rabbi Ethan Linden, Camp Ramah in the Berkshires and the National Ramah Commission are targets of a lawsuit related to a sexual assault involving two campers in 2018…
Wesleyan University professor of religion Jeremy Zwelling, who taught at the university for 43 years, died at 81…
Eve Kurtin-Steinberg, a former president of Stephen Wise Temple in Los Angeles and recently political chair of AIPAC, died…
Pic of the Day
A fire destroyed Chabad-Lubavitch of the Panhandle, in Tallahassee, Fla., on Sunday morning, gutting the newly renovated building and consuming two Torah scrolls along with hundreds of books. Rabbi Schneur Oirechman, the shul's executive director, said they're going to "build a stronger and brighter future out of the ashes." The cause of the fire is under investigation; no injuries have been reported.
Birthdays
Israeli rock musician, Aviv Geffen…
Shopping center developer and former U.S. ambassador to both Australia and Italy, Melvin Floyd "Mel" Sembler… Scion of a Hasidic dynasty and leader of the Beth Jehudah congregation in Milwaukee, Rabbi Michel Twerski… and his twin brother, who is a professor at Brooklyn Law School, following a career as dean at Hofstra University School of Law, Aaron Twerski… Majority owner of The Related Companies and principal owner of the Miami Dolphins, Stephen M. Ross… Founding rabbi of Chavurat Aytz Chayim in Connecticut, creator of RTN (a Russian language TV channel) and Shalom TV (a Jewish channel), Mark S. Golub… Democratic pollster and political strategist, Stanley Bernard "Stan" Greenberg… British actress, she is a vocal supporter of Israel, Dame Maureen Lipman… Israeli businessman and philanthropist, his family founded Israel Discount Bank, Leon Recanati… Founder and CEO of OPTI Connectivity, Edward Brill… CEO of Medical Reimbursement Data Management in Chapel Hill, N.C., Robert Jameson… American-born Israeli singer-songwriter and music producer, Yehudah Katz… Claims examiner at Chubb Insurance, David Beck… Anchor for "SportsCenter" and other programs on ESPN since 1979, Chris "Boomer" Berman… Former NBA player whose career spanned 18 seasons on seven teams, Danny Schayes… U.S. Sen. Cindy Hyde-Smith (R-MS)… Brazilian businessman Ricardo Samuel Goldstein… Special ed teacher, Neil Winchel… Senior rabbi of Houston's Congregation Beth Yeshurun, Brian Strauss… Editor-in-chief, recipe developer, art director and food stylist of Fleishigs, a kosher food magazine, Shifra Klein… Video games reporter at Bloomberg News, Jason Schreier… Manager of government affairs at the American Forest & Paper Association, Fara Klein Sonderling… Associate director of communications in the DC office of Pew Research Center, Rachel Weisel… National correspondent for New York magazine, Gabriel Debenedetti… Editorial director at The Recordby Recorded Future, Adam Janofsky… Actress who has appeared in many films and television series, Halston Sage… Mollie Harrison…
Email Editor@eJewishPhilanthropy.com to have your birthday included.