Your Daily Phil: ADL acquires JLens + Burnout in the rabbinate
Good Thursday morning!
In today's Your Daily Phil, we report on an acquisition that signals a new focus in the Jewish world on corporate social responsibility, and feature an op-ed by the Reconstructionist Rabbinical Association's Rabbi James Greene on what lumberjacks can teach us about burnout. Also in today's newsletter: Paul G. Allen, Anita Zucker, Raymond Simonson, Jamie Beran and Menachem "Manny" Menchel. We'll start with former Israeli President Reuven Rivlin's commentary, given at a gala last night, on Israel's recent election.
Accepting an award last night at the gala of the World Jewish Congress named for the father of Zionism, Theodor Herzl, former Israeli President Reuven Rivlin made clear to his audience in New York City what he believed Herzl stood for.
"The Jewish people have the historical, legal and moral right to sovereignty in our ancient homeland of Eretz Israel," Rivlin told the crowd. "But sovereignty must also be earned by responsibility, by the fact that we respect our rights as a sovereign nation to uphold the civil rights of all citizens in our state. The State of Israel was built in 1948 according to two values… that Israel must be a Jewish, democratic state. Democratic and Jewish, Jewish and democratic — in one tone, in one breath."
It may have been tempting to see Rivlin's statement as a subtle nod to the results of Israel's election — which saw a far-right party get the third-most votes and stand at the cusp of entering the governing coalition — but he also explicitly addressed the election later in his speech.
"This time, we have a winner of the election," Rivlin said, after referencing the four previous rounds of voting over which he presided. "I can only express my very sincere hope that the new government will offer the people of Israel stability… economic and social growth, and will now keep us safe in the many challenges that we are facing."
He added, "We can never allow the security of our Jewish people and all the Jewish people all around the world to be in the hands of others, and we can never avoid our responsibility to the democratic and Jewish foundations of our state."
Rivlin, who left office last year, was the main awardee at the WJC event, held last night at the Museum of Modern Art in Manhattan. And he was not the only prize recipient to stress the importance of democracy. The acclaimed documentarian Ken Burns received an award named for former longtime Jerusalem Mayor Teddy Kollek, in honor of Burns' recent documentary, "The U.S. and the Holocaust."
The gala was held on the 84th anniversary of Kristallnacht, and the memory of the Holocaust permeated the program, from the screening of clips from Burns' documentary to the menu at the dinner, which was drawn from the new cookbook Honey Cake & Latkes: Recipes from the Old World by the Auschwitz-Birkenau Survivors. Attendees ate matzah ball soup and brisket, along with latkes made a la Marion Wiesel, wife of late Nobel laureate Elie Wiesel.
In his speech, given as midterm election results were still being tabulated across the U.S., Burns also called to protect democracy. "The time to save a democracy is before it's lost," Burns said, adding that we are at "an ominous crossroads now, and history doesn't provide us with easy answers to point us down the right path, but it does allow us to pose better questions."
corporate concern
ADL acquires JLens, entering the impact investing space
The Anti-Defamation League will acquire the Jewish impact investing organization JLens, a sign of the increased focus Jewish groups are placing on combating antisemitism and anti-Israel boycotts in the corporate world, reports eJewishPhilanthropy's Ben Sales.

What it means: For the ADL — which has historically campaigned against antisemitism in the market through advocacy, coalitions, boycott campaigns and the media — this means entering directly into shareholder meetings and speaking with corporate social responsibility executives in order to impact company policies. For JLens, it means the group's mission has gained the support and imprimatur of one of the largest and most prominent Jewish organizations. And it likely means a doubling down on pushing companies to disavow antisemitism and distance themselves from the Boycott, Divestment and Sanctions movement against Israel, known as BDS.

Expanding: More immediately, in practical terms, it means JLens will "grow considerably" in terms of budget and staff, ADL CEO Jonathan Greenblatt told eJP. JLens has a staff of four that will now grow to six. It will add on a researcher focused on companies' environmental, social and governance policies, known as ESG, and will also hire a day-to-day director so that JLens' founder and current CEO, Julie Hammerman, can focus on growing the organization and gaining buy-in across a wider swath of the Jewish community.

Trusting brands: "Brands mediate so much of our lives," Greenblatt told eJP. "In our country, when consumers are so cynical about government, and are so cynical about organized religion, and so cynical about political candidates… consumers feel like their brands represent them and their values. This gives the ADL the opportunity, it gives us a seat at the table in a way that I think will allow us to be more effective advocates for our community and its core values."

Read the full story here.
restore and replenish
Look to the lumberjacks to inspire Jewish professional renewal
"Author and inspirational speaker Simon Sinek tells a story about two lumberjacks who start and stop their work at the same time each day. One works straight through, while the other leaves for an hour each day. The lumberjack who leaves each day continually chops more wood than his colleague, and after some time the other lumberjack gets frustrated and says, 'We start at the same time, and stop at the same time. Every day you disappear for an hour, and you still chop more wood than me. Where do you go for that hour?' The other lumberjack stops and replies, 'I go home and sharpen my ax,'" Rabbi James Greene, president of the Reconstructionist Rabbinical Association, writes in an opinion piece for eJewishPhilanthropy.
We need a break to stay sharp: "I am exhausted. And not the kind of exhaustion that can be fixed by a good night's sleep or a vacation. Exhausted in the way that indicates something is wrong. Burnout isn't a medical diagnosis, but it certainly impacts physical and mental health. As I reflect on my own work and check in with colleagues who are struggling with similar feelings, I get the sense that we have, as a field, not been diligent about taking a break to sharpen our axes. Particularly during the pandemic, we have worked through weekends, done more rather than less and cultivated a culture of toxic productivity. In doing so, we have reinforced unrealistic expectations that are not equitable, perpetuated employment practices that make organizational change harder to achieve and defined success by the number of hours worked rather than how effectively we are meeting our mission."
Working hard with dull tools: "We are currently the lumberjack who chops all day but continues to be less productive. And we have the resources as a field to identify the tools that can help us be more balanced, more productive, healthier and sharper professionals."
Worthy Reads
Funding Future Unity: Based on the idea of "cultural pluralism," a group of donors from across the ideological spectrum called the New Pluralists pledged to spend $100 million over the next decade to fight polarization by funding face-to-face interactions among Americans across political, racial and religious divides, Farah Stockman writes in The New York Times. "But a big question remains: Can a group of wealthy donors change American culture from above? How exactly does that work? If you are trying to change a law, you hire a lobbyist. To change American culture, whom do you hire? Nevertheless, the group is doubling down on its vision. Over the summer, it put out a request for grant proposals from grass-roots groups engaged in this work. Eight hundred applications poured in — too many to fund. That's when the New Pluralists began an effort to challenge donors to devote $1 billion over the next decade to pluralism, an initiative it announced at a White House unity summit in September." [NYT]

Giving and Gifting: More Americans give to charity during November and December than at any other time of the year. So as the season approaches, Rev. Dr. McKennon Shea writes for the Lake Institute on Faith and Giving, the end-of-year appeal is "not only productive, but essential to the bottom line of our organizations" as well as an opportunity for deeper engagement. "A few years ago in December, I joined a donor over lunch… During our time together, I asked about other charities he supports, and he told me that each year, before Christmas, he sits down with his grandchildren, and they discuss together which organizations they would like to support. Each grandchild was given, as part of their Christmas gift, a sum of money they could donate to whatever cause they felt was most important to them. The younger children would often choose the local children's museum, he said, and the older ones might choose their college. Some, he noted, would choose a different charity each year, while others became set on the same recipients. In addition to announcing their selection, they would each have to give a reason why they made their choice or talk about what they thought made the organization a deserving recipient. Over the years, as they worked through this exercise together, his hope was to not only provide support to a variety of causes, but to instill in his grandchildren the habit of generosity." [Lake Institute]
Around the Web
The proceeds from an auction featuring the art collection of Microsoft co-founder Paul G. Allentopped $1.5 billion, breaking the record — set six months ago by Harry and Linda Macklowe — for the largest sale in auction history. All of the proceeds went to philanthropic causes, as Allen requested before his death in 2018…
Yeshiva University received a $5 million donation from Anita Zucker of Charleston, S.C., which will fund an eponymous program for Jewish early childhood educators…
London's JW3 raised more than $590,000 from 750 donors in a recent fundraising campaign in honor of CEO Raymond Simonson's 50th birthday. It was the most the Jewish community center had ever raised from a single appeal, and funds will go toward meeting the needs of community members who are struggling with their cost of living…
Jamie Beran was named CEO of Bend the Arc; she previously served as the organization's interim CEO, chief of staff and chief operating officer, and was the co-architect of its strategic plan…
Menachem "Manny" Menchel was named chief impact officer at The Jewish Federation of Greater Washington. He was previously at the William Davidson Foundation, where he served as senior program officer of Jewish life and program officer for Jewish education…
Pic of the Day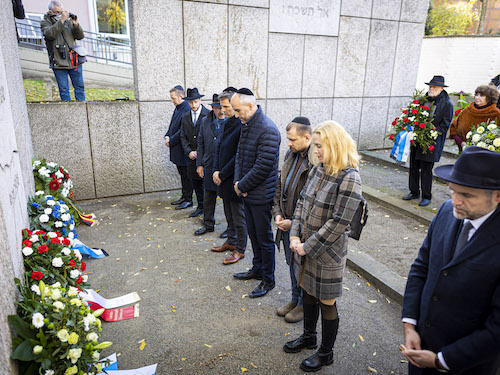 Steffen Krach, lord mayor of Hanover, Germany (fifth from right), and other participants stand at a former synagogue at a commemoration of Kristallnacht, the 84th anniversary of which fell yesterday. 
Birthdays
Executive director of the Ruderman Family Foundation, Shira Menashe Ruderman…
Manager of the Decatur, Ga.-based Connect Hearing, Murray Kurtzberg… Former NBA player who became a lawyer and then a New York State judge, Barry D. Kramer… One of the four deans of Beth Medrash Govoha in Lakewood, N.J., one of the largest yeshivas in the world, Rabbi Yerucham Olshin… Professor emeritus at the University of Nebraska at Omaha, he is a cofounder of Nebraska Jewish Historical Society, Oliver B. Pollak, Ph.D…. Former CNN news anchor, Aaron Brown… Executive director of the Pat Brown Institute for Public Affairs at California State University, Los Angeles, Raphael J. Sonenshein, Ph.D…. Executive producer, writer, journalist at Holaro and The Muck-Rake, Howard L. Rosenberg… Chief administrative officer at the Legacy Heritage Fund, Elaine Weitzman… ESPN's longest-tenured SportsCenter anchor, Linda Cohn… Rabbi at Temple Beth Kodesh in Boynton Beach, Fla., Michael C. Simon… Bar-Ilan University professor and social historian, Adam Ferziger… Senior rabbi of Leo Baeck Temple in Los Angeles, Ken Chasen… Former MLB right-fielder for 14 seasons, he founded Greenfly, a software firm for sports and entertainment organizations, Shawn Green… National security editor at The Washington Post, Benjamin Pauker… Co-founder in 2004 of Yelp, where he remains the CEO, Jeremy Stoppelman… Chief investigative reporter at ABC News, Josh Margolin… Global communications official for Bloomberg Philanthropies on public health, Jean B. Weinberg… YouTube personality with 347 million views, Josh Peck… Actress and producer, Zoey Deutch… National board chair for Repair the World and former co-chair of JFNA's National Young Leadership Cabinet, Robb Lippitt… Vice president of the Illinois State Society, Howard Marks…
Email Editor@eJewishPhilanthropy.com to have your birthday included.