Your Daily Phil: A Jewish 911 service in Florida + Rethinking Birthright funding
Good Wednesday morning!
In today's Your Daily Phil, we report on a Jewish social service agency responding to 911 calls, and feature an op-ed by Rabbi Amy Bardack on rethinking funding for Birthright. Also in this newsletter: King Charles III, Jeff Hensiek and Tamara Klinger-Levi.We'll start with news of some emergency funding for Ukrainian and Russian young people to come to Israel.

Since Russia's invasion of Ukraine 10 months ago, tens of thousands of Ukrainians and Russians have streamed into Israel. But as late October arrived, near the beginning of the current academic year, the Jewish Agency for Israel realized there were approximately 1,000 Jews from those countries who wanted to come to the Jewish state and were in limbo.

They were on a waiting list for Masa Israel Journey, a Jewish Agency-supported program that matches young Jews with medium- and long-term programs in Israel. The Jewish Agency calculated that it would need $6 million to bring everyone on the list to Israel. Within one day last month, Dec. 8, it had raised half that amount — $2 million from the Jewish Federations of North America, and $1 million from the Jack, Joseph and Morton Mandel Foundation — a sum that has been matched by the Israeli government.

"We understood that the demand and desire of young adults to come from those countries was much higher than we expected and budgeted for," Jewish Agency CEO Amira Ahronoviz told eJewishPhilanthropy. "As part of our ongoing conversations with our partners we thought it would be relevant to share [this] with them."

In total, some 1,500 Jews from Russia and Ukraine were registered to enter Masa programs in the 2022-23 school year, a number that the Jewish Agency now expects to rise to 2,500. The programs last from two to 10 months and range from vocational training to academic or arts programs. More than 90% of Masa participants from the former Soviet Union immigrate to Israel following their programs, a rate Ahronoviz expects the participants will maintain this year.

Of the Masa participants from the former Soviet Union, some 80 to 85% come from Russia, which has the region's largest population of Jews. Ahronoviz told eJP that she does not expect the larger number of participants this year to impact the Jewish Agency's ongoing court battle in Russia.

Masa's total annual budget is $67 million, 80% of which goes toward scholarships. Its main funders are the Israeli government, Jewish Agency, JFNA and Keren Hayesod, and it has 12,000 total participants annually.

"If we could put together the private side of the equation, the government would match it, and we could get these thousand-plus kids off the waiting list and in Israel at a particularly sensitive time," Mandel Foundation Chairman Stephen Hoffman told eJP, describing the takeaway he had from a conversation with Ahronoviz. "And I thought that could be something we could help with."
emergency shift
A Jewish nonprofit is changing the way a Florida city responds to 911 calls
In the summer of 2020, amid the protests following the murder of George Floyd, police and city leaders in St. Petersburg, Fla., began looking for a way to respond. What emerged was a request for proposals from organizations providing social services to respond to certain 911 calls, in lieu of the police. A little more than two years later, the winning organization, the Gulf Coast Jewish Family and Community Services, has earned national recognition for its approach, reports Ruben Brosbe for eJewishPhilanthropy.
Navigating crisis: The program, called Community Assistance and Life Liaison (CALL), aims to transform the conversation around the role of police in public safety. The program's overall annual budget is $1.27 million, a 12% increase over last year. There are a number of programs around the country that pair social workers with police in response to certain 911 calls. By contrast, CALL does not work according to a co-responder model. Instead, 911 dispatchers screen and reroute calls to Gulf Coast JFCS mental health professionals called "navigators." "St. Petersburg made a very bold step to identify calls for service that not only received a different response, but — what if we completely diverted them from law enforcement?" Megan McGee, police special projects manager for the St. Petersburg Police Department, told eJP.
The numbers: Gulf Coast JFCS' executive director, Sandra Braham, says CALL is the rare program in which "staff are responding without police. And it really truly does free the police to do policing." Since February 2021, CALL navigators have responded to a range of 911 calls that would previously have gone to the police. In the nearly two years since the program began, Gulf Coast JFCS has responded to more than 8,000 calls. According to the SPPD, the city has seen a 17% reduction in suicide deaths since the CALL program's launch despite a 60% increase in calls to the police department related to suicide.
A new grant: Last month, the JFCS received a $200,000 grant from a charitable arm of the National Football League for its work leading the program. "We think that what they're doing could be a model or could be a template for others to follow," Anna Isaacson, SVP of social responsibility for the NFL, told eJP. "We see the impact… and hope that other local organizations, other law enforcement agencies see the success and look to replicate successful models."
next gem judaism
It is time to rethink Birthright funding
"The news of the Adelson Family Foundation's decision to reduce its multimillion-dollar support of Birthright Israel has been sobering to many. Local and national opinion pieces have bemoaned this turn of events, but I see this moment as an opportunity to consider the most impactful and financially prudent ways to enrich Jewish identity in American young adults. I call for a reallocation of Jewish philanthropy away from short-term Israel travel and towards effective identity-building programs right here in the United States," Rabbi Amy Bardack writes in an opinion piece for eJewishPhilanthropy.
Running the numbers: "Birthright Israel provides free 10-day trips to Israel for roughly 50,000 participants per year, which in 2020, cost $4,500 per person. This amounts to a total cost of more than $170 million annually. That does not include locally funded full-time employees at Hillels whose sole responsibility is to recruit for Birthright. Since the trips resumed after a pandemic-driven hiatus, there has been a staggering increase in the cost of international travel. Programs like Honeymoon Israel, which are subsidized but not free, have had to pass down a substantial increase in travel costs to participants and local communities. In this new economic reality, it makes sense that philanthropists might question the value proposition of short-term Israel travel."
Considering the impact: "This is not bad news. For decades, philanthropists and community leaders have viewed Birthright as a quick fix to the problem of waning Jewish identity, saying "it works." A 2018 research study has demonstrated a significant impact of Birthright in two areas: marriage to a Jew and positive feelings toward Israel. But the same study indicates Birthright Israel experience has no demonstrable direct impact on enduring Jewish practices such as Torah study, ritual or acts of hesed (kindness). Take away these hallmarks of Jewish religious life, and what remains is an overemphasis on ethnicity."
Worthy Reads
Networking Relationships: Professional networking can create strong relationships that can benefit nonprofits, Michael Flaherty writes in NonProfitPRO. "Any time you're in a room with nonprofit and business professionals alike, you're surrounded by people who have gone through the same challenges as you. We wear many hats as nonprofit pros, and it can get lonely, but when you have a professional networking group with which to share your challenges and successes, it is like having a second family… One of the biggest things to remember about networking is that you get what you give. When you are constantly practicing networking and fostering positive relationships, good things are bound to happen. Taking the time to get to know your networking partners on a personal level and learning the ins and outs of their businesses will lead to good business outcomes, but it also leads to something much more powerful — a community! When you're surrounded by people with passion for and dedication to their causes, the culture is going to organically be all about helping each other." [NonProfitPRO]
Around the Web
A coalition of Jewish leaders — including Mark Wilf and Doron Almog of the Jewish Agency for Israel; Eric Fingerhut and Julie Platt of the Jewish Federations of North America; Steven Lowy and Sam Grundwerg of Keren Hayesod; and Yaakov Hagoel of the World Zionist Organization — sent a letter on Sunday congratulating Israeli Prime Minister Benjamin Netanyahu on taking office and writing, "We know that the unity of the Jewish people is as important to you as it is to us… It is our duty to share with you our deep concern regarding voices in the government on issues that could undermine the longstanding status quo on religious affairs that could affect the Diaspora," including proposed changes to the Law of Return and conversion regulations…
FTX founder and former CEO Sam Bankman-Friedpleaded not guilty yesterday to federal criminal charges, including fraud…
King Charles III's New Year Honours included Holocaust survivor Susan Pollack; Chief Rabbi Ephraim Mirvis; Marie van der Zyl, president of the Board of Deputies of British Jews; Jonathan Harry Samuel Arkush, president of the Memorial Foundation for Jewish Culture; Sue Cipin, CEO of the Jewish Deaf Association; Mark David Gardner, chief executive of the Community Security Trust; Harry Heinz Heber, a volunteer for World Jewish Relief and the Association of Jewish Refugees; Rabbi David Michael Kale of the Belfast Synagogue; and Linda Rosenblatt, chair of the World Jewish Relief Connections Committee…
Jeff Hensiek was promoted to the position of senior director of strategic communications at Jewish World Watch. He previously served as the organization's director of communications and marketing…
Tamara Klinger-Levi was named project officer and Israeli representative at The Gimprich Family Foundation. She previously served as director of resource development at Kishorit…
Pic of the Day
"Jeopardy!" host Mayim Bialik poses with a group of students from Beach Hillel in Tzfat, Israel.
Birthdays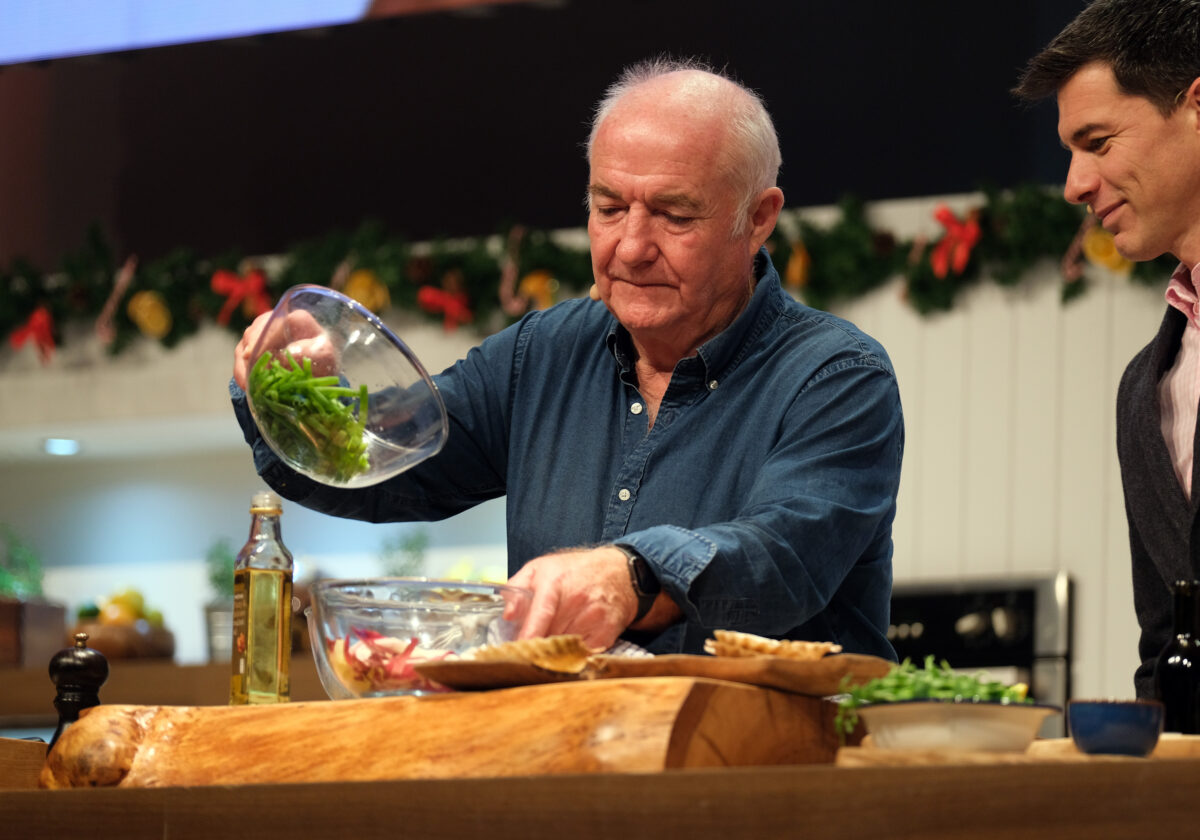 English celebrity chef, restaurateur and television star, Rick Stein…
Founder and president emeritus of the Alliance for Justice, Nan Aron… Retired major general in the IDF and a former member of the Knesset for Likud, Uzi Dayan… Television producer for CBS and co-author of three novels, Karen Mack Goldsmith… CEO of the Federation of American Hospitals, Charles N. ("Chip") Kahn III… Former member of Knesset for 17 years, Zehava Gal-On… Author of The New Yorker's satirical Borowitz Report, Andy Borowitz… Author of 34 best-selling mystery novels and thrillers with over 80 million copies in print, Harlan Coben… Senior health care editor at Axios, Adriel Bettelheim… Professor of Jewish history at both the University of Munich and the American University in D.C., Michael Brenner… Founder of AnyDate (personalized gifts), ShareSomeFriends (referral tool) and Upstart Ideas, Michael Eglash… Television and film actor, Josh Stamberg… Professor of management at UCSD, Yuval Rottenstreich… SVP in the Austin office of public strategy firm Mercury, he was the first Jewish liaison in the Bush 43 administration, Adam Blair Goldman… American living in Uzbekistan where he serves as the managing director of the Israel-USA-Uzbekistan Business Association, Daniel Zaretsky… Special presidential coordinator for global infrastructure and energy security at the State Department, Amos J. Hochstein… Historian and New York Times best-selling author, he is a contributing editor at Politico Magazine, Joshua Michael Zeitz… Film and television actor, Aaron Schwartz… Founder of Darshan Yeshiva and spiritual leader of Kehillah, a Jewish community in Richmond, Va., Patrick Beaulier… Senior broadcast producer at "NBC Nightly News with Lester Holt," Ben Mayer… Alex Band… Bookkeeper at her family-owned The Bookstore in Lenox, Mass., Shawnee Tannenbaum… SVP at DC-based public affairs firm The Herald Group, Marc Brumer… Strategic advisor for Stacey Abrams, Samantha Slosberg… Center fielder for six MLB teams, he will be playing for Team Israel at the upcoming World Baseball Classic in March, Kevin Pillar… Senior director of development at Wavelength Productions, Emily Tess Katz… Staff writer for Time Magazine, Eric James Cortellessa… Litigation associate in the NYC office of Stroock & Stroock & Lavan, Alexander Abraham Langer… Administrator of legacies and endowments at the Jewish United Fund of Metropolitan Chicago, Judah Gavant… D.C. correspondent at The Nevada Independent, Gabby Birenbaum…