Your Daily Phil: Yale conference explores philanthropy + New nonprofit Bamah promotes Israeli arts and culture
Good Tuesday morning!
Despite data showing a decline in religious affiliation among young people, participants in a philanthropy conference last week said they were confident that young people would continue to give through religious channels at the same levels as earlier generations.
The discussion took place on Friday during a panel at the Yale University Philanthropy Conference, a two-day event that explored the state of philanthropy in the wake of the pandemic and the social and political upheavals of 2020. The conference included sessions on the labor market, environmental protection, democracy and effective altruism, in addition to religion.
The panel explored parallels between the organized giving traditions of different American religious communities, andcovered topics ranging from political polarization to generational differences in religious philanthropy. It featured Eric Goldstein, CEO of UJA-Federation of New York, along with Tanise Chung-Hoon, the managing director for philanthropies at the Church of Jesus Christ of Latter-Day Saints (LDS), and Elise Westhoff, the president and CEO of the Philanthropy Roundtable, which advises conservative donors.
"Typically, people give more when they have more income, when they're more established in their lives and careers," Westhoff said. "From a philanthropic perspective, the signals are there that we are not going to see a major decline in young people engaging."
Goldstein said Jewish federations have seen a generational shift because, more than half a century ago, many prestigious charities effectively excluded Jews, which ended up directing Jewish dollars to federations — so much so that giving to federation was called "the Jewish tax." Now, more Jewish charitable donations are distributed via family foundations.
"Once upon a time, federation was almost the only game in town if you wanted to be philanthropically engaged, and now there are many ways to do it, which is a blessing," he said, adding that today, "it's much more [that] we want to do it ourselves. We're a generation of 'me' as opposed to 'we.'"
To keep Jewish charity flowing through federations, Goldstein said UJA tries to emphasize the value of creating community via philanthropy by having a central address for Jewish giving, even if people aren't donating to Jewish causes. UJA-Federation tells philanthropists, "do what you want individually, but don't put all your marbles into your own [foundation]. Keep some in the community."
Chung-Hoon said the philanthropic operation of the LDS church emphasizes clear red lines when it comes to donors earmarking their gifts to specific causes and is "very overt" about its priorities. "If that makes sense for you and you are desirous of joining us in this effort then we'd love to have you," she said. "Part of being a faith-based organization [is] you have to be able to know when to decline a gift that may not align."
CULTURAL CONNECTIONS
A new arts program hopes to showcase Israel's diversity
The Bible relates that when the Jewish people wandered in the desert, they were fed by manna. Somewhat more recently, a group of people at an art show looked up to see potato flakes floating through the air — then listened to, smelled and tasted them. The program was one of many sensory immersions produced by a team of artists known as Studio Mela. And it's exactly the kind of program that the people behind Bamah, a new nonprofit founded to spread Israeli arts and culture, want to cultivate, reports eJewishPhilanthropy's Esther Kustanowitz.
Visiting artists: Bamah, which is bringing three Israeli artists to the U.S. this coming academic year, is a successor to the Israel Institute's Visiting Artists Program, which has brought more than 100 Israeli artists in film, TV, theater, dance, music, visual arts and literature to North America over the last 12 years. Now, Bamah intends for the program to reach beyond campus and serve the broader Jewish community. Visiting artists will still teach on campus, but they will be in residence in, hosted by and contributing to the community, Flo Low, Bamah's founding director, explained.
Fostering student input: Bamah is also centered on "dialogue and exchange" between students and Israeli artists. This coming academic year, in addition to Studio Mela in the Boston area, details are being finalized for an Israeli choreographer to be in San Jose, Calif. Israeli Ethiopian filmmaker Aalam-Warqe Davidian, whose 2018 film "Fig Tree" was nominated for Best Picture in Israel's version of the Oscars, will be in Atlanta.
A different way to connect: "There are world-class artists that are creating work in Israel," Low told eJP. "We want to provide a different way to learn about, connect with, and engage with Israel… Bamah's mission is to design meaningful experiences that harness the power of Israeli culture to inspire and connect people."
our responsibility
Transforming fate into destiny: Israelis, Arabs and American Jews
"There are times when extraordinary events provide an opportunity — perhaps a fleeting opportunity — for people, and the institutions they created, to change the course of history. This is one of those rare times, and there is an opportunity for American Jews to play a significant role in achieving peace and advancing human rights by supporting the NGOs with the scale and commitment to improve the lives of Israeli Arabs, and to assure their full and equal participation in Israeli society," writes Barry Shrage, former president of CJP, Greater Boston's Jewish federation, in an opinion piece foreJewishPhilanthropy.
The emergence of hope: "I was born in 1947. There has never been a time in my life when there wasn't conflict between Arabs and Jews… But hope emerges at first slowly, and over time with greater power. I'm now part of the faculty at Brandeis University's Hornstein Program and two years ago, our Kraft Seminar in Israel featured meetings with Israel's Arab population — including an extended visit at Sakhnin, an Arab town near Tzipori in Israel's north, and a briefing with the American Jewish Joint Distribution Committee on its job-development programs and its expanding work in dozens of Arab villages and towns throughout Israel. The Israeli Arab families who hosted our students were warm, friendly and welcoming, and they told unexpected stories. The older generation of town residents told painful stories of homes lost in 1948 and a long process of rebuilding leading to lives within, but not completely part of, Israeli society as shopkeepers and tradespeople. A younger woman, an emerging leader in her community, told a different story about the hopes of her generation — a generation slowly making its way into the medical field and other professions that open the door to greater inclusion and upward mobility in society."
The Abraham Accords: "More hope followed the signing of the Abraham Accords, normalizing relations between Israel and four Sunni Arab countries, in addition to the prior peace treaties with Egypt and Jordan. While complete peace remains a dream and the Palestinian conflict still clouds the future, it's no longer accurate to talk about an ongoing war between Israel and her regional Arab neighbors."
Worthy Reads
Yale's 'Best Kept Secret': Friday nights at Yale's Chabad are a highlight of the week for Jewish and non-Jewish students, writes Paloma Vigil in the Yale News. "The general sense of community that Shabbat dinner and Chabad house as a whole generates is one that 'has a secondary benefit of combatting certain forms of hatred, specifically antisemitism,' Rabbi [Meir Chaim] Posner said… 'What I have seen is that these students have come to Shabbat dinners and had discussions with the Rabbis and the Jewish community, and they have come out with a completely different view of what it means to be Jewish and, more importantly, that Jews don't live up to the stereotypes that they came in with,' Rabbi Posner said. 'It starts at a very micro level and has ripple effects.'" [YaleNews]
Retiring Resumes?: Removing resumes from the hiring process may result in an increase in staff diversity, Naomi Nix writes in Bloomberg, citing the case of public-health research firm Health Data Research UK, which removed resumes from the equation. "Instead of looking at educational or professional experience to choose finalists from the 159 applicants for its program for Black people in health data science positions, the group created a short questionnaire that asked candidates to explain what artificial intelligence was or to talk about a recent piece of technology they were studying. The result was that more female candidates applied than men. In the end, 30 of the 48 interns that Health Data Research hired were women. The organization is now using the same skills-based recruiting to make full-time hires. 'We know that we've got this huge untapped talent out there," says Tammy Palmer, its head of people. "We're trying to break down that sense that you have to be a certain kind of person, that you have to have been to a certain kind of university, to become a scientist.'" [Bloomberg]
Community Comms
Be featured: Email us to inform the eJP readership of your upcoming event, job opening, or other communication.
Word on the Street
Under new Israeli guidelines, set to go into effect on March 1, tourists of all ages, both vaccinated and unvaccinated, will be allowed to enter Israel, as long as they submit negative PCR test results before boarding a flight and take another PCR after landing…
An appeal to block plans for a U.K. Holocaust Memorial and Learning Centre to be built next to the Houses of Parliament reaches the country's High Court today…
Charitable contributions to U.S. colleges and universities in the fiscal year that ended June 30, 2021, totaled $52.9 billion, a 6.9% increase (5.1% adjusted for inflation) from $49.5 billion the previous year, according to an annual survey published by the Council for Advancement and Support of Education…
Touro College, headquartered in New York City, has been granted university status by the New York State Board of Regents. This comes following the school's board amending the charter to change the college's name to Touro University. Touro has previously achieved university status at its California and Nevada schools. The college, with 35 schools in five states and four countries, will undergo a university-wide rebranding…
??The Wurzweiler School of Social Work at Yeshiva University is offering a new clinical doctorate in social work, to begin in the fall semester…
Yeshiva University's Ferkauf Graduate School of Psychology Advanced Certificate in Pastoral Counseling program for rabbis in-training, in partnership with the Rabbi Isaac Elchanan Theological Seminary, has been officially registered with the New York State Education Department. The program is designed for rabbinical students planning a career in the shul rabbinate or Jewish education…
Nine historic synagogues, under the protection of the Izmir Jewish Cultural Heritage Project, will reopen as museums as part of a Jewish heritage project in Izmir, Turkey…
Teri Behrens will retire as executive director of the Dorothy A. Johnson Center for Philanthropy later this year. She will remain in the position and as editor-in-chief of The Foundation Review as the search process for her replacement begins this spring…
Bloomberg Philanthropies is partnering with CARE to expand existing village savings and loan associations for agricultural funds in Tanzania, Rwanda and the Democratic Republic of the Congo…
The LEGO Foundation launched a $143 million global challenge to fund impactful solutions focused on early childhood…
Eric and Wendy Schmidt committed $125 million over the next five years in support of research into issues around artificial intelligence "that are critical to get right for society to benefit from AI"…
Pic of the Day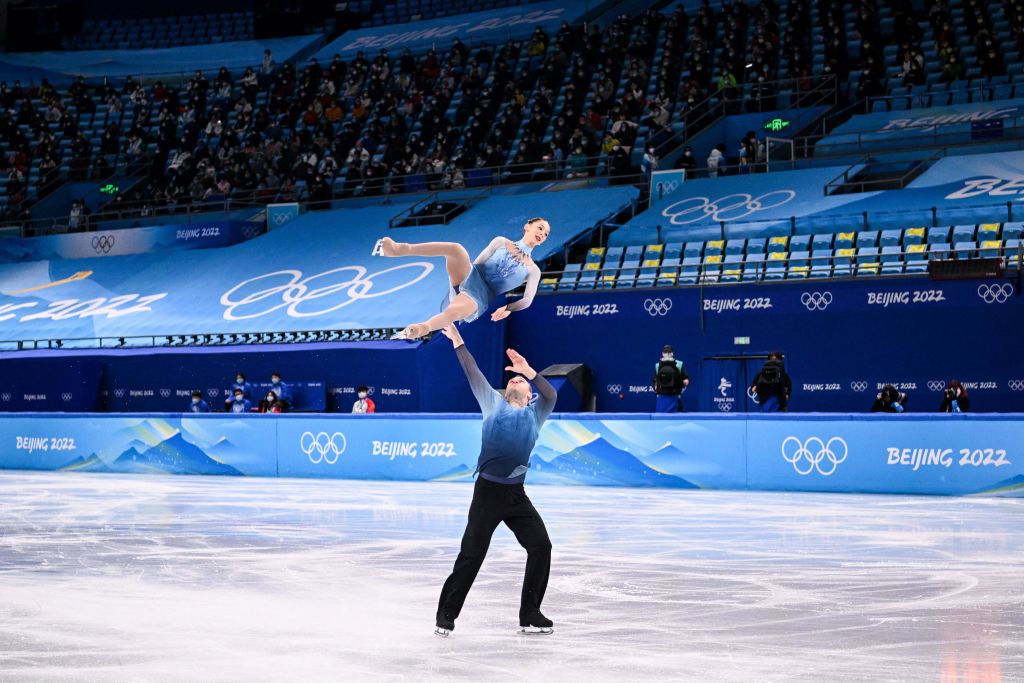 American-born Israeli figure skater Hailey Kops and Israel's Evgeni Krasnopolski competed Friday in the pairs free skate event during the Beijing 2022 Winter Olympic Games at the Capital Indoor Stadium.
Birthdays
Winner of five major golf championships and 24 other LPGA Tour championships, she is a member of the World Golf Hall of Fame, now a golf course architect, Amy Alcott (left)…
Swiss financier and advocate for Sephardic Jewry, Nessim Gaon turns 100… Poet, essayist and educator, he was the first-ever poet laureate of New Jersey, Gerald Stern… Retired justice and deputy president of the Supreme Court of Israel, Shlomo Levin… Music journalist, Rona Elliot… Co-chair of Wisconsin Jewish Democrats and author of three "Jewish Miss Marple" books, Linda Frank… 1969 winner of the Eurovision Song Contest, Helena "Lenny" Kuhr… White House counsel to President Obama, now a professor at NYU School of Law, Bob Bauer… Marriage and family therapist in Los Angeles and founder of the Israel Institute for Diplomacy and Technology Advancements, Daryl Temkin… Distinguished senior fellow at the Institute of Politics at the University of Chicago and a CNN commentator, David Axelrod… President of the New York Yankees baseball club, Randy Levine… Former member of the Knesset for the United Right party, Mordechai "Moti" Yogev… Former director of administration and special projects at Cincinnati's Center for Holocaust and Humanity Education, Lisa Shusterman… Writer, editor and publisher, Clifford Lawrence Meth… Senior rabbi at Herzl-Ner Tamid Conservative Congregation in Mercer Island, Wash., Rabbi Jacob Herber… Actress, comedian and former cast member of "Saturday Night Live," Rachel Dratch… Past leader of Israel's Labor party, now CEO of Cellcom, Avi Gabbay… Television producer, Paul Lieberstein… Actor, author and academic, Ari Hoptman… Former Israeli soccer player, Haim Michael Revivo… U.S. Sen. Ben Sasse (R-NE)… Winner of NBC's "Last Comic Standing," she has released five stand-up specials on Netflix, Iliza Shlesinger… Senior associate in the appellate practice of Norton Rose Fulbright, Peter B. Siegal… Senior director of customer experience at Israel-based cosmetics firm IL Makiage, Miranda R. May… Associate at Booz Allen Hamilton, Danielle Bella Ellison…
Email Editor@eJewishPhilanthropy.com to have your birthday included.