Your Daily Phil: Ukraine's first lady teams up with Israeli aid group + Opposing violence at the Western Wall
Good Wedensday morning!
The Jewish Agency for Israel is calling on the Israeli government to ensure the security of worshippers at the Western Wall's non-Orthodox plaza after a group of Haredi youths disrupted three Conservative b'nai mitzvah services there last month.
During the incident on June 30, dozens of Haredi young men crowded in the non-Orthodox prayer area, which is south of the main Orthodox plaza and known as Ezrat Yisrael. They jeered and disrupted the services, shoved attendees and, in the case of one protester, defiled a Conservative prayer book.
The Jewish Agency's Board of Governors unanimously passed a resolution on Tuesday calling on the Israeli government to work with The Jewish Agency to develop and implement a "detailed work plan" to secure worshippers at the site and prevent disturbances there. The Jewish Agency also committed to "take advocacy actions" to spread awareness of the incident.
"The Board of Governors wishes to urgently communicate its demand to the relevant Government Ministries that such disturbances must stop immediately," the resolution read, adding that government ministries are "responsible to ensure the security of those using Ezrat Yisrael, and therefore [are] in charge of taking all legal actions to prevent such disturbances."
In the two weeks since the incident, a range of non-Orthodox and Diaspora Jewish groups have condemned violence at the site, along with Israeli Prime Minister Yair Lapid and Western Wall Rabbi Shmuel Rabinowitz, who is Haredi. This is not the first time that Orthodox protesters have disrupted services at the non-Orthodox area.
"This type of behavior is abhorrent,derech eretz [respecting others] is utmost," Mark Wilf, the newly elected board chair of The Jewish Agency, told eJewishPhilanthropy regarding the June 30 disruption. "Every Jew around the world, no matter how they practice their own Judaism, should feel safe and respected praying at the Kotel," the Hebrew term for the Western Wall.
Julie Platt, the chair of The Jewish Federations of North America (JFNA), said the incident was "terribly upsetting" and that the resolution, which board members affiliated with JFNA introduced, was a necessary step. "I don't want anything to come in the way of a Conservative or Reform Jew, or any other stream of Judaism, to feel that this is not their homeland with which they have a connection," Platt told eJP.
One matter the resolution didn't address was the Western Wall compromise, an agreement passed by the Israeli government in 2016, and subsequently suspended, that would have expanded the non-Orthodox site. Mention of the agreement did not appear in the resolution in order to compose a text all board members could support. JFNA and The Jewish Agency both told eJP that they continue to support implementation of the 2016 agreement.
Trauma care
An Israeli aid group is now working inside Ukraine's borders – in partnership with the war-torn country's first lady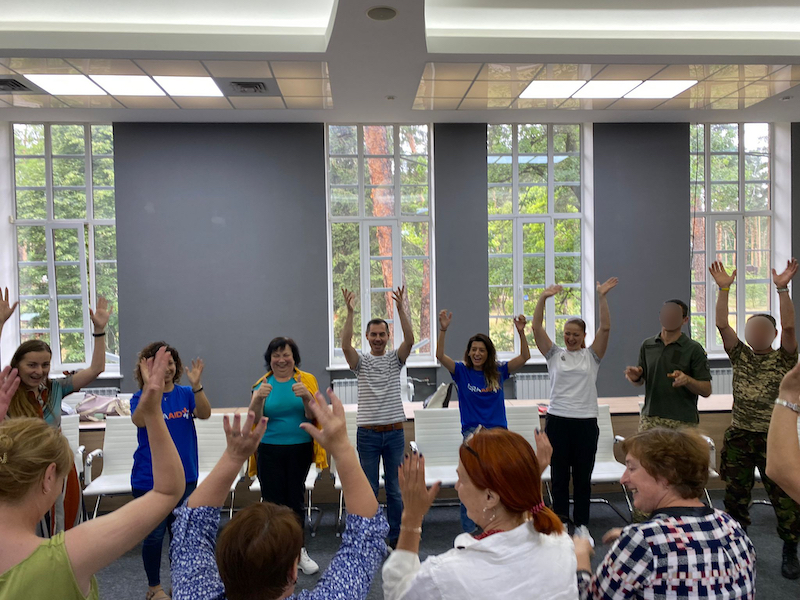 Since the start of Russia's invasion of Ukraine in late February, the Israeli humanitarian group IsraAid has sent $30 million worth of medical and humanitarian aid to the embattled nation from a coordination center in Romania, while also operating shelters for Ukrainian refugees in Moldova. Now, the organization is starting a rapid expansion of work inside the borders of Ukraine itself, focusing on mental health access, aid distribution and bringing clean water to the southern Ukrainian city of Mykolaiv, reports Lev Gringauz for eJewishPhilanthropy.
Staying focused: Those initiatives have grown out of a concern that Ukrainians in the country are being left behind by aid efforts. "The challenges and the humanitarian needs inside Ukraine are so big and are just getting bigger," IsraAid CEO Yotam Polizer told eJP. "And unfortunately, the world's attention is shifting away."
Government partnership: When IsraAid first contacted the Ukrainian government in early June to coordinate its new aid efforts, it was a natural fit: Ukrainian First Lady Olena Zelenska has been making Ukrainian access to mental health care a national priority. Partnering with Zelenska's national mental health initiative, IsraAid will send teams of Israeli trauma specialists to Ukraine for several weeks at a time, while also stationing 10 to 15 aid workers in the country full-time. There, they'll train Ukrainian health care professionals in ways to help children and injured soldiers.
Israeli flex: IsraAid has received more financial support from Israelis over the past five months than at any previous time in the history of the organization, Polizer said, attributing the rise to a broader trend of increased Israeli giving. "The culture is changing," he said. "It's not just because it's Ukraine. There is more awareness about philanthropy in Israel now than before." According to IsraAid, some of that giving has also been driven by Israeli companies with offices in Ukraine, or companies that feel a responsibility to be involved philanthropically after going public with an IPO.
DAy camp
The role of young teens in Jewish communal pipelines
"When you think about the Jewish journey of a camper attending Jewish day camp, what comes to mind? Where is their next touchpoint in the Jewish community? For some, the aspirational arc beyond day camp is indeed overnight camp, and for many, it's not. Without investment, many former day campers will continue to choose options outside of Jewish life altogether," write Jenni Zeftel, director of day camp initiatives for the Foundation for Jewish Camp, and Tani Prell, Chicago community director for 18Doors, in an opinion piece for eJewishPhilanthropy.
The in-between age: "Long before the pandemic began, [the] Foundation for Jewish Camp and New York- area day camps understood that the 'in-between' ages of 14- to 16-year-olds at day camps were critical to talent pipelines. This age group, often referred to as CITs [short for counselors-in-training], is sometimes treated as staff and sometimes as campers. Usually a smaller cohort when compared to camper units or older counselors, they are often under-resourced and underutilized by busy professionals who are inundated and rightfully committed to meeting the needs of their more densely populated age groups. But they also hold tremendous potential."
Pilot program: "There's a transition that happens between 'camperhood' and 'counselorhood' at every camp, and in day camp that transition occurs in the early teen years. It's a tricky time when young teens need support to understand their evolving roles at camp, and to envision a trajectory for themselves. That's why four years ago, with generous funding from UJA-Federation of New York, we began piloting the Common Ground Fellowship for CITs in the New York area. In 2019, when we first began this work, we were pleased to host 60 teens at the fellowship's kickoff event. This year, we're working with more than 100."
TOUR DE FRANCE
Israel, Israel, Allez, Allez, Allez!
"Sylvan Adams, the owner of Team Israel-Premier Tech and an accomplished road cyclist, is gearing up for a bike ride on a sunny Wednesday afternoon in Warlaing à Brillon, in northern France, just as Stage 5 of the 2022 Tour de France, one of the largest sporting events in the world, starts 120 kilometers [75 miles] away in Lille," writes Jonathan E. Kaplan, an author who has written about professional cycling, in an opinion piece for eJewishPhilanthropy.
Race goals: "Adams, an Israeli-Canadian billionaire and philanthropist, has three goals for his team at this year's Tour de France, which includes 21 stages from July 1 to July 24… First, he wants to raise $317,000 from cycling fans around the world to build a bicycling park in the Bugesera district of Rwanda and is using the opportunity of the three-week-long race to draw attention to this project… Second, he wants his team to win its first-ever stage at the Tour de France… And, just a few hours after his recreational ride on the cobblestone roads, Team Israel-Premier Tech'sSimon Clarke, a 35-year-old Australian journeyman in his seventh Tour de France, would throw his bike across the finish line to dramatically edge out one of the sport's strongest riders to win Stage 5."
Brand ambassador: "Third, Adams said he sees himself as a 'self-appointed ambassador for Israel,' and, as such, wants to burnish Israel's image — frequently only viewed within the context of regional conflicts — as a place to live, work and travel. He's capitalizing on the Tour de France to do just that given its massive audience."
Worthy Reads
'Jewpanese' Stories: Carmel Tanaka, who has one Japanese parent and one white Jewish parent, is recording videos of people of mixed Jewish and Japanese heritage like her as part of a "Jewpanese" oral history project funded by the Anti-Defamation League's Collaborative for Change Fellowship, Emma Goss reports in J.: The Jewish News of Northern California: "For her project, Tanaka plans to interview dozens of Jewpanese people in Canada, the U.S., Japan and Israel, focusing on their lived experiences, such as intergenerational trauma brought on by having some relatives who experienced the Holocaust and some who went through Japanese internment." [J.]

Reparations Trust: Philadelphia Jewish leaders are among those calling for reparations to Black Americans, Sasha Rogelberg reports in the Philadelphia Jewish Exponent: "With reparations, white institutions and individuals must give back to people of color with the trust that the recipients will use the money for what they need it most, which may be invisible to the reparations giver, or it may not align with the giver's values or agenda. 'If you're giving reparations to Jews of color, the people to decide where the money is going, the people to decide the process, the distribution, all have to be Jews of color,' [Jared] Jackson [of the organization Jews in All Hues] said. 'There needs to be that trust that we will make the right choices for us, in a way that will look different than what white supremacy tells us is professionalism or philanthropic excellence.'" [PhiladelphiaJewishExponent]

Climate Change is a 'Top Three' Issue: The public and private sectors aren't doing enough to address climate change, and foundations and nonprofits could be doing more, the Center for Effective Philanthropy found in a new survey of 188 foundation leaders and 120 nonprofit leaders: "The overwhelming majority of all foundation and nonprofit leaders — especially those who address climate change — said that climate change is a very or an extremely urgent problem. Relative to other problems facing society, most leaders believe that climate change is one of the top three most important problems to address right now. Foundation and nonprofit leaders described climate change as an 'existential threat' with 'fundamental and grave implications." [CenterforEffectivePhilanthropy]
Community Comms
Be featured: Email us to inform the eJP readership of your upcoming event, job opening, or other communication.
Word on the Street
Leading Edge announced the 20 Jewish organizational executives participating in the inaugural cohort of Leading Executives, a successor to the CEO Onboarding Program, one of Leading Edge's original flagship offerings…
Twin Cities-based Jewfolk, the parent organization of the publication TCJewfolk, has received a grant from Reflect Cincy to launch Cincy Jewfolk, a media hub in Cincinnati that "leverages a news platform with online micro-communities to increase connectivity and engagement among underrepresented segments in the Jewish community"…
Joan and Irwin Jacobs donated $10 million to Planned Parenthood of the Pacific Southwest, a contribution that the organization says will be used to expand its already broad network of health centers in San Diego, Imperial and Riverside counties…
The BIRD Foundation approved $7.9 million in funding for nine new projects to be jointly developed by U.S. and Israeli companies. In addition to the grants from BIRD, the projects will access private sector funding, boosting the total value of all projects to $20 million…
Baruch College announced that alum Jack Sobel and his wife, Barbara, have crossed the $1 million mark in lifetime donations to the college. In recognition, a lecture hall was named in their honor…
Rekindle, Cleveland's Black-Jewish dialogue and collaboration program, graduated its third cohort and announced its fourth and fifth cohorts for the fall. New funding will ensure the program can continue into 2023…
Marsha Katz Rothpan has joined the American Friends of Israel Sport Center for the Disabled as the organization's West Coast director. She previously served as the director of development and engagement for the Shalom Institute in Malibu, Calif…
Pic of the Day
Israeli Prime Minister Yair Lapid, left, meets with Anti-Defamation League CEO Jonathan Greenblatt on Tuesday to discuss antisemitism, anti-Zionism, the Abraham Accords and social cohesion in Israel. 
Birthdays
One of the highest box-office grossing actors ever, his maternal grandmother was Anna Lifschutz, a Jewish immigrant from Minsk, he is best known as the title character in the Indiana Jones film series, Harrison Ford turns 80…
Reseda, Calif., resident Zita Gluskin… Auschwitz survivor, founder of Florida East Coast Realty and the builder of many Miami high-rise buildings, Tibor Hollo… Scottsdale, Ariz., resident, retired teacher, Howie K. Kipnes… Clinical professor of pediatrics at the University of Arizona College of Medicine, Dr. Michael W. Cohen… Ridgefield, Conn., resident, Louis Panzer… Lecturer on the federal budget process following 37 years at various federal agencies, Johnny Cahn… Co-host of "Pardon the Interruption" on ESPN since 2001 with Michael Wilbon, Anthony Irwin "Tony" Kornheiser… Author of crime and suspense novels, Andrew Klavan… Adjunct professor at Hebrew University and president of Jerusalem based Lankin Consulting, Eric Marshall Lankin… Manager of regulatory and legislative affairs at PJM Interconnection, Stuart Widom… Country music artist, Victoria Lynn Shaw… Television executive and producer, Carolyn Strauss… Film director and screenwriter, Shari Springer Berman… Television writer, David X. Cohen… Chief legal officer at Aledade, Ilona Cohen… Owner of the D.C. area franchises of SafeSplash Swim Schools, Jennifer Rebecca Goodman Lilintahl… Founder of Omanut Collective, Sarah Persitz… Director of major gifts at American Friends of Magen David Adom, Yishai Mizrahi… Creator, writer and producer of the TV show "Casual," Alexander "Zander" Sutton Lehmann… Aspen-based neuro linguistic programming coach, she is also the CEO and founder of entertainment agency Art of Air, Ariana Gradow… Principal at MSD Capital, Nicholas Newburger… Managing partner at Surround Ventures, Jared Kash… Principal at venture capital firm Arc Ventures, Eric A. Kohlmann… Reporter at Punchbowl News, Max Cohen… Television and film actor, Wyatt Jess Oleff…
Email Editor@eJewishPhilanthropy.com to have your birthday included.