Your Daily Phil: The new Helen Diller Institute at UC Berkeley + Inside 'Our Common Destiny'
Good Monday morning!
Returning to eJP – comments! We have now added a commenting feature on eJewishPhilanthropy.com. Continue the conversation below each article.

The pandemic has been an "accelerant" for longstanding challenges facing Catholic education, the National Catholic Educational Association said as it reported that enrollment in Catholic schools had dropped 6.4% this year from the previous year due to the pandemic and parental inability to pay fees.

Jewish schools will also see greater need from lower-income families, but enrollment at day schools has gone up, Paul Bernstein, CEO of Prizmah: Center for Jewish Day Schools, told eJewishPhilanthropy. A survey conducted in November showed that enrollment at North American day schools had increased by an average of 1.8%.
In higher education, about a quarter of 100-some fundraisers said revenue from donations fell by more than 30% in the last half of 2020, compared with the same period in 2019, due to a decline in the size of gifts from major donors, according to a survey from higher-education consulting EAB.
GIFT OF STABILITY
New $10M gift to UC-Berkeley's Jewish and Israel program
Berkeley's Institute for Jewish Law and Israel Studies will announce a new name today – the Helen Diller Institute – in honor of a $10 million gift from the Helen Diller Foundation. "Berkeley was always a place that grappled with issues of identity and Jewish identity and Israel," said professor Ron Hassner, a political scientist who is one of the institute's faculty directors, and who holds the Helen Diller Family chair in Israel studies. Today, there are still anti-Israel events and incidents on the campus, but fewer of them, and that's in part due to the institute. Hassner and others affiliated with the institute spoke with eJewishPhilanthropy's Helen Chernikoff about its impact and plans for growth.

Intellectual home: Founded in 2011, the institute has its roots in efforts by professors to offer Israel-related classes and events. It's based in the law school because its creator, Ken Bamberger, is a professor there. He's also a faculty director of the institute. In the institute's early years, the professors involved wanted to expand the program both to broaden it intellectually and to create more of a home for pro-Israel students. Initial supporters included the Washington, D.C.-based Israel Institute, the Rosalinde and Arthur Gilbert Foundation, the Koret Foundation and the Jim Joseph Foundation.

Chill mix: "It's normalized Israel on campus," said professor Jason Wittenberg, also a political scientist at Berkeley affiliated with the institute. Its mix of disciplines, which include law, sociology, art, and music, have combined to "lower the temperature." Today, the institute is composed of Berkeley faculty across the university; about six visiting Israeli academics a year; and an undergraduate fellowship in which students help create programming.

Read more here.
Foundational Document
Lighting the way to Jewish unity: A Declaration of Interdependence
The Our Common Destiny project looks to 'illuminate' ties between Israelis and diaspora Jews, writes Rich Tenorio for eJP.

Background: Israel has a Declaration of Independence, penned in 1948 by founding father David Ben-Gurion. But there has never been a foundational document binding Israelis and diaspora Jews and celebrating those deep but fraying ties. Until now, that is. A kind of Declaration of Interdependence – forged by scholars and thousands of Jews around the world – the Our Common Destiny document was feted at the close of 2020 during a gala event in Jerusalem meant to spread the word about continuing efforts to strengthen and unify the Jewish people.

How it came together: Our Common Destiny is a joint venture between the Israeli Ministry of Diaspora Affairs and the Genesis Philanthropy Group, under the auspices of the Office of Israel's President, currently occupied by Reuven Rivlin. Over more than a year, project members worked on a declaration of principles, with input from scholars, as well as thousands of Jews around the world through an online survey. During Hanukkah, the final document – called the Declaration of Our Common Destiny – was presented to Rivlin at the president's house in Jerusalem.

Uniting a community: Our Common Destiny originated out of concerns over growing divisions in the Jewish world, including with regard to Israel, according to CEO Sandy Cardin: "The genesis of the project was to answer the question, what can we do to make sure the Jewish people stay united and strong globally and not allow internal dissension and divisions to tear us apart." The declaration itself embraced five principles: The safety and security of every Jew and the State of Israel; Jews' mutual responsibility toward one another; a strengthened Jewish identity by living through Jewish values; the call for the Jewish people to serve as a light unto the nations; and Jews helping the world through tangible contributions to society in fields such as agriculture and technology.

Modern toolbox: "We're looking at an old problem through a modern lens, leveraging tools we have today," Genesis CEO Marina Yudborovsky said. "We're talking about the same problems, but our perspectives are changing. Now we have a State of Israel. The situation with anti-Semitism around the world is different — in some senses better, in some senses worse. It depends on what time period you compare it to."

Read the full article here.
OP-ED
Zoom-a-Thon: Building Community, Raising Funds
In our latest synagogue innovation column, Rabbi Jordy Callman shares her thoughts about 72 hours of Zoom programming at Temple Sinai in Denver, Colorado.

Background: In July 2020, a few months into the Covid-19 pandemic, our Reform congregation in Denver, CO hosted "27 Hours with Temple Sinai: The Come Together Zoom-a-Thon," a full weekend of virtual programming for all ages intended to be both a community-building experience as well as a fundraiser.

Line-up: The event really began Friday afternoon with families driving by for a distanced pick up as we loaded meals into their trunks. The Zoom-a-Thon began with Friday night services and continued with programming 6-9 p.m. and then Saturday and Sunday from 9 a.m.-9 p.m. We offered a full schedule of sessions available to our entire community including guest speakers from Women of the Wall and AIPAC, a live tour of Beit Hatfutsot (Museum of the Jewish People) with a museum curator, testimonies of Holocaust survivors, a live presentation from a local theater company, science experiments with URJ Sci Tech camp, Jewish comedian Joel Chasnoff, talented young local musicians, and cooking classes.

Making it a Mitzvah: What we didn't realize in our planning process was that this Zoom-a-Thon was a mitzvah rooted in unintended consequences. When people drove up to our building on Friday afternoon and we loaded catered Shabbat meals and homemade challahs into their trunks, it was a mitzvah as they had an opportunity to see other people, to drive up to their sacred space and spiritual home. Though the world is opening up for some, many are still deeply in quarantine and some are doing so alone. Zoom-a-Thon offered those most in need an opportunity to be "with" people for an entire weekend.
BY THE BOOK
Meet the Substack rabbi: 'An intimate voice of Torah'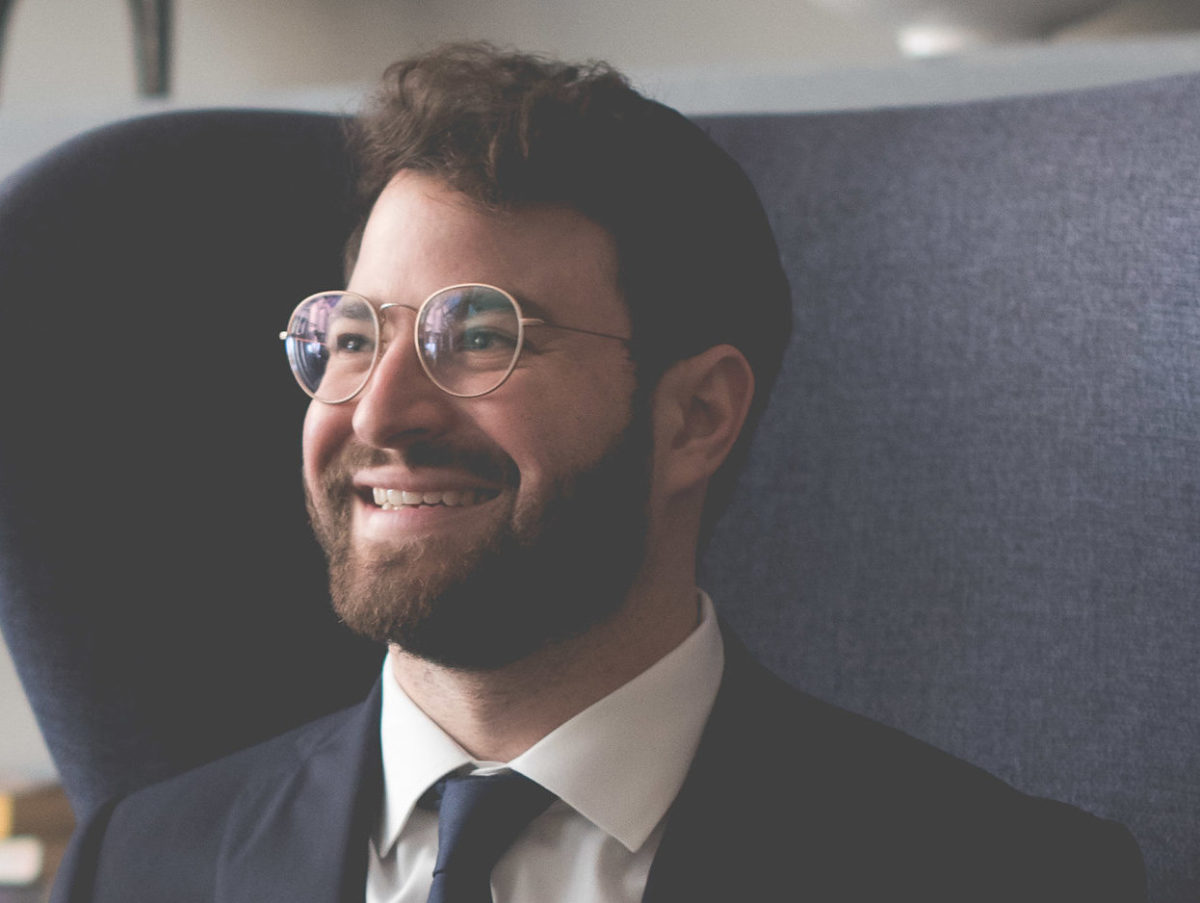 Substack rose to popularity as a medium for independent writers to share their work directly with interested readers. And one newsletter on the platform stands out for occupying a uniquely Jewish niche. Every Friday, more than 1,300 subscribers receive "Etz Hasadeh," a project dedicated to Torah commentary, straight to their email inboxes. Rabbi Zohar Atkins, who founded the newsletter in early 2019, told Marie-Rose Sheinerman for Jewish Insider that his goal is to use it as a platform to teach Torah through "an existential lens."
Thought provoking: "Etz Hasadeh" uses rabbinic texts to comment on the weekly Torah portion, or parsha, and weaves in poetry, philosophy, and contemporary issues. To understand Moses and the Israelites breaking into song as they leave the land of Egypt, Atkinsturned to Plato's "Republic" and the poetry of Louis Zukofsky. To write about Bereishit (Genesis), he brought in the work of both American poet John Ashbery and Rav Joseph Soloveitchik, and used artificial intelligence as metaphor. "I'm really passionate about getting people to have fun thinking about the meaning of life," Atkins told JI. Often, for him, that means thinking about the weekly Torah portion in terms of "how we relate to the characters and the plot and the language."
Wide audience: The newsletter takes its name – translated literally as "tree of the field" – from a passage in Deuteronomy that describes a compassionate conquering force, one that does not cut down the trees in the land it has won. Atkins believes that "in an increasingly virtual and fast-paced world, spaces for intimate discussion and reflection, guided by the study of ancient texts, are 'trees of the field' that need to be preserved." Part of his hope for the newsletter is "reaching an audience of people who identify as religious as well as who identify as secular, and everything in between," he told JI. On that front, he believes he has succeeded: His readers include everyone from non-Jews to yeshiva rabbis, Atkins said.
Worthy Reads
Sweet Sorrow: Wes Moore, the CEO of the anti-poverty group the Robin Hood Foundation, is stepping down after four years. Moore had star power, attracting the support of such celebrities as Beyonce, and his fundraising success in 2020 enabled the foundation to channel $65 million to New York City's battle against the coronavirus. Moore, who is said to be eyeing a possible entrance into politics, said now is the right time for him to leave, for both his family and the organization. [Bloomberg]

Think Global: Lisa Moon, CEO of the Global FoodBanking Network, writes that 2020 saw a 63% increase in the number of people relying on the food banks in her organization. Local charities are the first to detect need and the last to depart a crisis, and donors should start increasing investment in them. [PhilanTopic]

Act Local: A documentary, "Driving West Rogers Park: Chicago's Once and Future Jewish Neighborhood," has become a fan favorite of the retirees who grew up there. It's also inspiring them to help revive it; so far, they have turned an abandoned corner into a park, writes Barbara Brotman. [Forward]

Roaring: Eight months after she first profiled 19 women of all ages coping with the pandemic, Allison Norlian checks in to find that from restaurant owners to funeral home workers to journalists, life is still all about coronavirus, even for front-line workers who have gotten vaccinated. [Forbes]

Matching Gift: A 37-year-old billionaire and fan of Musk's commercial spacecraft manufacturer SpaceX has given $100 million to St. Jude Children's Research Hospital and is trying to help raise $100 million more by paying for and helping to lead the world's first all-civilian mission into space. Jared Isaacman wants the flight, scheduled for the end of 2021 and called Inspiration4 after his company, Shift4Payments, to inspire people to match his donation, writes Tom Huddleston, Jr. [CNBC]
Community Comms
Apply! Want to join the team at Jewish Insider/eJewish Philanthropy? We're looking for a top-notch philanthropy editor at eJP. Learn more here.
Be featured: Email us to inform the eJP readership of your upcoming event, job opening, or other communication.
Word on the Street
Israeli MKs are criticizing the continued delay of NIS 100 million to third sector nonprofit organizations… Nearly 100 Jewish educatorsfrom nine states came together to address mental health amid the pandemic… Students in Columbia University's nonprofit management program drafted a message to the field about how current practices need to evolve, and quickly… A position paper sent to the UK's Home Office calls for banning marriages for youth under 18 and outlawing religious weddings where there is no civil marriage…
Pic of the Day
About 100 Jewish educators tuned in Sunday to a seminar on mental health in day schools hosted by Hidden Sparks, a nonprofit that does teacher training.
Birthdays
President of the U.S. Education portfolio at the Charles and Lynn Schusterman Family Philanthropies, Julie Mikuta turns 52 …
Grammy Award winning songwriter of over 150 hits, Barry Mannturns 82… Singer-songwriter and a member of the Songwriters Hall of Fame and the Rock and Roll Hall of Fame, Carole King turns 79… Economist and professor at Columbia University, a 2001 Nobel laureate in Economics, Joseph Stiglitz turns 78… Three-time Tony Award and two-time Emmy Award winning actress, Judith Light turns 72… Professor of history and modern Jewish studies at UCSD, Deborah Hertz turns 72… Israeli singer with over 30 albums, Shimi Tavori turns 68… Australian philanthropist and owner of a series of mineral and energy companies, Georgina Hope "Gina" Rinehart turns 67… Former Governor of Virginia and chair of the DNC, Terry McAuliffe, a/k/a "the Macker," turns 64… Creator of the HBO series The Wire and NBC's Homicide: Life on the Street, winner of a 2010 MacArthur genius fellowship, David Simon turns 61… Theoretical physics professor at Columbia University and author of "Icarus at the Edge of Time," Brian Greene turns 58… Isaac Lieberman turns 57…
Play-by-play announcer for ESPN's men's college basketball and for the Toronto Blue Jays, Dan Shulman turns 54… Assistant adjunct professor of journalism at UCLA, Abigail Helaine "Abbe" Goldmanturns 51… Managing director of Tiedemann Wealth Management, Jeffrey L. Zlot turns 50… Charleston, South Carolina resident, Ellen Miriam Brandwein turns 44… Actress born in Leningrad (now Saint Petersburg), Margarita Levieva turns 41… Director of public policy and strategy for CUFI's Action Fund, Boris Zilberman turns 37… Area director for AIPAC, Jason Pressberg turns 37… CEO of Precision Safe Sidewalks, Thomas Szold turns 36… Associate director at W2O Group, Carly Abenstein turns 27… Israeli-Arab who as a teenager in 2014 was forced to go into hiding after publicly expressing support for the State of Israel, now living in Tel Aviv, Muhammad Zoabi turns 24… Rafael Regla…