Your Daily Phil: The new director of the Israel Museum + Righteous Gentiles receive $500k
Good Friday morning!
The Jewish Foundation for the Righteous (JFR) has sent $515,000 to 156 elderly and needy Righteous Gentiles, non-Jewish rescuers of Jews during the Holocaust, living in 14 countries around the world, the organization announced this week.
"These men and women had both the courage to care and the courage to act, and the lives they saved in the moment have grown to include tens of thousands of descendants from those they originally saved," JFR Executive Vice President Stanlee Stahl told eJP.
The disbursement is one of the largest made by the organization in its 35-year history: Nearly $294,000 was distributed to rescuers in Poland, approximately $60,000 to those in Ukraine and just over $56,000 to rescuers in Lithuania.
The Israel Museum in Jerusalem appointed Denis Weil, currently dean at the Institute of Design at the Illinois Institute of Technology in Chicago, as its new director, effective March 1.
PEOPLE, NOT PROGRAMS
Heed the call: 'Base' educational philosophy
"Seven years ago, together with our spouses, we brought to life a shared dream. A dream of creating a new type of pluralistic communal rabbinate not dependent on denomination or institution, a platform for the next generation of young rabbis to serve our peers in the most authentic way we know – through welcoming them into our homes and lives. With our neighborhoods as our pulpit and our families as the offering, we built relationships with thousands of young Jews and their partners and friends," write Faith Leener and Rabbi Avram Mlotek, respectively the executive director and spiritual director, of the Base movement, in an opinion piece for eJewishPhilanthropy.
Opening our tents: "If this model sounds familiar, that's because it is. Chabad has been using radical hospitality as a vehicle for transformation in Jewish communities for years. We felt it was time that rabbis and Jewish leaders outside of the ultra-Orthodox community heed the ancient call of Abraham and Sarah and open our tents. Today, we are proud to have 10 diverse couples leading this movement from a wide spectrum of Jewish backgrounds in New York, Chicago, Boston and Miami."
Shmita year: "As we enter our seventh year, our shmita year, we have an opportunity to take stock and offer a cheshbon hanefesh, an accounting of the soul, of the work we do, and why. It's in that vein that we offer our educational philosophy to you, our colleagues in the field… At Base, we strive to model authentic Jewish living in real time. Our rabbis and partners teach Torah not only in the form of scheduled classes and events but in how we greet guests into our home, how we imbibe and reflect back the news, how we engage with (or disengage from) social media, how we decorate our homes and how we react if and when our children 'interrupt' our lesson plan. We believe in the need of a Torah that speaks to the vulnerabilities and struggles of our time, in real time, in real life."
SYSTEMIC CHANGE
We cannot heal what we cannot see
"In recent weeks, the American Jewish community, particularly the Reform Jewish community, has been rocked again, this time by the release of Hebrew Union College-Jewish Institute of Religion's (HUC-JIR) report on decades of sexual misconduct, discrimination and abuse at the seminary," writes Nicole Nevarez, executive director of Ta'amod, in an opinion piece for eJewishPhilanthropy.
Teshuvah opportunity: "While a shadow is cast by the actions revealed in the report, the HUC-JIR investigation and the report itself are like a candle revealing what has been long hidden or obscured by an unwillingness to see or to acknowledge. Only through the revealing of truths, the willingness to shed light on what has been hidden and the courage to face the damage do we have an opportunity to heal… Yet, we cannot heal what we cannot see. When, for example, the news of Harvey Weinstein's predatory behavior broke four years ago, reckonings broke open in other arenas, including the Jewish academic and professional worlds. With every new report, we have an opportunity to do teshuvah, and implement steps to make healing change. Once illumination occurs and our eyes are open, we have an obligation to engage in the hard work of addressing and taking action towards real systemic change."
Resources needed: "That change requires a breakdown of old systems where power and money are synonymous. In order to actionably move forward so that we eradicate harassment, abuse, discrimination and inequity; in order to co-create a Jewish communal world where there is no need to illuminate systemic harm because it is no longer a reality – we must allocate resources that elevate the capacity for the work. We must shift the power into the hands of the organizations and professionals that are committed to doing the hard work internally and whose missions themselves are to help others build this vision of a whole and equitable Jewish world."
Worthy Reads
Pay Equity in NYC: The New York City Council released a report and analysis identifying the ways in which inequity inhabits the city's pay structure, which the council called "a necessary step toward ensuring that all our City's employees are valued for their extraordinary contributions." This sector includes sanitation workers, social service workers, firefighters and custodians, whose compensation for their work is "not always equitable." The report is an outgrowth of 2018's Local Law 18, which required the Mayor's Office of Data Analytics to report pay data from city agencies to the council; the council then conducted its own statistical analysis to determine whether any disparities exist across gender, race, age and other categories protected by the City's Human Rights Law. [NewYorkCityCouncil]
Looking Back: In his year-end letter, LionTree Chairman and CEO Aryeh B. Bourkoff shares his reflections on the past 12 months. "For many of us, this has been a year of learning, questioning, and digging deep, and I keep coming back to a central metaphor. In the laws of Kashrut, fish have two distinct qualities — fins and scales — and according to the commentators, the fins represent motion and ambition, while the scales represent integrity. Each is valuable in its own right, but to be kosher, a fish must have both, for it is the combination — ambition tempered by integrity, motion guided by morals — that allows us to unlock potential and the greater good. Although there are many fish with fins but no scales, there are none with scales but no fins. Many ambitious people without integrity — sharks in the sea — but none with integrity who are not in movement toward some greater goal." [LionTree]
Community Comms
Be featured: Email us to inform the eJP readership of your upcoming event, job opening, or other communication.
Word on the Street
The American Israel Public Affairs Committee launched a political action committee yesterday, which funnels $5,000 maximum donations to designated candidates per race, and a super PAC, which can raise unlimited money for a candidate, while not directly coordinating with candidates or parties. AIPAC PAC will be the name of the political action committee, while the super PAC has yet to be named… The Association for Jewish Studies released the 2021 winners of the Jordan Schnitzer Book Awards… CASJE (Collaborative for Applied Studies in Jewish Education), housed at The George Washington University, received a $1.2 million grant from the Jim Joseph Foundation to support its continued efforts to make change in Jewish educational settings by generating evidence-based, actionable ideas for the field… Eric and Wendy Schmidt committed $15.3 million to the Jackson Institute for Global Affairs at Yale University for AI research… Brown University in Providence, R.I., announced a $25 million gift from Pablo Legorreta and his wife, Almudena, in support of the university's cancer center… Haggadot.com in partnership with OneTable, and with support from a JCRIF Reset Grant, launched the DIY Jewish Network, a new platform that will curate the vast array of online Jewish engagement opportunities and provide user-friendly, customizable toolkits … Henry Orenstein, a Holocaust survivor who went on to invent the "Transformers" toys and became a major donor to Jewish and Israeli causes, died Tuesday at the age of 98. Orenstein was a longtime donor to Jewish causes, including the Metropolitan Council on Jewish Poverty in New York and the Orenstein Project, an Israeli nonprofit he founded in 2017 that focuses on food insecurity with special attention to Holocaust survivors…
Pic of the Day
Darin McKeever, president and CEO of the William Davidson Foundation, was photographed wearing a festive jacket at the organization's annual holiday party on Thursday evening. During the party, which was held at the foundation's new satellite office in downtown Detroit at the Henry Ford Detroit Pistons Performance Center, the foundation's leadership team, lead by Karen Davidson and Ethan Davidson, hung new mezuzot on the doorposts of the office.
Birthdays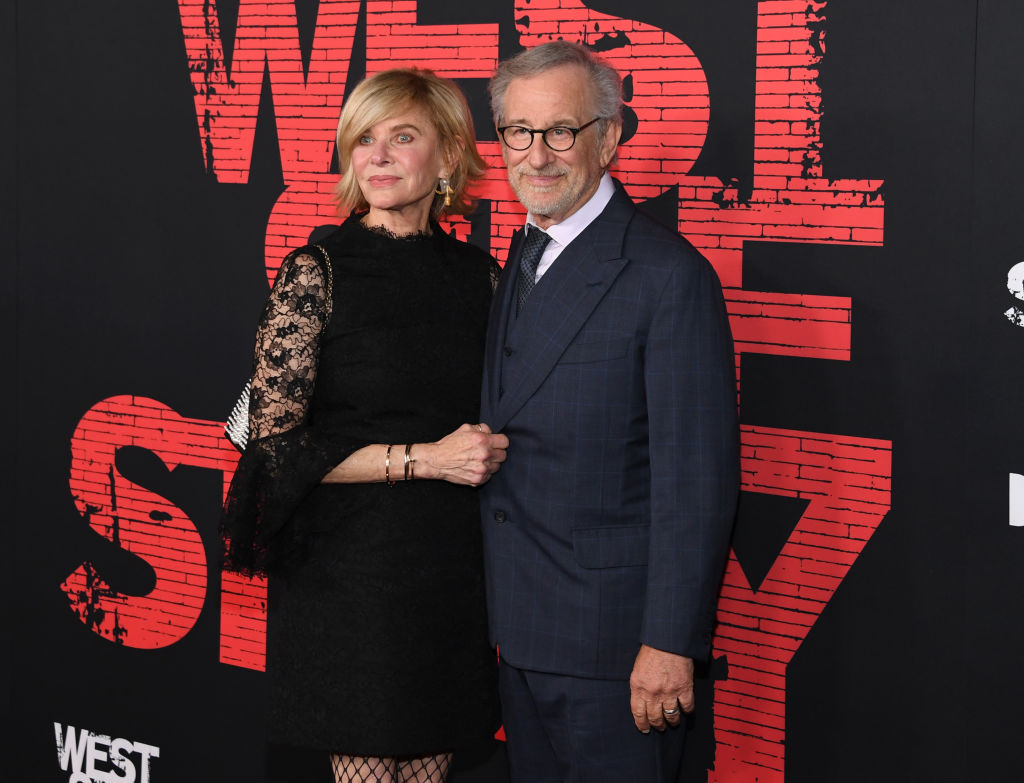 Co-founder of DreamWorks Studios, Academy Award-winning director of "Schindler's List" and "Saving Private Ryan," and other films like "E.T." and "Jaws," Steven Spielberg celebrates his birthday Saturday…
FRIDAY: Advocate for the International Rescue Committee and KIND (Kids in Need of Defense), Sheppie Glass Abramowitz… and Sheppie's son, president of Freedom House, Michael J. Abramowitz… Washington attorney and vice chair of The American Jewish International Relations Institute, Stuart Sloame… Former CEO of the San Francisco 49ers and FAO Schwarz, Peter L. Harris… VP of strategic planning and marketing at Queens, N.Y.-based NewInteractions, Paulette Mandelbaum… Professor of Jewish history, culture and society at Columbia University, Elisheva Carlebach Jofen… Retired chair of the physician assistant studies program at Rutgers, Dr. Jill A. Reichman… Former Israeli ambassador to the U.S., Danny Ayalon… Former chairman and CEO of HBO for 28 years, he now heads Eden Productions, Richard Plepler… Founder and CEO of LionTree LLC, Aryeh B. Bourkoff… Israeli soccer coach and goalkeeper who played 386 matches for Maccabi Haifa (1994-2013) and 51 matches for the Israeli national team (1998-2010), Nir Davidovich… CEO of the New Legacy Group of Companies and founder of Project Sunshine, Joseph Weilgus… Co-director of the Civic Signals project at the National Conference on Citizenship, Eli Pariser… Author and associate editor of Commentary, Noah C. Rothman… Program officer at the Rowan Family Foundation, Julia Sobel… Vanity Fair reporter and author of the 2018 book Born Trump: Inside America's First Family, Emily Jane Fox… MBA candidate in the class of 2022 at The Wharton School, Daniel Ensign… Actor, singer-songwriter and musician, Nat Wolf…
SATURDAY: Founder of supply chain firm HAVI, in 2019 he and his wife Harriette pledged $25 million to BBYO, Theodore F. Perlman… Winner of the 1989 Nobel Prize in Medicine, former director of the National Institutes of Health and later the National Cancer Institute, Harold Eliot Varmus… Office manager in the DC office of Kator, Parks, Weiser & Harris, Ramona Cohen… Member of the U.S. House of Representatives since 2009 (R-FL-8), William Joseph "Bill" Posey… Former CFO of the Pentagon and presently a senior fellow at CNA, Dov S. Zakheim… Film critic, historian and author of 14 books on cinema, Leonard Maltin… Winner of the 2012 Nobel Prize in Economics, professor at both Stanford and Harvard, Alvin Eliot Roth… Computer programmer and network engineer sometimes called "the mother of the Internet" for her inventions of the spanning-tree protocol (STP) and the TRILL protocol, Radia Joy Perlman… Television writer, producer and director, best known as the co-creator and executive producer of the award-winning series "24," Joel Surnow… President of the American Federation of Teachers, Randi Weingarten… Founder and chief executive of Third Point LLC., Daniel S. Loeb… Recently retired editor of The Jewish Chronicle, Stephen Pollard… Member of the Board of Governors of the World Zionist Organization, Gael Grunewald… Planned giving officer at the UJA-Federation of New York, Erica Skolnick… Partner at the communications firm 30 Point Strategies, Noam Neusner… Motivational speaker and teacher, his book about his own coping with Tourette syndrome was made into a Hallmark movie, Brad Cohen… Former director of the Florida Division of Emergency Management, Jared Moskowitz… Director of policy for New York Gov. Kathy Hochul, Micah Lasher… Manager of public policy and government relations for Wing Australia at Google, Jesse Suskin… Senior producer at CNN's "State of the Union," Rachel Streitfeld… Chicago-based, Midwest regional political director for AIPAC, Marc Ashed… 2021 Columbia Law School graduate, Eliezer H. "Elie" Peltz… Project manager at the Brussels-based Buildings Performance Institute Europe, Jessica Glicker... Global desk lead for the Middle East and North Africa at Dataminr, Emily Cooper…
SUNDAY: Co-chair of Democratic Majority for Israel and former communications director in the Clinton White House, Ann Frank Lewis… Journalist and playwright, Bernard Weinraub… NYC-based real estate investor, Douglas Durst… Ardsley, N.Y., resident, Ruth Wolff… Director of technology in the office of the CTO at Google Cloud, Orna Berry… Town justice in Ulster, N.Y., and a past president of Congregation Ahavath Israel, Marsha Weiss… Host of "RealTalk MS Podcast," Jon Strum… SVP at the Steinhardt Foundation for Jewish Life, Eli Schaap… CFO at New York Wine Warehouse, Jane Hausman-Troy… U.S. senator (R-OH), Rob Portman… British cellist, distinguished for his diverse repertoire and distinctive sound, Steven Isserlis… Author of 24 best-selling thriller and espionage novels, Daniel Silva… Member of the Knesset for the Meretz party, he has served as secretary general of Peace Now, Moshe "Mossi" Raz… President and chief creative officer of Rachel G Events, Rachel L. Glazer… VP and head of federal government relations at American Express, Amy Best Weiss… Acclaimed actor, on his 13th birthday he performed a "bar-mitzvah-like act without the typical trappings," Jake Gyllenhaal… Washington correspondent and senior political reporter for the San Francisco Chronicle, Tal Kopan… Global creator programs lead at LinkedIn, Callie Schweitzer… Partner in Tel Aviv-based venture capital firm Aleph, Aaron Rosenson… Deputy chief of staff and legislative director for Rep. Claudia Tenney (R-NY-22), Haim Engelman… Founding partner of media company Puck, Theodore Schleifer… Sarah Wagman… and her brother, exactly two years younger, Daniel Wagman… David Ginsberg…
Email Editor@eJewishPhilanthropy.com to have your birthday included.