Your Daily Phil: The Jewish effort to free Evan Gershkovich + Trauma care for Holocaust survivors
Good Wednesday morning!
In today's edition of Your Daily Phil, we look at a new approach to caring for Holocaust survivors being taught at the PowerNET 2023: Mission Possible conference in Dallas, and feature an op-ed from Ted Sasson and Hanna Paris. Also in this newsletter: Marshall Levin, Cheryl Fishbein and Gov. Kathy Hochul. We'll start with the Jewish federations' public and behind-the-scenes efforts to free Evan Gershkovich.
The Jewish federations network launched a public campaign this week to raise awareness about and support for Jewish Wall Street Journal reporter Evan Gershkovich, who has been imprisoned in Russia for the past two months, hosting a virtual rally this week attended by some 500 people. But while this public effort is only now getting underway, both the Jewish Federations of North America and the Jewish Federation of Southern New Jersey have been working behind the scenes on Gershkovich's behalf since his arrest in March, reports eJewishPhilanthropy's Judah Ari Gross.
Elana Broitman, JFNA's senior vice president for public affairs, has taken the lead role in coordinating the organization's efforts with the U.S. government, while the southern New Jersey federation has maintained regular contact with Gershkovich's parents, Ella Milman and Mikhail Gershkovich, who live in Princeton, N.J.
"The federation in southern New Jersey, run by Jen Weiss, they're the ones who launched the work right away," Broitman told eJP this week. "And as we always do, the national [JFNA] works with any of our federations on their biggest issues to really amplify their efforts and because this is really a national issue, we're able to really give support with our additional connectivity in Washington."
Broitman said the federations are focused on two main things: One is to keep the issue in the public eye to ensure that Gershkovich's case remains a priority for the U.S. government so it maintains pressure on Russia and works to secure his release as quickly as possible. And the other is to send a message to Gershkovich himself. "Evan gets news of what's happening, and so our ability to keep his spirits up is also really important," she said.
The local Jewish community in Russia has made efforts to reach out to Gershkovich in prison, but these have largely been for naught, according to Baruch Gorin, a spokesman for the community. "For Passover, they let us bring him matzahs and grape juice with a Haggadah. But other than that they haven't allowed us to be in touch with him or send him anything. The [Russian] chief rabbi sent a letter requesting permission to meet with him, but he hasn't yet received a response," Gorin told eJP this week.
With its new public campaign, JFNA is looking to make it clear that the entire American Jewish community is invested in Gershkovich's welfare, Broitman said. "We've been asked, 'Why is the community so engaged?' It's not because we would suggest that Evan was detained because he's Jewish. But, as a Jew, he will always have – like any member of our community is going to – the backing of our entire community. That's our ethos," she said.
Trauma care
Dallas conference teaches new approach to care for Holocaust survivor, elderly trauma victims
Over 600 therapists, rabbis, volunteers, corporate representatives and government representatives from the U.S., Canada and Israel gathered in Dallas this week to learn the best ways to care for Holocaust survivors and other elderly people who have suffered trauma, reports Jay Deitcher for eJewishPhilanthropy.
Person-centered, trauma-informed: The three-day event, the Network of Jewish Human Service Agencies PowerNET 2023: Mission Possible conference, wrapped up on Tuesday. The event was a partnership between the NJHSA, the Jewish Federations of North America and Neshama: Association of Jewish Chaplains. JFNA is the leading authority on what is known as "person-centered, trauma-informed" (PCTI) care and has received a government grant to train and fund more than 80 other agencies in the practice. The conference featured over 60 sessions, with seven developed by JFNA specialists directly teaching PCTI. Presenting at the conference were 27 experts in Holocaust survivor care, including program directors, social workers and leaders from the African American and Native American communities, discussing historical trauma.
Not only Holocaust survivors: According to the Blue Card Foundation, out of the 80,000 Holocaust survivors in the United States, one-third lives in poverty. Research shows that nearly 90% of Americans report exposure to trauma over their lifetime, and about 10% of those people qualify as suffering from post-traumatic stress disorder as defined in the Diagnostic and Statistical Manual fifth edition. These are veterans and refugees, and people who have survived natural disasters, violence, accidents and illnesses. "Trauma is very prevalent," Shelley Rood Wernick, managing director for JFNA's Center on Holocaust Survivor Care and Institute on Aging and Trauma, told eJP. "And we as social service providers need to set up all programs, policies, systems, to take that into account, and ensure that the clients feel respected and empowered to make choices about their lives and to make choices about their care."
Time is not enough: "There is the belief that time heals all wounds. Unfortunately, with trauma survivors in general, that is not quite true, particularly with survivors of a massive trauma," Yael Danieli, a psychologist and the director of the Group Project for Holocaust Survivors and Their Children and founder of the International Center for the Study, Prevention and Treatment of Multigenerational Legacies of Trauma, told eJP. "You'll find that with normal aging, most survivors will not have their work to lean on, their work comrades to be with and the structure of life that younger age provides, and they might experience a flush of memories and feel rather helpless. There is this reliving of the past that might be very painful. We must be with them to help, and an understanding of trauma must really be there."
Preparing future leadership
Why the Mandel executive leadership program is expanding eligibility
Examining the career trajectories of [new] CEOs and executive directors [who are taking over their organizations], we're reminded that Jewish communal service is itself a profession. Rising leaders in Jewish organizations move readily between organizations and networks throughout their careers," write Ted Sasson and Hanna Paris, respectively the director of programs of the Jack, Joseph and Morton Mandel Foundation and a program associate at the Mandel Institute for Nonprofit Leadership, in an opinion piece for eJewishPhilanthropy.
Previous cohorts: "The Mandel Executive Leadership Program, first launched in 2018, was originally designed for mid-career professionals on track for executive leadership positions at federations and Jewish community centers. As our first few cohorts moved through the program, we expanded eligibility to serve a wider range of Jewish communal professionals. Our third cohort included fellows from Jewish community relations councils and American Jewish Committee; our fourth cohort also included Hillel professionals."
Looking at the data: "As we began planning for Cohort V (2024-2025), we decided to look more systematically at how the career trajectories of rising leaders weave through organizations, networks and sectors of the Jewish nonprofit arena. To do so, we analyzed data provided by our colleagues at Jewish Federations of North America and Jewish Community Centers Association of North America."
Worthy Reads
Not Just a Swimming Pool: Simone Ellin dives deep into the history and possible future of Jewish Community Centers in Inside Philanthropy. "Some Jewish leaders and funders are looking toward an often overlooked place — Jewish Community Centers (JCCs) — to provide solutions for the challenges facing North America's Jewish community. According to Marshall Levin, the new chief philanthropy officer of the JCC Association of North America (JCCA), JCCs have historically been significantly undervalued as well as underfunded. But Levin believes the Jewish community has reached an inflection point and views JCCs as the Jewish institutions best suited to reduce antisemitism and engage Jews of all demographics… Levin feels that Jewish experiences are what many of today's Jews are seeking, and 'JCCs are experts in Jewish experience,' he said. 'I believe that we need now to raise awareness, raise the profile of the JCC movement and what it represents. We need to change the conversation.'" [InsidePhilanthropy]
Baiting the Hook:The Nonprofit Times reports on the growing need to pay for clicks in order to be seen on search engines. "There was a time when all the tech team at a nonprofit needed to do to get the organization on the first page of Google was good search engine optimization (SEO) and a few solid back-links from reputable websites. Those times are long gone. The age of paid search is upon us… Steven Bond, managing director at Forum One, explained that due to paid search expansion, 'Even if you are the first organic search result on Google, you will still get less than 30% of the total clicks from the first page.' According to Forum One's data, nonprofit ad spend on paid search and social media is expected to grow 10% annually through 2027, and the competition is expected to grow with it." [NonprofitTimes]
Around the Web
Mark Oppenheimer has been named vice president of open learning, a new position, at American Jewish University, effective June 19. Oppenheimer is the longtime host of the podcast, "Unorthodox"…
Elise Westhoff is stepping down as CEO of the Philanthropy Roundtable…
Hadassah released a list of "18 American Zionist Women You Should Know," including executive editor of eJewishPhilanthropy's sister publication Jewish Insider, Melissa Weiss…
Brooke Rubinoff, 20, from Thornhill, Canada, earned the distinction of being the first child of Birthright participants to go on a Birthright trip. Her parents, Miles and Hayley Rubinoff, went on a Birthright trip to Israel in 2001, the third year of the program…
The Israel Trauma Coalition, a group of trauma management NGOs and government bodies, is working with the Ukrainian government to establish "resilience centers" in cities across the country to help civilians affected by Russia's ongoing invasion…
New York Gov. Kathy Hochul is convening the state's first-ever unity summit to address hate crimes today. Former U.S. Attorney General Loretta Lynch will deliver the keynote address. Rabbi Diana Fersko of Manhattan's Village Temple and the Orthodox Union's Rabbi Moshe Hauer, among others, will participate…
Cheryl Fishbein, president of the Jewish Community Relations Council of New York, was inducted into the Manhattan Jewish Hall of Fame…
UConn Health, part of the University of Connecticut system, has removed signage on its Farmington campus that recognized donations made by Purdue Pharma co-founder Raymond Sackler (who died in 2017) and his wife, Beverly (who died in 2019). The university has temporarily frozen remaining assets associated with the Sackler gifts, including endowments to fund research, programming, student scholarships and faculty support and, following a review process, plans to redirect the funds back to those areas, "but without the Sackler name attached"…
Hillel's global giving week raised over $3.9 million from more than 9,000 donors, the highest dollar amount and number of donors since the initiative began in 2020…
Israel's El Al airline canceled summer flights from London to Tel Aviv on Saturday nights to avoid having flight check-in open prior to the conclusion of Shabbat…
Rabbi Akiva Gershon Wagner, the founding rosh yeshiva of Yeshivas Lubavitch in Toronto, died at 55… 
Pic of the Day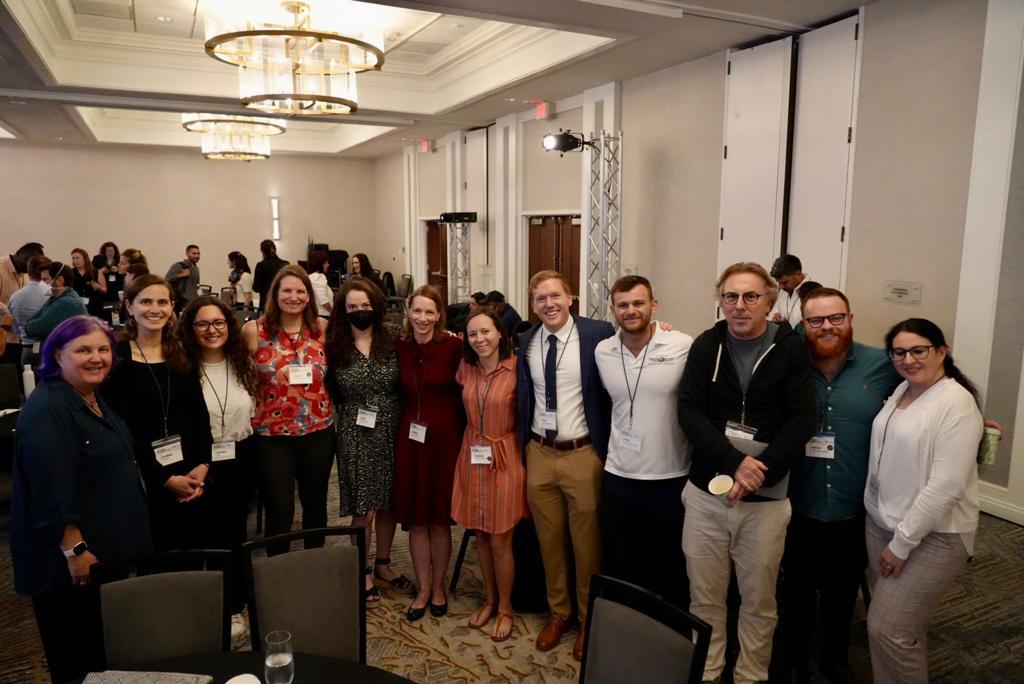 Olam's Focal Point conference, which brings together Jews from across the Diaspora and Israelis engaged in international development, humanitarian aid and global service, took place Monday and Tuesday in Washington, D.C. Nearly 200 people from 12 countries attended and marked their shared commitment to serving the world's most vulnerable individuals.
Birthdays
Anchor for "SportsCenter" and other programs on ESPN since 1979, Chris "Boomer" Berman…
Shopping center developer and former U.S. ambassador to both Australia and Italy, Melvin Floyd "Mel" Sembler… Scion of a Hasidic dynasty and leader of the Beth Jehudah congregation in Milwaukee, Rabbi Michel Twerski… and his twin brother, who is a professor at Brooklyn Law School, following a career as dean at Hofstra University School of Law, Aaron Twerski… Real estate developer and principal owner of the NFL's Miami Dolphins, Stephen M. Ross… Leading Democratic pollster and political strategist, Stanley Bernard "Stan" Greenberg… British actress, Dame Maureen Lipman… Israeli businessman and philanthropist, Leon Recanati… Senior counsel at Nixon Peabody, Richard Goldstein… Founder and CEO of OPTI Connectivity, Edward Brill… CEO of Medical Reimbursement Data Management in Chapel Hill, N.C., Robert Jameson… American-born Israeli singer, songwriter and music producer, Yehudah Katz… Claims examiner at Chubb Insurance, David Beck… Former NBA player whose career spanned 18 seasons on seven teams, Danny Schayes… U.S. Sen. Cindy Hyde-Smith (R-MS)… Reform rabbi living in Israel, Susan Silverman… Brazilian businessman Ricardo Samuel Goldstein… Special education teacher, Neil Winchel… Attorney general of Colorado, Philip Jacob Weiser… Senior rabbi of Houston's Congregation Beth Yeshurun, Brian Strauss… Israeli rock musician, Aviv Geffen… Editor-in-chief of Fleishigs kosher food magazine, Shifra Klein… Video games reporter at Bloomberg News, Jason Schreier… Manager of government affairs at the American Forest & Paper Association, Fara Klein Sonderling… Associate director of communications in the D.C. office of Pew Research Center, Rachel Weisel Drian… National correspondent for New York Magazine, Gabriel Debenedetti… Editorial director at The Record by Recorded Future, Adam Janofsky… Award-winning American-Israeli journalist, Melanie Lidman… Actress, Halston Sage… Scriptwriter and actress, Cazzie Laurel David… Mollie Harrison…