Your Daily Phil: The battle for Jewish Agency head heats up + UJA-Fed NY fundraising up 9%
Good Tuesday morning!
Each of the 146 Jewish federations in North America will soon have its own security director, due to a $54 million "LiveSecure" campaign by The Jewish Federations of North America (JFNA), CEO Eric Fingerhut told eJewishPhilanthropy.
About $18 million of the funds will support JFNA's Secure Communities Network (SCN), which provides best practices and security guidance for Jewish communities. SCN recently announced the creation of a new command center in Chicago to track and analyze threats. The other $36 million will serve as matching funds that will enable individual federations to raise the total amount needed for their security operations.
"The safety of every community is the responsibility of government, but we know the Jewish community has unique needs due to historic issues involving antisemitism," Fingerhut said. The campaign has already raised about $36 million from foundations and other donations, Fingerhut said.
The hiring of a security director — currently, just 45 federations employ them — will facilitate federations' application for funds from the $180 million federal Nonprofit Security Grant Program, in addition to funds from a growing number of states and localities, Fingerhut said.
EXCEEDING EXPECTATIONS
Fundraising at UJA-Federation of New York rose 9% to $250 million
UJA-Federation of New York, the country's largest Jewish nonprofit, raised $249.6 million in its fiscal year ending June 30, 2021, an increase of 9% over the preceding year, despite concerns voiced by CEO Eric Goldstein at the start of the coronavirus pandemic that fundraising would suffer. But the opposite has occurred, as the federation's ability to help people suffering from pandemic-related job loss, hunger and other human services needs both attracted new donors and encouraged existing major funders to increase their giving. The federation's executive vice president for financial resource development, Mark Medin, explained in a conversation with eJewishPhilanthropy's Helen Chernikoff that giving in the capital and special projects category fueled the increase.
This interview has been edited for length and clarity.
Helen Chernikoff: I was surprised to see fundraising up in your fiscal year, which started at the height of the pandemic in 2020 and ended when it was still going strong, in 2021. How do you explain that?
Mark Medin: The ongoing impact of the pandemic is not over. The needs in the community remain very significant. We look at five key needs: food insecurity, job loss, financial support, mental health and domestic violence. In all five of those areas, our agencies continue to be seeing record need. The need in the community remains at an elevated level. Our ability to communicate that to our donor base has been of paramount importance, and our donors have stepped up in really significant ways. Individuals are suffering and organizations are suffering.
HC: Can you say more about the needs of individuals versus the needs of organizations?
MM: The agencies that rely on fees for services that they provide to generate revenue to fund their operations were most severely hit by the pandemic. We communicated to our donor base that we needed their help to sustain the institutions of Jewish life — JCCs and Jewish camps and the like. We provided tens of millions of dollars in loans to sustain JCCs and other institutions that rely on that model. When it comes to food insecurity, the organizations that serve them were seeing lines of people at record levels. The demand for food was so extreme. We talked about those issues with our donors. They enabled us to increase grants specifically in that food security area.
HC: An increase in gifts from major donors in the "capital and special projects" category — from $17.3 million to $40.2 million — accounted for the increase in the total amount that the federation raised this year. Can you share an example of a major donor who responded to a very specific need?
MM: There's a longtime, six-figure donor who was very moved by the need in food insecurity and in social services in general. We have been setting up a series of hubs to deliver a range of services in a single location in different parts of the area we serve. This donor had roots in Westchester, and wanted to know what could be done there. We talked with partners about setting up one of these hubs there, and this donor said, "We'll underwrite the cost of that." We had numerous situations like that. Multiple donors said that they would fund a specific project. Others said that they would double their gift this year, or make a one-year gift in light of the fact that the federation had given $67 million in extra grants and loans that we made due to COVID over the past 18 months.
MEET THE CANDIDATES
The battle for Jewish Agency head heats up
October could be a fateful month for the organized Jewish community as the Jewish Agency for Israel (JAFI), the quasi-governmental organization with a budget of nearly $400 million that makes funding decisions on some of the thorniest issues in Jewish life, is slated to select its next executive chairperson. The politically charged race for the sensitive post of bridge-builder between Judaism's often warring religious and political factions is already heating up, Jewish Insider's Ruth Marks Eglash reports.
Fierce competition: The previous head, Isaac Herzog, stepped down last July to become Israel's 11th president, and the battle for his replacement is fierce, with a crowded and competitive field of nine candidates currently in the running. Jewish Insider spoke to each candidate about their vision and why they want to head the 91-year-old agency.
Prime minister of the Jewish world: "The head of the Jewish Agency for Israel is basically the prime minister of the Jewish world," Michael Jankelowitz, a commentator on world Jewish affairs and JAFI's former international media spokesman, told JI. "It is the most prestigious position after being president or prime minister of the State of Israel."
Who decides? Deciding who will lead the agency, which was founded in 1929 with the aim of assisting and encouraging Jews worldwide to help develop and settle Israel, and take on the biggest challenges facing world Jewry today, is a 10-member selection committee representing the three factions that make up JAFI – the World Zionist Organization (WZO), the Jewish Federations of North America (JFNA) and Keren Heyesod.
Jewish politics: "This is Jewish politics of the highest order," observed Jankelowitz. "The Jewish Agency has changed a lot since its inception. It is no longer just about aliyah, but about recognition and acceptance of all the streams of Judaism, as well as unity of the Jewish people in every corner of the globe." The post is also about being an effective fundraiser and manager of an often bureaucratic and bloated organization as it addresses the most potent challenges facing world Jewry. Whoever becomes the chairperson will be responsible for a core budget of some $365 million, including vast assets in Israel and abroad, as well as additional sums from the Israeli government for various targeted projects run jointly.
Read the full story and see a rundown of the candidates here.
RELATIONAL CONNECTION
How a Mr. Rogers ministry guided my pandemic rabbinate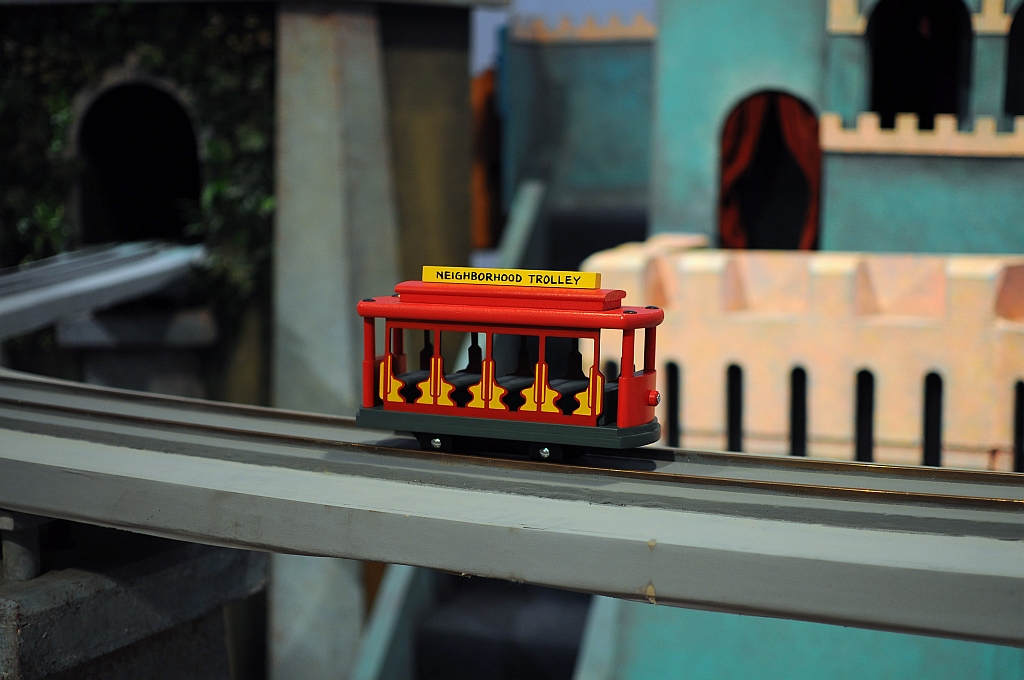 "When I was a child growing up in a largely secular Jewish home, I took tremendous comfort in watching 'Mr. Rogers' Neighborhood.' Fred Rogers was an educator and a pastor, who used television as a vehicle to communicate his torah, which was that each person is unique and special, worth seeing and celebrating," writes Rabbi Ilana Schachter, associate rabbi at Temple Sinai of Roslyn in Roslyn, N.Y., in an opinion piece for eJewishPhilanthropy.
Showing up: "Long before the COVID-19 pandemic, Rogers demonstrated that the distance created by a screen could not sever the connection between two people, nor could it prevent you from feeling the intention of the other. 'Mr. Rogers' Neighborhood' was proof positive that if you wanted to show up for another person, you could, even without ever meeting them."
Intimacy through a screen: "This ideology has guided my rabbinate since March 2020, when my synagogue temporarily closed its physical doors and began a virtual program. Every time I doubted whether this could be meaningful for people, I remembered the power of Fred Rogers's intentions… Like Rogers, I shared with them my own precious items: My shofar, my Cheshbon HaNefesh journal, my stories. And like all of Mr. Rogers's neighbors, my congregants indeed felt the intimacy, even if it was through a screen."
Relational connection: "As we begin a new year with our doors once again opened to in-person worship, I carry with me the knowledge that relational connection is possible even from a distance, even when we do not see the other person, as long as we seek that connection and open our hearts to the other. I am eager to be proximate, in person and unmasked soon, and I yearn to gather with my community in our sanctuary, to acknowledge people with my whole body rather than simply my eyes."
NONPROFIT PROPHET
To confront or not to confront. That is the question.
"I usually write my pieces only with my consultant hat on, but this time I'm going to add my unique cultural perspective as someone who grew up in Eastern Europe and didn't come to America until I was 25 years old," writes Natasha Dresner, an organizational development consultant and mentor with JCamp 180, a program of the Harold Grinspoon Foundation, in an opinion piece for eJewishPhilanthropy.
Fear of confrontation: "Accountability is critical to the success of any organization, particularly the key role your leaders need to play by holding themselves and others accountable. But it's not so easy to do in part, I think, because of the fear of confrontation that is part of American culture."
How you do it: "Think of confrontation as a tool or method of having a difficult, but important conversation. Think of it as a way to stand up for yourself and those who can't stand up for themselves. Confronting another person isn't synonymous with being aggressive, belligerent or any other negative words you associate with confrontation. Just like with many other things, it's not so much what you do, but how you do it."
Hold co-workers accountable too: "When you're a toddler avoiding confrontation by walking away from another toddler who just stole your toy on the playground, that might be an appropriate response. But when you're a grown-up walking away from a co-worker who just hijacked the meeting you were carefully preparing for the last two weeks, that's not OK. If you don't hold that co-worker accountable for their actions and behaviors at that meeting, not only is it guaranteed to happen again, but it will also set a precedent for others to do the same. By 'walking away' you give unspoken approval of their actions and permission to do it again."
Worthy Reads
Silver Tongued: In Philanthropy Daily, Jonathan Hannah analyzes Malcolm Gladwell's critique of university endowments, noting that while Gladwell criticizes the disproportionate role endowments play in the U.S. News and World Report rankings, he is also guilty of some intellectual dishonesty. Most significantly, Gladwell implies that endowments are akin to a slush fund for university presidents, whereas in reality endowments usually consist of many gift agreements that the university must honor. "Gladwell would have more credibility if he told the entire story about how university endowments work," Hannah concludes. [PhilanthropyDaily]
Competitive Edge: Pitch events modeled after "Shark Tank," the reality TV show in which participants compete for startup funding, are counterproductive in philanthropy because they reinforce skewed power dynamics and undermine a spirit of collegiality, claims Vu Le in his blog Nonprofit AF. Such competitions can exacerbate the sense of scarcity that already complicates nonprofit professionals' attempts to work together to solve social problems. "Oftentimes, the people 'judging' the competitions have never worked at nonprofits… And yet they get the microphone and ask ridiculous questions or make comments that further the public's misperceptions of nonprofits," Le points out. [NonprofitAF]
Bright Idea: An old factory that now houses West Edge, a West Virginia nonprofit that is helping former coal miners transition to renewable energy jobs, will be powered by money-saving solar panels, reports Fred Pace in the Charleston Gazette-Mail. West Edge also offers a social enterprise incubator that houses Solar Holler, the company that installed the panels. "The growth of solar is creating new opportunities for our electricians and showing young folks here in the Huntington area that there are good jobs right here at home," said Greg Spears, the assistant business manager at International Brotherhood of Electrical Workers Local 317. [CharlestonGazetteMail]
Community Comms
Apply! Want to join the team at Jewish Insider/eJewish Philanthropy? We're looking for a top-notch philanthropy editor. Learn more here.
Be featured: Email us to inform the eJP readership of your upcoming event, job opening, or other communication.
Word on the Street
Samantha Vinokor-Meinrath joined The Jewish Education Project as senior director of knowledge, ideas and learning… The Zionist Organization of America elected attorney David Schoen its national chair… The first German translationof the Talmud is now available on Sefaria… The Israel-Asia Center opened applications for its 2022 Israel-Indonesia Futures program… Memorial Sloan Kettering Cancer Center announced a $25 million gift from Louis V. Gerstner, Jr. to establish an early-career physician research program in cancer science…
Pic of the Day
The Jewish Museum's "Afterlives" exhibit, which tells the stories of objects and art looted from Jewish collectors during World War II, features an antique, tiered Seder plate from the Jewish community of Danzig, now Gdansk in Poland.
Birthdays
Sen. Ben Cardin (D-MD)…

Investor and board member of many companies, he was the owner of the Baltimore Orioles from 1989 to 1993, Eli S. Jacobs… Psychiatrist in Cameron, N.C., affiliated with WakeMed Health and Hospitals, Dr. Morton Meltzer… Author, lecturer and journalist, Jonathan Dobrer… Talk show host on New York City's public radio station WNYC, Brian Lehrer… Founder of several pharmaceutical companies, he was the owner of the NHL's Florida Panthers, Alan Phillip Cohen… EVP of donor relations at The Jewish Federation of Greater Los Angeles, Andrew Cushnir… Former editor of the Atlanta Jewish Times, Michael Jacobs… Co-president of the Congressional Jewish Staff Association and staff member on the Senate Committee on Health, Education, Labor and Pensions, Charlotte Kaye… Actor, producer and playwright, Jesse Adam Eisenberg… Actress known for her role as Agent Olive on the TVOKids/PBS series "Odd Squad," Dalila Bela… Canary Islands native and former coordinator at Israel's Mission to the United Nations, Gladys Bendahan… Israeli tour guide and educator, Daniel Paul Rubenstein…

Email Editor@eJewishPhilanthropy.com to have your birthday included.