Your Daily Phil: Synagogue attendance and anxiety during the pandemic + DHS to help 'underserved' communities with NSGP applications
Good Friday morning!
Almost exactly two years after the first Shabbat, in March 2020, when many synagogues shuttered due to the pandemic, a new, wide-ranging study from the UJA-Federation of New York demonstrates a connection between attending Jewish communal programs and emotional well-being. A survey of a representative sample of 4,400 adults in Jewish households, with some data provided exclusively to eJewishPhilanthropy, shows that the more New York City-area Jews attended prayers and Jewish activities, the lower their rates of anxiety, depression, social isolation and substance abuse were.
"We have long held an assumption that 'doing Jewish' was good for the Jewish people, was good for our community, and now we feel like we have this evidence that says it," Emily Sigalow, executive director of UJA's ??Impact and Performance Assessment Department, told eJP. She noted that the study didn't prove causation, or that going to synagogue makes one less anxious or depressed. But, she said, "even if we can't prove the direction of an arrow, we know that doing Jewish is associated positively with these different measures of well-being."
Across several variables, more Jewish involvement correlated with better emotional well-being. Thirteen percent of synagogue members, for example, reported feeling symptoms of anxiety or depression. The number rose to 26% among non-members. The more frequently one attended Jewish programs, the less likely one was to experience social isolation, dropping from 63% among those who never attend to 28% among those who attend once a week or more.
Overall, synagogue attendance dropped during the pandemic, with 27% of Jews saying they have attended religious services less during the pandemic, and only 5% saying they attend more — an unsurprising result given synagogue closures and quarantines.
More than three-quarters of Jewish respondents said their connection to being Jewish "has not changed much" during the pandemic, while 20% say they're more attached and 3% report feeling less attached. And feelings of belonging in Jewish spaces drop among both LGBTQ Jews and racially and ethnically diverse Jews, 59% and 66% of whom, respectively, said they felt like they belonged in the Jewish community, compared to 80% of Jews overall.
The survey's questions reached beyond issues of emotional well-being and belonging — asking respondents about their economic status, food security, drug and alcohol abuse and more. It found that New York's large share of Orthodox Jews had higher poverty rates and less food security, and were more reliant on government aid. Nearly a quarter of Jewish households overall lived in or near poverty. Poverty numbers were even higher among Orthodox respondents, most of whom receive government food benefits.
ON THE HILL
Ahead of 2022 NSGP deadline, DHS increasing outreach to 'underserved' communities
With the application period for the 2022 Nonprofit Security Grant Program expected to begin in the coming weeks, Department of Homeland Security officials told the Senate Homeland Security and Government Affairs Committee on Wednesday that they're working to conduct greater outreach to "underserved and marginalized communities" that may lack awareness about the program, Jewish Insider's Marc Rod reports.
Reaching out: "We know that there are parts of the country, there are particular communities that have not accessed this program, our analysis has shown that is not simply a matter of them being non-competitive, it's that they're not competing at all," Christopher Logan, deputy assistant administrator for the Federal Emergency Management Agency's Grant Programs Directorate, said. "And we need to solve that problem." The Jewish community has historically received the majority of NSGP grants.
The little guys: Several senators emphasized during the hearing that smaller congregations and nonprofits may struggle to submit applications due to limited staffing and a lack of expertise navigating the federal grant process. Prompted by Sen. Jacky Rosen (D-NV), Logan told senators that the department is examining whether it is necessary to open a dedicated NSGP office within FEMA. The senators' questioning indicates that there could be support for legislation creating a standalone NSGP office at FEMA, something the rabbi of Congregation Beth Israel in Colleyville, Texas, Charlie Cytron-Walker, has called for following the January attack on his synagogue.
Up next: Sens. Rob Portman (R-OH) and Maggie Hassan (D-NH) both highlighted the Pray Safe Act, legislation they introduced in 2021 that would create a centralized database of information for nonprofits to access information about federal programs and resources like NSGP. Marcus Coleman, director of the DHS Center for Faith-Based and Neighborhood Partnerships, told the panel he believes this legislation could be a promising resource. He said his division and the White House are already examining a similar approach.
PARSHA PHIL
Ascending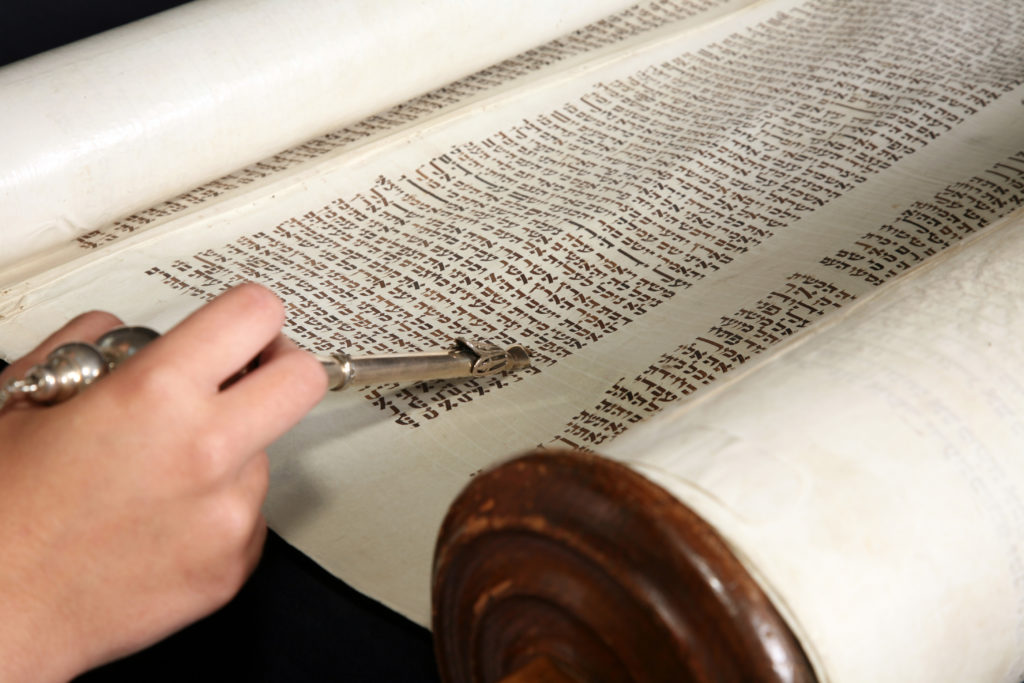 "The Torah portion for this week, Tzav, begins its list of the rules of various sacrifices with one called an 'olah' – translated by Everett Fox as 'the offering up' sacrifice. Olah is a feminine verbal noun and is identical to the Hebrew word describing a woman who goes up, or ascends. If we take the word out of its sacrificial context, we can recognize the word 'olah' as one that is also used to refer to a woman coming up to the Torah for an Aliyah," Rabbi Tamara Cohen, chief program officer of Moving Traditions, writes in an opinion piece as part of eJewishPhilanthropy's weekly Parsha Phil column.
Helping Judaism rise: "When Judith Kaplan 'rose up' to become a bat mitzvah, she was not just an individual girl rising spiritually by reading Torah and becoming a bat mitzvah. She — and the many who followed in her footsteps and expanded the access of girls and women, and now also non-binary and transgender people, to Torah — was in fact helping Judaism rise to new spiritual heights."
Elevating collaboration: "Also this week, Moving Traditions renamed our fellowship for Jewish teen activists in honor of our founding CEO, Deborah Meyer, and our founding board chair, Sally Gottesman; the Meyer Gottesman Kol Koleinu feminist fellowship renaming represents another important element of torat ha-olah, and provides an opportunity to reflect on the role of philanthropy in advancing equity — both within the Jewish community and beyond. This raises up different models of organizational leadership and positions them as equals, recognizing collaboration that crosses lines between funder and professional, lay leader and paid leader. We rise up together, in partnership, side-by-side."
FULFILLING MITZVOT
Finding the joy of Purim for Ukrainian Jews
"This Purim is not like any other. Usually, at this time of the year we would be planning a Purim celebration for Hillel students and young adults and finding creative ways to present the Purim spiel for the larger Jewish community in Poland," writes Magda Dorosz, director of Hillel Warsaw, in an opinion piece for eJewishPhilanthropy.
Humanitarian crisis: "Instead of planning a joyous Purim celebration, we are tending and caring for the needs of refugees. In this third week of war, Poland has received 1.9 million refugees from all over Ukraine, which has created an unprecedented humanitarian crisis. Polish society and the Jewish organizations in Poland have come together united in one goal: to help and save as many refugees as possible."
On the ground: "Hillel Warsaw, together with the Taube Center for Jewish Life and Learning and the Jewish Historical Institute, opened a day center last week for refugees, providing a safe, welcoming and comfortable space to spend time during the day. The space is where refugees can get a hot meal, get help and advice on their legal next steps and be able to find work, as we are supplying computers for them to use. The space is also equipped with a playground area where kids can play, enjoy each other's company and be kids again. As one of the mothers who comes to the center said: 'I see my daughter smiling again, she is a happy child again and she doesn't have to worry about the horror we have been through.'"
BASIC NUTRITION
Beyond shakshuka: Lessons from an Israeli breakfast in combating juvenile hunger
"For the majority of people, the idea of 'School Breakfast Week' will probably pass by without most giving it even a second thought. Just another awareness day or week on the calendar. But the fact that this awareness week exists perhaps demands that we take a moment to think about why such a concept has made its way into the calendar — and why it is important to take more than a fleeting moment to think about school breakfast," writes Rotem Yosef-Giladi, CEO of Nevet, an Israeli nonprofit that provides healthy fresh sandwiches to students who need them, in an opinion piece foreJewishPhilanthropy.
Israeli breakfast: "Here in Israel, this is an understanding that is deeply embedded in our national culture. We take breakfast extremely seriously and for those of you who haven't enjoyed an Israeli breakfast, trust me when I say that you're missing out… The very basis for our heavy investment in this meal is rumored to originate in the agricultural focus of the early settlers of modern Israel. Every morning, workers would awake well before dawn on kibbutzim (communal farms) all across the country. The diverse breakfast menus that have come to define our culinary identity would provide the 'fuel' to get them through the hot summers and rainy winters and transform our country into one of the world's most successful farming and productivity nations."
Nothing to eat at home: "Because of our love for breakfast — and for food in general — we are particularly pained by increasing evidence of tens of thousands of Israeli schoolchildren who come to school without breakfast. That lack of this key meal is not because they were rushed in the morning and didn't have time to pack food, but simply because they have nothing to eat. A hungry student is typically unmotivated, distracted or angry, leading to behavioral problems and educational deficiencies. Even the most ambitious and creative students will be unable to concentrate on an empty stomach."
Worthy Reads
Stopping Special Treatment: Donating to Ivy League schools is bad philanthropy, Andrew Babbitt argues in The Chronicle of Philanthropy, because it leads to preferential treatment for big donors. "Donations bring big perks. Harvard keeps a "Dean's Interest List" that identifies applicants who have connections to substantial donors or individuals the university believes may become substantial donors. These applicants receive special consideration. If you're willing to break donation records, as billionaire hedge-fund manager John Paulson did with his $400 million donation to Harvard, you could even get a building or school named after you. Harvard named its school of engineering after Paulson. The most egregious gifts have sparked outrage. Paulson came under fire from writer Malcolm Gladwell and other critics. Observers rightly pointed to Harvard's existing wealth and the many alternatives Paulson could have chosen if he wanted to help those with the most need." [ChronicleofPhilanthropy]

Historical Origins: Judith Kaplan's bat mitzvah in 1922 — the first-ever bat mitzvah for a girl in America — took place just two years after the certification of the 19th Amendment finally granted women the right to vote, Jackie Hajdenberg writes in the Jewish Telegraphic Agency. She adds: "There is evidence that some recognition of the bat mitzvah had already emerged by the late 1800s and early 1900s in traditional Jewish communities in parts of Europe and the Ottoman Empire, according to The Jewish Women's Archive. At the turn of the century, Rabbi Yosef Hayim of Baghdad 'recommended that girls mark their twelfth birthdays in liturgical fashion, with options ranging from wearing festive clothing to reciting shehecheyanu.'" [JTA]
Community Comms
Be featured: Email us to inform the eJP readership of your upcoming event, job opening, or other communication.
Word on the Street
The Wexner Foundation announced three new classes of the Wexner Heritage Program with volunteer leaders from Cleveland, Palm Beach, Florida, and the San Francisco Bay Area…
Hazon and the Humane Society of the United States have collaborated on  a virtual culinary training program focused on bringing more sustainable plant-based menu items to the Jewish community…
Nineteen Israeli high school students, members of the science outreach program She Space International, of Ben-Gurion University of the Negev and the Israeli NGO Beit Yatziv, met with Emirati students in the Emirate of Ras al Khaimah, visited the Crossroads of Civilization Museum in Dubai and met members of the UAE Jewish community this week. The visit was hosted by the U.S.-based World Class Scholars and curated by the Israel-based Altruists consultancy…
Israel's Population and Immigration Authority reported Thursday that 11,390 Ukrainians have arrived in Israel since the Russian invasion began. The figure includes those eligible for Israeli citizenship under the Law of Return…
UNHCR, the UN refugee agency, announced funding totaling more than $200 million from companies, foundations and philanthropists in support of the agency's Ukraine emergency response…
Ashton Kutcher and Mila Kunis have raised more than their $30 million goal for aid to Ukrainians. By Thursday, the celebrity couple's fundraiser had garnered $34 million from over 67,000 donations…
Boys & Girls Clubs of America announced a $281 million gift from MacKenzie Scott, the largest gift from an individual in the organization's 160-year history…
Villanova University received a $20 million gift from alumnus Victor J. Maggitti Jr. in support of the university's Falvey Library…
David Rubenstein was elected chair of University of Chicago's board of trustees, effective following the board's May 26 meeting…
Shlomo Danziger was elected the first Orthodox Jewish mayor of Surfside, Fla…
Sam Massell, Atlanta's only Jewish mayor who is remembered for, among other successes, embedding Black leaders in government and building the city's mass transport system, died at 94…
Broadway vocal coach, including to cantorial students at Hebrew Union College's Debbie Friedman School of Sacred Music and the Jewish Theological Seminary's H. L. Miller Cantorial School, Barbara Maier Gustern, 87, died from injuries suffered during an assault in New York City…
Pic of the Day
Haredi children in Purim costumes reading the Biblical Book of Esther on Thursday at a synagogue in Bnei Brak, Israel.
Birthdays
Professor at Emory University, she is awaiting Senate confirmation to be the U.S. special envoy for monitoring and combating antisemitism, Deborah Esther Lipstadt…
Screenwriter, actor, best known for co-writing the screenplay for "Jaws" and its first two sequels, Carl Gottlieb… National columnist with Creators Syndicate and contributor to CNN Opinion, Froma Harrop… One-half of the eponymous Ben & Jerry's ice cream, Ben Cohen… CEO and chairman of Électricité de France, Jean-Bernard Lévy… Former crisis response team manager for the City of Los Angeles, now a consultant for nonprofit organizations, Jeffrey Zimerman… Head coach of the Auburn Tigers men's basketball team, he also served as the gold medal winning head coach for the USA men's basketball team at the 2009 Maccabiah Games, Bruce Pearl… Head of school at Golda Och Academy in West Orange, N.J., Rabbi Daniel S. Nevins… Filmmaker, writer and stand-up comedian, Jake David Shapiro… Identical twin brothers and singer-songwriters who recorded as "Evan and Jaron," Evan Lowenstein and Jaron Lowenstein… Lead vocalist for the pop rock band Maroon 5, Adam Levine… Actor, comedian and writer, Adam Pally… COO at Roofmart, Ariel Koschitzky… MBA candidate at Georgetown's McDonough School of Business, Michael Schapiro… Actor and television producer, Alan Aisenberg…
Saturday: Philanthropist, art collector and chairman emeritus of The Estée Lauder Companies, Leonard A. Lauder... Rabbi of Temple Hatikvah in Flanders, New Jersey, Dr. Daniel M. Zucker… Israeli politician, the daughter of former Prime Minister Yitzhak Rabin, she served as a member of the Knesset for three different political parties, Dalia Rabin… Senior lecturer in the Harvard English department, the first woman to be executive editor of The New York Times, Jill Abramson… NYC-based real estate investor and chairman of Turtle Pond Publications, one of three co-founders of the Tribeca Film Festival, Craig Hatkoff… Singer-songwriter, born in Buenos Aires and now living in Jerusalem, Yehuda Julio Glantz… EVP of merchandising at American Signature Furniture, Steve Rabe… Writer, critic, author, teacher, musician and radio commentator, Seth Rogovoy… Partner in the New York office of Latham & Watkins, Jonathan R. Rod… Neurologist in Naples, Florida, Dr. Brian D. Wolff… Dean of students at Reichman University, she was previously a member of the Knesset for the Yesh Atid party, Adi Koll… Producer, writer and director, Benny Fine… Brazilian-born entrepreneur and co-founder of Facebook, Eduardo Luiz Saverin… Former director of North American staff at Taglit-Birthright Israel, Aaron Bock… Founder of two lines of jewelry, the Brave Collection in 2012, and Zahava in 2018, Jessica Hendricks Yee… Line producer at NBCUniversal in NYC, Emma Gottlieb…
Sunday: Actor, television director and musician, Hal Linden… Member of the Russian Academy of Natural Sciences as a geologist and oceanographer, but known popularly as poet and performer, Alexander Gorodnitsky… Australian award-winning writer of Portuguese Sephardi descent, David George Joseph Malouf… Senior advisor to the family office of Charles Bronfman, Jeffrey R. Solomon… Senior lecturer of Talmud at Ner Israel Rabbinical College, Rabbi Tzvi Berkowitz… Award-winning author of 26 children's books, Louis Sachar… Owner of Diamond Point Metals, Jack Zager… Jerusalem-based activist philanthropist, pioneer in corporate social responsibility, former CEO of Timberland, Jeff Swartz… Israel's former chief of police, Roni Alsheikh… Host of PBS program Time Team America, Justine Shapiro… Chilean businessman, in 2014 he donated seven newly written Sefer Torah scrolls to synagogues on six different continents, Leonardo Farkas… Former member of the Knesset for the Israel Resilience Party, Avraham Daniel "Avi" Nissenkorn… Author and editor-at-large for Esquire, Arnold Stephen "A. J." Jacobs… Actor, podcast host, director and comedian, has appeared in more than sixty films, Michael Rapaport… Senior director of global strategic alliances at ServiceNow, Daniel M. Eckstein… Senior speechwriter for Apple, Matt Finkelstein… Policy editor at NBC News, Benjamin "Benjy" Sarlin… VP for development at the CIM Group, Jason Lifton… Comedian, writer and actress who gained popularity through her comedy videos on YouTube, Joanna Hausmann… Former managing editor of the Washington Jewish Week and Connecticut Jewish Ledger and now a staffer at Emanuel Synagogue in West Hartford, Conn., Lisa (Schneider) Lenkiewicz… Rabbinical school student at The Jewish Theological Seminary, Max Buchdahl… Project coordinator at Bugcrowd, Tatiana Uklist… Ehud Lazar…
Email Editor@eJewishPhilanthropy.com to have your birthday included.