Your Daily Phil: Start-Up Nation Central launches new research and policy institute + National Volunteer Week
Good Monday morning!
Yesterday was the first day of National Volunteer Week and Repair the World, a Jewish organization that facilitates volunteer opportunities, is focused on a vaccination project that has helped about 9,000 people get immunized since the campaign started last month, Cindy Greenberg, the group's CEO, told eJewishPhilanthropy.
The effort started in Washington, D.C., where students from The George Washington University's Hillel were working with the Edlavitch DCJCC to support older community members through the vaccination process. Through its Jewish Service Alliance, has spread the model to California, Florida, Ohio, Pennsylvania and Texas.
Robert Allen Fox, a Philadelphia-area businessman and philanthropist dedicated to his alma mater, the University of Pennsylvania, has died at age 91. The $100 million building housing the school's Wistar Institute, a center for cancer research and vaccine development, is named for Fox and his wife, Penny. He also supported the American Jewish Committee and the Jewish Federation of Greater Philadelphia.
STARTING UP
Start-Up Nation Central to launch new research and policy institute to sustain Israel's competitive edge
Start-Up Nation Central announced yesterday the launch of a new economic and research policy institute focused on Israeli innovation. Eugene Kandel, the senior Israeli economist, will serve as the institute's co-chair, he told eJewishPhilanthropy. For the last six years, Kandel has served as CEO of Start-Up Nation Central, the Israel-based nonprofit that facilitates relationships between Israeli high-tech innovators and foreign companies and governments. Kandel will become a senior advisor at Start-Up Nation Central (SNC), which will now commence a search for a new CEO. The institute's other co-chair is Paul Singer, the American investor and philanthropist who founded SNC in 2013. The institute, whose name is yet to be determined, aims to sustain Israel's long-term economic health by helping the country keep its competitive edge in high tech through research and policy recommendations. "In the last decade, the competition between innovation ecosystems has intensified," Kandel shared.
eJP spoke to Kandel on Sunday. The interview has been edited and condensed.
Helen Chernikoff: Start-Up Nation Central performed some research functions. Why was it necessary to create an institute?
Eugene Kandel: Everybody intuitively understands that having a cluster of innovation in your country is desirable and the reason why; that helps you attract more interesting people, and more investment. A lot of governments are interested in doing that. The competition has shifted. Governments are becoming the competitors, just like they used to compete for foreign direct investment, now they're trying to attract innovation. Government support is now a necessary, although not a sufficient, condition to create an ecosystem. The Israeli government has been a pioneer in that over the last 40 years.
HC: You've said that the institute will have a particular focus on "research and co-innovation generated by recent Israeli diplomatic breakthroughs." Can you say a bit more about that?
EK: The Abraham Accords already generated a lot of interest on both sides in collaborating. One form of collaboration is between ecosystems. The UAE-IL [United Arab Emirates-Israel] tech zone community has already been established. It has 1,000 people and entities. The idea is to connect the ecosystems to support the strengthening of the UAE and other countries and help them to develop their own innovation ecosystems. SNC and the UAE-IL tech zone will be working in close collaboration.
TAKING STOCK
Racial justice and the Jewish community: One year after the death of George Floyd
"As we begin the second year of living through a pandemic, and as the vaccine brings hope to resuming our normal lives, we recognize that our country has changed, and not only in terms of health. This past year has launched the most significant conversation on race and advancement of racial justice since the 1960s," write Leslie Dannin Rosenthal, Lois Frank and Melanie Roth Gorelick in an opinion piece for eJewishPhilanthropy.
Taking stock: "As we write this piece, we are on the precipice of receiving the verdict in the Chauvin police case for the murder of George Floyd at the hands of the police. In April, the CDC director, Rochelle Walensky, declared that the disproportionate impact of COVID-19 on communities of color, as seen in case numbers, deaths and social consequences were not a result of COVID-19. Rather, the disparities imbalance resulted from 'inequities that have existed for generations and revealed for all of America a known, but often unaddressed, epidemic impacting public health: racism.'"
Rebuilding an alliance: "As American Jews with a proud history working in civil rights, we care deeply about the dignity of all people. We work to ensure a justice and equitable society. Yet this moment underscores that there is still work to do. At the Jewish Council for Public Affairs (JCPA) we are prioritizing rebuilding the multiracial Jewish-Black alliance. JCPA began this process by taking stock of the Jewish community's engagement within civil rights coalitions and relationships with Black leaders locally. We learned what we had most feared, that in far too many places, the Jewish and Black communities are not proximate to each other."
MUTUAL AID
I'll be your queer rabbi, if you'll be my Russian Jew
"In cities across America, mutual aid – the voluntary, reciprocal, exchange of resources – has been at the heart of our pandemic survival. Not just a tool for shoring up our social safety net, mutual aid can help us reimagine our organizations to meet present and future needs," writes Rabbi Isabel de Koninck, the executive director of Drexel Hillel, in an opinion piece for eJewishPhilanthropy.
Weaving connections: "Over the last five years, Hillel International has invested significantly in weaving thick connections among Hillel professionals working with college students around the world. When it comes to inclusion, this thick network is a strategic advantage: No individual Hillel is large enough to have staff that represent the full diversity of their Jewish student body. But together, as a movement, we absolutely do. The challenge is how to leverage our diverse staff across geographic distance and disparate campus cultures to ensure that every student has the opportunity to connect with a mentor, teacher or guide in whose story they can see their own, and through whose Jewish leadership they can imagine their future within our community."
Mutual aid: "When the pandemic ends, I hope we can continue the shift from 'can you offer me advice on how I can better serve my students?' to 'how can we together better serve our students?' We can start by asking ourselves 'what do I need?' and 'what can I offer?'"
Worthy Reads
Quality Indicator: As the American economy recovers from the coronavirus pandemic and regains jobs, the quality of those jobs is declining, warns Tracy Williams in a PhilanTopic blog post. She cites Gallup's 2020 Great Jobs report, which found that about half of those who lost their jobs during the pandemic reported a decline in job quality after being rehired, as measured across dimensions such as pay, stability and safety. "Using the unemployment rate to gauge the health of an economy is like putting your hand on someone's forehead to check whether they have COVID-19. It can tell you whether they're running a fever, but it doesn't provide enough data to make an accurate diagnosis," Williams writes. [PhilanTopic]
Making Tradeoffs: Elise Westhoff argues in National Review that philanthropy has been captured by the left, which is replacing a broad notion of empowerment with advocacy that explicitly targets capitalism and encourages the funding of political advocacy. Opportunity costs come with this new emphasis, as foundations ignore other meaningful issues, especially in rural America. "Not all philanthropy is created equal, and the industry that can empower people from all walks of life shouldn't deepen inequities even as it promises to solve them," Westhoff concludes. [NR]
Spinning Off: In Inside Philanthropy, Dawn Wolfe offers an early look at the Justice Accelerator Fund, an offshoot of the Chan Zuckerberg Initiative (CZI) focused on criminal justice reform. Headed by Ana Zamora, who had worked at CZI, the fund will use both its grantmaking and its hiring to empower people who have themselves been affected by the criminal justice system. "I love this portfolio because as a funder, I don't choose who gets funding. We are simply providing the funds, and then letting the decision be made by the people with lived experience," Zamora said. [InsidePhilanthropy]
Inadequate Disclosure: In an investigation produced in partnership with ProPublica, Bob Fernandez of the Philadelphia Inquirerand Charlotte Keight of Spotlight PA report that a board chair of the Milton Hershey School is suing to obtain internal records on the grounds that he can't provide oversight of the school because it doesn't provide sufficient information. It's the latest in a series of legal problems for the $17 billion charity, whose mission is to educate low-income students for free, including one boondoggle involving the purchase of a money-losing golf course for twice its value. Critics have also argued that the school doesn't spend enough of the income from its endowment, and has accumulated $1 billion which it could have spent on students. [ProPublica]
Community Comms
Apply: The Jewish Council of the Emirates Community Centre seeks a Dubai-based Executive Director.
Apply: The Kirsh Foundation seeks a full-time NY-based Program and Special Initiatives Coordinator.
Apply! Want to join the team at Jewish Insider/eJewish Philanthropy? We're looking for a top-notch philanthropy editor. Learn more here.
Be featured: Email us to inform the eJP readership of your upcoming event, job opening, or other communication.
Word on the Street
A wildfire spreading across the slopes of Cape Town's Table Mountain destroyed the Jagger Library/Special Collections at the University of Cape Town… According to Charities Aid Foundation of America, seven in 10 U.S. corporate funders surveyed had increased their charitable contributions in 2020… Israir Airlines has announced it will no longer fly on Shabbat… The National Yiddish Theatre Folksbiene is spotlighting overlooked female playwrights…
Pic of the Day
Child reaches out to hug Cantor Shanna Zell at virtual service at Temple Beth Elohim in Wellesley, Mass. From "Faith in Isolation Expressed," a photo exhibit of the new Hebrew College Arts Initiative.
Birthdays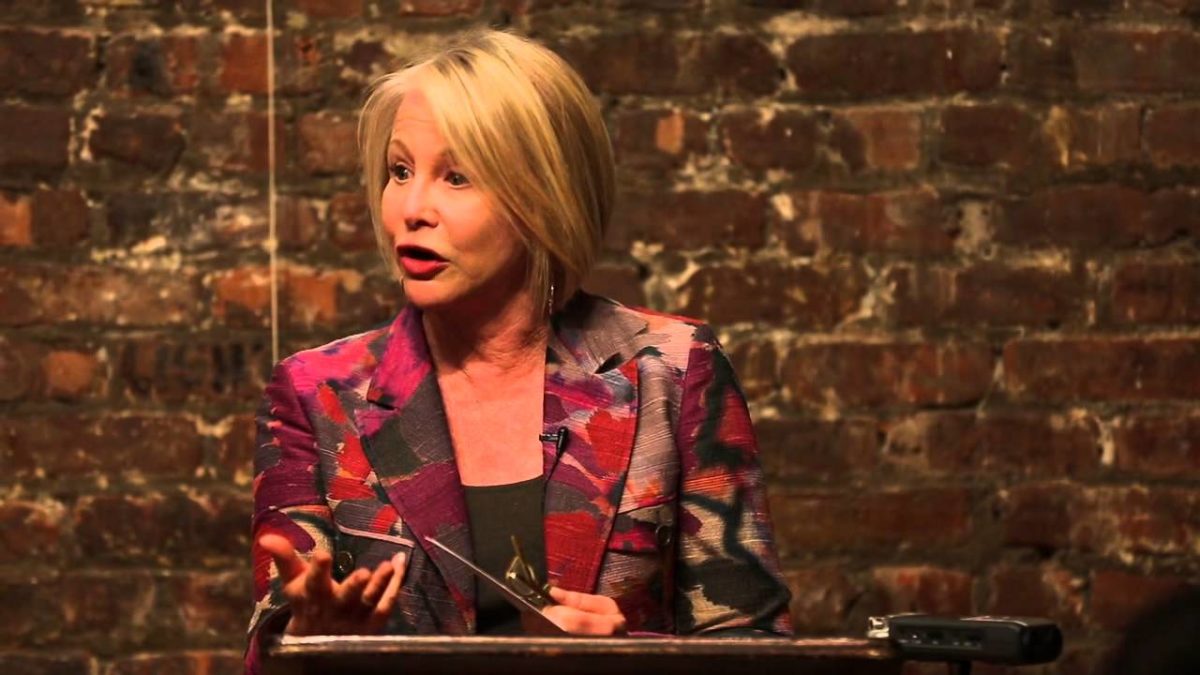 Head of strategic human resources at Elliott Management and board member of The Paul E. Singer Foundation, Terry Kassel…

Former Under Secretary of State for Political Affairs and President of the Council on Foreign Relations, Peter Tarnoff… Literary theorist and scholar, Stanley Fish… Former Attorney General of Israel, Yehuda Weinstein… Rebbe of the Vizhnitz hasidic dynasty, Rabbi Yisroel Hager… Comedian, actress and mental health campaigner in the UK, Ruby Wax… VP of GEM Commercial Flooring Company in Kansas, Gloria Elyachar… Angel investment fund manager and former NFL player who won three Super Bowls, Harris Barton… Law professor at Arizona State University and senior fellow at the Foundation for Defense of Democracies, Orde Félix Kittrie… Jerusalem-born historian and senior lecturer at the Hebrew University, Gadi Taub… Israeli entrepreneur Shai Agassi… Attorney General of Michigan, Dana Nessel… French stand-up comedian and actor, Gad Elmaleh… Author and a frequent columnist in The New Yorker, Rivka Galchen… Award-winning actor, James Franco… CEO and co-founder of Klick Health, Leerom Segal… Actress, author and fashion entrepreneur, Kate Hudson… Managing director of development at the Met Council on Jewish Poverty, Brian Tregerman… Rabbi who writes a weekly Torah commentary on Substack, Zohar Atkins… Podcast host and global director of young leadership at the American Jewish Committee, Seffi Kogen… Investment banking analyst at Bank of America Merrill Lynch, Jake Gerber…