Your Daily Phil: 'Smart' classrooms for Ukraine's refugee children + Supporting Jewish educators
Good Tuesday morning!
In today's Your Daily Phil, we cover how an Israeli nonprofit is leveraging tech to aid victims of the Ukraine invasion and other international crises, and feature opinion pieces on Jewish conferences and the field of Jewish education. In this newsletter: Maimonides' Felicia Herman and a who's who of Jewish philanthropic leaders; SmartAid's Shachar Zahavi; Olam's Yael Shapira; Wendy Rosov of Rosov Consulting; United Hatzalah's Eli Beer; and Carol Kahn Strauss, Arielle Levites, Menachem Kaiser, Sergey Brin and William Klein. We'll start with the scene at Natan's 20th anniversary gala last night.

A packed room with a panoramic view of Manhattan's Upper East Side was the scene of a gathering of some of the biggest names in Jewish philanthropy last night, as the heads of foundations came together to honor Felicia Herman at a gala celebrating the 20th anniversary of the Natan Fund.

The evening was equal parts a celebration of Natan, whose giving circles have provided seed funding for a long list of now-established Jewish nonprofits, and of Herman, Natan's executive director and then president for 16 years who now serves as COO of Maimonides Fund. The event was held at the Moise Safra Center, an upscale Jewish community center and events space, where attendees enjoyed a string trio playing on a balcony overlooking the room, ate hors d'oeuvres and sipped from a specialty kosher cocktail in honor of Herman — a mix of vermouth, gin, lemon and vodka.

Those who came to honor Natan and Herman included Maimonides' Mark Charendoff, the Jim Joseph Foundation's Barry Finestone, Schusterman Family Philanthropies' Lisa Eisen, the Paul E. Singer Foundation's Daniel Bonner, Jewish Federations of North America's Sarah Eisenman, the Mandel Foundation's Stephen Hoffman, the William Davidson Foundation's Kari Alterman, The Atlantic's Yair Rosenberg and a long list of others.

Event goers who looked through the floor-to-ceiling windows also viewed columns showcasing some of Natan's achievements over the past 20 years, including more than $16.6 million distributed from more than 250 funders throughout its history. This year, its donors will give more than $1 million. The fund will also now house its archive at the American Jewish Historical Society.

Natan's support has provided early-stage funding to a range of organizations that are now widely known in the Jewish world, from the online Jewish text library Sefaria to the environmental group Hazon to Mishkan, the independent Jewish community in Chicago. Some past grantees, like the irreverent Jewish magazine Heeb, have not stood the test of time.

"We are known for making great picks," Adina Poupko, Natan's executive director, said in a speech. "There is not enough credit given to those who risk a lot to launch startups and our Jewish communities and our lives are better off because of it."

A speech by Natan co-founder David Steinhardt compared Herman at length to the late Queen Elizabeth II. Steinhardt said that descriptions of the queen felt almost "like a Mad Libs" about Herman, as both leaders possess(ed) "decency, common sense and courage," and a fondness for dogs, among other things. Then Herman spoke, thanking those who have supported her as well as Natan's funders and grantees.

"Perhaps the most important thing that Natan has taught us is that you can't go it alone, and why would you ever want to?" she said. "I have had so much fun with so many of you."
INNOVATION AMID CRISIS
From Ukraine to Afghanistan, Israeli nonprofit SmartAid aims to bring tech to crisis zones
The room in the refugee center in Chisinau, Moldova, looks more like an advanced customer call center than a classroom: 20 laptops with noise-canceling headsets, an interactive projector at the front of the room, high-speed internet access powered by SpaceX's Starlink satellite internet service. But after 45 minutes of quietly concentrating on the screens, the 15 child refugees from Ukraine put down their headsets and run off toward recess, the sounds of shrieks and games echoing through the hall. The classroom was set up by SmartAid, an Israeli nonprofit looking to connect tech innovation and disaster relief, reports Melanie Lidman for eJewishPhilanthropy.
Decades of experience: The classrooms are one of SmartAid's many interventions in international crises. Shachar Zahavi, the group's co-founder, knows what it's like to be among the first on the ground after a natural or humanitarian disaster. He has coordinated relief in dozens of emergency situations over 18 years, first as the founder and CEO of IsraAid, an Israeli first responder and relief organization that launched two decades ago and has sent teams to disaster zones around the world.
Building a bridge: The main challenge that SmartAid tries to address is the disconnect between the people on the ground in crisis areas and the tech companies far away in their offices in Silicon Valley or Tel Aviv: Doctors, social workers, nurses and teachers on the ground have local and cultural knowledge, but might not be familiar with cutting-edge technology. Tech companies employ programmers and developers who are passionate about social justice and who are up on the latest gadgets and software, but may lack the cultural knowledge to adapt their technology successfully for local implementation.
WHY WE WENT HYBRID
The future of conferences: It's complicated
"I was in the midst of dotting the i's and crossing the t's of contracts with hotels and vendors for my organization's annual conference in March 2020 when COVID-19 hit. This was a gathering I had planned for the previous three years, as director of network engagement and programs at Olam… My team and I rethought, restructured, reworked — and ultimately put together our first online conference later that year," writes Yael Shapira in an opinion piece for eJewishPhilanthropy.
2021: "In 2021 we once again delivered a virtual and — according to feedback — thought-provoking and meaningful conference that enabled participants to meet, gain insight into issues and trends in our fields, learn from experts and discuss collaborations on future projects. Each year saw the largest number of registrants until that point, including those who hailed from countries that hadn't previously sent participants."
2022: "Though the world began reopening in early 2022, we decided to keep the bulk of our annual conference online. For one, we were still hesitant about putting people on flights and gathering hundreds of people in one space, for health reasons. We were also concerned about planning something that was dependent on the travel industry, which likely would have caused a logistical nightmare. But two other issues that came up over and over led us to keep our virtual doors open: diversity and inclusion and the high environmental cost of flying people across the globe for a two-day conference."
What we did: "So we did even more restructuring, and we decided to plan a truly hybrid conference that took these points into consideration, while giving way to some live interactions. Our conference offered three days of quality virtual sessions, and during the same week, in-person regional gatherings in seven cities around the world, allowing for that face-to-face magic to happen while not using flight fuel."
JEWISH LEARNING
Who has eyes on the educators?
"A long time ago in a land far away, large beasts known as central agencies for Jewish education (affectionately known as Boards or Bureaus of Jewish Education) roamed our national landscape. Their job was to advocate for, raise the profile around, ensure funding to support and offer professional development to their educators. There was even a Central Agency of Central Agencies…the mother ship as it were, affectionately known as JESNA," writes Wendy Rosov, founder and principal of Rosov Consulting, in an opinion piece for eJewishPhilanthropy.
Current landscape: "While some central agencies still exist, and a few carry prominent status within their communities (along with rebranded names such as Builders of Jewish Education, The Jewish Education Project, Jewish LearningWorks, and others), many have folded into other communal entities or ceased to exist altogether (as has JESNA, which shut its doors in 2013)."
Rosov's work: "Three years ago, Rosov Consulting began work on a major research project on the career trajectories of Jewish educators. We set out to hear (via surveys and interviews) from educators in eight communities (purposefully chosen for their geographic, demographic and Jewish educational ecosystem diversity) about why they chose this profession; what they like and dislike about their job; what their future career aspirations are; and much more."
Today's landscape: "Seemingly coincident with the diminution and ultimate demise of both JESNA and many of these community-based central agencies for Jewish education, the field has seen a veritable explosion in national (and even international) providers offering top-flight networking and professional development opportunities for Jewish educators in all sectors. Jewish educators anywhere in the country can learn about best practices and access the highest-quality resources. Positively, other research we've conducted shows a significant amount of cross-pollination among Jewish professional networks today (after all the thought pieces and calls to 'break down the silos,' many in fact were broken down)."
Worthy Reads
Family Ties: In the Stanford Social Innovation Review, Nick Tedesco and Michael Moody consider how family foundations need to evolve to fit a changing global environment. "Family philanthropy needs to decide what it will be moving forward in this historic moment. The field needs to tackle the many difficult questions raised here with humility, openness, and conviction — to respond reflectively, not defensively, to this moment of heightened scrutiny and opportunity. We need to identify those families blazing new paths and grappling with often uncomfortable topics — and help others do the same. Where and how can we do this collective reflection and modeling? How can we invite in more families — even ones skeptical of, or resistant to change? And how can we expand the dialogue to include our partners, and even our critics? This is the challenge that family philanthropy faces in what we believe is the most catalytic moment ever for the field." [SSIR]
Community Comms
Be prepared. New Spertus Institute certificate program equips communal executives to combat rising antisemitism. Find out more.
Be featured: Email us to inform the eJP readership of your upcoming event, job opening, or other communication.
Word on the Street
The American Academy in Berlin received a gift of $2.4 million from Carol Kahn Strauss to establish an endowed fellowship in Jewish studies. In recognition of this commitment, the academy will name the fellowship in perpetuity for Strauss, the longtime director of the Leo Baeck Institute…
The Collaborative for Applied Studies in Jewish Education and OneTable are commencing research on a study about the impact of Shabbat dinner on social connection and human needs. The research team will be led by CASJE's managing director, Arielle Levites, and is funded by a $500,000 grant from the Templeton World Charity Foundation in addition to funding from the Jim Joseph Foundation and the Jewish Federations of North America. The study is due out in three years…
The Sami Rohr Prize for Jewish Literature, in association with the National Library of Israel, announced the winner and three finalists of its 2022 Sami Rohr Prize for Jewish Literature. Menachem Kaiser's Plunder: A Memoir of Family Property and Nazi Treasure, took the $100,000 award…
The fourth annual edition of the Digital Quality of Life Index has reported that Israel is now ranked at the top of its list, beating out 116 other countries and overtaking Denmark after its two-year lead. The report is conducted after considering five "fundamental digital wellbeing pillars: internet quality, e-government, e-infrastructure, internet affordability and e-security"…
The Blue Dove Foundation, created to address mental illness and addiction in the Jewish community, released mental health High Holiday resources, including a marketing tool kit…
Three philanthropic families announced the commitment of a combined $150 million toward better understanding and treatment of bipolar disorder. Google co-founder Sergey Brin; Roblox founder David Baszucki and his wife, author Jan Ellison Baszucki; and Keystone Capital chairman Kent Dauten and his wife, Liz Dauten, each committed $50 million over five years to a global endeavor called BD² Breakthrough Discoveries for Thriving with Bipolar Disorder. BD affects 40 million people globally…
American photographer William Klein, known for his imagery of fashion and urban life, died at 96…
Pic of the Day
Sixty leaders from across the federation system traveled, together with The Jewish Agency for Israel, on a special mission to Ethiopia. Two hundred fifteen Ethiopian Jews will arrive in Israel on Wednesday as part of Operation Zur Israel.
Birthdays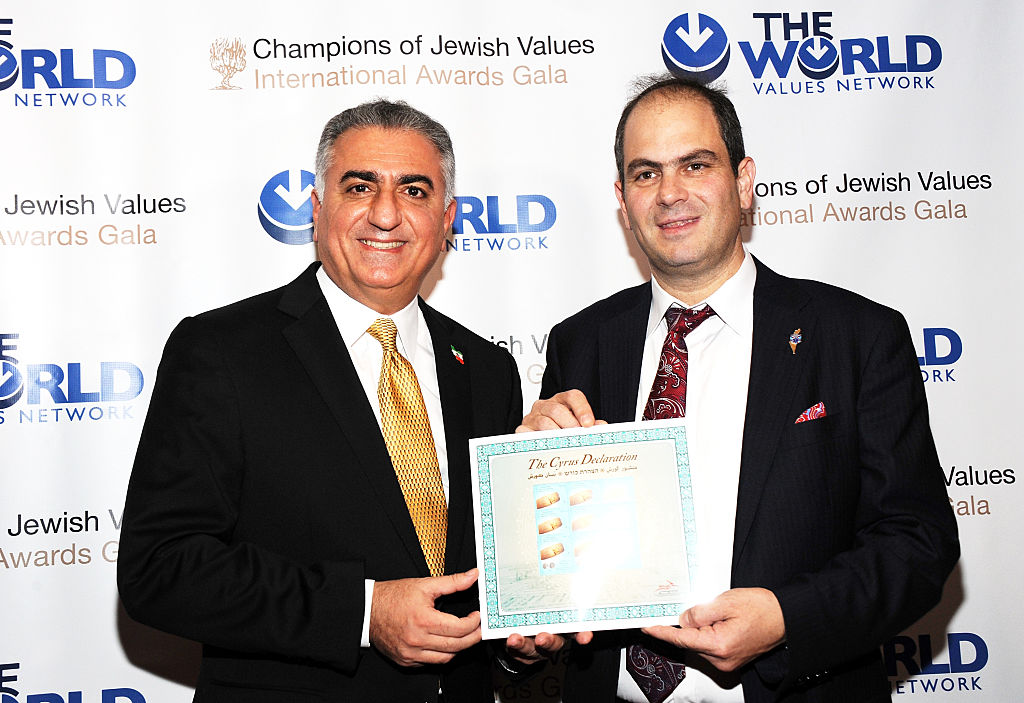 Founder of United Hatzalah of Israel and president of its U.S.-based support organization, Friends of United Hatzalah, Eli Beer (right)…
Retired motion picture editor, Avrum Fine… Columnist, author and etiquette authority known as Miss Manners, Judith Perlman Martin… Chairman of global brokerage at CBRE, Stephen Siegel… Retired reporter for The Washington Examiner, Richard Pollock… CEO of the Democratic Majority for Israel, Mark S. Mellman… Ice dancer who won five straight U.S. Figure Skating Championships, Judy Blumberg… Executive director of Aspen Digital, part of the Aspen Institute, Vivian Schiller… Senior lecturer in Talmud at Ner Israel Rabbinical College, Rabbi Chaim Kosman… Comedian known as "Roastmaster General" for his Comedy Central celebrity roasts, Jeff Ross (born Jeffrey Ross Lifschultz)… Attorney general of North Carolina, Joshua Stein… Member of the Los Angeles City Council, Robert J. Blumenfield… Member of the Knesset for the Shas party, Uriel Menachem Buso… Regional director at the Anti-Defamation League, Meredith Mirman Weisel… Former member of the Colorado House of Representatives, Jonathan Singer… Advocacy strategist with experience in opinion research, Gary Ritterstein… Director at Finsbury Glover Hering, Walter Suskind… Software engineer at Capital Connect by J.P. Morgan Chase, David Behmoaras… Managing director at Page Four Media, Noa Silverstein… Founder and president of Reshet Capital, Betty Grinstein… Director, programs and partnerships at Israel Policy Forum, Sierra DeCrosta…