Your Daily Phil: Shabbat in Colleyville + Ramah prepares for summer 2022
Good Monday morning!
In an emotional moment exactly one week after he and his congregation were held hostage, Rabbi Charlie Cytron-Walker called to the Torah the three other men who had survived the Jan. 15 attack, and together with them, recited the blessing traditionally said by survivors of a life-threatening experience.
Congregation Beth Israel of Colleyville, Texas, the small Reform synagogue that suffered the attack, attracted some 3,000 viewers to a livestream of its Saturday morning service. On Friday night, some 4,000 watched. On Saturday, Cytron-Walker described the blessing, Birkat HaGomel, as saying, "I've just been through something really traumatic, I've just been through a life-threatening situation."
He then called up the three men by saying, "Ya'amdu [let rise], my fellow survivors." After Cytron-Walker read from the Torah portion, the three men recited the blessing and embraced. "We pray for healing of mind, body and spirit for the four of us, for our whole congregation, for our whole community, for everyone who's been with us throughout this challenging and difficult ordeal," Cytron-Walker said.
Later in the service, Cytron-Walker led a text study of the Torah portion, focused on the importance of creating understanding across ideological and cultural differences. He referred to last week's attack at the end of the study, saying, "I know that there are so many different messages that we could have said, that we could have talked about, that have healing and everything else. This morning, I just wanted to study Torah."
Rabbis across the country also referred to the attack in their Shabbat sermons. Rabbi Angela Buchdahl of New York City's Central Synagogue, whom Cytron-Walker had called during the hostage situation at the request of the gunman, gave a sermon on Friday describing the calls she received. "I cannot assure you that this will not happen again," she said. "I do not have a neat pronouncement for how we will fight back the alarming, ugly growth of antisemitism…. If you are a Jew in America and you are not feeling unsettled, then you are not paying attention."
New York City Mayor Eric Adams also addressed Central Synagogue, referencing the attack but focusing much of his five-minute talk on public safety and other challenges in New York. He spoke on the same night that a police officer was killed in the Bronx. "You're looking at the increase in antisemitism, and you're worrying about your children," he said. He ended his speech by saying, "Happy Shabbos."
Other rabbis focused on the giving of the Torah at Mount Sinai, which is described in the weekly Torah portion. Rabbi David Wolpe of Sinai Temple in Los Angeles said the portion "reminds us that for thousands of years there have been people in this world whose mission was to prevent us from living our purpose. It reminds us that to be Jewish has always been countercultural."
SUMMER CAMPS
With summer approaching, Ramah's new national director doesn't expect a post-COVID world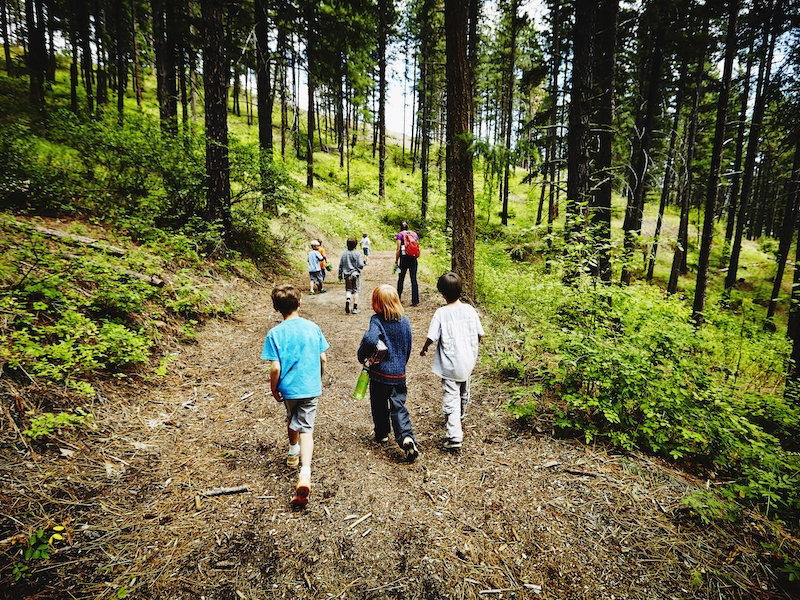 Two years after nearly all Jewish sleepaway camps closed in the face of COVID-19, they have largely adapted to the pandemic. Through a combination of vaccine mandates and other public health measures, Jewish camps nationwide opened for 2021 and are set to welcome campers again this coming summer even as case rates seesaw, reports eJewishPhilanthropy's Ben Sales.
Prioritizing: But with planning for another summer moving ahead, managing COVID-19 remains the Ramah Commission's top priority as it transitions to new leadership. And the lingering effects of COVID mean that staffing at all levels could be an issue for Ramah, the Conservative movement's camping network, as well as Jewish camps nationally. "At least for the next few years, what is a priority right now?" said Amy Skopp Cooper, director of the National Ramah Commission. "It is simply having opportunities where children and young adults can be part of an active community, where they feel safe, where they feel secure, where they feel like their life is not being governed by quarantine, and mask-on, mask-off."
2022 expectations: Skopp Cooper expects Ramah camps to meet their 2019 enrollment numbers, and says the biggest potential barrier could be restrictions on capacity in California and Canada, where two Ramah camps are located. Ramah camps have also largely closed their budget gaps, estimated in 2020 at $27 million, through philanthropy, loans and staff reductions.
Making up the difference: Collectively, Jewish camps in North America faced a $150 million shortfall in 2020. That gap was largely bridged through loan forgiveness, philanthropy and layoffs or furloughs of 15% of year-round staff. The most pressing issue, camping professionals say, is rebuilding a staffing pipeline that was disrupted by the pandemic.
IMAGINARY CONSPIRACIES
How antisemitic conspiracy theories contributed to the recent hostage-taking in Colleyville
"The man who took a rabbi and three congregants hostage in Colleyville, Texas, on Jan. 15, believed that Jews control the United States of America. He told his hostages, as one revealed in a media interview, that Jews 'control the world' and that they could use their perceived power to free Aafia Siddiqui, a Pakistani convicted in 2010 for trying to kill American soldiers and plotting to blow up the Statue of Liberty. The hostage-taker also demanded to speak to New York's Central Synagogue rabbi, Angela Buchdahl, so that she would use her 'influence,' to help get Siddiqui released," writes Brandeis University professor Jonathan Sarna in an opinion piece for eJewishPhilanthropy.
Myths: "As a scholar of Jewish history, I know that myths concerning 'Jewish power,' 'control' and 'conspiracy' have circulated in America since before the Civil War and continue until today. They provide a simple, albeit imaginary, explanation for bewildering social changes that people find hard to explain and confront."
Antisemitic literature: "As immigration brought Jews in larger numbers to America's shores, particularly from Russia, one of the first overtly antisemitic books ever published in the United States, Telemachus Thomas Timayenis' 1888 book, The American Jew: An Exposé of His Career, warned darkly that Jews had 'acquired a hold on this country such as they never secured on any nation in Europe.' … Actually, Jews comprised much less than 1% of the population at that time. Still, Timayenis, seen as the 'the father of antisemitic publishing in America,' claimed that they controlled Wall Street, the clothing and tobacco trades, politics, journalism and more."
THE PIPELINE DILEMMA
What will we do when there are no more Charlies?
"Nearly 30 years before Rabbi Charlie Cytron-Walker found himself at the center of the latest antisemitic terror attack on a synagogue, he stood in front of a room full of his fellow teenagers wearing a silly T-shirt. Charlie's choice of clothing was not an accident or moment of adolescent snark. Based on prior experiences in this group of teens, where he'd been mentored and guided in building foundations of successful leadership, Charlie knew that active leadership comes in many forms. A T-shirt full of holes and the text 'Oh no, Acid Rain!' could spark conversation among his peers because, as a leader, his opinions and actions held weight," writes Caryn Roman, assistant director of lifelong learning at Congregation Emanu-El of the City of New York, in an opinion piece for eJewishPhilanthropy.
Sustaining community: "In the aftermath of the horrendous attack on Congregation Beth Israel, we are quick to praise one wonderful, brave, level-headed rabbi, and rightfully so. Additionally, this episode puts an important spotlight on all of the leaders who take on the work of sustaining our Jewish community, day in and day out. When we laud one rabbi's fortitude to act calmly and comfort others in a moment of crisis, we should also reflect on the institutions and experiences that gave him and others like him the foundation and inspiration to engage in Jewish leadership in the first place."
Supply chain problem: "The whole Jewish community surely wants to raise up continual generations of experienced, enthusiastic leaders like Charlie. The demand will only grow in the years to come. Unfortunately, as in the rest of the world, we have a supply chain problem. The realities of social, economic and institutional changes over the past several years, even before the pandemic, shut down many of the programs once available to Reform Jewish teens like Charlie and me. Programs such as NFTY, Kutz Camp and local and synagogue-based youth groups gave teens opportunities to lead, provided mentoring from clergy and other trusted adults, connected teens from Reform communities with similar interests across geographic and social boundaries and identified a pool of young people in whom the spark of communal service and leadership had already been kindled and could be further nurtured as they became adults."
Worthy Reads
Funding Boost: Writing in The Hill, Mark Wilf and Julie Platt, respectively the board chair and national campaign chair of The Jewish Federations of North America, call for an increase in funding to the Nonprofit Security Grant Program, which provides federal financial support to help places of worship bolster security. "The cost of preventing these incidents, and minimizing the harm of those that do occur, is far in excess of what we are able to raise on our own. That's where the Nonprofit Security Grant Program comes in. We must not let terrorists compromise our physical safety. Just as importantly, we must not allow them to take hostage our entire way of life, including our ability to affirm and celebrate our Jewishness proudly and publicly without fear of death every time we walk into a synagogue or other Jewish building." [TheHill]
Declining Donations: Writing on the Dorothy A. Johnson Center for Philanthropy website, Michael Moody explores data showing a decline in giving in 2018. According to the Philanthropy Panel Study from Indiana University's Lilly Family School of Philanthropy, that year the number of American households that said they gave to charity dropped below 50% for the first time, down from 66% in 2000. "This decline in household giving — found in other evidence as well — is raising major alarm bells in the field…If the funding mix of any nonprofit becomes increasingly dominated by major gifts from a few supporters, what might the practical and ethical consequences be? Could this trend further perpetuate the too-common misconception that philanthropy is only the domain of the wealthy? Could it create a sort of two-tiered philanthropic landscape, where those with most of the wealth are privileged enough to give in the ways we measure and celebrate, while others only give in less formal ways that go mostly unrecognized?" [JohnsonCenterforPhilanthropy]
Community Comms
Be featured: Email us to inform the eJP readership of your upcoming event, job opening, or other communication.
Word on the Street
The annual International Conference of Chabad-Lubavitch Women Emissaries opened last night with participants in Brooklyn making the trip to the Ohel, in Queens, N.Y., where the late Lubavitcher Rebbe, Rabbi Menachem Mendel Schneerson, and his father-in-law, Rabbi Yosef Yitzchok Schneersohn, are buried. This year, the emissaries are gathering both online and in person…
Beginning Sunday, a Philadelphia kosher caterer will offer rapid COVID tests to any guests who choose to be tested prior to an event…
The Jewish Federations of North America's Center on Holocaust Survivor Care and the Institute on Aging and Trauma awarded 55 grants totaling $5.3 million to organizations across the U.S….
Schwab Charitable facilitated grants totaling $4.4 billion in 2021 — a 20% increase in grant dollars and a 14% year-over-year jump in the number of grants awarded…
During 2021, the Silicon Valley Community Foundation awarded $2.27 billion in grants to nearly 6,000 nonprofits and community organizations, an increase of more than 20% over 2020…
The Mother Cabrini Health Foundation announced grants totaling $140 million in support of vulnerable communities across New York State. The foundation also awarded $13 million in support of services for immigrants and migrant workers…
The University of Dundee in Scotland received a three-year, $5 million grant from the? Bill & Melinda Gates Foundation in support of research to develop advanced drug discovery programs against malaria and tuberculosis through the university's drug discovery coalition…
Miriam Naor, former Israeli Supreme Court chief justice, died at 74…
Pic of the Day
Magevet, an 18-person, coed ensemble of undergraduates from Yale University who together constitute Yale's only Jewish, Hebrew and Israeli a cappella choir, recently performed at the Marvin Lustbader Center at Bernard Weinger JCC in Northbrook, Ill.
Birthdays
Singer-songwriter and one of the world's best-selling recording artists of all time, Neil Diamond…
2011 Nobel Prize laureate in chemistry, professor at Technion and Iowa State University, Dan Shechtman… Chairman of the Sazerac Company and of Crescent Crown Distributing, William Goldring… Professor of modern Jewish history at New York University, Marion Kaplan… Senior fellow at the Council on Foreign Relations and an official in three prior U.S. administrations, Elliott Abrams… Comedian and writer, noted for the catchphrase "What a country," Yakov Smirnoff… Conductor and violinist, Yuri Bashmet… VP of strategy at LiveWorld, Daniel Flamberg… Founder of an online software training site acquired by LinkedIn, Lynda Weinman… Burlingame, Calif.-based surgeon at Peninsula Plastic Surgery, Dr. Lorne Rosenfield…. Board member of the Hebrew Academy of Nassau County, Beryl Eckstein… Former senior correspondent for Fox News, Rick Leventhal… Former CEO of Ford Motor Company, now CEO of Hertz, Mark Fields… B'nei mitzvah coordinator at Temple Beth Am of Los Angeles, Judith Alban… Founder and executive director of Protect Democracy, Ian Bassin… Senior associate at Stonehage Fleming, Joshua Runyan… Founder and CEO at TACKMA, Jeffrey Schottenstein… Regional director of synagogue initiative at AIPAC, Miryam Knafo Schapira… Deputy regional political director at AIPAC, Michael Krasna…
Email Editor@eJewishPhilanthropy.com to have your birthday included.