Your Daily Phil: Professionalizing Jewish retreats + The changing Jewish political marketplace
Good Friday morning!
Ed. note: Your Daily Phil will not be publishing on Monday, June 6 in observance of Shavuot. Chag sameach!
Cadets and midshipmen in dress whites mingled with guests in black hats last night at the gala dinner of the Auschwitz Jewish Center Foundation (AJCF) in an appropriate if unorthodox spot: the Hangar Deck of the Intrepid Sea, Air & Space Museum, located on an aircraft carrier docked off of 42nd Street on Manhattan's West Side. The night's main honoree was former California Gov. Arnold Schwarzenegger, but the men and women in uniform stole the show.
The military trainees weren't at the gala because they lingered in New York after Fleet Week, which concluded on Tuesday. Rather, they're participating in an AJCF program that takes them to Auschwitz and to the adjacent Polish city of O?wi?cim, where AJCF has rehabilitated a synagogue and built a museum and campus. The program teaches participants about the Holocaust and ethical behavior in the military.
Military ceremony pervaded the beginning of the program. A four-person color guard stood with guns and flags upright while actor Alexis Fishman, a granddaughter of Holocaust survivors, sang "The Star Spangled Banner," then rested their guns on their shoulders as she sang "Hatikvah." The crowd, meanwhile, remained silent for the U.S. national anthem but sang along with Israel's. Afterward, the cadets and midshipmen stood in a line and introduced themselves. They'll serve across the armed services, including one cadet who's slated to join the Space Force.
As with so many events in recent months, speakers and videos referenced the war in Ukraine throughout the night, including one jarring segment that juxtaposed photos of Nazi atrocities and mass graves with similar images from present-day Ukraine. AJCF detailed its work with Ukrainian refugees, including Polish language classes, arts programs for children and a summer camp.
Near the end of the night, one of the honorees, Jack Simony, brought a child who is fighting leukemia to the podium; the child, named Henry, started an initiative while he was undergoing chemotherapy to send cards of support to Ukrainian refugee children.
A moment of levity came at the end of the program, when Dr. Ruth Westheimer addressed the audience via video, talking about her friendship with Schwarzenegger as photos of the diminutive nearly 94-year-old sex therapist standing next to the bodybuilder flashed on the screen. In his speech, also delivered via video (he's shooting a Netflix series in Canada), Schwarzenegger referenced his "secret girlfriend, Dr. Ruth."
Schwarzenegger received AJCF's inaugural Award for Fighting Hatred in recognition of his outspoken stance against atrocities, but he kept his remarks light. "I just want to thank all of you for bestowing on me the first award to fight hatred, and to terminate hatred," he said, drawing a laugh. He ended his speech by saying, "You all have a great time. Hasta la vista."
IMMERSE YOURSELF
Inside the new project to professionalize the Jewish retreat sector
When David Phillips set out to renovate the retreat center at Capital Camps in Waynesboro, Pa., there was one thing he couldn't find: someone to consult with on designing the camp's retreat lodges. There were multiple sources available on best practices in Jewish camping, but nothing on the art and science of Jewish retreats. Now, a decade later, Phillips and a colleague, Josh Fidler, hope to fill that gap. This week, the pair announced the launch of Retreat Jewish, an initiative designed to support Jewish retreat operators and organizers across the country and professionalize the field, reports Daniela Cohen for eJewishPhilanthropy.
A sizable market: According to "Advancing Jewish Retreating," a 2020 study by Amy L. Sales and Nicole Samuel, researchers at Brandeis University's Cohen Center for Modern Jewish Studies, Jewish retreat centers collectively drew more than 100,000 people annually before the pandemic. Retreat Jewish is affiliated with the Baltimore-area Pearlstone Retreat Center, one of the largest Jewish retreat centers in North America, and is an 18-month seed project with $500,000 in funding from the Jim Joseph Foundation and The Marcus Foundation.
The goal: Fidler and Phillips hope the project will continue beyond that timeframe if they're able to produce targeted research about the field, organize its leaders into peer cohorts and be seen as valuable by those working at and leading Jewish retreats. "A lot of people saw retreating as a sideline and few people understood retreating as a profession," says Fidler, a real estate developer and the founding chair of Pearlstone. "So one of the things that we intend to do with Retreat Jewish is to create tools, techniques, best practices, some common and hopefully enhanced resources to professionalize the field and to make sure that experiences deliver fundamentally for participants."
PARSHA PHIL: BAMIDBAR
Everybody Counts
"As we begin the book of Bamidbar — which means 'in the desert/wilderness' — the parsha begins with a counting, a census of adult males who will clear the path and conquer the land. God assigns the census-takers: Moses and Aaron, and a leader or point person from each ancestral house, tribal heads who serve as assistants and are responsible for those within their group. Like a philanthropy assistant, we can imagine them recording gifts and notes, creating reports, helping to make sure everyone is counted and that everyone steps forward proudly to contribute," writes Rabbi Lisa Gelber, spiritual leader of Congregation Habonim in Manhattan, in this week's Parsha Phil column.
The gravitational pull of the holy: "The parsha tells us… that B'nai Yisrael 'shall camp around and opposite the tent of meeting' (Num. 2:2). Situated opposite the ohel mo'ed, everyone's heart is turned towards the center. By sacred design, each member of the community can feel the gravitational pull of the holy, the reason we are counting, collecting and building. Everyone, in their own way, from their own place, is responsible for the whole."
Whatever the distance: "The 12th-century Spanish commentator Ibn Ezra clarifies that where Num. 2:2 says the people were to set themselves up 'mineged,' in relation to the ohel mo'ed, this means 'a good way off.' This reminds us that while some are close to the center, they remain in relation to the sacred and to each other; everyone's work and effort has power that supports the whole. We must make space for everyone's gifts and talents no matter where they are positioned."
VOTING BEHAVIORS
Insights into the changing Jewish political marketplace
"Politics represents an extension of who we are. All of the social forces acting upon us serve to define our political outlook. Within the Jewish political context, we know that religious affiliation, ethnic orientation, generational status and one's urban-suburban status are all key influencers in shaping both voting patterns and candidate giving," writes Steven Windmueller, interim director of Zelikow School of Jewish Nonprofit Management, in an opinion piece for eJewishPhilanthropy.
The importance of social issues: "This is an uncertain moment in the American democratic story. The immense and significant issues before us are also impacting the Jewish voter. Threats to the character and substance of our democracy, the pending Supreme Court decision on Roe v. Wade, the issues of economic justice, the questions of racial equality and sexual choice, these and so many other considerations are profoundly important to Jewish Americans."
The world around us: "Living with spiking gas prices, expanding COVID cases, managing gun violence and responding to domestic extremism add to this season of challenging issues. Externally, one finds a world in distress facing a global climate crisis, the effects of a Russian invasion of Ukraine, and the presence of such reckless national actors as Iran and North Korea. As with domestic considerations, Jews remain deeply concerned about the international order, especially as it may impact Israel and the United States."
The Jewish response: "Social mores and cultural norms are altering how Jews understand and embrace their Jewish identity in the context of their Americanism. Contemporary antisemitism and the disruptive state of American politics must be seen as additional transformative factors… Much like all other voters, Jews are being bombarded by the many electoral and policy considerations that define our society. The Jewish political typology parallels these general patterns, as Jews are concerned on the one hand about the welfare of this democracy and on the other realize that their self-interests are being challenged."
Leaning Out: The Wall Street Journal examines the reasons behind Sheryl Sandberg's departure from Meta, including revelations about an investigation into her personal affairs. "Sandberg has been telling people that she feels burned out and that she has become a punching bag for the company's problems, the people said. 'She sees herself as someone who has been targeted, been tarred as a woman executive in a way that would not happen to a man. Gendered or not, she's sick of it,' said one person who worked alongside Ms. Sandberg for many years. Ms. Sandberg hasn't been closely involved with the company's high-stakes plan to execute Chief Executive Mark Zuckerberg's pivot to the development of virtual worlds in the so-called metaverse, the people said." [WSJ]

Charged Camp Culture: An investigative report by Julia Hegele in the Jewish student publication New Voices examines the struggles of LGBTQ+ kids at Jewish summer camp. "Jewish summer camps have long provided havens for young Jews to form deep connections, develop confidence, and explore who they are. However, alongside all the brochure-ready benefits of spending summers at camp, many of these environments contain intense norms that children feel compelled to meet, especially unmentioned expectations of gender performance and hypersexuality. While all youth are impacted by this charged culture, LGBTQ+ campers are at extremely high risk of feeling isolated or exploited due to these unspoken pressures. According to interviews, many camps across the United States have been operating on a 'silence is golden' policy, in which staff members were aware of and, at times, encouraging sexual activity between children under their care without adequately providing education, guidance, or support for campers to process their experiences." [NewVoices]
Community Comms
Be featured: Email us to inform the eJP readership of your upcoming event, job opening, or other communication.
Word on the Street
The German government honored outgoing American Jewish Committee CEO David Harris with the Stern/Knight Commander's Cross of the Order of Merit. It is the highest tribute Germany can pay to individuals for services to the nation…
Shira Ruderman was awarded the Jerusalem Unity Prize this week in its international category, at a ceremony at the Israeli president's residence, for her work "to strengthen brotherhood between Israel and the Jewish communities in the United States"…
The Jewish Agency for Israel appointed Isabelle (Nadler) Teplitsky deputy head of North America. She most recently served as campaign director of UJA-Federation of New York's Young Leadership Division…
Juan Dircie joined Tel Aviv University's development and public affairs division as the new director for Latin America, Spain and Portugal. Based in Miami, Dircie will also work with the Latino Jewish community of South Florida. Previously, he served as deputy director of the American Jewish Committee's Belfer Institute for Latino and Latin American Affairs…
As a result of the State Department adding Russian billionaire real estate developer God Nisanov to its sanctions list on Thursday for his ties to Russian President Vladimir Putin, the World Jewish Congress (WJC) issued a statement indicating that Nisanov is "no longer a WJC vice president and has ceased to serve on the WJC Executive Committee"…
Investment research company Morningstar released a report on Thursday detailing an eight-month investigation into the company's support for the anti-Israel BDS (Boycott, Divestment and Sanctions) campaign and the company's agreement to implement the report's recommendations. Concerns were initially raised two years ago by the JLens Investor Network …
The Board of Deputies of British Jews has suspended its membership with the European Jewish Congress due to concerns about how the Congress is handling sexual misconduct complaints…
The Lucile Packard Foundation for Children's Health announced a $100 million gift from the David and Lucile Packard Foundation to modernize the obstetric and neonatal facilities at Lucile Packard Children's Hospital in Stanford, Calif…
Pic of the Day
Two young men with autism, surrounded by family and teachers, celebrated their b'nai mitzvah during a special musical Shacharit service last week at Adat Shalom-Emanuel in Rehovot, Israel. The rite of passage took place as part of the Masorti Movement's bar and bat mitzvah program for children with disabilities, which has celebrated more than 4,500 b'nai mitzvah.
Birthdays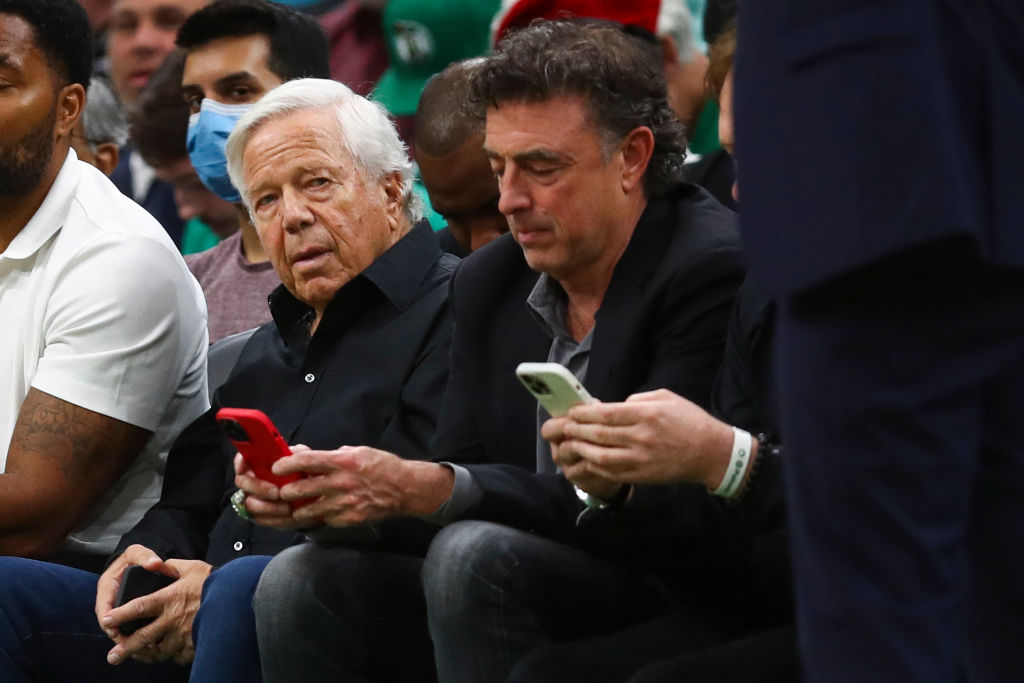 Philanthropist, owner of the NFL's New England Patriots, Robert Kraft celebrates his birthday on Sunday…
Friday: Richard J. Munitz… Alice Heyman… Candidate in Florida's 16th Congressional District, Jan Schneider… Tel Aviv-based attorney who serves as an overseas representative to the French parliament representing the southern Mediterranean region, Daphna Poznanski-Benhamou… First lady of the United States, Jill Biden… Retired director for legislative strategy, policy and government affairs at AIPAC, Ester Kurz… Professor at the Hebrew University of Jerusalem, David Monson Bunis… Recently retired president of the Federal Reserve Bank of Boston, Eric S. Rosengren… Chief cantor of Vienna's Israelitische Kultusgemeinde, Shmuel Barzilai… Rabbi at the Wilshire Boulevard Temple in Los Angeles, Steve Leder… Member of the British Parliament for the Conservative Party, Jonathan Djanogly… U.S. district judge for the Southern District of New York, Judge Ronnie Abrams… CEO of Ridgeback Communications, Andrew Samuel Weinstein… Executive director of the Jewish Federation of the Greater San Gabriel and Pomona Valleys, Jason Moss… Actress known for her role as Nicole Walker on the NBC's daytime soap opera "Days of Our Lives," Arianne Zucker… Los Angeles-based PR consultant at Winning Progressive, Eric M. Schmeltzer… Senior advancement manager at the Drew School in San Francisco, Lauren Becker… Senior director of experiential marketing at the International Rescue Committee, Sophie Oreck… Chief political officer at Israel on Campus Coalition, Brandon Beigler… DC-based reporter at The Wall Street Journal, Michelle Hackman… Retired American Jewish history teacher at the former Solomon Schechter Day School of Suffolk County (N.Y.), Marcia Hauser…
Saturday: Survivor of the Holocaust via the Kindertransport, sniper for the Haganah and renowned sex therapist, Ruth Westheimer ("Dr. Ruth")… Co-founder of Boston Properties and owner of U.S. News & World Report, Mort Zuckerman… Emeritus professor at New Jersey Institute of Technology, David Kristol… Professor of organic chemistry at the Weizmann Institute of Science and winner of the 2012 Israel Prize, David Milstein… Retired chief justice of the Michigan Supreme Court, Stephen J. Markman… Judge on the Court of Common Pleas in Philadelphia since 2018, he was the longest-tenured member of the Pennsylvania House of Representatives with 42 years of service from 1974 to 2016, Mark B. Cohen… Former lineman for the Miami Dolphins (1973-1984), which include three Super Bowl appearances and four Pro Bowls, he is now a judge on the 11th Judicial Circuit of Florida, Ed Newman… British journalist, author of 11 books and columnist for The Times of London, The Jerusalem Post and The Jewish Chronicle, Melanie Phillips… First-ever Jewish governor of Hawaii and then chief operating officer of Illinois, Linda Lingle… President and CEO of the Metropolitan Museum of Art in NYC, Daniel H. Weiss… Co-founder of Ripco Real Estate and a partner in Sagamore Hill, Todd Cooper… U.S. Sen. Mike Lee (R-UT)… French-Israeli entrepreneur and angel investor, Jeremie Berrebi… D.C.-based photographer and founder of Revamped Media, Daniel Swartz… Reporter for The Washington Post covering Congress, campaigns, health policy and Pennsylvania politics, Colby Itkowitz… Israeli supermodel Bar Refaeli… Senior planning analyst at Con Edison, Adam E. Soclof… Communications manager at GoPuff, Jason Hillel Attermann… Military correspondent for The Times of Israel, Judah Ari Gross… Gena Wolfson… Midterm elections coordinating producer for NBC, Emily Gold… Ken Moss… Frances Sales Binder…
Sunday: Lithuanian-born Holocaust survivor, co-founder of the Virginia Holocaust Museum in Richmond, Va., known for his ever-present cowboy hat, Jay M. Ipson… Actress and sales consultant for Chubb's Combined Insurance, Barbara Pergament… Training director and broker associate of the Santa Monica, Berkshire Hathaway Home Services branch, Saul Bubis… Former project manager at CSA Group, now an ESG consultant, Dan Yurman… VP of new business development at Maresco & Partners, Linda Greenfield… Author of 11 personal finance books, motivational speaker and television host, Susan Lynn "Suze" Orman… Audrey Freedman-Habush… Portrait photographer and visual anthropologist, she is the author of The Jews of Wyoming: Fringe of the Diaspora, Penny Diane Wolin… Former commissioner on the U.S. International Trade Commission, Dean A. Pinkert… Best-selling instrumental musician, the saxophonist "Kenny G," Kenneth Bruce Gorelick… Columnist for the New York Post,Andrea Peyser… Counsel for Alan Taylor Real Estate, Sam Kraemer… EVP and managing director at D.C.'s Burson Cohn & Wolfe (BCW), Michael Heimowitz… Optometrist, she was a member of the Ontario Provincial Parliament for eight years until last month, Gila Deborah Martow… Partner in the government, law and policy practice of Greenberg Traurig, Mark S. Weprin… First-ever Jewish speaker of the Virginia House of Delegates, Eileen R. Filler-Corn… Beth A. Freeman… Member of Congress, her father is a Jewish Holocaust survivor from Poland, Christina Jampoler Houlahan (D-PA-6)… Former member of the British Parliament, he also served as minister of culture under PM David Cameron, Baron Ed Vaizey… Entrepreneur, venture capitalist and author, he holds more than 100 granted and pending patents, Nova Spivack… Professor of Israel studies at UCLA, Dov Morris Waxman… Co-founder of BlueLabs and director of analytics for the campaigns of both Hillary Clinton in 2016 and Barack Obama in 2012, his father and grandfather were rabbis, Elan Alter Kriegel… Research fellow at the Heritage Foundation, he was previously a member of the New Hampshire state legislature, Jason Bedrick… Women's philanthropy and missions director at Shalom Austin, Arielle Levy… Account director at M Booth, Maya Bronstein… Clara Moskowitz… Susan Stein…
Email Editor@eJewishPhilanthropy.com to have your birthday included.