Your Daily Phil: Preparing for the long-term in Ukraine + Arts and culture shape Jewish identity
Good Friday morning!
Arts-and-culture programming can be instrumental in shaping Jewish identity but is treated by funders as more of a luxury than a necessity, said panelists at "Taking Note: Building a Movement of Jewish Arts & Culture," a virtual event that took place on Thursday afternoon.
"Art is not just art. Art is a portal for the entry into Jewish peoplehood," said Matthew Lazar, founder and director of the Zamir Choral Foundation, which convened the event. He emphasized the importance of finding "a community of partners, people who are willing to work with you."
In terms of securing funding, Lazar said, "The challenge with the donors is to find a donor, a supporter who believes in your mission, who believes in your passion, who believes that your goal is correct, and understands the incredible power of art and culture."
Many artists struggle financially, said Joni Blinderman, executive director of The Covenant Foundation. "We have no lack of extraordinarily talented, talented human beings, devoting their life to Jewish education in the Jewish community," she said, mentioning one artist she had spoken with that day. "My heart was breaking," she said, noting that although the artist does work that Blinderman called "important and beautiful…they can't find money."
Lou Cove, the founder of Canvas, a collaborative fund for Jewish culture, said that finding the Yiddish Book Center's literature, music, poetry, theater and film was core to connecting with his Jewish identity. "If someone had shared this with me when I was young, I might have felt a stronger sense of connection to my identity [and] to what I was inheriting," he said. Arts and culture also has potential to enable cross-cultural connection, he added. "We need people to get together around a single table and start to really do things together, because that's the only way we're going to be able to lift up the field," he said.
Cove stressed the importance of networks, such as the 14 groups funded by Canvas that represent 3,000 Jewish creatives. "Find one another and begin to cross-pollinate ideas, collaborate on projects together," he said, "so when you find yourself in the company of many others who are also pursuing the same thing, the viability of that notion gets stronger."
UKRAINE CRISIS
Jewish aid groups on the Ukraine border are preparing for the long haul
Eight years ago, Eric Goldstein traveled to Ukraine during what felt, at the time, like a shocking geopolitical crisis, and encountered a Holocaust survivor who had to flee from Russian-backed separatists, seven decades after having fled the Nazis. Now, on his way back from a visit with refugee aid groups near the Ukrainian border, Goldstein is watching similar scenes play out once more, he told eJewishPhilanthropy's Ben Sales.
A tragic history: "There are people who are fleeing for their lives for a third time," Goldstein, the CEO of UJA-Federation of New York, told eJP. "The fact that this is happening in Ukraine to people who have known suffering many times before is so sad." Ukraine's Jewish history has come to the fore in the war's first days. Jewish communal and historical sites were bombed, and Ukrainian President Volodymyr Zelensky called on global Jewry to "not remain silent right now. Nazism is born in silence. So shout about the killing of civilians."
Stepping up aid: Jewish groups are providing aid to refugees, helping evacuate them out of Ukraine, giving them lodging and processing some for immigration to Israel. They're also helping non-Jews. A delegation of medical professionals from Natan, an Israeli disaster relief group, plans to help provide aid to 500,000 refugees.
Staying engaged: Goldstein hopes, as the war continues, that Jewish organizations will avoid overlapping with each other and that Jews will remain engaged with the crisis, especially because so many have roots in Ukraine. "Do people sometimes tire of crises and don't sustain the effort? We've seen that too, but it's too early to predict what is going to happen here," he said. "The potential scale of the devastation is so great and so personal."
LIVING WITH A DISABILITY
Breaking (sound) barriers in the Jewish community
"Like all of us, I hold many identities. I am a Jew, a father, a Grateful Dead fan, a photographer, an educator. I am also Deaf," writes Gary Alpert, director of admissions and community outreach at MetroWest Jewish Day School in Framingham, Mass., in an opinion piece for eJewishPhilanthropy.
Most at home: "The Jewish community is where I am most at home. Some of my earliest childhood memories are of going to temple on Shabbat mornings with my family (and sneaking cookies from the kiddush). In elementary school, I found comfort and community with Our Way, an organization serving Deaf Jewish children and adults. In middle and high school, United Synagogue Youth (USY) was the center of my social world. I have been a proud, dedicated Jewish communal professional for two decades."
Feelings of isolation: "I have also experienced deep isolation from my beloved Jewish community due to my disability. As a child, I was denied access to Jewish day school because I was Deaf. I struggled through Hebrew school because of my well-meaning teachers' lack of experience educating children with hearing loss, and the school's unwillingness to provide an aide. In countless Jewish settings, I have been denied full access to information and content, and the reasons given are always the same: interpreters are costly, captioning feels inconvenient and nobody else would benefit from accommodation."
Pandemic times: "For those of us who are Deaf and hard of hearing, the pandemic has been devastating. All Deaf individuals are unique. I personally wear two hearing aids to amplify sound, and I rely heavily on lip reading to fully communicate with others. With ubiquitous mask wearing, lip reading is impossible, voices are muffled, and it is incredibly difficult for me to understand what others are saying – particularly children, who surround me in my daily work."
Worthy Reads
Good Giving: In The Atlantic, James Parker looks at the internal decision-making behind giving to the less fortunate. "But if you are inclined to give, then give wholeheartedly. Not for charity, not for empathy, not for any groaning abstraction, but that the divine economy of giving might circulate through you unobstructed. Through your glands and through your veins. The person before you needs money, and you need to give it. Unplug the wellspring of life, and hand it over." [TheAtlantic]

Meet Me in St. Louis: Congregation Shaare Emeth, Parkway United Church of Christ, and Turkish American Society of Missouri joined together to form the Intertwine Interfaith Welcome Circle and sponsor an Afghan family of six — with four kids ages 3-11 — in their move to St. Louis, Jordan Palmer writes in the St. Louis Jewish Light. "The core team will have direct contact with the [Afghan] family, enrolling the kids in school, helping the parents learn the fundamentals of food shopping, transportation, language skills, banking and more, while also introducing the family to the many cultural and entertainment options in St Louis. Resource identification, career assistance, and assimilation to the St. Louis community will be ongoing efforts to help the family become self-sufficient." [JewishLight]
Orgs Get Digital: Digital-first peer-to-peer fundraising is making a bigger and bigger contribution to the coffers of American nonprofit organizations, David Hessekiel writes in Forbes in an article about a new study of 44 nonprofits. According to the study, more than $154 million was generated for charity in 2021 by "digitalcentric" peer-to-peer fundraising, a 30% increase over 2020: "'Social giving is the highest and best use of social media,' said Nick Black, co-founder and CEO of GoodUnited. 'The six billion dollars raised on Facebook signals supporters' desire to converse and convene in the channels where they spend time. Increasingly, that's online. It's not an overstatement to say the economics and virality of digitally-native fundraising has the power to save the world.'" [Forbes]
Community Comms
Be featured: Email us to inform the eJP readership of your upcoming event, job opening, or other communication.
Word on the Street
Rabbi Ayelet S. Cohen was named Pearl Resnick Dean of the rabbinical school and dean of the division of religious leadership at the Jewish Theological Seminary. In this role, Rabbi Cohen will lead the institution's rabbinical school and H. L. Miller Cantorial School. She will assume her new role on July 1.…
After seven years as director of Hebrew Union College's Zelikow School of Jewish Nonprofit Management (ZSchool), Erik Ludwig is joining the Jewish Federation of Orange County (Calif.) as CEO. He will conclude his time at the ZSchool on March 18…
Matthew Lazar, founder and director of The Zamir Choral Foundation, received the Cohon Memorial Foundation Award for his work benefiting Klal Yisrael…
Sophie Hearne was named director of partnerships and special initiatives at The Jewish Federations of North America; she was previously director of engagement and communications at the Boston Women's Workforce Council…
Rabbi Adam Greenwald, who directed American Jewish University's Miller Introduction to Judaism Program, was named senior rabbi of Congregation B'nai Israel in Orange County, Calif…
Professional equestrian Sofia Abramovich is one of the many children of oligarchs and government officials close to Putin protesting the war on Instragram, highlighting a generational divide in Russia. Sofia is the 26-year-old daughter of Roman Abramovich, the embattled owner of Chelsea FC who is now trying to sell the soccer club in anticipation of potential sanctions…
The Jerusalem District Court has canceled the registration of the Russian government's ownership rights of the Alexander's Courtyard church compound in Jerusalem, effectively passing the matter to Prime Minister Naftali Bennett for resolution. The case relates to the appeal of an October 2020 decision, when then-Prime Minister Benjamin Netanyahu decided that the dispute between different Christian sects over ownership fell into the category of "holy sites" and, according to British Mandate law from 100 years ago, could not be resolved in a court of law….
Returning overnight camp counselors will be eligible for a scholarship of $5,500 and first-time overnight camp counselors will be eligible for a scholarship of $4,500, through a new scholarship for Jewish Clevelanders. This Jewish Federation of Cleveland's initiative is funded by a $1.8 million grant from the Jack, Joseph and Morton Mandel Supporting Foundation and a grant of $150,000 a year for the next three years from the David and Inez Myers Foundation…
Melinda French Gates is urging her fellow billionaires to give away more of their wealth. French Gates is a cofounder of the Giving Pledge, in which signees commit to giving away most of their wealth…
In a new settlement reached Thursday, the Sackler family has agreed to pay $6 billion and give up control of the Stamford, Conn.-based Purdue Pharma, a milestone in the legal battle surrounding the opioid epidemic. The settlement, in a mediator's report filed in U.S. Bankruptcy Court in White Plains, N.Y., still must be approved by a judge…
The Leona M. and Harry B. Helmsley Charitable Trust is partnering with Civica, Inc. and other leading nonprofit and philanthropic organizations to help reduce the cost of insulin, particularly for people with Type 1 diabetes who are uninsured or underinsured…
Harold "Smoky" Simon, one of the founders of the Israel Air Force, died at 101.
Pic of the Day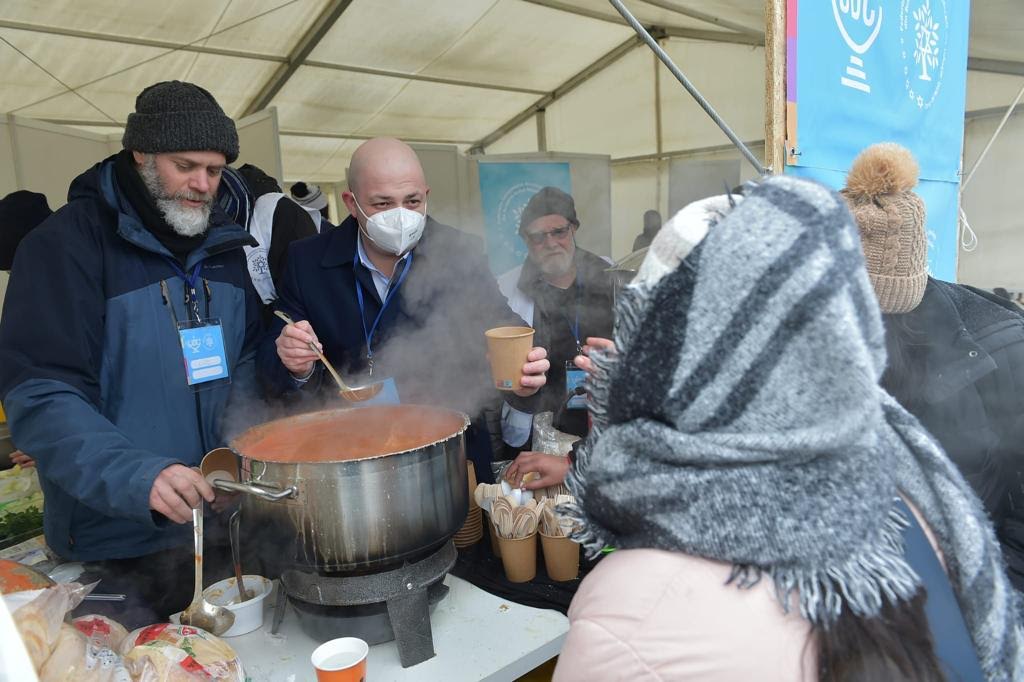 In Siret, Romania, the American Jewish Joint Distribution Committee and FEDROM, the Jewish community Federation of Romania, are providing humanitarian aid, including hot soup and bottled water, to refugees from Ukraine, many of whom are Jews. The round-the-clock operation is being run by a team of 30 volunteers and staff working in shifts, including Silviu Vexler (right), the president of FEDROM, and Israel Sabag, JDC country director for Romania. This is one of numerous relief efforts that JDC is providing in Romania, Poland, Hungary and Moldova, including special services for Jewish refugees.
Birthdays
Singer with 30.2 million followers on Instagram, her career started with a song she performed at her own bat mitzvah, Madison Elle Beer celebrates her birthday on Saturday…
Friday: Tennis player, winner of the Australian and Wimbledon men's singles championships, the first-ever Jewish athlete to appear on the cover of Time Magazine, Dick Savitt… Composer and conductor, founder and initial conductor in 1950 of the U.S. Army's Seventh Army Symphony Orchestra, Samuel Adler… U.S. District Court Judge (on inactive senior status) for the Northern District of Illinois, Judge James Block Zagel… Broadcast journalist and author, Lynn Sherr… Board member at New York City Center, Ballet Hispánico and other nonprofits, Perry B. Granoff… British concert promoter, Harvey Goldsmith… Screenwriter and director, the mother of actors Maggie and Jake Gyllenhaal, Naomi Foner Gyllenhaal… CEO of LCH Clearnet LLC, David A. Weisbrod… Director of public affairs for Agudath Israel of America, Rabbi Avi Shafran… U.S. Sen. Tina Smith (D-MN)… Founder and CEO of Success Academy Charter Schools, Eva Moskowitz… President of the New England Patriots, Jonathan A. Kraft… French art historian, Emmanuelle Polack… U.S. Sen. James Lankford (R-OK)… New York State special counsel for ratepayer protection, Rory I. Lancman… Evan L. Presser… Staff writer for The New York Times Magazine, Emily Bazelon… Chief global affairs officer at Citadel, Russell Horwitz… Member of the Knesset for the New Hope party, Sharren Haskel… VP of government and community affairs at Unibail-Rodamco-Westfield, Abby Jagoda… Co-founder of Instagram, Mike Krieger… Singer and composer, Aryeh Kunstler… Israeli-born basketball player who played for the NBA's Dallas Mavericks and New Orleans Pelicans, Gal Mekel… Model and actress, Erin Heatherton…
SATURDAY: Winner of the 2002 Nobel Prize in Economics for his work with Amos Tversky on the psychology of decision-making, Daniel Kahneman… Former university counsel for California State University, Donald A. Newman… Pulitzer Prize-winning journalist, Roy Gutman… Retired Los Angeles lawyer, Mark Edelstein… President of LA PR firm Robin Gerber & Associates, Robin Gerber Carnesale… Managing partner at VC firm Lerer Hippeau, co-founder of the Huffington Post and longtime chair of BuzzFeed, Kenneth B. Lerer… Founder and CEO of the DC-based News Literacy Project, Alan C. Miller… Artist, writer, and professor of computer science at Yale University, David Hillel Gelernter… Actor, screenwriter and film producer, Jonathan Penner… President of AIPAC and the founder of BVision Sportsmedia dedicated to making sports more accessible to women, Betsy Berns Korn… President and founder of West End Strategy Team, Matt Dorf… Los Angeles-area developer, he is a trustee of Temple Beth Am, Michael Reinis… President of the Colorado Solar and Storage Association, Michael N. Kruger… Head of U.S. public affairs at Hill+Knowlton Strategies, Daniel S. Schwarz… Director at Portage Point Partners, Steven Shenker… Manager of operations support at TEKsystems, Andrew Leiferman…
SUNDAY: Centenarian, known as "Philadelphia Phil," Philip Basser… Former chairman of the Federal Reserve, Alan Greenspan… Writer, lecturer and professor emeritus of Jewish communal service at HUC-JIR Los Angeles, Steven Windmueller… Actor and director, he directed "When Harry Met Sally" and "A Few Good Men," Rob Reiner… Television personality, author and libertarian pundit, John Stossel… Musical theater lyricist and composer, Stephen Schwartz… Actor, comedian and sports show host, Tom Arnold… Aliza Tendler… Executive producer at Momentum, Judy Victor… Founder of Talenti Gelato & Sorbetto which he sold to Unilever in 2014, he has since co-founded Iris Brands, Joshua Hochschuler… Head of innovation communication at Bloomberg LP, Chaim Haas… Senior director for business development and client services at NYC-based Jewish Communal Fund, Michelle Lebowits… Former quarterback who played on six NFL teams, Sage Rosenfels… Managing director at Berkshire Partners, Blake L. Gottesman… Fourth-generation developer, owner and operator of commercial real estate throughout the Mid-Atlantic region, Daniel Klein… Natalie Lazaroff… Israeli fashion model, Esti Ginzburg… Artist Tova Suissa… Law clerk for a U.S. Court of Appeals judge, Riley Clafton… JD Candidate at Stanford Law School in the class of 2022, Theodore Furchtgott… Sandra Brown… Nelson Katz…
Email Editor@eJewishPhilanthropy.com to have your birthday included.