Your Daily Phil: New nonprofit data tools + Elevating communal worship
Good Wednesday morning!
Their lives have been uprooted by war and they've fled to a new country more than 1,000 miles from home. But more than 4,500 Ukrainian children refugees in Israel will at least have day camps to attend this summer.
The six camps opened at the beginning of July and serve Ukrainian children ages 2 to 18. In total, more than 30,000 refugees have come to Israel since the beginning of the Russian invasion in late February. The camps, which were funded by an $820,000 grant from UJA-Federation of New York, meet in local community centers or go on field trips around the country.
"Young kids who really came from the inferno and trauma — because of the centers that we created for the younger ages, they don't just get food and attention, emotional support, activities and games," Itzik Shmuli, director-general of UJA's Israel office, told eJewishPhilanthropy. "They get the chance to be kids again and not worry about wars and surviving."
The camps are one piece of $2.5 million in a new round of funding from UJA for Ukrainian refugees. The funding will also go toward meeting refugees' essential needs — such as food, clothing and medical supplies; mental health programs; employment programs, legal assistance and more.
Shmuli said that to reach refugees more quickly, UJA is working through local municipalities as opposed to the national government, which is in an interim phase ahead of an election — its fifth since 2019.
"We understood that people really came here with nothing," said Shmuli, a former labor, welfare and social services minister from the Labor party. "And because of the political situation, we didn't think the government would take initiative in the short term so we stepped into the picture."
Looking ahead to the next six months or year, Shmuli said the refugees' greatest needs will revolve around housing, education and employment. Many refugees are currently living with relatives or friends, and Israel's ongoing housing crisis may make it hard for them to find homes. Education will be a challenge, he said, because Ukrainian kids may find themselves placed in public schools where they're unfamiliar with the culture and don't speak the language.
"A new kid comes into third or fourth grade, or 11th grade — comes to a new place, doesn't know anyone, doesn't speak the language — it's impossible to place him in a school," Shmuli said. "It's too much for a kid. So in my opinion, we need to keep supporting the existence of homogeneous settings for those kids [with other Ukrainian students] and then in the future, to have processes of integration."
The summer camps provide some education about Israel, and teach the kids some Hebrew, but most counselors speak Russian or Ukrainian. Shmuli said that at this point, the camps are more focused on providing a relaxing atmosphere than on immigrant absorption.
"We're talking about a refugee population, not necessarily just immigrants… and people still haven't decided if they're making aliyah," said Shmuli, using the Hebrew term for immigration to Israel. "We want them to be connected to the place where they are, because we don't know — if it's temporary — how long they'll be here. But they're in a fragile situation. We don't want to burden them too much."
TCRUNCHING NUMBERS
Jewish founders are creating data tools to help nonprofits maximize their impact
What if a multimillionaire were lurking in your nonprofit's email listserv, and you had no idea? Uncovering that nugget is part of the goal of Hatch, a new platform launching today that aims to provide detailed profiles of donors, large and small, to nonprofits across the globe. Co-founded by a pair of Jewish social entrepreneurs, Moshe Hecht and Eyal Beigman, the company hopes to give nonprofits a far broader and deeper understanding of their donor bases, reports eJewishPhilanthropy's Ben Sales.
Digging deeper: Hatch is one of a few new platforms that apply analytical tools to give the philanthropic world more data and help organize it more intuitively. Hecht's project focuses on donors, while Impala, another new business, maps out the vast and intricate finances and metrics of foundations, the nonprofits they fund and other organizations and charities working in the same space. Ethos Tracking, meanwhile, aims to quantify and categorize the multitude of ways that both nonprofits and for-profit businesses attempt to improve the world. The people spearheading all three initiatives are Jewish.
Information on everyone: "It used to be that nonprofits were primarily funded… and driven by the votes of the people who were giving them the most money," Hecht told eJP. "Today, those nonprofits are moving into a world where they're aided by new technology. When you gather collective dollars, you're also gathering collective intelligence. And they're voting with their dollars — where they want the money to go, how they want it to be spent. In reality, information on rich people is not enough. You also want information, really, on everyone."
SHARED EXPERIENCES
We don't have to choose: Reinvigorating worship is leadership development
"What do all the key priorities of Jewish philanthropists and funders have in common? From engaging young people, pipelining emerging leaders and meaningful diversity, equity and inclusion work, to inter-denominational and interfaith understanding and collaboration, they are most fully realized through shared experiences," writes Cantor Rosalie Will, the founder and executive director of Sing Unto God, a nonprofit focused on elevating the practice of Jewish communal singing, in an opinion piece for eJewishPhilanthropy.
Communal music: "I believe that those priorities must include shared experiences in the area of communal prayer, of gathering in search of the sacred, of meaning-making and relationship building through the lens of singing together and praying together. Prayer, and music, have long been at the center of Jewish life. And they will be at the center of any vibrant Jewish future."
The moment is now: "As we emerge — tentatively and haltingly — from a pandemic that drove us into digital facsimiles of cherished traditions, the moment is now to reimagine what we expect from our leaders and our communal spaces."
Reinvigoration of worship: "With our world deeply polarized, violence seemingly around every corner and the rights of so many in jeopardy, we have understandably pursued initiatives that empower action, and have supported big voices and big platforms. It is now time to complement that — really, to undergird that — with philanthropic support for the reinvigoration of worship, in whatever form it may take in the 21st century."
Worthy Reads
Climate Collaboration: Charities supporting early childhood and those that fund climate issues should consider collaboration, write Joe Waters and Elliot Haspel in The Chronicle of Philanthropy: "The climate movement brings funding and political clout, while the early-childhood movement brings a massive number of constituents and the emotional weight of young children. Together, they have the knowledge and skills to drive action toward a healthier, cleaner, and safer planet. Philanthropy can lead the way by doing away with the barriers that separate funding for early-childhood and climate-change work — and by connecting the efforts of these two powerful movements… Identify and fund creative solutions at the intersection of climate change and childhood. Foundations can test and expand projects that protect children from the effects of climate change — and that allow them to flourish regardless. This includes investing in heat-mitigation projects, such as planting trees, covering roads and roofs with cooling coating materials, and adding water misters at bus stops, particularly in low-income neighborhoods where young children and families congregate. Donor support can also help ensure that every child-care center and early-childhood classroom is equipped with HEPA filters and adequate air conditioning. Efforts such as the Trust for Public Land's Community Schoolyards project, which is turning asphalt-covered schoolyards into small parks, need to be replicated across the country."[ChronicleofPhilanthropy]
Developing Crisis Expertise: For organizations in crisis, whether it's a pandemic or other unexpected experience, redefining "crisis" as "opportunity" and identifying the experts who can speak for the organization are two methods of working toward PR goals during difficult times, writes B.E. St. John, who works for an education nonprofit in Chicago, in NonProfitPRO: "Our organization's CEO provided a big picture perspective on the challenges facing our schools and students, and outlined steps our organization was taking to respond. Our chief operating officer, who also happens to be a Ph.D.-level clinician, became a regular guest on TV and radio shows to offer advice on how parents and children could cope as the pandemic and remote learning wore on. And our program staff, who worked directly with young people, offered informed insights from the frontlines on the needs of our young people and the creative ways they could be supported… After crafting updated press releases that outlined the expanded list of topics we could speak to, news outlets began seeking out our experts — not once, but frequently. Between April and June 2020 alone, our organization was featured in a dozen stories that ran in various TV, radio and print outlets in Chicago, the nation's third-largest media market." [NonProfitPRO]
Community Comms
Be featured: Email us to inform the eJP readership of your upcoming event, job opening, or other communication.
Word on the Street
Nadav Schwartz, a member of ROI Community, received an award from Israel's minister of social equality for his efforts to advance the religious LGBT community in Israel.…
The Genet family of Hollywood Hills, Fla., has committed $600,000 to the establishment of the Dorit and Ben J. Genet Auditorium, a youth performance center on the Oriya High School for Girls' campus in the Israeli settlement bloc of Gush Etzion. The 4,600-square-foot auditorium will seat 420 people…
Denver's Rose Community Foundation recently honored 19 organizations for participating in its initiative to secure four-year legacy commitments. Collectively the organizations secured more than 920 new legacy commitments from 550 donors with an estimated value of $46 million. In addition, organizations formalized an additional 611 legacy commitments.…
SPCA Monterey County, in Salinas, Calif., received a $22 million bequest from Claire Jacobson to support building and renovations projects and establish an endowment…
Pic of the Day
A participant in ONEgeneration's intergenerational adult daycare program. The Los Angeles County-based organization, which provides support and assistance to older adults in underserved communities in the San Fernando Valley, was one of several organizations to receive a total of $1 million in new funding from the Jewish Community Foundation of Los Angeles to alleviate adult poverty.
Birthdays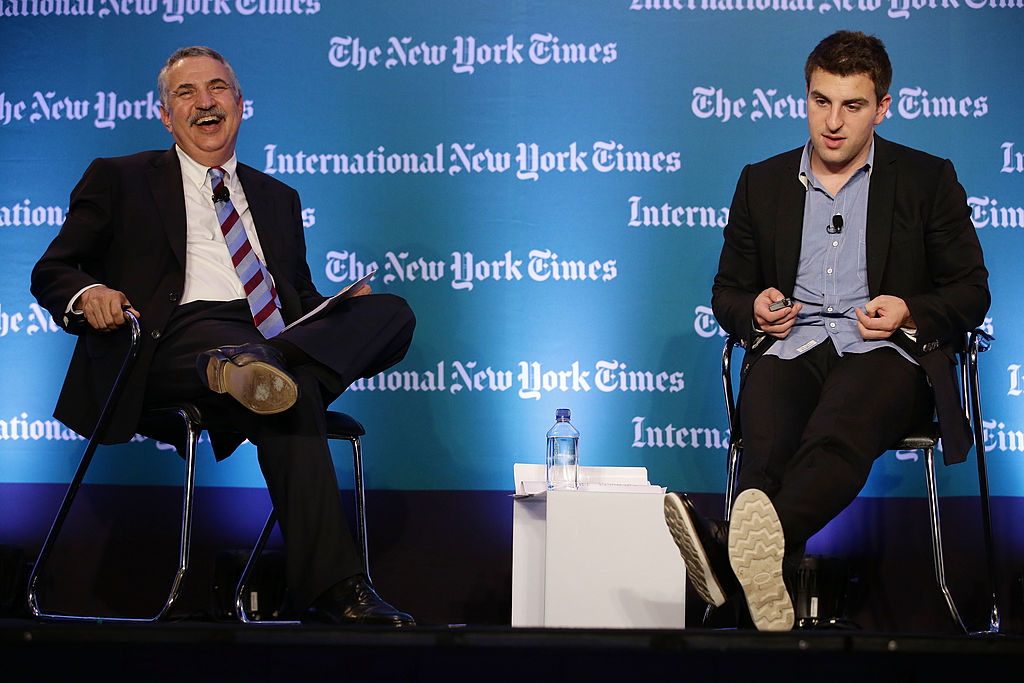 New York Times columnist and three-time Pulitzer Prize-winner, Thomas Loren Friedman (left)…
Retired U.S. Sen. Barbara Mikulski (D-MD)… Retired president of the National Endowment for Democracy, Carl Gershman… Longtime Israeli diplomat, he served as ambassador to Germany, Yoram Ben-Zeev… Former commissioner on the Civil Rights Commission, assistant secretary of HUD in the Clinton administration, presently vice chair of the Bank of San Francisco, Roberta Achtenberg… U.S. district court judge in Massachusetts, Judge Patti B. Saris… Molecular geneticist at NYC-based Rockefeller University and an investigator of the Howard Hughes Medical Institute, Jeffrey M. Friedman… Broadcast and digital media executive, Farrell Meisel… Professor of sociology at the University of Illinois at Chicago, Barbara Risman… Past president of the women's department at the Jewish Federation of Detroit, Marcie Hermelin Orley… Los Angeles-based wardrobe consultant, Linleigh Ayn Richker… Member of the Knesset for the Yesh Atid party, Nira Shpak… Member of the Knesset for the United Torah Judaism party, Yitzhak Ze'ev Pindros… Attorney Jack Achiezer Guggenheim… VP and political director of CNN, David Marc Chalian… Author and staff writer at The Atlantic, Franklin Foer… Southern states director at AIPAC, David Fox… Singer who burst on the scene as a finalist on the fifth season of "American Idol," Efraym Elliott Yamin… Commissioner of the community affairs unit for NYC Mayor Eric Adams, Fred Kreizman… Co-founder and managing partner of the communications and branding firm of Main & Rose, Beth Doane… Co-founder and co-executive director of the progressive Indivisible movement, Ezra Levin… Utility player in the Los Angeles Dodgers organization, he was a third baseman for Team Israel, Ty Kelly… Comedian and regular player on "Saturday Night Live," Chloe Fineman… Software engineer at Home Chef, Ashley Abramowicz Gibbs… Anesthesiologist at Harbor-UCLA Medical Center, Sheila Ganjian Navi… Chief of staff in HHS's Substance Abuse and Mental Health Services Administration, Etan Raskas… VP at BlackRock in Tel Aviv, Jonathan Tamir Alden… Actor and comedian, Joey Bragg… Goldie Fields…
Email Editor@eJewishPhilanthropy.com to have your birthday included.