Your Daily Phil: Naomi Schaefer Riley on American philanthropy's greatest strengths + Birthright trips postponed
Good Monday morning!
Birthright Israel has postponed trips scheduled to depart after the implementation of new restrictions aimed at curbing the latest wave of COVID-19 in Israel, a spokesperson confirmed to Jewish Insider on Monday morning. The restrictions, which go into effect on Wednesday, bar quarantine-free entry to the country to individuals from a number of countries, including the United States.

As COVID cases have risen nationwide, Jewish summer camps have not been immune, although many have made it through their summer sessions safely and others have managed to deal with positive cases without closing, Jeremy Fingerman, CEO of Foundation for Jewish Camp, told eJewishPhilanthropy.

"Even as the CDC lifted restrictions earlier this summer, camps maintained their COVID mitigation strategies," he said, such as limited camp capacity, outdoor meals and programming. Overnight camps have been able to turn their facility into a bubble by limiting exits and entrances, which in turn has enabled them to join smaller groups within the camp together when they've met benchmarks for negative tests.

Two overnight camps were affected, Fingerman said: Herzl Camp in Webster, Wis. closed early due to an outbreak, while Camp Tawonga near San Francisco had to cancel a session. The Kaiserman JCC Camp in Wynnewood, Pa., had to close for a week. Aaron Greenberg, founder of the Jewish Day Camp Network, said he didn't know of any other camps that had to fully close, although specific individuals and groups had been required to stay home for periods of a week or less.

Each camp's protocol was based on several factors, including local regulations, facilities and size, Fingerman said. Nationally, out of 109,045 camp participants at 170 camps, there had been 183 COVID cases as of July 21, said Tom Rosenberg, the CEO of the American Camp Association.
THE ASK
Naomi Schaefer Riley on philanthropy's strengths, and her new book about the child welfare system
Naomi Schaefer Riley is a resident fellow at the American Enterprise Institute whose current work is focused on child welfare, although she also writes about philanthropy, higher education, religion, parenting and culture. The author of six books, including one about interfaith marriage, her seventh, No Way to Treat a Child: How the Foster Care System, Family Courts, and Racial Activists Are Wrecking Young Lives, will be published by Bombardier Books in October. Riley spoke with eJewishPhilanthropy's Helen Chernikoff about the child welfare system, why the percentage of donors is dropping and what she refers to as "trust-based philanthropy."

This interview has been edited for clarity and length.

Helen Chernikoff: What motivated you to write No Way to Treat a Child?

Naomi Schaefer Riley: The reaction on both the left and the right to problems in the child welfare system were unsatisfactory to me. There are liberals who say the problem is money, and that this a problem that will be solved when we resolve the problem of poverty. And on the right, where I make my political home, a lot of people would say, "Well, this is what happens when you have a significant amount of family breakdown." That is true, but completely insufficient. Family structure does have a lot to do with child abuse and neglect, but I think you can't walk away from this problem after you say that.

HC: What did you find when you immersed yourself in the child welfare system?

NSR: It really revolves around the needs and the wants of adults. There's a lot of sense that adults here are in some ways the victims. They're victims of poverty; they're victims of racism; they may have themselves gone through the foster care system. And so I think that there's generally a sense that we should always be more understanding, even in cases where there's clear evidence of abuse or severe neglect, and that we should always be giving the adults who are supposed to be caring for these kids another chance. There's a reason that a lot of people are quite sympathetic to that. But we have to understand that in many of these cases, these people are either unwilling or unable to raise their kids.

HC: What would you say is philanthropy's highest and best purpose in American society today, and has that changed recently?

NSR: I think the diversity of American philanthropy is one of its greatest strengths. Some will want to support research into a cure for a disease that someone they know died of. Other people obviously want to support the communities that are closest to them, whether it's their synagogue or JCC or something like that. There's so much creativity. Every time I talk to a philanthropist, I'm always amazed at what got them into it, and how passionate they are about it. And it feels like there's even more of that now. The stereotype was that you make all your money and then when you reach a kind of ripe old age you start giving it away. There's definitely a move among younger people to think about this much earlier.

Read the full interview here.
UNREALISTIC EXPECTATIONS
When 'work' becomes unhealthy
"The decision made by Simon Biles, America's premier gymnast, not to compete at the Tokyo Olympics in most of the events that she trained for, set off a firestorm of commentary," writes Rabbi Sid Schwarz, director of the Clergy Leadership Incubator, in an opinion piece for eJewishPhuilanthropy.

Delta variant: "I work with many rabbis and Jewish communal professionals who are physically and mentally exhausted from their year-long+ attempt to work in the midst of the COVID pandemic. Many eagerly looked forward to a summer break. Now these professionals return, only to find a Delta resurgence of the virus."

Too many working hours: "Of course, COVID is an extraordinary event. Nobody could have predicted it. But America's addiction to work is a well-documented phenomenon… We are the only industrialized country that does not have a law requiring a minimum amount of annual leave. And Americans take less vacation time than any other industrialized country in the world."

Expectations: In recent years, we've seen the start of some long overdue conversations in Jewish communal organizations about diversity, equity and inclusion as well as the hostile work environment that women often face and which has not been adequately addressed. Let's add to the list the unrealistic expectations set by Jewish organizations on their employees, from the executive suite to the maintenance staff."

Read the full piece here.
LONELINESS
Building community, one intergenerational relationship at a time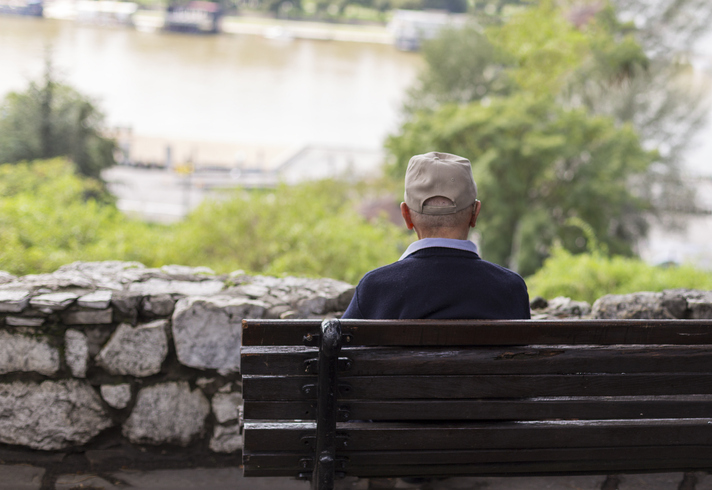 "As we begin to slowly emerge from our COVID realities, and start to tentatively (or energetically, depending on your point of view) go back to our almost-forgotten routines of living out in the open, senior citizens are still at risk. Perhaps, as time goes on, less at risk of COVID, but still at risk of the deleterious effects of loneliness. And professionals working with teens know that teens also suffer from loneliness, and that mental health issues that were on the rise prior to COVID have only become worse." writes Bess Adler, a program officer at Legacy Heritage Fund, in an opinion piece for eJewishPhilanthropy.

Loneliness: "According to the CDC, loneliness is not only an emotional problem, but is detrimental to one's physical health. While this blight has been known to disproportionately affect the senior population, it took a global pandemic for it to be widely acknowledged and recognized, as even active and socially engaged seniors suddenly found themselves isolated."

Intergenerational engagement: "We know from the writing and video testimonials of teens and seniors that intergenerational engagement makes a difference in their lives. Not only does it serve to change perspectives of the 'other' and dispense with useless stereotypes (e.g. old people are boring, inactive, and irrelevant, and teens are loud, immature, and selfish) but it creates true caring relationships, which is especially important in our culture of isolation and endemic loneliness."

Read the full piece here.
Worthy Reads
Hoop Dreams: Writing in Forbes, Christopher Dodson interviewsGreg Taylor, the executive director of the NBA Foundation, which was created about a year ago with a $300 million investment by the NBA's board of governors during the season the league played in an anti-COVID "bubble." The foundation focuses on economic opportunities for Black youth, especially in communities that are part of the league's 28 markets. "The same issues and concerns and lack of resources that affect some of the organizations are similar whether you are in a big city like New York or a smaller market like Oklahoma City," Taylor said. "What we are trying to do is say there is genius everywhere." [Forbes]

Sharp Idea: In 16 states, needy people — some suffering from incurable diseases, others who are homebound — are having their lawns cut for free thanks to a nonprofit, created by Brian Schwartz, a New Jersey man who lost his job during the pandemic and decided to remain active by volunteering his time to people who needed help with their chores, reports Philip DeVencentis in North Jersey. In May, Schwartz found a job, but in his free time he maintains a website that allows users to type in their ZIP code and be matched with someone who can assist them with their yard work. "It's a little overwhelming, but it's inspiring," said Schwartz, noting that the group has a backlog of 350 jobs, "just to know that I'm making a difference." [NorthJersey]
Numbers Game: The arrangement by which nonprofit organizations perform functions for the "public good," in return for tax-exempt status is coming under growing scrutiny due the lack of clarity around the definition of the public good, Bruce DeBoskey writes in the Denver Post in a piece that highlights questions about whether nonprofit hospitals merit such tax privileges. Nonprofit hospitals are required to provide charity care, community health improvement efforts, medical training and research and the assessment of community health needs, DeBoskey points out, yet as a group they provide less charity care than for-profit hospitals, and the other requirements are hard to quantify and therefore easy to fake.  "Automatic tax exemption for nonprofit hospitals is a long-standing but poorly targeted policy that has outlived its sell-by date. In its current form, tax exemption provides no assurance that nonprofit hospitals will behave in accordance with their charitable mission," said Ge Bai, Associate Professor of Public Health at Johns Hopkins, and David Hyman, Professor of Health Law and Policy at Georgetown. [DenverPost]
Community Comms
Apply! Want to join the team at Jewish Insider/eJewish Philanthropy? We're looking for a top-notch philanthropy editor. Learn more here.
Be featured: Email us to inform the eJP readership of your upcoming event, job opening, or other communication.
Word on the Street
Israel is considering adding travel to the United States to its list of countries Israelis are barred from travelling to… The Leon Levine Foundation has gifted the University of North Carolina at Charlotte $11.5 million to extend the Levine Scholars Program through 2029… Israeli Prime Minister Naftali Bennett announced the nomination of Michael Herzog to serve as the next Israeli ambassador to the United States… D.C. area educator Avi West died at 68… Lab/Shul, the experimental Manhattan congregation, will require proof of vaccination or negative COVID test within 72 hours of attendance at its High Holiday services… Detroit's JVS Human Services and Kadimaannounced they will move forward with a merger… Beginning February 2022, Salesforce will require all licenses to employ multi-factor authentication…
Pic of the Day
Seventeen Bnei Menashe couples, all of whom recently made aliyah from northeastern India, were remarried last week in a group ceremony at Shavei Israel's absorption center in Ayanot youth village in central Israel.
Birthdays
Israeli actor, best known for his role as Yanky Shapiro in the 2020 Netflix miniseries "Unorthodox," Amit Rahav…
Prominent Sephardic rabbi, he was a member of the Knesset for the Shas party (1992-1996) and served as Deputy Minister of Education and Culture, Rabbi Moshe Maya… Physicist and venture capitalist, co-founder and general partner emeritus of New Markets Venture Partners, Donald M. "Don" Spero, Ph.D…. Comedian, actor, writer, director and author, son of a rabbi, David Steinberg… Romance novelist with 22 books on the NYT bestseller lists, Barbara Delinsky… Author of 36 Jewish themed books, Seymour Rossel… Chattanooga, Tenn. telecommunications consultant, Mark Shapiro… Psychologist and bestselling suspense novelist, Jonathan Kellerman… Brigadier general (IDF reserves) in the Israeli Air Force, Amir Abraham Haskel… Director of the Steinhardt Family Foundation in Israel, Tova Dorfman… U.S. Senator (R-KS), Roger Marshall, M.D…. Member of the Minnesota State Senate since 2007, following four years in the Minnesota House of Representatives, Ron Latz… Professor of French at Yale University, he is the inaugural director of the Yale Program for the Study of Antisemitism, Maurice Samuels… Chief of Staff for Congressman Jerrold Nadler (D-NY-10), Amy B. Rutkin… Kiev-born, member of the Maryland House of Delegates since 2007 from Montgomery County, Kirill Reznik… Reporter in the Washington bureau of The New York Times, Kenneth P. Vogel... Founding partner of New Deal Strategies, Rebecca Kirszner Katz… Chair of JEWELS (Jewish Education Where Every Level Student Succeeds), Jules Friedman… Executive director of the Israel on Campus Coalition, Jacob Baime… Real estate investor based in Cleveland, Amanda Isaacson… Associate at Ropes & Gray LLP, Isaac Lederman… VP at Dezenhall Resources, Fred Brown…

Email Editor@eJewishPhilanthropy.com to have your birthday included.