Your Daily Phil: Museum of Jewish Heritage said to have barred Ron DeSantis + Jewish history at NYC schools
Good Friday morning!
A gala for United Hatzalah, the Israeli emergency medical service, raised more than $400,000 on Thursday night at a swanky rooftop party in midtown Manhattan. The gala was hosted by Vine Ventures, an early stage software-focused venture capital firm headed by Eric Reiner, who personally donated $50,000 and invited many of the nearly 200 guests, who were largely young, coming mostly from the tech and VC world and were entirely unmasked in an environment that felt like a relief from years of pandemic restrictions.
The gala was held at the end of Israel's Independence Day and was dedicated to supporting Hatzalah's operations on the Ukrainian border, where it mobilized at the beginning of the Russian invasion to help refugees in Moldova. "We said, 'How are we going to do a party now, with what's going on in Ukraine?'" Reiner told eJewishPhilanthropy. "What better way to celebrate Yom Ha'atzmaut than helping those people in the work they're doing there?"
In a brief speech a couple of hours into the event, another speaker noted that a terror attack had taken place earlier in the day in Israel. Perhaps to underscore the mix of mourning and joy, soon after the speeches, contemporary Israeli pop began blasting over the speakers.
United Hatzalah's chairman, Mark Gerson, said dealing with all manner of tragedies and emergencies is the organization's raison d'etre. "When there's a global crisis like what happened in Ukraine, United Hatzalah activated immediately," he told eJP. "But also United Hatzalah is there all day, every day for people in Israel."
Despite the diversion of resources to Ukraine, Gerson's wife, Rabbi Erica Gerson, told eJP that caring for Israelis remains the organization's main mission. But she said there was significant demand among the group's volunteers, who include many Russian speakers, to go to the Ukrainian border.
"Our primary responsibility and mission is to be there for the people of Israel," she said. "When the situation arose in Ukraine the hearts of our volunteers and the hearts of our donors were called into action because they saw a need that they could meet in a unique way because of their ability to just work on the fly."
PUBLIC EDUCATION
A NYC councilmember wants public school students to spend a day learning Jewish history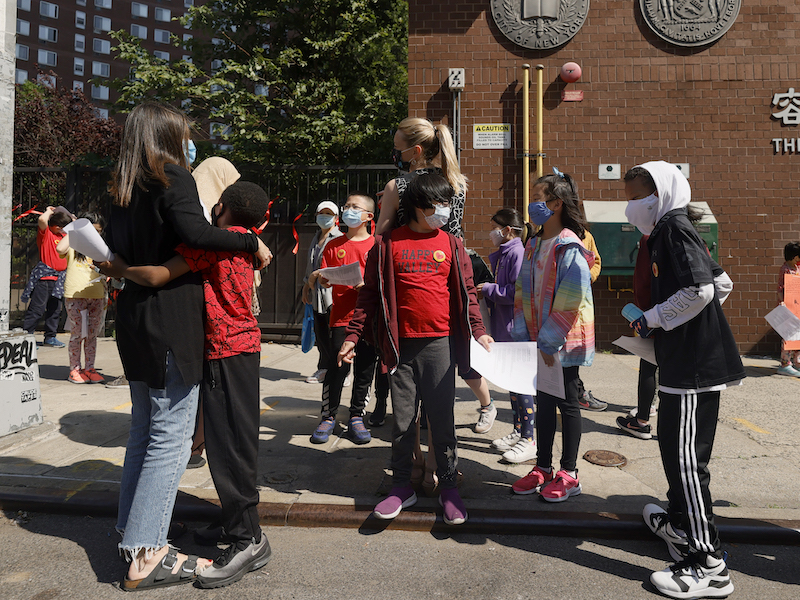 When New York City was hit with a wave of antisemitic attacks in 2019, many of them carried out by young people, then-Mayor Bill de Blasio invested in a program that sent eighth and 10th grade public school students from heavily Orthodox neighborhoods to tour the Museum of Jewish Heritage, the city's Holocaust museum. Now, one New York City councilmember says Holocaust education isn't enough to counter antisemitism, which is again on the rise in the five boroughs. Shaun Abreu, 31, a first-term member, wants public school students to spend a day learning about American Jewish history — not just the genocide of the Jews, reports eJewishPhilanthropy's Ben Sales.
Not just negativity: "Focusing on Holocaust education is very critical," Abreu, the child of immigrants from the Dominican Republic, who is not Jewish, told eJP. "At the same time… there are 350 years of Jewish history in America, and reducing bias is going to require that we explore and fully dive into the rich history of Jewish contributions." He added, "There's so much negativity, and this will feel good."
A diverse tapestry: If enacted, the day would appear to be a unique approach when it comes to teaching the histories of ethnic and religious minorities. Last year, the New York City Council approved $10 million in the city budget for a new Black studies curriculum through grades K-12, but it will be taught throughout the school year, not on one specific day. A bill proposed last year to mandate the teaching of Asian American studies in the state's public schools is currently in committee in the state Senate. There does not appear to be a similar effort regarding Latino history, though the DOE provides resources for teachers during Hispanic Heritage Month.
CONFERENCE CONTROVERSY
Museum of Jewish Heritage barred Ron Desantis, conference organizers say
New York's Museum of Jewish Heritage told organizers of an upcoming conference that a scheduled speaker, Florida Gov. Ron DeSantis, was unwelcome at the institution, Elliott Abrams and Eric Cohen wrote yesterday in a Wall Street Journal op-ed. Abrams and Cohen are the co-chairs of the Jewish Leadership Conference, a gathering set for June 12 and organized by the conservative Tikvah Fund. The conference was due to take place at the Museum of Jewish Heritage in downtown Manhattan, they write — until DeSantis accepted an invitation to speak.
Without warning: Cohen told eJewishPhilanthropy's Ben Sales that Tikvah has held a series of events at the museum in the past without issue, and that the clash over DeSantis' appearance occurred without warning on April 26. "Never before did the museum share their opinions about or seek to assert oversight over our guest speakers," Cohen told eJP. "The initial objection came from members of the museum staff, who said explicitly that Gov. DeSantis was not in line with their message or values and would not be welcome."
No response: The museum declined to respond to several email and phone requests for comment from eJP. DeSantis' office did not respond to a request for comment, but told WFLA, a local Florida TV station, "We hope that this is all a misunderstanding, and the museum leadership will rectify the situation, because a Holocaust memorial should never be politicized."
ISRAEL EDUCATION
Pedagogy of hope – education that transforms and inspires 
"Over the last couple of years, I have had the pleasure of working with the gifted Israeli activist and poet Eliaz Cohen while teaching his poems to North American and Israeli educators. Some of Eliaz's most inspiring poems relate to the transformative work he and his Palestinian neighbors have been doing together for more than a decade. These poems portray so vividly the depth of everyone's pain and, at the same time, the magnitude of hope that emerges from the sacred work they are doing together," writes Rabbi Yehudit Werchow, an education consultant with The iCenter, in an opinion piece for eJewishPhilanthropy.
Getting to know each other: "Eager to learn more about interfaith and shared society initiatives and the qualities that contribute to the success of this work and can contribute to the educational work we are doing at The iCenter, Eliaz and I began studying with Rabbi Tamar Elad Applebaum and Sheikh Dr. Eyad Amer, who are each leading local communities in Jerusalem and Kfar Kasim and doing transformative educational and communal initiatives throughout Israel. One purpose of the educational work we are doing together is getting to know each other, the stories, traditions, people and values that our lives are made of and connect us to this land."
Creating connections: "We also share the sources that inspire hope in each one of us. We are co-creating an authentic shared language that can connect our learners and bridge the gaps between them. Like the words of the Israeli poet Zelda remind us, 'our personal peace is tied with a thread to each other's peace.' We are already witnessing how these threads are impacting us and the educational work we are doing, and we are also exploring what it might be like when more threads like these are created between educators from all faiths across Israel and North America."
Worthy Reads
Trust Talk: In The Conversation, Emily Finchum-Mason spotlights the concept of "trust-based philanthropy," which accelerated during the pandemic as organizations — and their funders — had to quickly pivot to address new and unforeseen challenges. "The philosophy behind trust-based philanthropy is about changing funders' core organizational culture and values. In practice, trust-based philanthropy can take many different forms. It may include unrestricted funding, meaning that money is provided to charities that choose how to spend it. Funders may also limit application and reporting requirements or make the reporting process a two-way conversation between the funder and the cause they're supporting. Another option is to let grantees and communities that are supposed to benefit from funding weigh in on decision-making processes around the grant-making." [TheConversation]
Community Comms
Yes. You can move forward in your career serving the community you love. Learn about the MA program for Jewish nonprofit professionals.
Be featured: Email us to inform the eJP readership of your upcoming event, job opening, or other communication.
Word on the Street
An international donors' conference held in Warsaw on Thursday raised around $6.5 billion for Ukraine. The conference was hosted by Poland and Sweden, in cooperation with the presidents of the European Commission and the European Council…
The government of Ukraine has launched United24, a global fundraising platform for individuals to donate to help rebuild Ukraine, offer humanitarian aid and raise money for the removal of landmines…
Café Maddy Cab, a fund that reimbursed cab fares and provided free ride vouchers for Asian, elderly and LGBTQ people who felt unsafe on New York City subways, is relaunching under the fiscal sponsorship of the Asian Pacific Community Fund…
Christie's auction house announced that it will sell the Ann & Gordon Getty Collection through a series of auctions beginning in October. Proceeds from the sale will benefit the recently established Ann and Gordon Getty Foundation for the Arts…
Providence St. Joseph Hospital in Orange, Calif., received a $53 million donation from an Orange County couple who wish to remain anonymous…
Pic of the Day
Dutch Princess Margriet of the Netherlands, professor Pieter van Vollenhoven and Prince Pieter-Christiaan lay a flower on Wednesday at the Field of Honor cemetery in Loenen, east of Amsterdam, during the National Military Remembrance Day for fallen soldiers in the Netherlands. "Hatikvah," Israel's national anthem, was played during the ceremony to honor the multiple Jewish resistance fighters and soldiers buried in Loenen, home to the Netherlands' largest military cemetery.
Birthdays
Canada's special envoy on preserving Holocaust remembrance and combating antisemitism, Irwin Cotler celebrates his birthday on Sunday…
Friday: U.S. Sen. Richard Shelby (R-AL)… Senior fellow at the Hoover Institution at Stanford U, Abraham David Sofaer… Longtime executive of Time Inc., Gerald M. "Jerry" Levin… Writer and professor of Latin American studies at Duke University, Vladimiro Ariel Dorfman… Professor of law and philosophy at the University of Chicago, Martha Nussbaum… Israeli theoretical physicist and astrophysicist, Tsvi Piran… Partner at Wilmer Cutler Pickering Hale and Dorr, Jamie S. Gorelick… Former prime minister of the United Kingdom, Tony Blair… President emeritus of the Jerusalem College of Technology / Lev Academic Center, Noah Dana-Picard… Director of the Jewish studies program at Northeastern University, Lori Hope Lefkovitz… Vice chairman and co-founder of Boston-based HighVista Strategies, Daniel Jick… President and CEO of The Jewish Federations of North America, Eric David Fingerhut… Member of the board of trustees of the Jewish Federation of Greater MetroWest N.J., Sheri Goldberg… Los Angeles-based attorney, Daniel Todd Gryczman… Los Angeles-based television personality, Shira Lazar… Chief communications officer and head of investor relations at aMoon Fund, Brachie Sprung… Conductor and composer, he is currently music director of The Louisville Orchestra and Britt Festival Orchestra, Edward "Teddy" Paul Maxwell Abrams… Founder at ALC Hospitality, Alyse Cohen… VP on BlackRock's corporate executive team, Benjamin Levine… Associate at Courtside Ventures and advisor to the board of directors of the Atlanta Hawks, Oliver Ressler…
Saturday: Investor who converted Chris-Craft Industries from a small boat business into a large media holding company, Herbert J. Siegel… Member of the New York State Assembly since 1993, Sandra R. "Sandy" Galef… Senior member of the Mobile, Ala., law firm of Silver, Voit & Thompson, Irving Silver… Napa, Calif.-based media executive and podcast host, Jeffrey Schechtman… Theatrical producer at Press the Button Productions in Monterey, Calif., Jane J. Press… Former member of the Knesset for the Shas party, Rabbi Meshulam Nahari… Former deputy secretary of state and currently dean of Johns Hopkins SAIS, James Braidy "Jim" Steinberg… Director of films including "Fast Times at Ridgemont High," "National Lampoon's European Vacation," "Look Who's Talking" and "Clueless," Amy Heckerling… Professional poker player and hedge fund manager, Daniel Shak … CEO of Rationalwave Capital Partners, Mark Rosenblatt… Emmy Award-winning film, television and music video director, Adam Bernstein… Founder of JewBelong, Archie Gottesman… Former member of the Virginia House of Delegates, Mark H. Levine… Democratic member of the U.S. House of Representatives since 2010, he is soon departing Congress to become CEO of the American Jewish Committee, Theodore Eliot "Ted" Deutch… Director of floor legislative operations for House Speaker Nancy Pelosi, Keith Stern… Member of the Knesset for the Yamina alliance now serving as Israel's interior minister, Ayelet Shaked… Yana J. Lukeman… Head of platform sales at Stripe, Robert Warren Saliterman… Social entrepreneur, winemaker and CEO of Napa Valley's OneHope, Jake Kloberdanz… Chief of intergovernmental and legislative affairs in the Los Angeles Mayor's Office, Arthur L. Mandel… CEO of Austin-based Harris Media, Vincent Robert Harris… Las Vegas-based fashion blogger, model and writer, Bebe Zeva (a pseudonym of Rebeccah Zeva Hershkovitz)…
Sunday: Retired senior British judge, Baron Leonard Hubert "Lennie" Hoffmann… Chairman of the board of the American Jewish Joint Distribution Committee, Stanley A. Rabin… MIT biologist and 2002 Nobel Prize laureate in medicine, H. Robert Horvitz… Former MLB pitcher, Lloyd Allen… Former rabbi in Dusseldorf before moving to Israel, Rabbi Raphael Evers… Former director of the USDOJ's office of special investigations focused on deporting Nazi war criminals, he is now the director of human rights enforcement strategy at USDOJ, Eli M. Rosenbaum… CFO for The Manischewitz Company, Thomas E. Keogh… Past president of Congregation B'nai Torah in Sandy Springs, Georgia, Janice Perlis Ellin… Third generation furniture retailer, Barry Seidman… President of Clayton, Mo.-based JurisTemps, Andrew J. Koshner… CEO and founder of NSG/SWAT, Richard Kirshenbaum… Novelist, author of If I Could Tell Youand movie critic for The Jerusalem Post, Hannah Brown… Co-founder and CEO of the disability advocacy nonprofit, RespectAbility, Jennifer Laszlo Mizrahi… Israeli journalist, anchorwoman and attorney, she is best known as host of the investigative program "Uvda" on Israeli television, Ilana Dayan-Orbach… Longtime litigator and political fundraiser in Florida, Benjamin W. Newman… Canadian social activist and documentary filmmaker, now teaching at the University of British Columbia, Naomi Klein… Chairman of the World Likud, Israel's former ambassador to the United Nations, Ambassador Danny Danon… Comedian, actress and author, Jodi Miller… Managing partner at West End Strategy Team's DC office, Ari Geller… Director of strategic initiatives at J Street, Josh Lockman… Founder and CEO at Axion, Daniel First… Chief of staff in the science and society division at the White House office of science and technology policy, Amiel Fields-Meyer…
Email Editor@eJewishPhilanthropy.com to have your birthday included.