Your Daily Phil: Manhattan borough prez on Russian billionaires' apartments + Tweeting shuls out West
Good Friday morning!
Soon after President Joe Biden announced on Thursday plans to auction off frozen assets of Russian billionaires with ties to Russian President Vladimir Putin and use the proceeds to help Ukraine, Manhattan Borough President Mark Levine asked the president to begin with the Big Apple.
"Let's start with the oligarchs' ultra-luxury Manhattan apartments," tweeted Levine, a Democrat whose term began this year. Speaking to eJewishPhilanthropy, Levine doubled down — arguing that the millions of dollars gained by selling the apartments could aid Ukrainians, and dismissing concerns that forcibly liquidating property could set a precedent that might hurt other New Yorkers.
"There needs to be due process in determining which individuals are added to the sanctions list," he told eJP. "But the Treasury Department has such a process… The fact that these assets could be put to use to support the Ukrainian people who are suffering because of the actions of the Putin regime — I think it's an absolutely worthy and important measure to take."
Russian billionaires with luxury apartments in Manhattan, which are often bought as investments, include multiple Jews who have donated millions to Jewish causes in the past. In several cases, sanctioned billionaires have condemned the war and curtailed their philanthropic activity under pressure after being hit with American or European sanctions over Russia's invasion of Ukraine.
At least one Russian Jewish billionaire, Oleg Deripaska, owns two Manhattan apartments collectively bought for $47 million, according to the New York Post, whose ownership was transferred to relatives. He was sanctioned by the U.S. for his connections with Putin in 2018. One Russian billionaire has already listed his apartment for sale.
The U.S. has sanctioned dozens of Russians with ties to Putin, and on Thursday Biden announced that he'd like to impose "the forfeiture of property in the United States that is owned by sanctioned Russian oligarchs and that has a connection to specified unlawful conduct." Biden's statement said the forfeiture would get an expedited review in federal court.
It's unclear whether such liquidations are constitutional, and the American Civil Liberties Union helped kill a previous bill that would have allowed them, according to the Washington Post. In 2014, the federal government tried to sell an Iranian-owned building, but the seizure was overturned in court.
Levine said he's not worried about the precedent of allowing the government to sell the properties of sanctioned individuals. "This is not being done on a mass scale without adequate safeguards," Levine said, but rather would be "taken only against those who are documented to be complicit in the actions of the Putin regime."
He added that more than two months into Russia's invasion, he's "less optimistic that pressure on individual oligarchs will change the course of the war. But what the president proposed today is something far beyond that, which is first and foremost about offering relief to the people impacted."
WESTWARD THE WAGONS
Next stop for 'Old Shul' Twitter bot creator: the Old West
For a little more than a year beginning in February 2021, a Twitter feed posted photos that offered a window into New York City Jewish history and captivated a small slice of Jewish users: @OldShulSpots. Now its creator, Amy Shreeve, plans to embark on the same project in a new, vast location: cataloging former synagogues in the American West at the turn of the 20th century, reports Madison Hahamy for eJewishPhilanthropy.
Limited supply: The account, a bot also titled "This Used to Be a Synagogue," posted the photos, locations and congregational names of more than 1,000 buildings that were once synagogues in Manhattan. Last month, after accruing media interest and more than 1,300 followers, it finally ran out of old shuls to feature.
Covering a lot of ground: Shreeve's Western bot will look at synagogues in states throughout the West, including the former Temple B'nai Jeshurun in Leavenworth, Kan., which was the first synagogue in the state and is now home to private residences. "Jewish life in the Eastern United States is important, but it gets talked about a lot," Shreeve told eJP. "And it's interesting to bring stories of American Jewry to light that don't get talked about."
A college project: Shreeve, a junior, majors in history as well as rhetoric and writing at the University of Texas at Austin, and came up with the idea for the feed in a class called History and Data Tools. Though she doesn't have a Jewish background, she had always been fascinated by the "rich history" of Yiddish, and studying the language exposed her to the Jewish history of 20th-century New York. Her research is "a way to uncover a past with unique layers," she said.
scene last night
Biden hosts Jewish leaders for White House screening of Holocaust biopic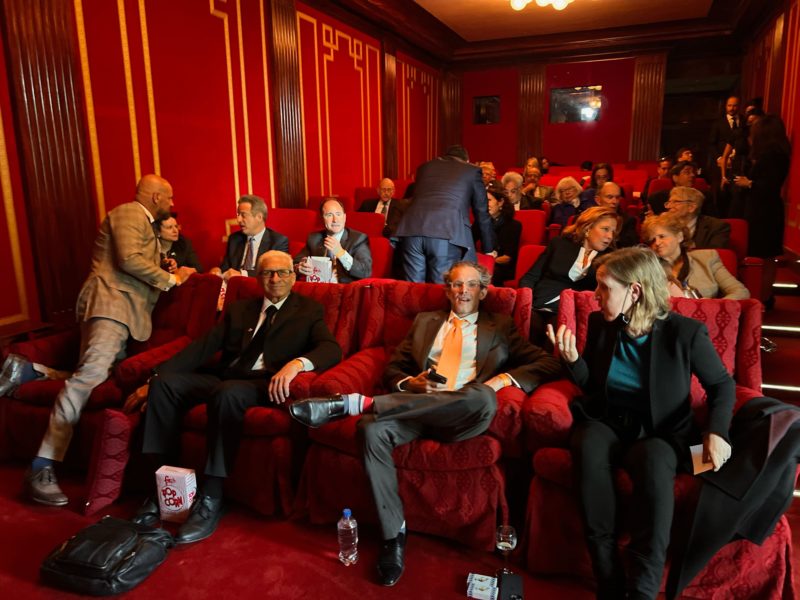 At a somber and emotional 1600 Pennsylvania Ave. last night, President Joe Biden and First Lady Jill Biden hosted their first film screening in the White House theater: a showing of HBO's "The Survivor," a new biopic of Auschwitz survivor and boxer Harry Haft, who was forced to fight while a prisoner and went on to a short-lived boxing career in the U.S. after his liberation, reports Jewish Insider's Melissa Weiss.
Poignant remarks: The event, which coincided with Yom Hashoah, Israel's Holocaust Remembrance Day, featured remarks from the president, who, according to those in attendance, took time to talk with many of the attendees at reception before the screening, held in the ??Jacqueline Kennedy Garden outside the East Wing. "The president said he learned about the horrors of the Holocaust from his father, and then instilled those lessons in his children and grandchildren, taking them to see a concentration camp," one attendee told Jewish Insider. "He also spoke of the importance of combating Holocaust denial and the importance of vigilance, saying it couid happen again."
Spotted: Those in attendance included Haft's son, Alan Haft, film producers Matti Leshem and Jason Sosnoff, HBO's Chief Content Officer Casey Bloys, Discovery Corporate Affairs Officer David Leavy, Francesca Orsi, Tara Grace, Tammy Haddad, Stu Eizenstat, Rabbi Jacob Blumenthal, Rep. Ted Deutch (D-FL), Rep. Brad Schneider (D-IL), Susie Gelman, Michael Gelman, Eric Goldstein, Rabbi Moshe Hauer, Darcy Hirsh, Allan Holt, Jason Isaacson, Rabbi Rick Jacobs, Adam Lehman, Ann Lewis, Deborah Lipstadt, Daniel Lubetzky, Benjamin Sax, Halie Soifer, Jason Sosnoff, Susan Stern, Angela Tarantino, Ambassador Michele Taylor, Debbie Yamada, Steve Rabinowitz, Matt Dorf and Susan Wojcicki.
ENGAGING THROUGH STORIES
Spread your enthusiasm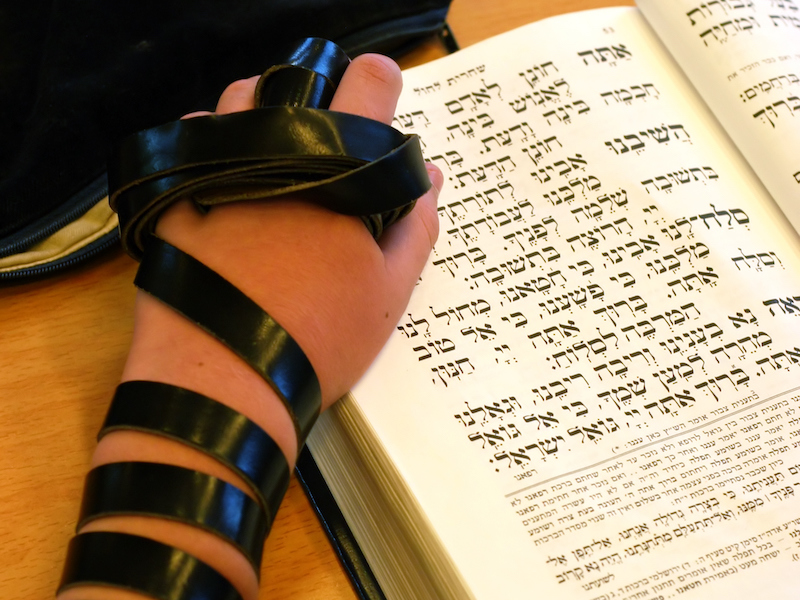 "In the Torah portion known as Acharei Mot, there is a seemingly strange instruction. 'For the soul of the flesh is in the blood, and I have therefore given it to you [to be placed] upon the altar, to atone for your souls. For it is the blood that atones for the soul' (Leviticus 17:11). In other words, we are being commanded to spread blood onto the altar," writes Mark Gerson, the co-founder and chairman of United Hatzalah of Israel, in a Parsha Phil opinion piece for eJewishPhilanthropy.
Sprinkling enthusiasm: "As always, the Lubavitcher Rebbe has a remarkable insight on this. He said that the blood, being warm, symbolizes enthusiasm. We are forbidden to imbibe it – to become enthusiastic about our own desires, needs and selves. Instead, we are required to apportion it for worthy things – like the sacred altar, which symbolizes our divine mission and purpose."
Power of a story: "The teaching, from the data and from the Torah, on how to engage others in a sacred task suggests that we begin with the story. Share examples and stories that illustrate how the sacred work is saving real lives, alleviating genuine pain and increasing important opportunities. When the heart is opened by the story, the mind is ready to process the data and facts that can deepen the inspiration and augment the generosity. Then, the enthusiasm for sacred things that we are commanded to express in this week's parsha can be best brought into the world."
PATIENCE AND PHILANTHROPY
What Kedoshim tells us about grantmaking
"Giving norms have changed during COVID, and they are continuing to evolve. The Torah portion of Kedoshim — which focuses on holiness, and how to treat others in relationship, among other things — can also be read as guidance on how we manage social shifts, in general, which can also apply to how we manage shifts in modes or habits surrounding philanthropy," writes Lisa Zola Greer, a philanthropist, entrepreneur and convener, and the author of Philanthropy Revolution: How to Inspire Donors, Build Relationships, and Make a Difference, in a Parsha Phil opinion piece for eJewishPhilanthropy.
Do patience and philanthropy clash?: "Some say that the practice of placing limits on what we can eat when and exercising self-restraint is about patience, and I agree. However, patience has historically been in short supply where fundraising is concerned. Whether it's board members pushing a fundraising team to "go out and raise the money we need — now," or foundations that give grantees one-year grants with loads of strings attached, patience and philanthropy are often mutually exclusive concepts."
Patience yields results: "In an era where we are all concerned about keeping employees, providing a living wage and supporting our nonprofits long-term, we might all look at Kedoshim for a reminder that wonderful results — results that support a year of "jubilation" — require supportive and collective patience."
Worthy Reads
Jewish Twitter Under Musk: What will Elon Musk's purchase of Twitter mean for Jewish users? Gabe Freedman and Philissa Cramer explore issues relating to the platform's history and the role it currently plays in Jewish discourse in the Jewish Telegraphic Agency: "Some believe efforts to police Twitter and other social media users has already gone too far, and that Musk could revitalize what they see as an overly censored space. Yossi Klein Halevi, a prominent American-Israeli author who often writes about Jewish-Muslim coexistence, argued in a tweet after Musk's purchase announcement that 'pro-Israel voices are arbitrarily removed' from Twitter and called on Musk to 'level the playing field and let us debate' on Israel. He did not elaborate on why he believes pro-Israel activists are silenced…most of the Jewish conversation aimed in Musk's direction focused on his promise of unrestricted free speech, and the anxieties that the concept has unleashed in relation to hate speech. [Rabbi Danya] Ruttenberg said, 'I, as are many other people of more marginalized backgrounds than I, very — realistically, I think — am concerned that Musk will remove what few protections currently exist and make Twitter a place where harassment, abuse and possibly even doxxing is rampant and tolerated.' [JTA]

Funding Opportunities in Education: Janine Yass writes in Forbes about creating the STOP Awards, for educational projects that are "Sustainable over time, Transformational, Outstanding and Permissionless." She writes, "This last point — about permission — is particularly important. Over the past quarter century, I've helped families in inner cities unlock educational options. In doing so, I've learned a lot of lessons. For example, trying to get charter applications approved — is too difficult. Trying to get state scholarships approved — more of the same. It should not be so daunting a task to create more opportunities for students. That's why we are building a movement, to not only reward those STOP educators that don't take 'no' for an answer, but who are committed to truly transforming education for all students, and the policies that currently prevent that from happening." [Forbes]
Community Comms
Be featured: Email us to inform the eJP readership of your upcoming event, job opening, or other communication.
Word on the Street
The Shalom Hartman Institute of North America's Yehuda Kurtzer joins the latest episode of Jewish Insider's "Limited Liability Podcast"…
Fifty-six soldiers have been killed during their military service since Israel's last Memorial Day, according to figures released by the Defense Ministry on Friday. Another 84 disabled veterans died due to complications from injuries sustained during their service. The numbers brought the total to 24,068 of those who have died during service to the country since 1860…
In a first-of-its-kind initiative since Yad Vashem was built in Jerusalem in 1953, Israel's Holocaust memorial and museum plans to establish a Holocaust memorial center in the northern Israeli city of Nof HaGalil, formerly known as Nazareth Illit. Around $5 million has been earmarked for its construction. The new center will operate as a museum and a permanent staff trained by Yad Vashem will head documentation, research and education activities pertaining to the Holocaust…
The Breakthrough Prize Foundation, established by Yuri and Yulia Milner, is pledging $100 million to launch the Tech For Refugees Initiative. Milner, while never officially linked to the Russian government, was revealed in the Paradise Papers as having received money from the Russian government-controlled VTB Bank and a subsidiary of the majority state-owned oil and gas giant Gazprom — both under sanctions today…
The majority of the Milners' initial commitment will be directed toward civilians fleeing from Ukraine, and the initiative will later be extended to other regions…
The Atlanta-based Shepherd Center announced a $50 million capital grant from the Arthur M. Blank Family Foundation that will enable the neurorehabilitation hospital to double its family housing capacity…
The Center for Jewish History in New York City completed a three-year, $2.5 million endowment matching challenge awarded by Arcadia, a charitable fund of Lisbet Rausing and Peter Baldwin…
American Jewish University announced the promotion of Aaron Goldberg, formerly camp director, to vice president of Camp Alonim…
A new study of Christian churches from the Hartford Institute for Religion Research shows that although 90% of  congregations surveyed have already returned to face-to-face worship, religious education programming is still "far from normal." In 615 responses from churches across 31 Christian denominational groups, half of congregations said they felt the pandemic had caused major disruption to their educational programs…
A San Francisco pop-up of the KrakowJewish Culture Festival, the world's largest presentation of contemporary Jewish culture, which is held annually in Krakow, Poland, is planned for May 7…
Pic of the Day
Israel-based SmartAID teamed up with internet provider Starlink in Palanca, on the Moldova-Ukraine border, to provide Wi-Fi access to Ukrainian refugees.
Birthdays
National director emeritus at the Anti-Defamation League, Abraham Henry Foxman celebrates his birthday on Sunday…
Friday: Nobel Prize-winning economist and professor at MIT, Peter Diamond… U.S. Sen. Debbie Stabenow (D-MI)… Marcy Smith… SVP of communications and journalist in residence at University of Maryland Global Campus, Michael Freedman… Comedian, actor, writer, producer and director, Jerry Seinfeld… London-born actor with three Academy Awards for best actor, knighted at Buckingham Palace in 2014, Sir Daniel Day-Lewis… Sportscaster and announcer for the New York Mets, Gary Cohen… Co-founder and first CEO of Netflix, Marc Bernays Randolph… Israel's Ambassador to Ireland Lironne Bar Sadeh… Former New York City Comptroller Scott M. Stringer… CEO and chairman of 20th Century Fox until its acquisition by Disney, she now leads the Los Angeles office of Sister Pictures, Stacey Snider… CEO of the United Democracy Project, Rob Bassin… Professor of psychology and behavioral economics at Duke University, he is the founder of The Center for Advanced Hindsight and author of many books including Predictably Irrational, Dan Ariely… NYC-based award-winning artist who works with sound, kinetics, optics, magnetism and other materials to make sculptures and photographs, Julianne Swartz… Film and television actor, Paul Adelstein… Stand-up comedian, actor and sometimes chazzan, Modi Rosenfeld… Israel's minister of environmental protection, Tamar "Tami" Zandberg… Russian-born Israeli model and actress, Bar Paly… SVP of government affairs at the Corporation for Public Broadcasting, Anne Brachman… COO and director of government affairs for Teach Coalition, Daniel Mitzner… Baseball pitcher for Team Israel at the 2020 Summer Olympics in Tokyo, JoAnne Brachmannathan de Marte… Surfer, she represented Israel at the 2020 Summer Olympics in Tokyo, Anat Lelior… Real estate developer in the Mid-Atlantic region, Samuel A. Neuberger…
Saturday: Rabbi, scholar and professor of Jewish studies at Yeshiva University, Saul J. Berman… Founder and CEO of Kansas City-based American Public Square, former U.S. ambassador to Portugal, Allan J. Katz… Brooklyn-based clinical social worker, Marsha S. Rimler… Psychologist, author of several children's books and president of the Saban Family Foundation, Cheryl Saban… Israeli Supreme Court justice, previously attorney general of Israel, Menachem "Meni" Mazuz… Partner in the communications and ad agency GMMB, James David "Jim" Margolis… London-based international real estate investor and developer, Zachariasz "Zak" Gertler… Cartoonist and illustrator, best known for his over 100 magazine covers appearing on The New Yorker and other publications, Barry Blitt… Former commissioner at the Equal Employment Opportunity Commission, Chai R. Feldblum… Professor of sociology at the Hebrew University in Jerusalem, Eva Illouz… Senior fellow at The Kohelet Forum and a diplomatic columnist for The Jerusalem Post and Israel Hayom, David M. Weinberg… Borough president of Manhattan, Mark D. Levine… CEO of Newton, Mass.-based Gateways: Access to Jewish Education, focused on children with special educational needs, Tamar Davis… Senior director for U.S. Jewish grantmaking at the Charles and Lynn Schusterman Family Foundation, David Rittberg… Head of federal and international affairs at Airbnb, Eric Feldman… National security advisor for U.S. Sen. Ted Cruz (R-TX), Omri Ceren… Wonder Woman Gal Gadot… Director of communications at The New York Times, Ari Isaacman Bevacqua… Founder of Lubin Strategies, Nathaniel "Nate" Lubin… Communications director for U.S. Sen. Mark R. Warner (D-VA), Rachel S. Cohen… Associate in the D.C office of Eversheds Sutherland, Daniel E. Wolman… Elementary school teacher at Broward County Public Schools, Jenna Luks… Reporter at The Wall Street Journal, Rachel B. Wolfe… Senior manager for NextGen at the World Jewish Congress, Yonatan "Yoni" Hammerman… GM and operations lead at Israel's Lightricks, Idan Megidish… Director of career development at Masa Israel for North America, Noam Aricha…
Sunday: Progressive political activist, Larry Bensky… Assistant professor of Bible and Jewish Philosophy at Yeshiva University and editor emeritus of Tradition, Rabbi Shalom Carmy... Deborah Chin… Boston area actor, David Alan Ross… Of counsel at DC-based Sandler Reiff, Jeffrey M. Wice… Member of the U.S. House of Representatives (D-CO-7), Ed Perlmutter… Founder and CEO of Conduit, Israel's first billion-dollar internet company, Ronen Shilo… Real estate entrepreneur in Southern California, Eli Tene… Member of the board of governors of the Jewish Federation of Greater Rochester, Rina F. Chessin… Member of the Computer Science and Artificial Intelligence Laboratory (CSAIL) at MIT, David R. Karger… Israeli judoka, she was the first Israeli to win an Olympic medal when she won silver at Barcelona (1992), now the head of the merchandise division of Viacom Israel, Yael Arad… Majority leader of the Washington State Senate, he is a co-owner of minor league baseball's Spokane Indians, Andrew Swire "Andy" Billig… Associate in the Newark office of Eckert Seamans, Laura E. Fein… Director of responsible innovation at Facebook, Zvika Krieger… DC-based political reporter, Ben C. Jacobs… Video journalist covering investigative and national news for The Washington Post, Jonathan Gerberg… Senior director at Avisa Partners, Omri Rahmil… Director of operations and associate editor at Jewish Insider, Sam Zieve Cohen…
Email Editor@eJewishPhilanthropy.com to have your birthday included.