Your Daily Phil: Mainstreaming Jewish mindfulness + The Jewish Agency begins evacuating Ukraine staff
Good Monday morning!
As the threat of a Russian ground invasion of Ukraine looms, The Jewish Agency for Israel has evacuated 24 Israeli members of its own staff and their families from the country. Some 100 Jewish Agency staff members who live locally, as well as senior Israeli staff, remain in Ukraine, eJewishPhilanthropy has learned.
The evacuations of the 24 Israeli emissaries, who are part of an educational program, took place after Israeli Prime Minister Naftali Bennett urged Israeli citizens in Ukraine to "be responsible for your lives and leave Ukraine as quickly as possible and come home." Israel is also reportedly weighing the possibility of evacuating thousands of Ukrainian Jews if the need arises.
A Jewish Agency spokesperson told eJP that the organization will continue to work with local Jews and assist the Israeli government with immigration. In addition to facilitating immigration, The Jewish Agency provides Jewish educational services in Ukraine and runs services like camps and youth groups.
"The Jewish Agency remains on the ground in Ukraine, supporting the Jewish communities, working in coordination with other bodies both in Israel and in the field," the spokesperson told eJP.
The American Jewish Joint Distribution Committee (JDC), an aid group, is also assessing its role in Ukraine in the face of a possible invasion. A JDC spokesperson told eJP that the group aids nearly 40,000 Jews in Ukraine at 1,000 different locations. Now, the group is focusing on providing Jews in Ukraine with humanitarian aid, including food and medicine.
"As news from Ukraine grows more worrying, we stand at the ready to maintain our humanitarian lifeline to a vulnerable population of needy Jews and Jewish communities in Ukraine," Stefan Oscar, executive director of JDC's former Soviet Union operations, said in a statement. "Their care and well-being are our top and enduring priorities and will remain our focus whatever scenarios develop in the region."
SEEKING SPIRITUALITY
Feel your breath: Mindfulness moving into the Jewish mainstream
Imagine sitting down to a Shabbat dinner with friends — but before Kiddush, the host asks you to feel your own breath. If the Institute of Jewish Spirituality (IJS) has its way, practices like that could become commonplace across the Jewish world, especially for young Jews, reports eJewishPhilanthropy's Ben Sales.
A mindfulness boom: The time is ripe for such a shift, says the institute's executive director, Rabbi Josh Feigelson, as the COVID-19 pandemic has fueled a boom in mindfulness practice as a way to manage the stress the pandemic has created. "The pandemic, for anybody who's in the mindfulness business, it's been gangbusters, it's been through-the-roof demand, because people realize, here's something you can do to help manage your anxiety, to help you feel present and focused and connected at a time that's disconnecting and isolating," Feigelson told eJP.
Trending nationally: The number of Americans experimenting with meditation has skyrocketed during the pandemic, and Jewish groups have felt the trend. This week, IJS is releasing a new strategic plan to make mindfulness and spirituality a core part of Jewish life across the country. A Chabad-Lubavitch organization is running an in-person mindfulness course with some 20,000 participants nationwide. New York City's Romemu Yeshiva, which is focused on mysticism and spirituality, is expecting hundreds of students to enroll in its virtual program this summer.
Reaching 'JewBus': IJS was founded in 1999 as a response to the "JewBu" phenomenon — referring to Jews who adopted Buddhist philosophy and practices, such as meditation. For the past two decades, it's focused its energy on clergy. Now, IJS hopes to widen its reach to the entire Jewish community — and especially young people who are interested in mindfulness. "If we as a community don't respond to that, it'll be the next generation of JewBus," Feigelson said. "We have an opportunity and we also have some urgency around this."
SKY'S THE LIMIT
Art to bring dreamers together in space
Sharonna Karni Cohen isn't afraid to dream big — so big that her vision will soon travel to space. Nearly a decade ago, the social impact entrepreneur founded a collective of artists and "dreamers" that transforms visions and aspirations into works of art. Karni Cohen founded Dreame in 2014 with the aim of empowering people to be creators. The initiative provides a platform for people to submit their ideas, visions and dreams to an artist of their choice who then transforms them into digital art. Karni Cohen's latest project — projecting video art inspired by thousands of submitted visions for the future onto famous landmarks around the world — will culminate when a mosaic of 500 digital pieces of art will be carried into space in April on a mission that will also launch the second Israeli astronaut ever to venture into the cosmos, Jewish Insider's Tamara Zieve reports.
Positive thinking: "The Big Dream" was born three years after Dreame's founding, when Karni Cohen asked her friends how they imagined Israel in 30 years. Discouraged by the pessimism of her friends' responses, she reframed the question, asking them instead to imagine the utopian version of the Jewish state. When she extended the question to a group of 1,000 people, she identified several recurring themes: peace, coexistence, culture, environment and freedom. The "First Big Dream" — which took the form of 1,500 yoga mats puzzled together in Tel Aviv's Rabin Square — was built out of images spawned by those 1,000 visions of the future, a giant collective dream made into an artwork by Israeli illustrator Amit Trainin.
Start-up mentality: Karni Cohen credits the Israeli mindset for the success of her projects. "None of this would have happened anywhere else in the world," she asserted. "Even the puzzling [together] of the yoga mats. I don't think 50 friends of mine in London would have come to help me at 6 in the morning. It's a very Israeli attitude and I'm forever grateful to Israel and 'Start-up Nation' for empowering my creativity and my drive and all the fellow entrepreneurs that I work with, so I think in many ways it's thanks to Israel that this project was born."
Into space: For its upcoming project, Karni Cohen's team is thinking bigger than ever, aiming to collect a total of 50,000 dreams for the planet's future from all over the world by March 31. Fifty artists will choose 10 dreams each and will collate them into one mosaic and video animation. The final piece will be unveiled in a range of locations including the Old Royal Naval College in London; Fed Square in Melbourne; ?ód?, Poland; Shibuya crossing in Tokyo; and Hamar, Norway. The final location will be the International Space Station (ISS), as part of the Rakia ("sky" in Hebrew) mission, with Israeli astronaut Eytan Stibbe projecting the final piece and a heat map connecting all the dreams with the world.
United by dreams: Embassies from around the world, with the help of the Israeli Foreign Ministry, have been involved in the effort. Various foundations and organizations have also helped collect dreams for the project; members of the Mars Society, for instance, submitted visions of human life on the Red Planet. Mental health, the environment, family welfare and peace are among recurring themes of submitted dreams. Children and adults alike have participated in the project; a number of children from around the world dreamed of opening an ice cream store to make people happy. During the space mission, the artwork will travel for eight days and be projected as a hologram that people will be able to see online and know above which part of the world it is at that moment. "The idea is to create correlations between the dreams and remind people around the world that we have quite similar dreams to each other," said Karni Cohen.
GETTING VACCINES INTO ARMS
To help end this pandemic, let's pull up a Jewish seat at the global table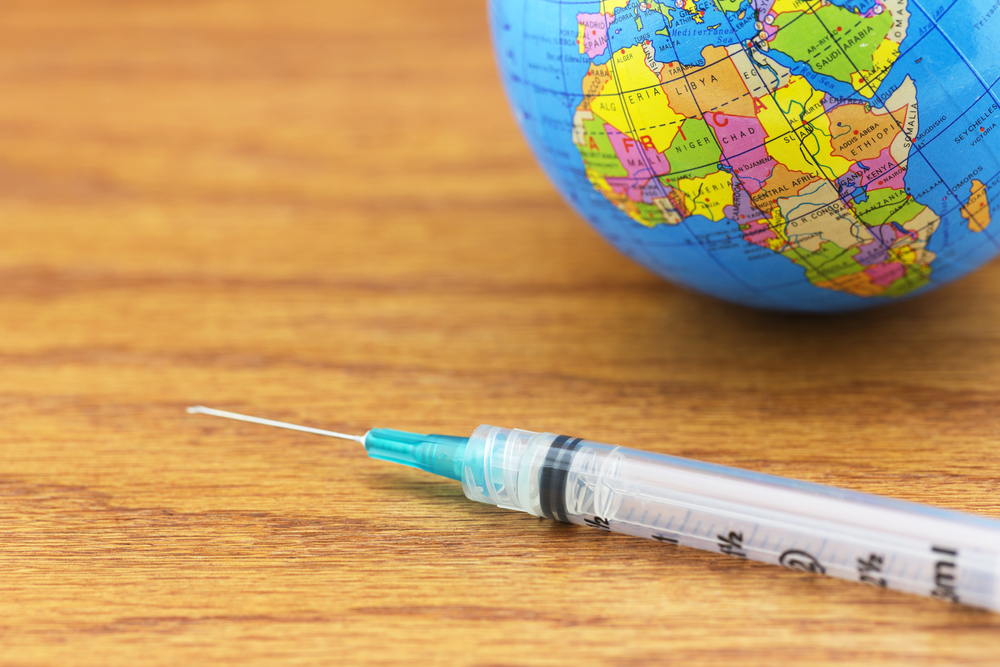 "Since the beginning of January, my family has been in and out of quarantine a whopping nine times. With Omicron rampant and kids too young to be vaccinated, our life in Israel has been a revolving door of COVID exposures, tests and preschool closures," writes Dyonna Ginsburg, CEO of OLAM, in an opinion piece for eJewishPhilanthropy.
Lucky ones: "While I've been hard-pressed to feel grateful throughout much of this, deep down, I know we're among the lucky ones. Thanks to my two COVID vaccines plus a booster, I no longer fear the worst if I fall ill. This week, my husband and I will breathe a sigh of relief as we celebrate my eldest's 5th birthday with a jab in his arm. His vaccines, like ours, will be free of charge and readily accessible, despite the fact that he's not particularly high-risk."
The need to live core Jewish values: "For the vast majority of people in the world's poorest countries – including health workers, those who are immunosuppressed, and the elderly – COVID-19 vaccines are literally out of arm's reach. In our interconnected world, this should concern all of us. As long as the virus has a way to spread, we endanger precious lives and risk even deadlier variants that can travel across the globe… If we fail to act to ensure that the world's most vulnerable can access life-saving vaccines, we ignore at least three core Jewish values: b'tzelem Elohim, the belief that each person has infinite worth; hakarat hatov, the importance of expressing thanks for blessings we have received; and v'nishmartem l'nafshoteichem, the responsibility to maintain our own health and well-being."
Global partnerships: "In order to make an impact at scale, the Jewish community must join forces with large, multisector, global efforts tackling this issue. Only by combining our resources with governments, businesses, multilateral organizations, faith communities, nonprofits and private philanthropists can we truly make a difference. As Jews, we may not be able to complete the work, but neither are we free to avoid it."
Worthy Reads
Funding Staff Diversity: Instead of building new wings, museum donors should invest in creating and supporting a more diverse staff, writes Lisa Strong in Fast Company. "If the Met wants to present a more global and inclusive vision of modern and contemporary art, it does not need to renovate its Modern and Contemporary wing. It could hang more diverse artwork on the walls it already has, and use new funds from donors to compensate its staff differently, so that early-career hires of color have more of an incentive to stick around. But, as I have long seen firsthand, museum leaders and fundraisers generally presume that big donors don't want to help support day-to-day expenses, such as salaries. Instead, conventional wisdom holds that major philanthropists prefer to make gifts that are used to build new spaces and will give them the opportunity to see their own name splashed on those new walls." [FastCompany]
Community Compensation: Latvia's parliament passed a Holocaust restitution bill last Thursday that includes compensation for lost Jewish property and funding to revitalize the Baltic nation's Jewish community, which was almost completely wiped out during World War II, the Associated Press' Jari Tanner reports. The bill authorizes spending $45 million over 10 years to support Latvia's 9,500-strong Jewish community, provide social and material assistance to Holocaust survivors and fund Jewish schools, building restoration and cultural projects. "After independence in 1991, Latvia introduced laws on returning nationalized property. But the issue was left unresolved with no one left to claim the assets of Jews… 'We're not going to ask the properties to be returned,' [head of the Latvian Jewish Community Restitution Fund Dmitry] Krupnikov said. 'It is impossible to return them 25 years after privatization was finished. Somebody's been using them, somebody's been renovating them, somebody's been improving them. Taking that property from them would be incorrect.'" [AP]
Gulf Goals: Jewish Insider's Ruth Marks Eglash reports on the changes that have given new life to Jewish communities throughout the Gulf in the wake of the Abraham Accords, on the first anniversary of the creation of the Association of Gulf Jewish Communities. "'When I arrived here a year ago, Jewish life in the Gulf was almost unknown,' Rabbi Dr. Elie Abadie, the AGJC's rabbi, said in an interview with JI. 'It was barren land, but I could see that we could create an orchard and connect Jewish communities and individuals in all of the countries. It feels really good watching this and, in a way, it makes you feel vindicated that finally Arab countries have come to realize that either persecuting or expelling their Jews was a historical mistake and now they want to correct that and welcome the Jews back,' he continued. 'I hope and pray that we will see even more events for the Jewish community in these countries and that more Jews will either go to settle there or come out of the closet, so to speak.'" [JI]
Community Comms
Be featured: Email us to inform the eJP readership of your upcoming event, job opening, or other communication.
Word on the Street
Israel's Council for Higher Education approved the Samson Health Informatics master's program at the Jerusalem College of Technology, funded by the Samson Charity Foundation of Luzern, Switzerland. This is Israel's first academic program in health informatics…
The San Francisco-based Jews of Color Initiative announced New York Incubator Hub projects…
Robin Hood, in collaboration with Columbia University's Center on Poverty and Social Policy and The Helmsley Charitable Trust, released its latest poverty tracker report, "Special Series on Health and Health Care in New York City"…
A report from Charities Aid Foundation found that a majority of sector leaders in the United Kingdom believes that charities will be expected to fill gaps in providing public services…
The Chan Zuckerberg Initiative is investing $44 million in support of efforts to develop and scale promising technologies that will help address climate change…
The Pasadena Community Foundation received a gift of $10 million from the Margie & Robert E. Petersen Foundation to assist youth in the Pasadena, Calif., and Los Angeles region who are transitioning out of foster care and want to pursue technical education or vocational training…
The Toronto-based Slaight Family Foundation provided a $11.8 million commitment in support of 12 organizations across Canada working to reduce gender-based violence, with a focus on Indigenous, Black, racialized, refugee and immigrant women and girls…
Ivan Reitman, the filmmaker and producer behind the comedies "Animal House" and "Ghostbusters," died at 75…
Pic of the Day
Rabbi David Wolpe, the Max Webb Senior Rabbi of Sinai Temple in Los Angeles, attends last night's Super Bowl LVI at SoFi Stadium in Inglewood, Calif.
Birthdays
Owner of Bloomberg LP and founder of Bloomberg Philanthropies, former mayor of New York City and 2020 presidential candidate, Michael Bloomberg…
Founder of Val d'Or Apparel and Cannon County Knitting Mills, Martin "Marty" Granoff… Award-winning investigative journalist for The Washington Post and author, Carl Bernstein… Chairman and CEO of Reebok for 26 years until its 2005 sale to Adidas, Paul Fireman… British ad agency pioneer and founder of WPP plc, he's now trying to disrupt WPP as head of S4 Capital PLC, Sir Martin Stuart Sorrell… Former borough president of Brooklyn and New York State senator, Marty Markowitz… Chairman and CEO of the Blackstone Group, Stephen A. Schwarzman… Film producer, chairman and EVP of the NFL's New York Giants, winner of a Golden Globe award, an Academy Award and two Super Bowl rings, Steve Tisch… Retired chairman and CEO of Los Angeles-based City National Bank, Russell Goldsmith… Host and co-executive producer of "Fresh Air" on WHYY-FM in Philadelphia since 1975, Terry Gross… Sports executive and former All-Star basketball player, she served as president of the WNBA for six years and as SVP of the PGA Tour for 17 years, Donna Geils Orender… Executive board member at the Los Angeles Museum of The Holocaust, Paulette Nessim… Co-founder and CEO at 25Madison, executive chairman of Townsquare Media (owner of 322 radio stations), minority owner of the Atlanta Hawks, he was previously deputy assistant secretary of defense, Steven Price… Volleyball and beach volleyball star, she is the only Brazilian athlete in the International Jewish Sports Hall of Fame, Adriana Brandão Behar… Long-distance runner, she won the bronze medal in the women's marathon at the 2004 Olympics in Athens, Deena Kastor… Senior government affairs director for the National Insurance Crime Bureau and elected trustee of the Deerfield (Illinois) Public Library, Howard Handler… Financial advisor in the Boca Raton office of Oppenheimer, Alan Feinberg Jr… Jewish hockey player selected in the first round of the 2002 NHL draft, he played on four NHL teams and the United States national team, Eric Nystrom… Co-founder of Run for Something, Amanda Litman… Four-year basketball player for the California Golden Bears, then for Bnei Herzliya of the Israeli Premier League, now a real estate broker at Koniver Stern Group, Sam Singer… Actress best known for her role as Charlotte on the CMT comedy television series "Still the King," Madison Iseman… Associate director of community engagement for the Anti-Defamation League, Carly Pildis…
Email Editor@eJewishPhilanthropy.com to have your birthday included.