Your Daily Phil: JFNA braces for federal budget cuts + University admins in Israel
Good Friday morning!

In today's edition of Your Daily Phil, we report on Jewish Federations of North America's expectations for next year's federal budget, and feature op-eds from Rachel Shamash Schneider and Erica Brown. Also in this newsletter: Shari Safra, Robbie Silverman and Sir Ben Helfgott. We'll start with a trip to Israel for university administrators organized by the Academic Engagement Network.

A dozen university administrators from across the United States toured Israel and the West Bank over the past 10 days as part of an Academic Engagement Network initiative to educate them about Jewish identity, antisemitism and the Israeli-Palestinian conflict, reports eJewishPhilanthropy's Judah Ari Gross.

The trip marked the end of an almost yearlong program – AEN's Signature Seminar Series – in which participants learned about these issues and related ones. It was the second such trip to Israel for campus administrators that AEN has run, Naomi Greenspan, the director of AEN's Improving the Campus Climate Initiative, told eJP.

AEN was founded in 2015, with funding primarily provided by the Charles and Lynn Schusterman Family Philanthropies and the Marcus Foundation, in order to combat the issue of antisemitism on campus. Unlike other university-focused initiatives, which looked at students, AEN targeted its efforts on faculty with the belief that this would have a longer-lasting impact. "They're not going to be on campus for a year. They can potentially be on campus for 30 or 40 years," Greenspan said.

The participants on this month's trip, from June 5 to 14, all hold positions relating to student affairs, student engagement, university life or diversity, equity and inclusion.

Jason Pina, who has worked in administrative roles at multiple universities over the course of some three decades, told eJP he had not encountered large Jewish populations on campus until he entered his current position as vice president for global programs and university life at NYU. Coming into the role, he said he knew immediately that this was a topic he had to learn about in order to help his students more effectively and with greater care, which he said the AEN program helped him do.

"After 30 years, feeling that I now have more confidence to do my job is a strange feeling," Pina said, speaking on the final day of the Israel tour.

Read the full story here.
Tightening purse strings
Lawmakers remain supportive of nonprofit security grants despite tightening budgets, advocate says
Lawmakers are warning advocates to prepare for budget cuts in 2024, but seem inclined to preserve funding for nonprofit security grants, following a series of advocacy meetings on Capitol Hill on Wednesday, a senior Jewish Federations of North America official told Marc Rod for eJewishPhilanthropy's sister publication Jewish Insider.

Prepare for cuts: The meetings, between members of JFNA's National Young Leadership Cabinet and 18 lawmakers, including senior members of the Senate and House Appropriations Committees, followed an announcement earlier in the week that the House would target fiscal year 2022 funding levels in its appropriations bills — rather than the higher fiscal year 2023 levels agreed to in the debt limit deal last month. "Broadly, everybody pretty much said, 'Be prepared for cuts,' and expressed what we all know, [which] is that this is going to be a tougher budget year," said Karen Paikin Barall, JFNA's associate vice president of public affairs and executive director of its Advocacy Corps.

Mixed bag: Barall said that "we are not hearing" that the NSGP is likely to be cut below its 2023 funding level of $305 million. But, she continued, the Labor, Health and Human Services bill — which includes Holocaust survivor assistance — is expected to see "significant cuts." "We're very concerned about that, and we need to make sure that we at least maintain level funding," Barall said. "We've asked for an increase to $10 million [from $8.5 million]. If we are able to keep level funding, we would be thankful for that as well. We just really can't afford a cut."

Read the full story here and sign up for Jewish Insider's Daily Kickoff here.
Professional development
Having an impact on Jewish teens: A new master class powered by Jewish federations
"What does it mean to scale impact? Many of us equate growth and scale. However, the difference between these approaches to achieving greater impact is worth understanding," writes Rachel Shamash Schneider, a program officer at the Jim Joseph Foundation, in an opinion piece for eJewishPhilanthropy.

New opportunity: "Thanks to a strategic partnership between Spring Impact and the Jewish Teen Education and Engagement Funder Collaborative, powered by Jewish Federations of North America, there's a new opportunity for professionals in the Jewish community to amplify this critical knowledge, skill set and, ultimately, their impact."

A philanthropic experiment: "The Funder Collaborative, an innovative philanthropic experiment launched over a decade ago, united national and local funders and practitioners to create, nurture, sustain and scale contemporary approaches to Jewish teen education and growth. From the beginning, the Funder Collaborative committed to sharing frameworks, tools and learnings openly with the goal of helping to advance the entire field of Jewish education and engagement."

Read the full piece here.
The Torah of leadership
When what you have is not enough: Thoughts on Parshat Korah

"In Tanach, we have a 'you're-not-the-boss-of-me"' moment. It occurs in the beginning of this week's Torah reading, Korah. Korah, a Levite, gathered together a number of elders and 250 leaders to challenge Moses and Aaron's leadership. It was a dramatic, high-stakes rebellion with a very painful and shocking denouement. They accused the brothers of aggregating too much power and not sufficiently democratizing the governance of the Israelites," writes Erica Brown, vice provost for values and leadership at Yeshiva University and director of its Rabbi Lord Jonathan Sacks-Herenstein Center, in her weekly column for eJewishPhilanthropy, "The Torah of Leadership."

Parsha says: "'They accused the brothers of aggregating too much power and not sufficiently democratizing the governance of the Israelites: 'They combined against Moses and Aaron and said to them, 'You have gone too far (rav lakhem)! For all the community are holy, all of them, and God is in their midst. Why then do you raise yourselves above God's congregation?' (Numbers 16:3)."

Rashi concurs: "There are many serious charges in this one verse. The rebels suggested that Moses and Aaron appointed themselves, abused their authority and regarded themselves as superior to everyone else when the entire community was holy. This is the way that Rashi, writing on 16:3, interprets the events: 'Much more than is proper have you taken for yourselves in the way of high office.' They also hinted, with their generalized complaint, at some greater sedition that was left unnamed."

Read the full piece here.
Worthy Reads
Gold Standard: In The Times of Israel, Amy Spiro profiles the Israeli Special Olympics delegation, which will compete in the annual competition in Germany beginning this weekend. "Thirty-five Israeli athletes in seven disciplines are heading off to represent the Jewish state at the Special Olympics in Berlin, which kicks off with the opening ceremony on Saturday… While Israel has been sending a delegation to the games for 30 years, this is the first time that the Special Olympics Israel organization has been recognized as an official sports federation by the Culture and Sports Ministry – a recognition that also comes with around NIS 500,000 ($140,000) in financial backing. 'It's the first time in their lives that they are receiving a status that acknowledges them for who they are – as athletes, and not only people with disabilities,' said [Sharon Levy-Blanga, CEO of Special Olympics Israel]. In 2019, Israel's athletes racked up 19 medals at the Special Olympics in Abu Dhabi, including four gold medals. Levy-Blanga is confident that the delegation will perform as well or even better this year." [TOI]

Hands Off Our Research: In the Financial Times, Ben Caldecott, a professor of sustainable finance at the University of Oxford, warns that outside forces are interfering in academic research related to the increasingly significant field of environmental, social and corporate governance (ESG) investment. "The contribution of academic research is particularly important in sustainable finance — an area that is under-developed, rapidly growing and inherently multidisciplinary… Unfortunately, I have also heard too many stories, often from early career researchers at a range of institutions, of instances where financial institutions and ESG data providers have sought to undermine academic freedom… This conversation isn't currently happening. Yes, having it would involve addressing the intimidation of individuals, sensitive donor relationships for universities, industry partnerships and complex research processes. But we must protect free inquiry." [FT]

Who Runs the World?: In the Robb Report, Lucy Alexander looks at large trends in philanthropy, specifically women's philanthropy, and profiles the efforts by several foundations to address causes from gun violence to education. "A recent study by Altrata, a data-analysis company, found that more than half of female ultra-high-net-worth Americans are self-made… 'As wealth creators in their own right and inheritors of family wealth, [women] are and will become the decision-makers of the future; we are already seeing this trend in the sector,' says Karen Kardos, head of philanthropic advisory at Citi Private Bank. So what does this mean for philanthropy? Altrata found that 61 percent of women who have inherited their wealth cite philanthropy as their top interest, compared to only 35 percent of their male counterparts… In terms of approach, female donors appear more likely to follow billionaire MacKenzie Scott's example and pursue trust-based giving, says Kardos, whereby donations are offered to nonprofits to disburse as each organization sees fit, rather than with restrictions." [RobbReport]
Around the Web
Robbie Silverman joined Dayenu: A Jewish Call to Climate Action as deputy director, following a decade at Oxfam America…

The jury is deliberating in the Tree of Life federal death penalty trial of accused shooter Robert Bowers taking place in Pittsburgh, following closing arguments yesterday. Bowers is facing 63 federal charges in connection to the 2018 attack…

Federal investigatorsbelieve a poorly designed pool deck, along with other "compounding factors," caused the 2021 Champlain Towers South condominium building collapse in Surfside, Fla., which killed 98 people, many of them members of the Miami suburb's Jewish community…

The American Jewish Committee and European Jewish Congressagreed to join forces in addressing issues of antisemitism and other threats to Jewish life in Europe…

A new survey conducted by the Australian Jewish news outlet Plus61J, with help from the Zionist Federation of Australia, finds that the Jewish community Down Under largely opposes the Israeli government's proposed judicial overhaul even as the overwhelming majority expressed staunch support for the country, with 90% saying it's important for the Australian community to maintain a close connection with Israel, 88% saying they feel a high level of personal connectedness with Israel and 86% agreeing that Israel is essential for the future of the Jewish people…

Sir Ben Helfgott, a Holocaust survivor-turned-Olympic athlete, died today at 93…

Mira Koschitzky, a Holocaust survivor and longtime leader of the Toronto Jewish community, died this week at 87…
Pic of the Day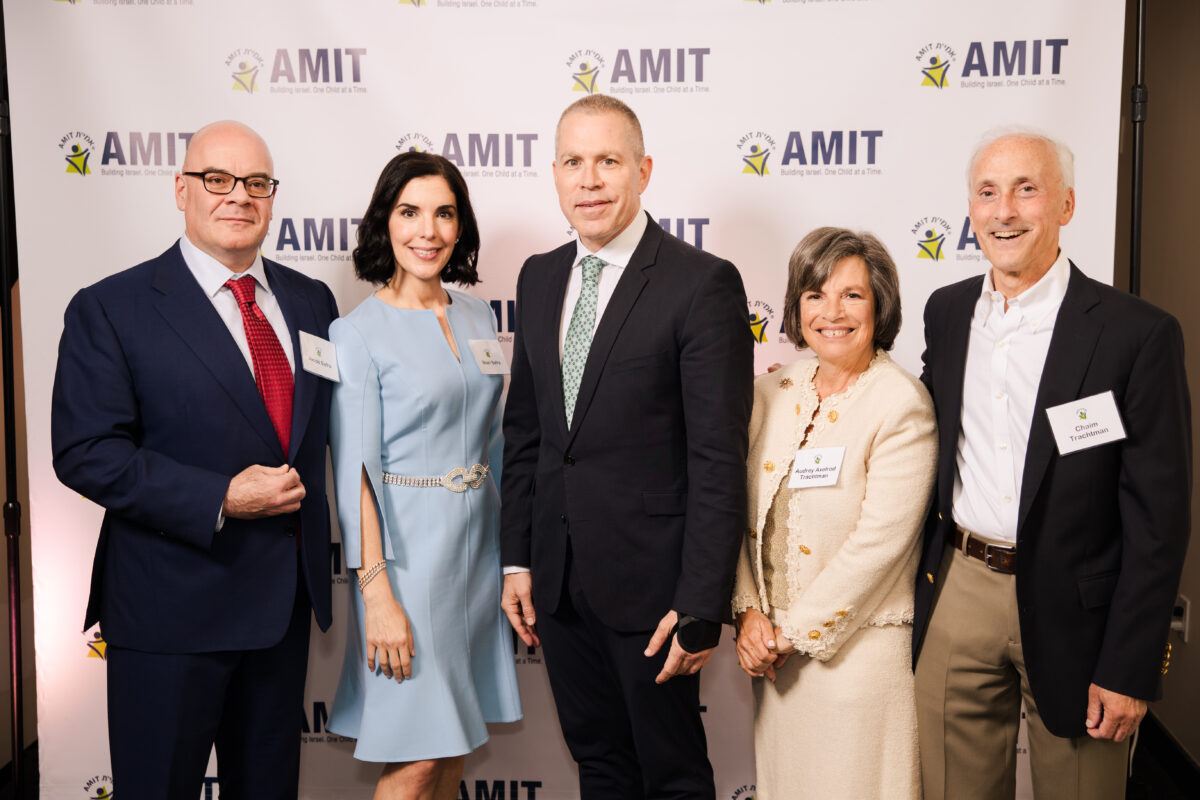 Jacob M. Safra, Shari Safra, Israeli Ambassador to the United Nations Gilad Erdan, Audrey Axelrod Trachtman and Chaim Trachtman pose for a photograph on Wednesday at Amit Children's 98th Annual Assembly. At the event, Shari Safra was inaugurated as the organization's next president, succeeding Audrey Axelrod Trachtman.
Birthdays
Former dean of Yeshiva College, U.S. ambassador to Egypt for President Bill Clinton, and U.S. ambassador to Israel under President George W Bush, Daniel C. Kurtzer…

FRIDAY: Brigadier-General (retired) in the IDF and former member of Knesset, Avigdor Kahalani… Professor at Nanjing University and China's leading professor of Jewish studies, Xu Xin… Rickey Wolosky Palkovitz… Chief investigative correspondent at Yahoo! News, Michael Isikoff… UC Berkeley professor and WSJ columnist, Alison Gopnik… Professor of Jewish studies at the University of Freiburg (Germany), Gabrielle Oberhänsli-Widmer… Distinguished fellow in Jewish studies at Dartmouth College, Shaul Magid… Southern California resident, Roberta Trachten-Zeve… President of GEM Commercial Flooring Company in Overland Park, Kansas, Matthew Elyachar… Pulitzer Prize-winning business reporter and bestselling author, David A. Vise… Former chair of the Broward County, Fla., JCRC, he is the co-founder of The Alliance of Blacks & Jews, Keith Wasserstrom… Actor, screenwriter, producer and director, Daniel Zelman… Senior correspondent for military and intelligence affairs for Yedioth Ahronoth, Ronen Bergman, Ph.D…. CEO and founder of NYC-based Marathon Strategies, Phil Singer… Geographer and writer, Joshua Jelly-Schapiro… Singer and songwriter, Benjamin Lev Kweller… Portfolio manager at One8 Foundation, Alyssa Bogdanow Arens… Pitcher for Team Israel in the 2023 World Baseball Classic, he is now on the roster of the Salt Lake Bees in the Los Angeles Angels organization, Zachary D. "Zack" Weiss… Sales development representative at 2U, Perry Chencin… Catcher on Israel's National Baseball Team at the 2020 Tokyo Olympics, Tal Erel… Israeli artistic gymnast who won a gold medal at the 2020 Tokyo Olympics, Artem Dolgopyat…

SATURDAY: Diplomat and attorney, undersecretary of state for international security affairs in the Carter administration, long-time U.N. special representative, Matthew Nimetz… Winner of the 2001 Nobel Prize in Economics, professor at Georgetown and UC Berkeley, he is married to Treasury Secretary Janet Yellin, George Akerlof… One of the world's best-selling singer-songwriters over the course of seven decades, Barry Manilow, born Barry Alan Pincus… Former member of the Knesset for the Zionist Union party, Eitan Broshi… Former chairman of the Federal Trade Commission, Jon Leibowitz… Deputy administrator of the Federal Highway Administration, Stephanie Pollack… President of the San Francisco Board of Supervisors, Aaron Dan Peskin… Fashion designer, daughter of Reva Schapira, Tory Burch… Active in interfaith peace initiatives between Judaism and Islam and in encounters for Jews with Eastern religions, Rabbi Yakov Meir Nagen (born Genack)… Founder and chairman of Shavei Israel, Michael Freund… British historian, columnist and musician, Dominic Green, Ph.D…. Advocacy, philanthropic and political counsel at Chicago-based Beyond Advisers, David Elliot Horwich… SVP for the economic program at Third Way, Gabe Horwitz… Chief philanthropy officer of the Jewish Community Foundation and Jewish Federation of Broward County, Keith Mark Goldmann… Director of government affairs for the Conservation Lands Foundation, David Eric Feinman… Former rabbi of the Elmora Hills Minyan in Union County, N.J., now an LCSW therapist in private practice, Rabbi Michael Bleicher… NYC-based media and business writer for The Hollywood Reporter, Alexander Weprin… Professional surfer and musician, his family owns Banzai Bagels on the Hawaiian island of Oahu, Makua Rothman… Founder and executive director of the Zioness Movement, Amanda Berman… Associate director at the New Israel Fund, Alexander Willick… Award-winning college football senior writer for The Athletic, Nicole Auerbach… Member of the U.S. Ski Team's alpine program, Jared Goldberg… Senior art director at Insider, Rebecca Zisser… Shortstop for Team Israel at the 2020 Olympics, Scott Burcham… Actress best known for her roles in the CBS series "Fam" and the Netflix series "Grand Army," Odessa Zion Segall Adlon… D.C.-based freelance foreign media consultant, Mounira Al Hmoud…

SUNDAY: Chicago-based attorney and former alderman on the Chicago City Council, Solomon Gutstein… Former Washington Post editor and reporter, Fred Barbash… IT management advisor at Next Stage, Steven Shlomo Nezer… Croatian entrepreneur, he was previously the minister of economy, labour and entrepreneurship in the Croatian government, Davor Stern… Rabbi at Or Hamidbar in Palm Springs, Calif, Rabbi David James Lazar… Rebecca Diamond… Best-selling author and journalist, Joanne Lipman… Retired professor of English at Southwestern University in Georgetown, Texas, Helene Meyers… Executive of the William Pears Group, Sir Trevor Steven Pears… Vice chairman and president of global client services at BDT & MSD Partners, Dina Powell McCormick=… Former assistant to President Donald Trump, he is a principal of the Baltimore-based Cordish Companies real estate and gaming empire, Reed Saunders Cordish… Film director and screenwriter, Jonathan A. Levine… Television producer and writer, Jeremy Bronson… Talent manager and music business mogul, Scott Samuel "Scooter" Braun… Baseball pitcher for Team Israel at the 2020 Summer Olympics, he is also an analytics staffer and scout for the Pittsburgh Pirates, Jeremy Bleich… Associate at Gibson, Dunn & Crutcher, Esther Lifshitz… Investor at Silver Point Capital, Jacob E. Best… Rachel Hazan…