Your Daily Phil: Jewish organizations on alert after Buffalo shooting + UpStart's new strategic plan
Good Monday morning!
Jewish organizations are calling for action after a far-right gunman killed 10 people in a Buffalo, N.Y., supermarket on Saturday. The attacker targeted Black Americans and, in a manifesto he allegedly posted before the attack, railed against Jews.
The manifesto promotes a white supremacist conspiracy theory known as the "great replacement," which claims that Jews are orchestrating non-white immigration to the U.S. to replace the country's white population. The theory has inspired past antisemitic attacks and the assailant, 18, wrote that he was inspired by previous mass shootings — including the 2019 attacks on mosques in Christchurch, New Zealand, and on a synagogue in Halle, Germany.
Jewish organizations should be on guard for potential "copycat attacks" inspired by the shooting, recommended the Secure Community Network (SCN), which coordinates security for Jewish institutions. "A primary security concern is for the proliferation of [the shooter's] manifesto, video stream, and the details of his attack to spread among violent extremist networks and inspire additional attacks," read a report released by SCN on Saturday.
"We recognize that this individual's hate and act of violence, while specifically directed at the Black community, was an attack on all of us – and could have easily been an attack directed at the Jewish community," SCN CEO Michael Masters told eJewishPhilanthropy. The shooter's ideology, he added, "not only blames Jews but actively encourages violence against us."
Following the attack, the Anti-Defamation League (ADL) and a coalition of groups representing other communities called for President Joe Biden to convene a summit on right-wing extremism and develop a plan to combat hate crimes. "We cannot fight hatred, violence, and white supremacy alone," read a statement by the groups. "Fighting this threat requires government, civil society, industry – the entire nation – to act."
The ADL also called for more regulation of online hate speech, for Jewish security groups to strengthen their partnerships and for a boost in the Nonprofit Security Grant Program, which funds protection for houses of worship, to $360 million, something Jewish groups have been requesting for months.
"It's about pushing these ideas to the margins of society," Alexander Rosemberg, the ADL's deputy regional director of New York and New Jersey, told eJP. "Conspiracy theories and fringe ideas should be kept on the fringes."
Other local and national Jewish groups expressed their sympathies to the victims. "We are stunned by this horrific loss of life," read a statement from the Buffalo Jewish Federation, which represents the area's roughly 12,000 Jews. "We stand with our friends in Buffalo's Black community. Violence and hate has no home in our city and we express our love and solidarity."
"Leaders, boards, and funders recognize more than ever that leaders need training, coaching, and peer support to succeed," Cooks said. "The willingness to admit vulnerability and address those needs is a real sign of strength, humility, and openness to learning and change."
COME TOGETHER
Collaboratory conference announces grants to push partnership and inclusion
For years, Jewish social entrepreneurs have come together at The Collaboratory, a conference meant to help them forge connections and develop their ideas and organizations. This year, the conference announced an incentive to help participants collaborate: grants of up to $10,000 for partnerships between present or past conference attendees, or with members of other Jewish professional networks. The grant program, Grow the Good Together, aims to advance diversity, equity and inclusion, among other goals, reports eJewishPhilanthropy's Esther D. Kustanowitz.
Gathering online and off: Encouraging connection and partnership is always a motif of The Collaboratory, which this year was a half-day gathering held virtually last Wednesday for 250 Jewish professionals and activists. Sessions covered subjects ranging from designing better fundraising models to creating healthy workplaces. The keynote address was by Toby Herzlich, founder of Biomimicry as Social Innovation, a group that explores how systems from the natural world hold lessons about the way organizations should work.
Building the network: Some of the attendees later gathered in person in small groups in more than a dozen cities across the country and globe, making local connections in addition to virtual ones. "After spending two years isolated in our boxes in Zoom rooms, it was great to have an experience that balanced access virtually to a national conversation… and have a one-on-one conversation face to face," said Yechiel Hoffman, an L.A.-based nonprofit consultant who has attended many Collaboratory gatherings. "The experience is also about growing, to start planting seeds that turn into new opportunities and new relationships."
NEW CHALLENGES
How UpStart is centering social entrepreneurship in our new strategic plan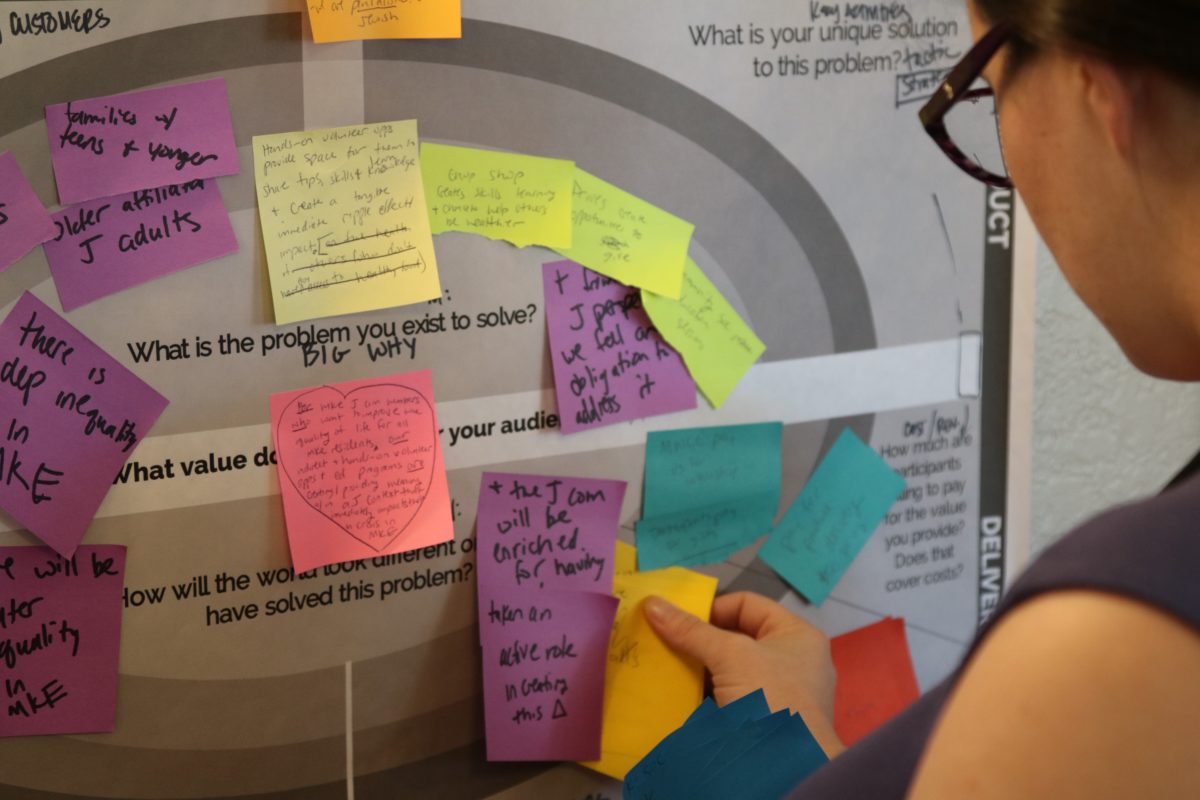 "As a social entrepreneur support organization, how will we better define and measure our success and our direct and indirect impact? How can we inspire and incubate more social enterprises and/or nonprofits with more promising and robust earned revenue streams? How will we build diversity, equity, inclusion and justice into our strategy, metrics, culture and operations as we grow?" asks Aaron Katler, CEO of UpStart, in an opinion piece for eJewishPhilanthropy.
Planning process: "These were just some of the questions we asked ourselves as we launched a new strategic planning process nearly a year ago. As our previous strategic plan came to a close, UpStart's future was becoming clearer than ever before. At its heart, UpStart is a learning organization, and we always find it clarifying to reflect on the past to see how far we've come and how far we're poised to go."
Need to evolve: "More than five years ago, four organizations merged to create a one-stop shop to support the needs of the organizations and individuals driving Jewish social innovation and engagement… But as the merger itself moved further in the rear-view mirror — and the field of 'Jewish entrepreneurship' continued to evolve — we recognized a need to evolve as well. UpStart needed to align and clarify the strategies that would allow us to stay agile and have the most impact. In short, we needed a new plan forward."
Worthy Reads
Campus Conundrum: Increasingly, Jewish students are feeling ostracized or threatened for their presumed support for the State of Israel, Mike Damiano writes in The Boston Globe: "'What we're seeing on campuses across the country,' said Jonathan Greenblatt, the CEO of the ADL, 'is a kind of virulent anti-Zionism that purports to be about Palestinian rights, but in reality results in the marginalization and the demonization of all Jewish students.' The issue is thorny. It pits free speech rights against the value of fostering campus climates that offer welcome to all. It prompts harsh scrutiny of the actions of some young activists genuinely worried about Palestinians' plight. And it asks a lot of Jewish students, who feel pressured to endure what feels like antisemitism but may in fact be sincere, if sometimes overzealous and confrontational, criticism of a powerful state — Israel." [BostonGlobe]

The Energy of Money: Homelessness in cities like Los Angeles could be greatly alleviated by creating a financial ecosystem that draws in private capital, starting with the endowments of America's charitable foundations, writes Daniel Heimpel in Stanford Social Innovation Review. "Los Angeles' charitable foundations hold at least $100 billion in their endowments. One-tenth of that sum could move 48,500 unhoused Angelinos into interim and permanent supportive housing, effectively ending street homelessness in the county. And that is without the banks, private equity firms, and hedge funds. More than eradicating homelessness in Los Angeles, the commingling of deconstrained government funding and philanthropic investments will clear the path for a new flow of institutional capital. One where the energy of money is changed, moving from extraction to regeneration." [StanfordSocialInnovationReview]
Community Comms
Be featured: Email us to inform the eJP readership of your upcoming event, job opening, or other communication.
Word on the Street
Israel's first mental health expo will be held in Jerusalem today. The event is tailored to the needs of Anglophone immigrants and its programming is being held in English. Some 1,000 people have registered to attend…
The U.K. Charity Commission has appointed an interim manager for the Genesis Philanthropy Group as part of its statutory inquiry into the organization…
Rabbi Ethan Linden was placed on administrative leave as the director of Camp Ramah in the Berkshires after a lawsuit was filed alleging that he mishandled a camper's sexual assault allegation in 2018. Amy Skopp Cooper, the director of the National Ramah Commission, will step in as the camp's director for this coming summer…
New research released by the Indiana University Lilly Family School of Philanthropy found that donors in the U.K. reported that 60% of their gifts in the past year had been made online. The online donations were most commonly made through a third-party app. The research also found that 25% of those surveyed donated via crowdfunding initiatives…
The recent leak of the U.S. Supreme Court's draft opinion that would overturn Roe v. Wade has spurred giving to nonprofits on both sides of the abortion debate — but the impact appears to be greater for organizations that help people access abortion care…
The Ralph Lauren Corporate Foundation announced that it will provide $25 million in new grant funding to expand or establish five Ralph Lauren cancer centers…
Israeli peace negotiator Uri Savir, who helmed the Israeli delegation during meetings with Palestinians that led to the Oslo Accords, died at 69…
Philanthropist and family "matriarch" Shelby Modell died at 98…
Pic of the Day
Ukraine's Kalush Orchestra won the annual Eurovision Song Contest Saturday night in Turin, Italy, with a symbolic show of public support following the country's invasion by Russia. The orchestra beat out 24 competitors in the finale of the world's largest live music event with "Stefania," a rap lullaby combining Ukrainian folk with modern rhythms from an energetic, break dancing band.
Birthdays
Actress, television personality and author, Victoria Davey (Tori) Spelling…

Retired judge of the circuit court for Baltimore City, she has served as president and chair of The American Jewish Joint Distribution Committee, Ellen Moses Heller… Former special assistant to VPOTUS Walter Mondale and later assistant secretary of state for inter-American affairs, Bernard W. Aronson… Longest serving member of the New York State Assembly, he was a high school classmate of Rep. Jerrold Nadler, Richard N. Gottfried… Former chairman of NBC News and MSNBC, Andrew Lack… Member of the House of Representatives since 2013, Lois Frankel (D-FL-21)… Harvard history professor, Emma Georgina Rothschild … Rochester, N.Y., resident and advisor to NYC-based Ezras Nashim volunteer ambulance service, Michael E. Pollock… Real estate developer Charles Kushner… Proto-punk singer-songwriter and guitarist, Jonathan Richman… Managing partner at Accretive LLC, Edgar Bronfman Jr…. Film and stage actress, Debra Winger… President of Tribe Media, publisher and editor of Jewish Journal, David Suissa… Real estate mogul and collector of modern and contemporary art, Aby J. Rosen… Executive assistant at Los Angeles-based FaceCake Marketing Technologies, Esther Bushey… Co-founder of nonprofit Jumpstart, Jonathan Shawn Landres… Host of programs on the Travel Channel and the History Channel, Adam Richman… VP and associate general counsel at CNN, Drew Shenkman… Managing director at FTI Consulting, Jeff Bechdel… Chef and food blogger, her husband Ryan played baseball for Team Israel, Jamie Neistat Lavarnway… Harriet L. Caplan…

Email Editor@eJewishPhilanthropy.com to have your birthday included.