Your Daily Phil: Jewish leaders push U.N. to adopt IHRA definition of antisemitism
Good Thursday morning!
In today's edition of Your Daily Phil, we report on a new proposal for increased federal funding for the Nonprofit Security Grant Program. Also in this newsletter: Alfred Moses, Elizabeth Cullen and President Joe Biden. We'll start with a letter about antisemitism that top American and global Jewish leaders sent to the United Nations.
A coalition of major American and global Jewish organizations wrote to United Nations leaders on Wednesday urging them to include an endorsement of the International Holocaust Remembrance Alliance's working definition of antisemitism in the U.N.'s forthcoming action plan monitoring and responding to antisemitism. The letter was exclusively obtained by Marc Rod from eJewishPhilanthropy's sister publication Jewish Insider.
The letter, signed by 176 global Jewish groups and 120 academics from the U.S. and elsewhere, was organized by the American Jewish Committee, Anti-Defamation League, B'nai B'rith International, Conference of Presidents of Major American Jewish Organizations, European Jewish Congress, Jewish Federations of North America and World Jewish Congress.
"Any UN Action Plan must acknowledge the importance of the IHRA Working Definition to the vast majority of Jewish individuals, organizations, and communities who are the primary targets of antisemitic hatred, discrimination, and violence; are the Action Plan's primary intended beneficiaries; and are best placed to identify manifestations of hatred and bias directed against us," the letter reads.
The letter acknowledges that the IHRA definition's examples, particularly those related to criticism of Israel, have prompted concerns from "some civil society organizations," but argue that the inclusion of such examples "is precisely what makes this tool uniquely valuable for understanding and monitoring modern day antisemitism." They also note that the IHRA definition "explicitly affirms that criticism of Israel per se is not antisemitic" and that governments that use it "have found it entirely possible to sharply criticize Israeli policies and practices."
The letter's arguments in favor of IHRA and against other definitions of antisemitism come amid similar wrangling within the U.S. over whether to include or endorse the IHRA definition in the Biden administration's antisemitism plan. Several of the organizers and signatories to the U.N. letter have provided input to the White House on its antisemitism strategy.
Read the full story here and sign up for Jewish Insider's Daily Kickoff here.
Funding goals
House Appropriations Republicans propose an additional $10 million for nonprofit security
Republicans on the House Appropriations Committee's Homeland Security Subcommittee proposed a $10 million increase in funding for the Nonprofit Security Grant Program for 2024, falling short of the increase that many supporters had hoped to see. The proposed increase, to $315 million, comes despite deep budget cut proposals across many other areas of the Department of Homeland Security. But it comes up short of the $360 million level that has been a goal of many Jewish community leaders, a large bipartisan group of lawmakers supporting the program and the Biden administration. House Appropriations Democrats had also proposed $360 million for the program last year when they controlled the chamber, reports Marc Rod for eJewishPhilanthropy's sister publication Jewish Insider.
Starting point: Jewish community leaders expressed gratitude for the proposed increase, but said they intend to continue pushing for additional funding as the appropriations process proceeds. Rabbi Abba Cohen, vice president for government affairs at Agudath Israel of America, told Jewish Insider that Agudah is "pleased that the House continues to see fit to support and increase funding for this vital program. But, as this is a starting point in a process, we will continue to advocate for higher funding levels that will better meet the number and need of at-risk nonprofits in the community."
Worrying cuts: Anti-Defamation League CEO Jonathan Greenblatt said he was "encouraged" by the proposed funding increase, and said that ADL will "keep working to ensure [that] funding reaches at least $360 million, which would more adequately address the threats facing nonprofits." ADL has recently supported $500 million for the program. However, Greenblatt expressed concern about some of the other provisions in the bill draft, which include cutting funding to counter-misinformation programs; diversity, equity and inclusion efforts within DHS; and efforts to support underserved communities, as well as forbidding the department from partnering with nonprofits that urge private companies to moderate content.
Worthy Reads
Becoming a Jewish Mother: In The Conversation, Brandeis University professor Lisa Fishbayn Joffe reflects on how Jews have historically and currently marked a woman's transition to motherhood after the birth of a child. "Reading the Torah, there is no doubt about motherhood's important role in Jewish literature and life… For centuries, ritual practices have celebrated the birth of children. Yet they have not always given new mothers an opportunity to celebrate on their own terms or share their own feelings. As a scholar of Judaism and gender, though, I have seen how this is changing, as Jewish women reinvent meaningful traditions or develop new ones… According to historian Elisheva Baumgarten, medieval Jewish women in northern and eastern Europe observed a monthlong period of lying-in after the birth, where they were cared for at home by friends… If she had borne a boy, she might craft an embroidered wimpel – a band used to bind a Torah scroll closed when it is not being read – made from a strip of the cloth used to swaddle her son during his circumcision ceremony, often called a bris or brit milah… More recently, new rituals have been created to allow a woman to reflect upon the impact that becoming a mother has on her life." [TheConversation]
Tel Aviv's Favorite Bloated Beachgoer: Deborah Danan profiles Yulia, a 20-year-old monk seal who has quickly become a celebrity in Israel, for the Jewish Telegraphic Agency. "For much of the past week, Israel's latest unlikely celebrity lounged on the Jaffa beach, drawing throngs of onlookers, constant media attention and round-the-clock protection from the government as she sunbathed and slept the day away. Then early on Tuesday afternoon, the unwitting star named Yulia — a rare 6-foot species of seal weighing hundreds of pounds who has traveled the eastern Mediterranean — waded into the water and swam away. She left no sign of whether she would ever return… ??'I very much want her to come back,' said Arnon Pinchuk, 14, who came with some of his classmates to see Yulia on Wednesday morning, only to learn that she had left. Pinchuk was one of only 18 students from the Kehila Democratic School in Jaffa to take the trip. Asked why the rest of his 103-student class did not come along for the adventure, Pinchuk answered, 'Because they're losers who prefer being on their phones.'" [JTA]
Around the Web
Former U.S. Ambassador to Romania Alfred Moses purchased the Codex Sassoon, a more than 1,100-year-old, nearly complete copy of the Bible, for Tel Aviv's ANU Museum for $38.1 million ($33.5 for the book, the rest in fees and premiums) at Sotheby's auction house in New York yesterday. It is one of the most expensive books ever purchased…
Hadassah announced that Elizabeth Cullen will become its next government relations director, beginning next month…
Israel today marks Jerusalem Day, celebrating the capital coming into Israeli hands in the 1967 Six-Day War. Israeli security forces are on alert ahead of the so-called "flag march" through the Old City's Muslim Quarter, which in the past has seen violence…
Twenty-five New York state lawmakers published an open letter criticizing a bill put forward by progressive members of the state assembly last week that would prohibit nonprofits from supporting Israeli settlements…
President Joe Biden appointed American Jewish Committee CEO Ted Deutch to serve on the United States Holocaust Memorial Council…
Deborah Lipstadt, the U.S. State Department's special envoy on antisemitism, denounced Palestinian Authority President Mahmoud Abbas for comparing Israel to Nazi propagandist Joseph Goebbels, calling it "an affront to Holocaust victims and survivors"…
The U.S. Department of Agriculture held an event last night celebrating Jewish farmers as part of Jewish American Heritage Month…
President Biden also made a rare appearance at an Israel Policy Forum gala, sending a video message praising the organization's outgoing board chair Susie Gelman…
Pic of the Day
Ethiopian-Israeli kesim (religious leaders) take part in today's national memorial ceremony for Ethiopian Jews who died en route to Israel. The ceremony is normally held on the 28th day of the Hebrew month of Iyar, but because that falls on a Friday this year, it was held a day early. At the ceremony, Prime Minister Benjamin Netanyahu said the country would continue working to secure the release of Avera Mengistu, an Ethiopian-Israeli man who has been held captive by Hamas since 2015.
Birthdays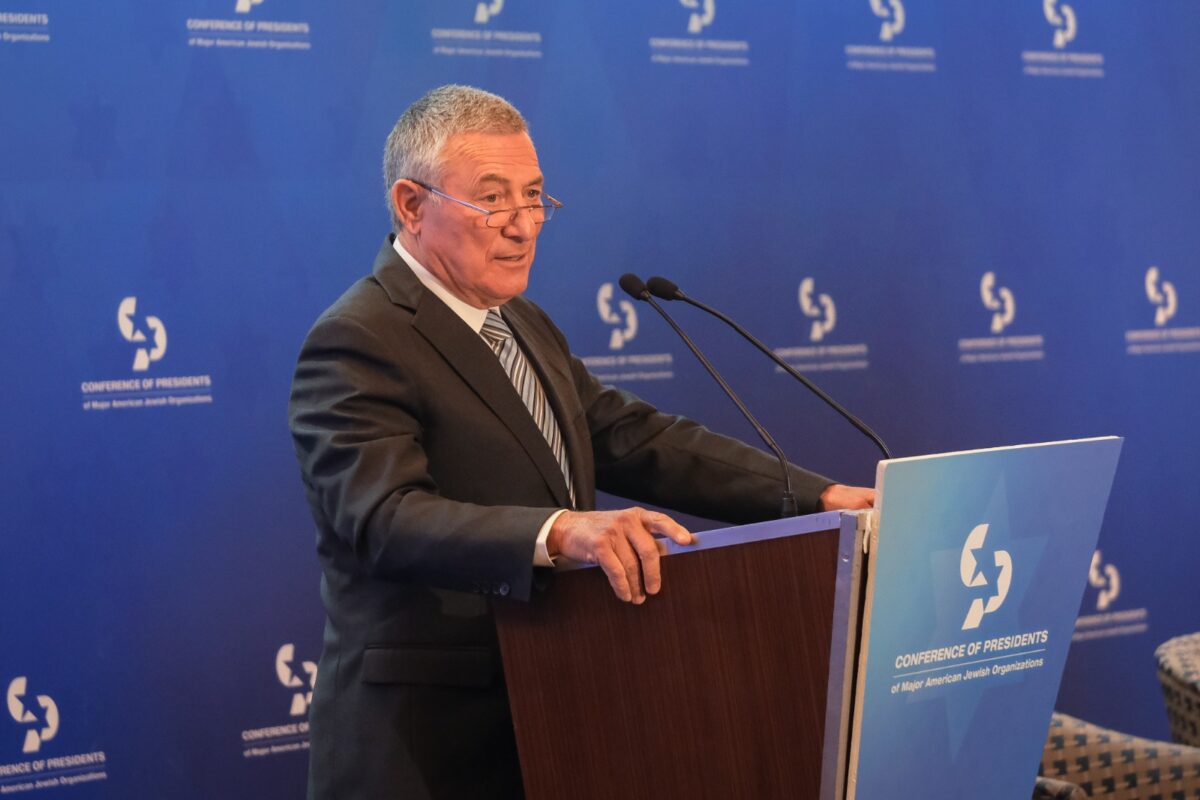 Chair of the executive of the Jewish Agency for Israel, a former IDF major general and leading activist for the disability community, Doron Almog…
Leader and Rebbe of the Hasidic dynasty of Ger since 1996, Rabbi Yaakov Aryeh Alter… Chairman and co-founder of K2 Intelligence and Kroll Bond Rating Agency, Jules B. Kroll… Best-selling author of spy thriller novels, Andrew Gary Kaplan… Retired New York Times columnist and editorial writer, he was the NYT's Jerusalem correspondent for four years in the early 1990s, Clyde Haberman… President of Everest Management, Gary Kopff… Managing partner for Volt Energy and former Senate Watergate Committee counsel, K. Barry Schochet… Los Angeles-based attorney, board member of American Friends of Nishmat, Linda Goldenberg Mayman… Writer for SpyTalk, Jonathan Broder… Member of the Maryland House of Delegates since 1983, Samuel I. "Sandy" Rosenberg… Senior advisor at Moelis & Company, previously a major general in the IDF, later CEO of Teva Pharmaceutical Industries, Shlomo Yanai… Director of nutrition and hospitality at Philadelphia's Temple University Hospital, Nancy Baumann… Attorney in Atlanta, Alan Kitey… Film producer, Jonathan Glickman… Venture capitalist, co-founder of Aleph and author of a book on business principles derived from the Book of Genesis, Michael A. Eisenberg… Former CEO at Waze, Noam Bardin… VP for communications strategy at Strategic Marketing Innovations, Bryan Bender… Head of development at NYC charter school system, Uncommon Schools, Sarah Danzig… Author of Substack-based newsletter "Slow Boring," Matthew Yglesias… Director of a team of researchers at Gartner in London, Eliza Krigman… Staffer for the Senate Armed Services Committee, Eric Trager… Foreign correspondent for NBC News, Joshua Lederman… Former acting undersecretary of defense for intelligence and security, now an adjunct fellow at the Hudson Institute, Ezra Asa Cohen… Tech entrepreneur in the Web 3 and gaming space, Dan Garon… Co-founder of Rebel acquired by Salesforce, Joe Teplow… Associate in the D.C., office of Orrick Herrington & Sutcliffe, Lauren DePinto Bomberger… Executive producer of the "Net Zero Life Podcast," Netanel (Tani) Levitt… Director of communications at Anduril Industries, Sofia Rose Gross… Five-time member of the U.S. Women's National Gymnastics Team, now a technical program manager for Apple, Samantha "Sami" Shapiro… Chief development officer at TAMID Group, Rachel Philipson…