Your Daily Phil: Jerusalem Cinematheque goes online + JFN embraces impact investing
Good Friday morning!
The Jewish Funders Network (JFN), known for offering its members classes and resources about philanthropic practices and issue areas, is offering an eight-week class about impact investing with New York University (NYU), its first-ever course in partnership with a university, JFN CEO Andres Spokoiny told eJewishPhilanthropy.
"The field of impact investing has grown enormously in the last few years, and this is another milestone in our community benefiting from this emerging practice," Spokoiny said.
An introduction to investing in ventures that pursue both profit and social goals, the course will also serve as a professional credential. It was designed by Michael Lustig, a philanthropist and proponent of the practice who is a professor of finance at NYU's Stern School of Business.
JFN board members Vanessa Bartram and Douglas Bitonti Stewart have also helped encourage a conversation about impact investing among JFN's members, who give a minimum of $25,000 a year in the name of Jewish values. JFN hopes the course will inspire more foundations to consider impact investing, Spokoiny said.
LIFE IMITATES ART
The Jerusalem Cinematheque is putting Israeli movies and newsreels online
The 1928 Purim parade in Tel Aviv. The Zionist Congress of 1937. David Ben-Gurion declaring the State of Israel in 1948. Video from all three moments, in addition to countless others, are now available for viewing on an English-language website, thanks to a $10 million effort through the Jerusalem Cinematheque led by philanthropic Israeli families and supported by government funds. "The platform is a public treasure," Dafna Jaglom explained to eJewishPhilanthropy's Helen Chernikoff on behalf of her family's Diamond Charity Foundation.
Heavy machinery: Jaglom, herself a filmmaker who studied at New York University, served as an advisor on the digitization process and the creation of the website. The Jaglom family contributed $1 million toward the project to purchase two digitization machines, for images and audio. The website, whose Hebrew-language counterpart went live in 2020, offers both the movies Israelis have made, and the country's history as captured on the medium going back to 1896. The Cinematheque, an arthouse theater and cultural center that also houses the Israel Film Archive, has been digitizing its holdings since 2015.
Private and public funding: Other supporters include the Beracha Foundation and the Matanel Foundation, in addition to Israel's National Lottery, the Jerusalem Development Authority, the Ministry of Culture and Sport and the Ministry of Jerusalem and Heritage, said Jonathan Wolf, an archive spokesman. The website offers access to a selection of Israeli feature and documentary films, in addition to every newsreel produced in Israel from 1927 to 1972 and home movies made both by Israelis and tourists. It includes films produced or collected by the state and cultural institutions like Yad Vashem. Users can search for 8,000 terms, including keyword or phrase, year, landmark and location, and the names of 4,000 public figures to explore the materials.
New tools
Time to shine a light on antisemitism
"For today's children and adolescents, coming of age against an unprecedented backdrop of polarization, not to mention the COVID-19 pandemic and its impacts on every facet of society, is shaping new ways of connecting, identifying and answering the foundational questions of identity. To be an American Jewish child in 2021 is to live in a world of dichotomies," writes Samantha Vinokor-Meinrath, senior director of knowledge, ideas and learning at The Jewish Education Project, in an opinion piece for eJewish Philanthropy.
Balancing act: "As Jewish educators and communal professionals, we find ourselves navigating a balancing act of nurturing Jewish joy and self-confidence in the face of the external forces of antisemitism. At the same time, we also want to meaningfully support and empower students and families who are facing the realities of hatred, fear and discomfort. While emphasizing the beauty, complexity and joy of Judaism, we cannot turn away from the darkness that too many of our families face, or will face in an ever-changing world. As we come to the Hanukkah season, a time when we're taught to place the lights of the chanukiyah in our windows to literally publicize the miracle of the holiday, and our Judaism, we need to find a way to inspire our learners and communities in ways that spark Jewish joy."
Shine a light: "Together with our partners, The Jewish Education Project is proud to announce the 'Shine a Light on Antisemitism' campaign. 'Shine a Light' seeks to forge a path to the intersection of Jewish joy and awareness of the challenge of antisemitism that we as a community face. From Thanksgiving through the end of Hanukkah, each day there will be opportunities for educators, families and allies to explore how we can shine a light on antisemitism, as well as light up our Jewish joy through learning, social media contests and reflection."
Worthy Reads
Great Questions: In The New York Times, Ross Douthat examines the notion that instead of creating a new university, as the founders of the University of Austin announced this week, they should instead reform existing institutions due to the prohibitive costs of starting from scratch. Douthat dismisses that objection as a failure more of will than of resources, given the immensity of internet fortunes and the amount of philanthropy that higher education receives, and it puzzles him. "Universities are the great power centers of science and industry and culture in our time, they're generally agreed to be in serious need of reinvention and reform, and it's a little peculiar that you don't see the new superrich trying to put their stamp on the meritocracy — that we don't yet have the Gates University or the Bezos Collegium," Douthat reflects. [NYT]
Higher Profile: In its "IP Funder Spotlight" series, Inside Philanthropy profiles the Bay Area-based Koret Foundation, which focuses on education and arts and culture in its home region, and on the Jewish community, especially in the area of peoplehood and connections between American Jews and Israel. Last June, the foundation announced more than $50 million in grants designed to increase access to higher education in the Bay Area, and it also gave $2 million in new grants to help local organizations rebuild, post-pandemic. "Now, it's critical that we support our long-term grantees through the pandemic and beyond, to ensure that they're not just able to survive, but to thrive, and to continue enriching our community for generations to come," said Michael Boskin, Koret's president. [InsidePhilanthropy]
Community Comms
Be featured: Email us to inform the eJP readership of your upcoming event, job opening, or other communication.
Word on the Street
Maire Clapham, a teacher at Sir Manasseh Meyer International School, Singapore's leading Jewish school, is the recipient of World ORT's Teacher of the Year award… A report from the National Philanthropic Trust finds grant dollars awarded through donor-advised funds in 2020 increased 27 percent on a year-over-year basis, to $34.67 billion… Separately, a special report published by Giving USA, researched and written by Indiana University's Lilly Family School of Philanthropy, looks at $74 billion in grants given to 240,000 nonprofits by 87 donor-advised fund (DAF) sponsors for 2014-2018, and provides insights on what types of organizations benefited most from DAFs in the past few years… The Azrieli Foundation is providing a $50 million lead gift to the Weizmann Institute of Science in support of constructing an institute dedicated to neuroscience research to be located at the Weizmann Institute campus in Rehovot… U.S. food banks are finding themselves challenged by surging food prices and supply chain issues…
Pic of the Day
Preschool students at Ben Porat Yosef, a day school in Paramus, N.J., explore fall leaves collected on a nature walk.
Birthdays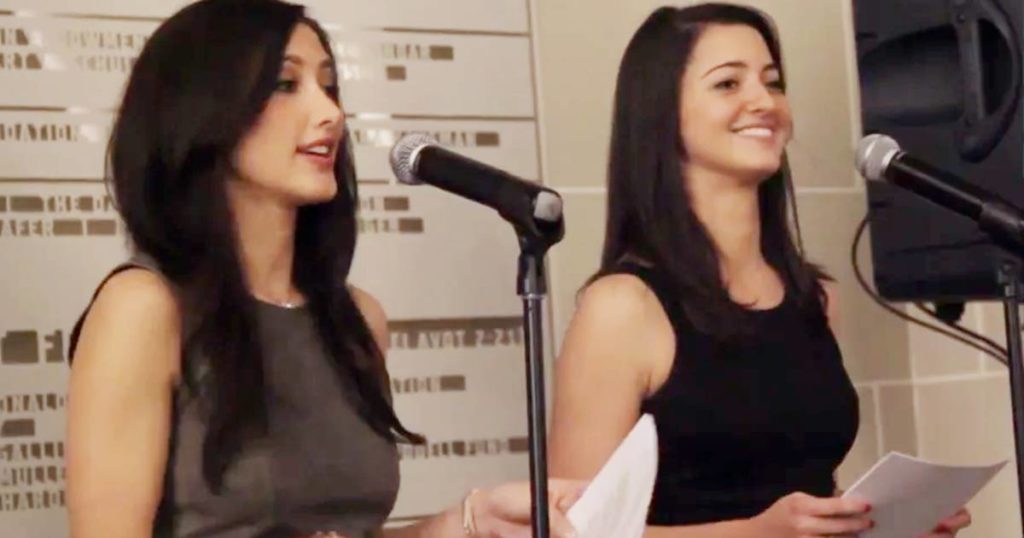 Founder of White Light Strategies, Lana Volftsun Fern (right) celebrates her birthday on Sunday…
FRIDAY: Professor of history at Columbia University, Carol Gluck… Author and senior fellow at USC's Annenberg School, Morley Winograd… Accountant in Phoenix, Steven M. Scheiner… Board member of the New York State Thruway Authority and former state senator, he is a descendant of Rabbi Shmuel Salant, the former Ashkenazic chief rabbi of Jerusalem, Stephen M. Saland… Sportscaster for NBC, Al Michaels… U.S. senator (D-RI), Jack Reed… Attorney in Brooklyn, Bernard C. Wachsman… Member of the New York State Assembly since 2006, Linda B. Rosenthal… Author of young-adult fiction and winner of the National Book Award for Challenger Deep, Neal Shusterman… Author, journalist and former advisor to Al Gore and Bill Clinton, Naomi Rebekah Wolf… University of Chicago professor, he won the Nobel Prize in Economics in 2019, Michael Kremer… Mayor of Oakland, Calif., since 2015, Elizabeth Beckman "Libby" Schaaf… Rabbi of the Dohány Street Synagogue in Budapest, Róbert Frölich… COVID-19 response coordinator in the Biden administration, Jeffrey Zients… British journalist and political correspondent for BBC News, Joanne "Jo" Coburn… SVP and general manager of MLB's Minnesota Twins, Thad Levine… Former member of the Knesset for the Yisrael Beiteinu party, Robert Ilatov… Restaurant critic and food writer for TheBoston Globe, Devra First… Israeli fashion model and actress, Nina Brosh… Former member of the Knesset for the United Torah Judaism party, Eliyahu Hasid… Actress and director, Jordana Ariel Spiro… Actress best known for her roles on "The Young and the Restless" and "The Bold and the Beautiful," Kelly Kruger… Visiting assistant professor of Jewish studies at Oberlin College, Matthew D. Berkman… Engagement strategy manager for the mayor of Detroit's Office of Workforce Development, Spencer F. Lucker… New Jersey-based primary care physician and internet celebrity known as "Doctor Mike," Mikhail Varshavski… Activist and student at Cardozo Law School, Adela Cojab… Founder of Before[dot]dev, a job platform with the mission to end bias in the hiring process, Dave Weinberg… Campus support director at Hillel International, Aviva Zucker Snyder…

SATURDAY: Israeli industrialist Gad Zeevi… Philosopher and professor at CUNY, Saul Kripke… Chief rabbi of Rome, Rabbi Shmuel Riccardo Di Segni… Publisher of the "Political Junkie" blog and podcast, Kenneth Rudin… U.S. attorney general, Merrick Garland… Israeli businessman Nochi Dankner… Former editor-in-chief of British Vogue and a strategic advisor to Atterley, Alexandra Shulman… U.S. senator (R-AK), Dan Sullivan… San Jose, Calif., resident, Katherine Palkin… Somali-born activist who has served in the Dutch parliament, she is a research fellow at the Hoover Institution, Ayaan Hirsi Ali… Former Israeli government minister for the Shas party, Ariel Atias… Founder of Pailet Financial Services, a predecessor agency of what is now the Dallas office of Marsh & McLennan, Kevin Pailet… President and CEO at the Consumer Brands Association, Geoffrey Freeman… Member of the Knesset for the Yesh Atid party, Meirav Ben-Ari… Television journalist, Jeff Rossen… President of baseball operations for MLB's Los Angeles Dodgers, Andrew Friedman… Israeli rapper and record producer, known by his stage name "Subliminal," Yaakov "Kobi" Shimoni… Judoka who won three national titles (2000, 2002 and 2004) and competed for the U.S. at the Athens Olympics in 2004, Charlee Minkin… Senior director of policy and communications at Christians United For Israel, Ari Morgenstern… Political communications consultant, Jared Goldberg-Leopold… PR and communications consultant, Mark Botnick… Michael Schwab… Staff attorney for the ACLU's voting rights project, Jonathan Topaz… Former relief pitcher in the Colorado Rockies organization, he pitched for Team Israel at the 2017 World Baseball Classic, now an EMT in Los Angeles, Troy Neiman… Sales development representative at YieldX, Cole Deutch… Vice president for workforce, leadership and faith programs at RespectAbility, Matan A. Koch… Managing director of the Jewish Education Innovation Challenge, Sharon Freundel…

SUNDAY: Cellist and professor at Moscow Conservatory, Natalia Gutman… Former professional bodybuilder who played for two seasons with the New York Jets, Mike Katz… Los Angeles businessman, community leader and political activist, Stanley Treitel… Retired member of the UK's House of Lords, Baron Jeremy Beecham… Former British Labour Pparty member of Parliament who resigned in 2019 in protest of Jeremy Corbyn, Dame Louise Joyce Ellman… Editor-at-large for Bloomberg View, Jonathan I. Landman… Democratic member of the New York State Assembly since 2001, Steven H. Cymbrowitz… Former U.S. secretary of state, now on the faculty of Stanford University and the director of the Hoover Institution, Condoleezza Rice… President of the Obama Foundation, Valerie Jarrett… Detroit-based communications consultant, Cynthia Shaw… President of Middlebury College in Vermont, Laurie L. Patton… Partner at the Santa Monica-based law firm of Murphy Rosen, Edward A. Klein… Senior fellow at the Brookings Institution and professor of political science at George Washington University, Sarah A. Binder… Vice chairman of The Atlantic and managing director of media at Emerson Collective, Peter T. Lattman… and his twin brother, Brian Lattman… Member of the Colorado House of Representatives, Dafna Michaelson Jenet… Former deputy national security advisor in the Obama administration, Ben Rhodes… Head of public policy for North America at Airbnb, Joshua Meltzer… Chief of staff for the chair at Albright Stonebridge Group, Jacob Freedman…

Email Editor@eJewishPhilanthropy.com to have your birthday included.