Your Daily Phil: Jerusalem Biennale features Israeli-Emirati art + NYT cites eJP
Good Friday morning!
The New York Times spotlights Stuart Weitzman's recent eight-figure donation to Philadelphia's National Museum of American Jewish History and cites an oped that ran in eJP. "The museum is responding by changing its name to the Weitzman National Museum of American Jewish History. It will make the new name official on Monday, the last day of Hanukkah, although Misha Galperin, the museum's chief executive, shared the news early in a post on the eJewish Philanthropy website."
An estimated $2.7 billion was raised in the United States during the 10th annual Giving Tuesday event, a 9% increase from 2020. Organizers estimate that volunteering and donations of goods on GivingTuesday also increased by 11% and 8%, respectively.
Passages, a provider of Israel tours to Christian college students, had planned to bring about 400 participants to Israel at the end of December and the beginning of January, but might not be able to do so due to Israel's efforts to minimize its exposure to the latest coronavirus variant by closing its borders to non-citizens, Serene Hudson, the group's director of education and Israel operations, told eJewishPhilanthropy.
"We support Israel's efforts to keep all its citizens safe from this new virus strain," Hudson said, noting that the uncertainty resulting from the closure creates financial risk for travel companies, including increased travel costs and participant attrition. Passages brought 400 students to Israel over the summer.
WRITING IN
Peace is being written in new Israeli-Emirati art exhibit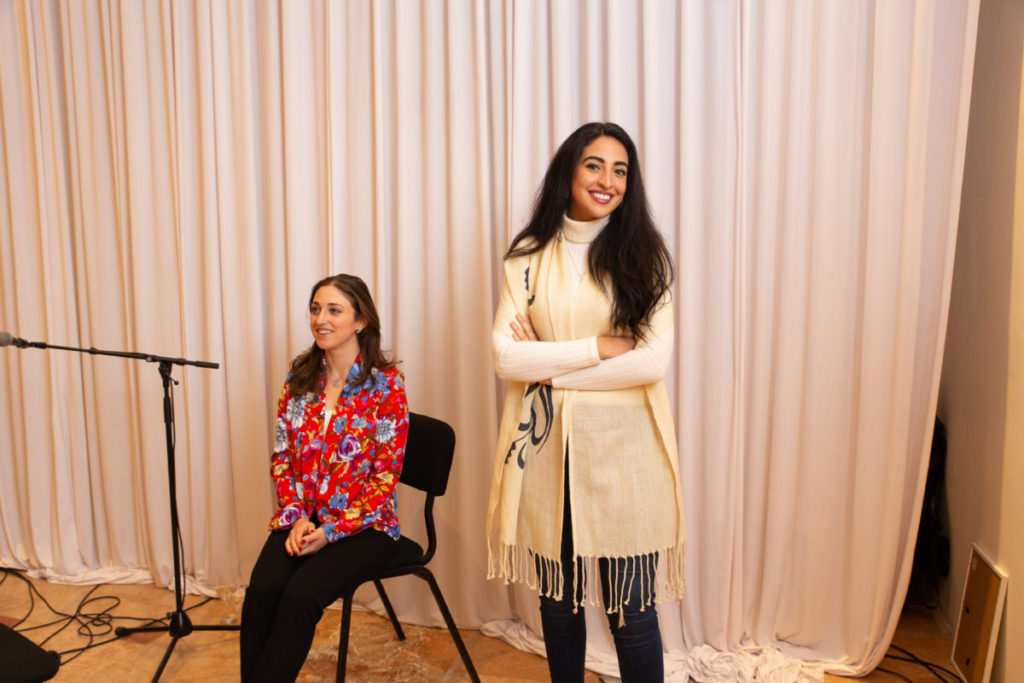 At a new Jerusalem exhibition featuring works by Israeli and Emirati-based artists, the writing is literally on the wall. Entitled "Maktoub," which means both "written" and "destined" in Arabic, some 29 pieces by 10 artists – five based in each country – display swirling calligraphic scripts in Hebrew and Arabic. The show is a result of the cultural flowering that is beginning to take root in the wake of the signing last year of the Abraham Accords between Israel, the United Arab Emirates and Bahrain, Jewish Insider's Ruth Marks Eglash reports.
Painting each other's languages: "There are connections and similarities between the languages in the works and the way the artists think about letters, modernizing them and doing different things with the scripts — there is already a lot of common ground," Lenore Mizrachi-Cohen, a New York-born artist of Syrian heritage, who conceived the installation and is one of the co-curators, told JI. Mizrachi-Cohen, 31, who made aliyah to Jerusalem two years ago, was raised in the Syrian-Jewish community in Brooklyn, where Arabic customs and language are part of everyday life. The daughter of a sofer, or scribe, who works with Hebrew texts, Mizrachi-Cohen said that "Hebrew didn't appeal to me in the same way Arabic letters did. Artistically, I have always loved the beautiful form and flow and curvature of Arabic."
From Jerusalem to Dubai: Being able to write in Arabic but not converse fluently has always been a source of frustration for the young artist. In the summer of 2020, after the signing of the Abraham Accords, Mizrachi-Cohen described having a "light-bulb moment." "My brain just started turning and I was like, 'This is amazing, because I'm sure that there are other artists who would also benefit from having in-person instruction,'" she recalled. "I said, well, if a bunch of artists are coming together, we should do a residency together, then we will also have the opportunity for a cultural exchange." Mizrachi-Cohen reached out to Moroccan-born, Dubai-based artist and jeweler Chama Mechtaly, who joined her in curating the exhibition.
The power of art: For more than 13 years, Mechtaly, 30, who was raised Muslim but has Jewish roots, has used visual arts to explore her own and Morocco's Jewish heritage. A social activist, she works to build bridges between Muslims and Jews, advocating for more recognition of Jewish and Mizrahi history in the region. Mechtaly said it was important for her to show that the Abraham Accords "were not forced." "The agreements come in the context of long-term activism and civil society efforts to engage with the Jewish community and Israel," she said. "I really want to make sure the Accords are not limited to political, economic and security deals, but they can also relate to the social fabric of this region," Mechtaly continued. "Art can transform how we speak about each other and can facilitate discussion more effectively than any policy."
A foundation for sustainable peace: Both Mizrachi-Cohen and Mechtaly say the show is a first step, designed to signal a willingness between regional artists to engage with each other on a cultural level. "We can create a foundation for sustainable peace in the region and use this as a launching pad," said Mechtaly. She described future plans for an artist's residency in the UAE and taking the exhibition on the road. Mizrachi-Cohen said the COVID-19 pandemic had severed budgets for the arts but that the exhibition would "show whoever may be interested in supporting such initiatives how nice it can be when we put our best work forward, and when we all get together this is what we can accomplish."
TRIBAL JUDAISM
Nothing that is not sacred
"Pesach was the holiday that I think most informed and continues to inform why I'm still Jewish and why I chose to go to rabbinical school. 'Care for the stranger,' zecher l'tziat mitzrayim, the commandment to remember that the very reason that we were taken out of the narrows of Egypt was so that we could know that our liberations are tied to each other," writes Lori Wynters, Jewish chaplain at SUNY New Paltz, in an opinion piece for eJewishPhilanthropy.
Childhood: "It was the anchoring element of the Judaism I was raised with in New York City in the 1970s-1980s. It was an unspoken principle and practice in our living rooms, Seder tables and kitchens…this cellular knowing that our freedoms are interwoven with each other. As a kid I marched with my mom at Racial Equity in Education marches, actions by the teacher's union alongside marches for Soviet Jewry. In both activist communities we sang songs of freedom in Hebrew, Yiddish and songs/prayers and spirituals from the civil rights movements. My mother, an English teacher at BMCC [Borough of Manhattan Community College], would take me out of school for 'learning' days where we would go to intimate black-box theater spaces in Harlem to performances and readings by Ntozake Shange, Angela Lansbury, Zora Neale Hurston, Toni Cade Bambara, Richard Wright and others. I was 11, 12, 13, 14. Black feminist and Jewish socialist feminist epistemologies and theologies were woven into daily life … the sacred and political were interwoven, and any boundaries that others might have named, were transgressed by my mom, who transgressed many of the norms imposed by the dominant Christian hetero-patriarchy."
Jewishly grounded: "My mom smuggled mezuzot, haggadot, siddurim and chanukiot on her trip with other Socialist-leaning English teachers at City University of New York to the Soviet Union in the late 1970s. This was the Jewishly grounded, social justice ethos with which I was raised. Be curious, inquire, encourage others inquiry, support literacy of all kinds, sing and pray together and keep holding each other's hands."
Bookshelf
A treasure chest of Jewish ideas and values
"Zack Bodner shares a series of deeply meaningful stories and personal reflections. This is as much about the author and his own Jewish journey as it is a futuristic statement on Judaism. Zack's saga is significant and inspiring. On the one hand, Bodner unravels the contemporary Jewish scene, while on the other, this book introduces us to an array of creative possibilities inherent within Judaism," writes Steven Windmueller of Hebrew Union College-Jewish Institute of Religion, in a review of Bodner's just-released book Why Do Jewish? A Manifesto for 21st Century Jewish Peoplehood.
Pathway forward: "In no small measure this must be seen as a treasure chest introducing us to the ideas about Judaism, its values and traditions, just as it provides us with a gateway to sharing our community's innovative platforms and alternative expressions of personal and collective engagement. This text offers us a pathway forward, allowing Jews to flourish in this new moment in time."
Worthy Reads
New School: In the New York Post, Selim Algar reports that former New York City Mayor Michael Bloomberg is investing $750 million in the charter school movement across 20 metropolitan areas, including New York, over the next five years to support existing schools and open new ones. Current New York City Mayor Bill de Blasio has prioritized public schools over charter schools and skirmished with Success Academy, a leading charter school operator, while Bloomberg contends that charter schools are an educational "oasis" in a landscape of school failure. "This investment will be a beacon for what is possible, what educational excellence looks like," said Success Academy founder Eva Moskowitz about Bloomberg's initiative. [NYPost]
Different Interests: Bill Gates and Melinda French Gates will still work with the Giving Pledge, which they co-founded with Warren Buffett, but they will do it separately, and in different ways, they announced in two public letters, reportsSophie Alexander in Bloomberg. Gates will keep the Gates Foundation as his primary philanthropic vehicle, and it will remain focused on expanding opportunity for the global poor and improving American education, while French Gates will work through both the foundation and her own charitable vehicle, Pivotal Ventures, to work with nonprofit groups to give most of her fortune away. "As part of this pledge, I commit to doing more than writing checks," French Gates wrote. "I also commit my time, energy and efforts to the work of fighting poverty and advancing equality — for women and girls and other marginalized groups — in the United States and around the world." [Bloomberg]
Community Comms
Apply! Want to join the team at Jewish Insider/eJewish Philanthropy? We're looking for a top-notch philanthropy editor. Learn more here.
Be featured: Email us to inform the eJP readership of your upcoming event, job opening, or other communication.
Word on the Street
NBA All-Star and Olympic gold medalist Kevin Love is the recipient of this year's Morton E. Ruderman Award in Inclusion… The Center for Jewish Ethics at the Reconstructionist Rabbinical College received a grant from the National Endowment for the Humanities to fund cross-disciplinary research into race, racism and the American Jewish experience… Nearly 500 women from around the world have joined the Facebook group Global Jewish Women's Prayer Initiatives, which holds monthly women-only Hallel services… The Institute for Nonprofit Practice, along with founding sponsors including the Kraft Family Philanthropies, the Barr Foundation and others announced its newest initiative, a national Black Leadership Institute, to kick off fall 2022… The Aviram Family Foundation and Forbes launched a first-of-its-kind competition named the Aviram Awards — Tech for Humanity, which is offering a first prize of $500,000… The Open Society Foundations named its 2021 cohort of Soros Equality Fellows…
Pic of the Day
Fred Terna, survivor of the Theresienstadt concentration camp, waters the site where a silver maple tree was planted outside the Museum of Jewish Heritage – A Living Memorial to the Holocaust in New York City. "The Children's Tree" was dedicated in a ceremony at the museum yesterday and descends from sapling branches cut from a tree planted in the camp by Jewish teacher Irma Lauscher, whose young students cared for the tree with their own limited water rations.
Birthdays
Grammy Award-winning violinist, Miri Ben-Ari celebrates her birthday Saturday… 
 
FRIDAY: A close associate of the Lubavitcher Rebbe, now among the most influential figures within the Chabad movement, Rabbi Chaim Yehuda "Yudel" Krinsky… Founder of a wedding gown business and a lifestyle coach, Sandy Stackler… 1987 Pulitzer Prize-winner and a long-serving foreign correspondent and Washington bureau chief for The New York Times, David K. Shipler… Member of the New York State Assembly since 1994, Jeffrey Dinowitz… Painter and art teacher, Heidi Praff… Miami-based criminal defense attorney, Yale Lance Galanter… Former editorial page editor at USA Today, William "Bill" Sternberg… Member of the House of Representatives (D-NC-6), she was the founding chair of Prizmah and former chair of JFNA, Kathy Manning… British publicist, music manager and former tabloid journalist, Rob Goldstone… Member of the Knesset for the Yisrael Beytenu party, he is currently a minister in the Prime Minister's Office, Eli Avidar… Member of the California State Assembly from the 43rd District, Laura Friedman… Malinda Wozniak Marcus… SVP of strategic initiatives at NBC News, Alison "Ali" Weisberg Zelenko… Associate professor of Jewish history at Yeshiva University, Joshua M. Karlip… French journalist Marie Drucker… Emmy Award- and Grammy Award-winning comedian and actress, she discovered her Jewish roots as an adult, Tiffany Haddish… Member of the New York City Council for the 33rd District since 2010, Stephen T. Levin… Managing partner of E:SIX Strategies, Elizabeth Edelman… Professional tennis player with a current WTA doubles ranking of 22, Sharon Fichman…
 
SATURDAY: Author and winner of the 1980 National Book Award, A. Scott Berg… Television director and producer, Dan Attias… Tony Sarif… Dermatologist in Philadelphia, Dr. Merle M. Bari Shulkin… Founder and lead guide of the Adventure Rabbi program in Boulder, Colo., Jamie Korngold… Principal of the Fleischman Consulting Group, Jon Fleischman… Actor best known for playing Stuart Bloom on the CBS sitcom "The Big Bang Theory,' Kevin Sussman… Co-founder and co-chairman of Knighthead Capital Management, Ara D. Cohen… Screenwriter and producer, Adam Horowitz… Principal at Proxima Media and founder of Relativity Media. Ryan Kavanaugh… Comedian and host of the ChangeUp baseball program for DAZN, Scott Rogowsky… Assistant U.S. attorney for the Southern District of New York, Sam Adelsberg… Campaigns director at The Hub Project, Sarah Baron… First-round pick in the 2016 National Hockey League draft, he is a center for the NHL's Nashville Predators, Luke Kunin… Israeli fashion model, Sofia Mechetner…
 
SUNDAY: Nobel Prize-winning theoretical physicist, Sheldon Lee Glashow… St. Louis-based luxury senior living developer, Charles J. Deutsch… Mount Pleasant, S.C., resident, Betti Greenstein… Professor at the University of Tennessee Knoxville, Stuart Neil Brotman… Former U.S. ambassador to France and Monaco, Jamie Luskin McCourt… Southern California resident, Esther Gluskin Winard… Mediator and arbitrator for JAMS, Michael D. Young… Venture capitalist Pascal Norman Levensohn… NYC-based author and clinical psychologist, Mindy Greenstein…. Professor at the University of Chicago Law School, Eric A. Posner… Professor and dean emeritus of Columbia Law School, David M. Schizer… Ontario-born actress and model, Shalom Harlow… Urologist at Westchester (NY) Medical Group, Dr. Judd Boczko…. President of The LS Group, Lisa Spies… Co-founder and president of Axios, Roy Schwartz… Israeli-born, acclaimed video game developer, Neil Druckmann… Director of communications at Vindex, Adam S. Rosenberg… Former Treasury Department staffer, now working on Middle East venture capital, Eli H. Miller… Media correspondent for The New York Times, Michael Mendel Grynbaum… Senior news assistant on the obituary desk of The New York Times, Alexander E. Traub… Deputy director of intergovernmental affairs for New York State Attorney General Tish James, Jonathan Shabshaikhes… Israeli model who represented Israel at the 2017 Miss Universe pageant where her selfie with Miss Iraq set off international buzz, Adar Gandelsman…
 
Email Editor@eJewishPhilanthropy.com to have your birthday included.