Your Daily Phil: JCRC-NY's Gideon Taylor talks Jewish community relations + Wellness on the summer camp radar
Good Monday morning!
When they return to their bunks this summer, Jewish campers will hopefully not have to worry as much about COVID-19 as they did in 2021. But there are signs that another wellness issue looms — fueled in part by the disruptions and emotional stress of the pandemic: the mental health of campers and staff, reports eJewishPhilanthropy's Ben Sales.
Camps are changing some of the rules and traditions that have, for decades, defined the summer camp experience, Jewish camp professionals told eJP. At some camps, which previously restricted or prohibited screen time, campers are now allowed to use a computer for Zoom sessions with their year-round therapists.
Camps are also considering reducing the hours of counselors who used to be with campers day and night — a change that may also help camps recruit more staff members. "There's a moment now to be rethinking the staffing model of overnight camp," Sarah Eisinger, director of JCamp 180, a Jewish camping initiative, told eJP. "Some of the interventions may include hiring more specialists, more adults, other support for the cabin staff to not be on-call for 18 hours a day."
Mental health was a primary concern ahead of summer 2022 for the 191 respondents to a recent JCamp 180 survey of Jewish camp leadership. In addition, the Foundation for Jewish Camp continues to see significant demand for its three-year mental health initiative for camps, called Yedid Nefesh, which provides camps with funding to hire credentialed mental health staff and offer more wellness resources. More than 80 camps applied for 30 spots in this year's Yedid Nefesh cohort.
"[We're] moving the needle from maybe having somebody on-call for crises to saying mental health is an integrated part of supporting our camp community," Jill Goldstein Smith, a senior program manager for FJC, told eJP. "Each camp that applied and received the grant had room to grow. To have one person to support 1,000 people — a school would never do that, and people don't typically sleep overnight at schools."
POLITICAL PLAY
With politics in his blood, JCRC-NY's Gideon Taylor takes on Jewish community relations
Gideon Taylor is no stranger to politics. The son of the first Jewish cabinet minister in Ireland, Taylor is now building his own political career of sorts as the recently appointed executive vice president of the Jewish Community Relations Council of New York, Jewish Insider's Ruth Marks Eglash reports.
Different than Dublin: Responsible for pulling together an increasingly polarized Jewish community and reaching out to an increasingly hostile wider community, Taylor – whose father was Mervyn Taylor, minister for equity and law reform in Dublin during the 1990s, and who died last September – understands the vast complexities of his new position. He is also aware that the scale and scope of the Jewish community in New York are somewhat different from where he grew up. "I live on the Upper West Side and there's more Jews on my block than there were in the whole of Ireland," he quipped to Jewish Insider in his first interview since taking over in July.
Breaking barriers: Taylor recognizes the myriad challenges of uniting an extremely diverse Jewish population, as well as building ties with a rapidly changing general population, but he believes it is all possible with a bit of patience and a lot of education and outreach. "New York is a big, complicated, diverse place, with many hundreds of thousands of people who grow up barely meeting or interacting with any Jews," he said, adding, "In some ways, New York is a melting pot city, and, in some ways, people live in their own worlds, their own bubbles, and their own segments. I think the role of the JCRC is to break down those barriers and connect people — that's what community relations is all about."
Changing demographics: Speaking to JI, Taylor noted the contrast between today's political and societal structures compared to when he first arrived in the city. "Then, the power structures were all very well-defined and concentrated in the hands of relatively few people, but now, the demographics have shifted tremendously and so have the structures of power," Taylor said, citing a decline in Jewish members of the City Council from 27% just two years ago to 12% today. He also identified New York's rapidly changing demographics – with more divergent religious beliefs and increasing numbers of new immigrants – as another challenge to building bridges between the Jewish community and the rest of the city.
Jewish voice: "The JCRC needs to be the voice of the mainstream Jewish community at the tables where those critical issues of the day are being discussed in New York," he continued, highlighting issues such as criminal justice reform and combating all forms of hate. "The second one is a big priority for us," Taylor highlighted. "Antisemitism is one example of hate crimes, but hate crimes, in general, are like cancer that corrodes the city, and what we've seen is that a person who attacks a Jew on the street is often the same person who will attack a person of color, or will be promoting anti-Asian hatred, Islamophobia or homophobia. Hatred knows no boundaries."
Tackling antisemitism: Among the many activities facilitated by the JCRC, Taylor points to its educational fellowships aimed at promising young leaders, as well as its efforts to shape the state's educational curriculum and tackle anti-Jewish content or sentiments. The programs it uses to train upcoming leaders also include addressing conversations around Israel, which has become a catalyst for antisemitism. "Israel is a core part of the Jewish community and of our identity as Jews," stated Taylor. "On the one hand, there are clearly very many diverse opinions about Israel both within the Jewish community and outside the Jewish community, and the way to approach this from a community relations perspective is… educating people."
inspiration
Scrutiny aside, philanthropy is to be celebrated
"Recently, The New York Times ran a thought-provoking story on 'troll philanthropy' that underscores the reality that the charitable giving of high-profile megadonors is frequently – if not always – subject to public scrutiny, whether it's instigated by the donors or not," writes Elizabeth Wong, national director of philanthropic advisory services for Foundation Source, in an opinion piece for eJewishPhilanthropy.
Time to celebrate: "Scrutiny aside, however – whether it's warranted or not – as we embark upon this new year and reflect on the immense challenges our world has been facing, I invite and encourage the philanthropic sector to celebrate its many accomplishments and progress."
Philanthropy comes in all shapes and sizes: "The incredible growth, diversity and innovation transpiring in private philanthropy today is exciting and inspiring. Foundations and individual donors come in all shapes and sizes and take varied approaches to reaching their end goal: making a positive difference. They range from couples to multigenerational families to young entrepreneurs who've amassed wealth early in their careers, and even to companies that want to have a more pronounced emphasis on ESG [Environmental, Social and Governance] and social responsibility."
Worthy Reads
Tech Talk: A new study by the Indiana University Lilly Family School of Philanthropy looks at how nonprofit organizations use technology to connect with donors, reports Dan Parks in the Chronicle of Philanthropy. "With many people still hesitant to do events and face-to-face meetings, improving the use of technology to connect with donors may be especially important, said Una Osili, associate dean for research and international programs at the Lilly School. 'For fundraisers, the implication is thinking about how you can connect the donor to the cause, and engage them with the work and the mission,' Osili said. 'Video can connect in a way that maybe a written message cannot.'" [ChronicleofPhilanthropy]

Separating Between Prayer and Breakfast: On MSNBC, Anthea Butler writes that the National Prayer Breakfast, held annually since 1953 and run by a conservative group called The Family, isn't what a polarized America needs. "One wonders why these lawmakers make time to pat one another on the back and pray at breakfast in a country that was founded to escape an established state religion. The Family's sponsorship not only shows its close relationship with lawmakers, but lawmakers' participation is a tacit acknowledgement that The Family's goals are acceptable. This is why the Freedom From Religion Foundation called on Congress last year to boycott the National Prayer Breakfast. Given the increasing violence and polarization in our country, our nation's leaders should not be elevating Christianity above every other religion." [MSNBC]
Makin' Fakin' Bacon: Israeli-born actor and longtime vegan Natalie Portman has become a financial backer of the French company La Vie, which is creating vegan bacon, writes Sigmund Stern in the Australian Jewish News: "The company takes particular pride in 'developing a vegetable fat that cooks, fries, infuses and browns' like animal fat, said chief executive and co-founder Nicholas Schweitzer. La Vie recently raised $28.3 million from investment funds and celebrities such as Portman." [AustralianJewishNews]
Community Comms
Be featured: Email us to inform the eJP readership of your upcoming event, job opening, or other communication.
Word on the Street
No'a Gorlin has joined M² The Institute for Experiential Jewish Education as chief operating officer…
Tzedek America named Rabbi Adrianne Pasternak director of immersive experiences…
Three researchers were awarded the Na'amat Prize for groundbreaking women scientists…
Footsteps, which serves people who have left Haredi communities, is among 55 youth-serving nonprofit organizations awarded $2.5 million in grants from the Brooklyn Community Foundation…
More than 10 million NIS ($3.2 million) has been raised in a campaign held in Israeli Arab villages for the construction of concrete houses for Syrian refugees in northern Syria and on the Syrian-Jordanian border…
MacKenzie Scott provided a $133.5 million unrestricted donation to Communities in Schools, a national network of nonprofit groups that works out of 2,900 high-poverty schools in 26 states and Washington, D.C., to provide academic and support services…
The University of Michigan Museum of Art received a gift of Chinese calligraphy, valued at more than $12 million, making it the largest gift of art in the university's history…
Carolina Panthers and Charlotte FC owner David Tepper and his wife Nicole made a $10 million investment in The CommonSpark campaign through their foundations, money that will be used to help fund the construction of a new Charlotte public library.
JARC Florida, a Boca Raton-based nonprofit serving people with intellectual and developmental disabilities, is the beneficiary of a $5 million gift from Howard Halpern and his wife, Lynne…
A Minnesota federal judge ruled that federal law does not preempt state law, dismissing a motion for declaratory relief, in a case involving techniques of politically focused online fundraising platforms. The ruling was in a case brought by state attorneys general in Connecticut, Maryland, Minnesota and New York about whether donors to political campaign committees in the 2020 presidential election unwittingly made their gifts into recurring donations…
A report from CCS Fundraising finds that the majority of organizations consider donor acquisition to be one of their top three fundraising challenges…
Pic of the Day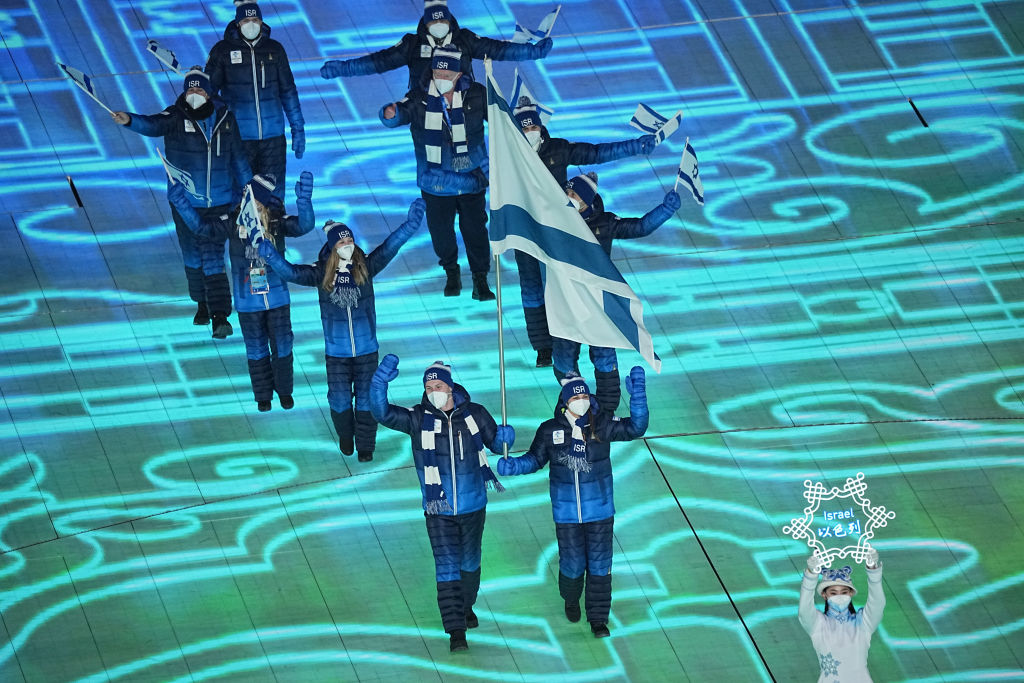 The Israeli Olympic team, with flag bearers Noa Szollos and Evgeni Krasnopolski, enters the "Bird's Nest" stadium in Beijing on Friday at the opening ceremony of the 2022 Winter Games.
Birthdays
Actor, humorist, comedian and writer known for his "Saturday Night Live" "TV Funhouse" cartoon shorts and as the puppeteer and voice behind Triumph, the Insult Comic Dog, Robert Smigel…
Milwaukee-born politician and businessman, former U.S. senator from Wisconsin and owner of the NBA's Milwaukee Bucks, Herb Kohl… and also born in Milwaukee on the same date 16 years later, his first cousin, senior rabbi (now emeritus) of Beth Tzedec Congregation in Toronto, Baruch Frydman-Kohl… French native, now living in West Roxbury, Mass., he is director of training for the Bulfinch Group, Michel R. Scheinmann… U.S. Sen. John Hickenlooper (D-CO)… Democratic member of the Illinois House of Representatives, Robyn Gabel… Senior research scientist at Battelle Memorial Institute and part-time instructor at Carnegie Mellon University, Rick Wice… American businessman and investor arrested in Bolivia in July 2011 and held for 18 months without charges, freed through public outcry and the efforts of Sean Penn, Jacob Ostreicher… President and COO of The Mount Sinai Hospital in NYC, Dr. David L. Reich… Director general of the Israeli Ministry of Foreign Affairs, Alon Ushpiz… Professional hockey player who played in 418 regular and post-season games in the NHL spanning 13 seasons, Mike Hartman… Rabbi at Beth Chai Congregation in Bethesda, Md., and author of Jewish children's books and teen novels, Deborah Bodin Cohen… SVP of communications at PM Hotel Group in Chevy Chase, Md., Jennifer Diamond Haber… Author of 22 fiction and non-fiction books including a recent book on the GameStop short squeeze, Ben Mezrich… Executive director of UJA-Federation of New York and JCRC-NY's Community Security Initiative, Mitch Silber… Israeli actor, model and musician, Angel Bonanni… Executive director of the Aviv Foundation, Adam Simon… Vice president and general manager at Material+, Jonathan Weiss… Hasidic singer and recording artist, Shloime Daskal… Former member of the Knesset for the Yisrael Beiteinu party, Mark Ifraimov… Former MLB pitcher, now an angel investor in the San Francisco area, Scott Feldman… Former professional basketball player in Germany, Italy and Israel, now a VP at Lightspeed Venture Partners in Menlo Park, Calif., Dan Grunfeld… Director of advancement field services for Hillel International, Rachael Fenton… David Israel… Michael Harris…
Email Editor@eJewishPhilanthropy.com to have your birthday included.