Your Daily Phil: Indiana University's red mezuzot campaign + Strengthening Jewish-Latino identity in the U.S.
Good Thursday morning!
One of the most time-tested ways Jews have identified each other is by looking for mezuzot on each other's doorposts. But that tactic won't work at Indiana University Bloomington, where hundreds of new, red mezuzot — without the traditional parchment scroll — have been affixed by non-Jews to the doorways of dorms, sorority houses and university buildings.
The empty mezuzot are a gesture of solidarity following a series of antisemitic incidents on and around the campus, which has some 4,500 Jews. Distributed by the school's Hillel to non-Jewish students, they are emblazoned with the message, "I stand with my Jewish friends." Hillel is also giving Jewish students kosher mezuzot with parchment.
So far, the entire first shipment of 500 solidarity mezuzot has been distributed, and orders are already out for 150 more from the second shipment, which arrived this week. "The silver lining has been the support, and it's mobilized students to learn how to fight antisemitism, and [encouraged] non-Jewish students to support their Jewish peers," Rabbi Sue Laikin Silberberg, the Hillel's executive director, told eJewishPhilanthropy.
During the fall semester, at least a dozen mezuzot were torn off doorposts on campus, prompting the initiative. Later, buildings in Bloomington were defaced with swastikas and a Black Jewish student was targeted with racist and antisemitic slurs. Recently, an online forum for the school's fraternities and sororities saw multiple antisemitic posts, prompting a letter from IU Provost Rahul Shrivastav calling them "cowardly, horrific, and simply unacceptable."
Hillel has also formed a task force of more than 30 students — including non-Jews — to combat antisemitism. They're bringing a reformed white supremacist to speak on campus, promoting the mezuzah intiative and running other educational programs.
"I think it is incredible that we've found allies who are not Jewish who want to learn and be supportive, and want to help," freshman Kaylee Werner, the task force's chair, who grew up in Pittsburgh and whose family used to belong to Tree of Life Congregation, the synagogue that was attacked in 2018, told eJP. "We are a minority, so fighting this fight alone gets pretty challenging."
Senior Mary Grace Wolfa, a non-Jewish member of the task force, said that joining the effort has allowed her to become "more exposed to Jewish culture, Jewish belief and actually understanding what it means to be Jewish instead of, just, different ideas that are passed around society that may be wrong." She's planning to put up a solidarity mezuzah this year.
Werner said she's surprised by how many students don't know about the spate of local antisemitism, but said once they learn of it, convincing them to put up the solidarity mezuzot is not a heavy lift. "All I've got to do is tell them what a mezuzah is and how many have been torn down," she said. "For most people, once they know it's happening, they want to step in and do something."
BUILDING BRIDGES
Jewtina y Co. aims to create a communal space Jewish-Latino identity in the U.S.
Analucia Lopezrevoredo, who identifies as a "Peruvian-Chilean-Quechua (Indigenous)-American Sephardi Jewtina" and who grew up in Orange County, Calif., has found that the Jewish professional world is not always a welcoming place for those with complicated identities. So in 2019 she founded Jewtina y Co. — a nonprofit devoted to eliminating gender-, racial-, or ethnic-based tokenism, and encouraging the larger Jewish community to include what she calls "la familia Jewtina" — in other words, anyone who holds both 'Latin' and 'Jewish' as parts of their identity. The organization was named one of Slingshot's "10 to Watch" this year.
Holding identities together: "Oftentimes, in Jewish spaces, I haven't really led with these other ethnic identities because I felt that they dilute my Jewishness," Lopezrevoredo told eJewishPhilanthropy's Esther D. Kustanowitz. "So it's become very important for me to stand proudly in my different ethnic identities that don't null[ify] my Jewish identity, but rather complement it and really make it what it is…[to] be able to hold all of these pieces together."
Navigating diversity and Latinidad: More than 80% of the Jewish community in Latin America is culturally Ashkenazi, she said, while about 20% of Latino Jews have roots in the Middle East and mostly come from Syria. "Our community is so diverse; no two Latin Jews are alike," said Lopezrevoredo.
Honoring intersecting identities: Jon Cohen, a participant in Jewtina y Co.'s recent Puentes Leadership and Resiliency Fellowship, is half Sephardi and half Ashkenazi. "Growing up with a white dad and a Mexican mom, I experienced a bunch of different ways people react to you based on what they think you are," said Cohen, the national director of community mobilization for the Jewish LGBTQ+ organization Keshet. During an identity exploration exercise at the retreat, another participant self-identified by writing "queer Jewish Mexican" on the wall. "For the first time ever, I was like, 'Wow, I could have written that, and so could three other people here,'" Cohen said. "I've never been in a space where so many intersecting parts of my identity were all present and honored at once."
CRISIS MODE
Who will teach our children and grandchildren?
"The crisis that we knew was coming is here. Jewish day schools, early childhood centers and part-time congregational schools across the country face a shortage of educators to fill multiple openings for lead teachers, assistants and substitutes. This is no longer simply a 'challenge.' Rather, it is a crisis because of continuing trends in the overall job market, exacerbated by the pandemic," write 15 members of the Association of Directors of Communal Agencies for Jewish Education from around the country, in an opinion piece for eJewishPhilanthropy.
Dwindling applicant pool: "In day schools, the teacher shortage is felt deeply in the challenge of finding Jewish studies and Hebrew language teachers. In early childhood programs, where Jewish engagement and connection for families are established, the shortage of teachers is compounded by the low wages typically paid to those in this field. Congregational schools face the same challenges as day schools in finding Jewish studies and Hebrew language teachers, and schools often are left with enthusiastic but untrained members of the community as teachers."
Unanswered questions: "What can we do to find solutions to this crisis? How might we as a Jewish community work together to ensure that there will be well-trained and inspiring teachers to teach our children and grandchildren?"
POWER OF LANGUAGE
How Holocaust education can change communities
"Last July a Duxbury, Mass., football player reflected on his visit to the Holocaust Memorial Museum in Washington, D.C., earlier that day. What struck him most was the phrase 'Know Before Whom You Stand,' which had been scraped off a destroyed ark in a synagogue during Kristallnacht. 'The Nazis actually took the time to find a tool, and to scratch off those holy words,' he shared," writes Sarah Ovadia, director of development at the Lappin Foundation, in an opinion piece for eJewishPhilanthropy.
Game-day calls: "The revelations in spring 2021 that the Duxbury varsity football team had been using Jewish and Holocaust terms including 'rabbi,' 'Hanukkah,' 'dreidel,' 'yarmulke' and most notably, 'Auschwitz,' as audible play calls shocked many in the community."
Normalization of antisemitism: "The use of these terms over the course of a decade reveals a tolerance for antisemitism that is all too common. As communities like the Duxbury football team grow accustomed to casual disrespect and dehumanization of Jewish people, antisemitism proliferates. Normalization of antisemitism creates fertile ground for graffiti, slurs and violence against Jews. Antisemitism is like a virus: it never fully goes away. It strikes with varying consequences, it catches communities by surprise, and it is pervasive."
Ignorance rather than hatred: "Some argue that actions like those of the Duxbury football team's play calls don't matter because they come from ignorance rather than hatred – but this very ignorance leads to an environment of tolerance for increasing hatred."
Worthy Reads
Scott's Support: In a post on Medium, philanthropist MacKenzie Scott shared a list of 465 nonprofits that had received gifts — for an overall total of $3.8 billion — from her donor-advised fund, toward her 2019 promise to give away her fortune in support of underrepresented groups and individuals. "We don't advocate for particular policies or reforms. Instead, we seek a portfolio of organizations that supports the ability of all people to participate in solutions. This means a focus on the needs of those whose voices have been underrepresented. It also means including others within the system who want to help improve it, harnessing insights and engagement from every role.… I don't know the best outcome of each debate, but there's heartening evidence that supporting the capacity of all people to be heard leads to better outcomes for all." [Medium]

Better Representing Orthodoxy: Allison Josephs, the founder of the "Jew in the City" blog, has launched a "Hollywood bureau" to advocate for more accurate Jewish representation on screen, Sasha Urban writes in Variety: "Currently, the bureau is still in its early stages, with no official Hollywood office or full-time staff yet. Josephs said JITC is currently in the process of organizing an official academic study to track Jewish representation, meeting with network executives at NBC and CBS, and has plans to form writers labs and establish a network of creatives who will further the cause […] Allison said she has found solidarity among the other existing minority bureaus, which have helped her build a framework for JITC's current efforts. Her goals for the new bureau are vast, and she hopes it will allow JITC to address more nuanced issues, like problematic depictions that come from within her own community and the absence of representation for Jews of color, in addition to being an educational resource for networks and studios." [Variety]
Community Comms
Be featured: Email us to inform the eJP readership of your upcoming event, job opening, or other communication.
Word on the Street
Since Russia invaded Ukraine on Feb. 24, Candid, a philanthropy research organization, is mapping the philanthropic response to the crisis in real time. As of March 15, it has identified 174 grants totaling $440 million, and $333 million more in pledges for the victims. These totals do not include individual donations or donations from nonprofits and corporations that haven't yet publicly reported their gifts, meaning that the actual amount of aid is likely much higher. The bulk of the donations are for immediate needs such as food, shelter and safety…
HIAS has received a $10 million grant from philanthropists MacKenzie Scott and Dan Jewett to help respond to the crisis in Ukraine. This is the second grant that HIAS has received from the couple, who donated to the organization last year…
Following a lead gift of $1 million from Eileen and Jerry Lieberman, Ramah Berkshires will launch a Tikvah program this fall at the camp, serving campers with disabilities. As a result of the gift, the Foundation for Jewish Camp awarded the camp a grant of $330,000 to advance disability inclusion, and Elisheva Layman will join the camp's year-round team as Tikvah director…
The Magnes Collection of Jewish Art and Life at the University of California Berkeley has received a $1 million gift from a donor who has chosen to remain anonymous. The money will be used to catalog and digitize the Magnes' Roman Vishniac Archive, a collection of more than 30,000 items that belonged to the renowned Russian-born Jewish photographer and biologist, who died in 1990…
Philadelphia's Wilma Theater ended a partnership with an arts group backed by Russian oligarch Roman Abramovich that was supporting the debut of a play in Philadelphia. It has also returned a donation from the group…
Jackie Subar has been appointed national director of strategic partnerships for the Anti-Defamation League. She previously was an assistant director of policy and political affairs for the American Jewish Committee…
Women of Reform Judaism announced the honorees for its 2022 Women's Empowerment Awards…
The U.K.'s United Synagogue has said that the number of Jewish families struggling to make ends meet ahead of Passover has risen by 20% from pre-COVID days…
A new report by the Centre for Social Impact and Social Ventures Australia found that Australian charities are being hamstrung by a lack of funding for their core operational needs, severely affecting their ability to deliver frontline services…
Madeleine Albright, the first female U.S. secretary of state, died at 84; in 1996, at age 59, she learned that her parents were Jewish and had converted to Catholicism to avoid Nazi persecution…
Pic of the Day
A new street mural in Greece honors the late Zakynthos Mayor Lucas Carrer and Greek Orthodox Metropolitan Dimitrios Chrysostomos, two non-Jewish Greek citizens recognized by Yad Vashem as "Righteous Among the Nations." The two men protected Jewish residents on the Greek island of Zakynthos after the Nazis occupied the territory in 1943. The project was an initiative of Artists 4 Israel in partnership with the Combat Antisemitism Movement and was painted by Kleomenis Kostopoulos, creative director of Art in Progress, a group based in the Greek city of Patras.
Birthdays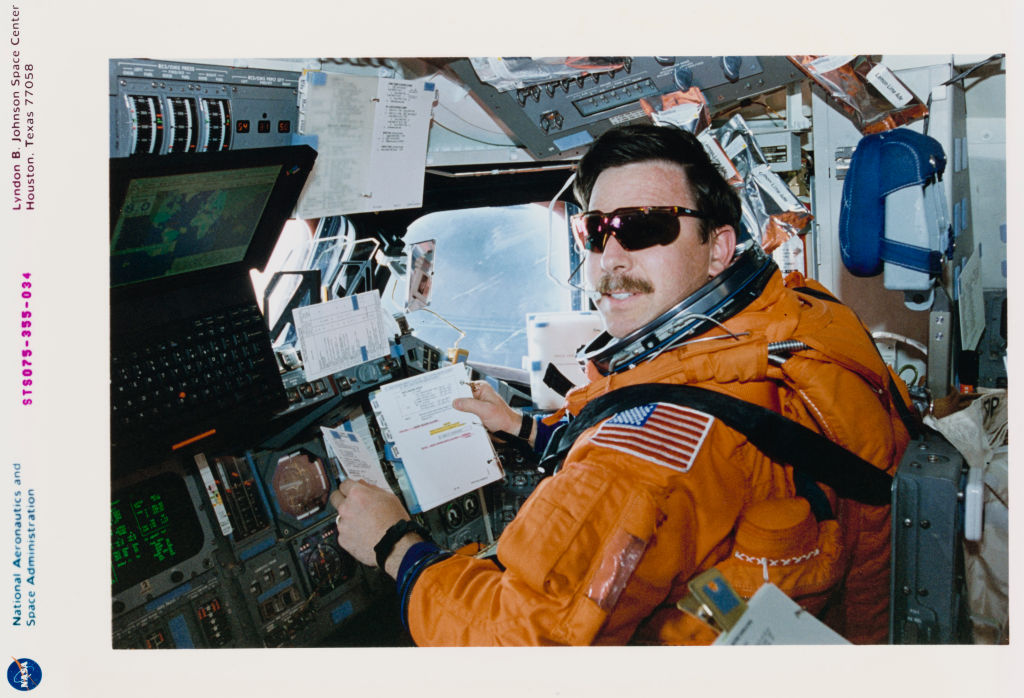 Retired NASA astronaut and a veteran of four space shuttle missions, he had a mezuzah on his bunk in the space shuttle, Scott Jay "Doc" Horowitz…
Award-winning classical pianist, Byron Janis… Beverly Hills-based estate planning attorney, Ronald M. Kabrins… Co-owner of Bond Distributing Company and a board member of The Associated Jewish Federation of Baltimore, Rochelle "Ronnie" Footlick… Member of the House of Lords and star of the U..K.'s version of "The Apprentice," Baron Alan Sugar… Owner of the NBA's Los Angeles Clippers and former CEO of Microsoft, Steve Ballmer… Attorney in Tarzana, Calif., Paul Marshall Leven… Jewish community activist in Austin, Texas, Deborah E. Rudy… Managing partner at Joslynda Capital, Michael Weiss… Poet and professor of fine arts, design and art history at Hofstra University, Martha Hollander… Former professional wrestler under a series of ring names including "The Star of David," Barry Horowitz… President of American Jewish University, Jeffrey Herbst… CEO of The Female Quotient, Shelley Zalis… Former UJA and JDC official, now at NYC's 92nd Street Y, Laura Spitzer… Actor who is best known for his portrayal of Dr. Chris Taub on the Fox medical drama series "House," Peter Jacobson… Communications director for the U.S. division of Israeli tech firm ThriveDX, Fred Menachem… Senior correspondent for Jewish Insider, Ruth Marks Eglash… Director and senior tax counsel at Federal Policy Group, Aharon Friedman… Rabbi of Congregation Beth Israel – West Side Jewish Center on 34th Street in Manhattan, Jason Herman… Actor best known for his role as FBI Special Agent Aram Mojtabai in NBC's "The Blacklist," Amir Arison… Director of marketing at Window Nation, Eric Goldscher… Executive editor at Bloomberg Green, Aaron Rutkoff… Famed NYC photographer now working for the MTA, Marc A. Hermann… Retired MLB and Team Israel pitcher, now a pitching coordinator for the Chicago Cubs, Josh Zeid… Chief of staff for Rep. Lois Frankel (D-FL-21), Joshua D. Cohen… Venezuelan-born featured celebrity chef on NBC's "Food Fighters," she is a caterer and a private chef in Los Angeles, Deborah Benaim… Founding director of the Orthodox Union's Impact Accelerator, Jenna Nelson Beltser… Three-time all-star player with the Boston Pride of the National Women's Hockey League, Kaleigh Fratkin… COO at Bnai Zion, Justin B. Hayet… Competitive pair s skater who with a partner were the first pair representing Israel to qualify for an Olympics, Andrea "Anya" Davidovich…Tami Wolf…