Your Daily Phil: BBYO International Convention + Super Bowl meets philanthropy
Good Monday morning!
In today's edition of Your Daily Phil, we look at an unconventional Super Bowl initiative to help the homeless, and spotlight the Jewish and Israeli organizations providing on-the-ground relief in Turkey. Also in today's newsletter: Rabbi Noah Farkas, Meredith Woocher and Rabbi Marvin Hier.
Well before BBYO's International Convention kicks off this Thursday, hundreds of teenagers from around the world will convene in Dallas for the organization's annual pre-conference gathering. A dozen teens from Ukraine will join BBYOers from Sweden, Puerto Rico, Germany, Argentina and other countries to spend several days with the Dallas Jewish community before joining the larger IC gathering later this week.
Tonight, the global delegation, along with BBYO members from Dallas, will be on hand to watch the Dallas Mavericks — owner Mark Cuban is an alum of the teen group — take on the Minnesota Timberwolves.
On Thursday, the global delegation will join nearly 3,000 teenagers from around the U.S. for the start of the International Convention. Speakers this year include former Israeli Prime Minister Naftali Bennett, Olympic gymnast Gabby Douglas, U.S. Special Envoy to Monitor and Combat Antisemitism Deborah Lipstadt, NBA G League player Ryan Turell and Kudzi Chikumbu, TikTok's global head of creator marketing. BBYO will be rolling out additional speakers in the lead-up to Thursday.
"From the friendships and connections our peers will make this week, to the global bonds they'll form, to the leaders they'll engage with and the Jewish pride they'll wear proudly, this year's International Convention will be a celebration for the ages," Levi Fox and Avi Gorodetski, BBYO International teen presidents, told eJewishPhilanthropy in a statement.
sports night
The Super Bowl parties making a difference
A few weeks before the New England Patriots beat the Atlanta Falcons in 2017's Super Bowl LI, Meir Kalmanson, better known as Meir Kay, was walking through New York City when he noticed a man on the sidewalk holding a cardboard sign. "I don't want food, I don't want a drink, I just want to be seen," it said, so Kay invited the man for a meal and the two got to know each other. With the experience top of mind and nearing game day, Kay began to think of all the people without friends or family during what has become an unofficial national holiday. When Super Bowl Sunday arrived, Kay showed up to his friend's rooftop house party alongside half a dozen homeless individuals he had invited from around the neighborhood. "It was amazing," he recalled to Tori Bergel for eJewishPhilanthropy. "It wasn't about watching the game or even having a hot meal, which is important, of course, to have that, but it was the interaction, the connection, the eye contact…how these guys [walked] in and how they left, as a whole, was a massive obvious shift."
Digital boost: Kay posted a video of the party on YouTube; it quickly went viral. A professional filmmaker at heart, Kay started his channel, which has amassed 324,000 followers since its creation in 2008, to spread joy and kindness. The following year, Kay began fielding calls from people wanting to get involved with his next event. "They wanted to bring it to their own town, and honestly, I can't say it was my intention. I was like, 'OK cool, I did this thing, it was nice and amazing, but…' But I realized there was this demand, people wanted to help and there was a need for this," Kay said. By 2019, he had filed to become an official nonprofit, and Super Soul Party was born.
Expanding partnerships: This year, in addition to the organization's typical fundraising, Super Soul Party formed partnerships with four outside organizations — Hanes For Good, the clothing company's philanthropic branch; Elitra Health; In Search of More; and 7th Heaven Chocolate. Kay chose to cap festivities at eight cities in order to restructure the nonprofit toward sustainability and allowing room for more events throughout the year. "We're restructuring it in a way that we're fundraising, we're getting those resources, so I could hire a backend of people so we could grow the nonprofit a little bit more slowly and we can also have more impact, not just once a year, but throughout the year too," Kay said.
civic service
$4 million from Diane & Guilford Glazer Foundation to Los Angeles federation to strengthen civic engagement
In the most comprehensive and far-reaching collaboration between the Jewish Federation of Greater Los Angeles and one of its funders, the Diane & Guilford Glazer Foundation has committed $4 million over the next three years for programming to work with young adults, care for Holocaust survivors and expand the federation's work in the wider L.A. community, eJewishPhilanthropy's Esther D. Kustanowitz reports.
Talking about this generation: Rabbi Noah Farkas, president and CEO of the L.A. federation, explained that in Los Angeles, organizations create programs that compete with each other. "Everyone seems to want to create their own project." But, he said, there's a "generational shift" underway in the Jewish community. "Our generation feels that collaboration is the future, not competition, and that we have to find synergy points, because [the old] model doesn't just cost too much money, it's too inefficient. It drives prices up and creates animus in the community," Farkas noted.
Leveling up: The L.A. federation has had a relationship with the Glazer Foundation for more than two decades, but now is an opportunity to "reenvision and to create a federation that really serves and leverages not only our infrastructure, but also how we want to show up in the world," said the federation's vice president of community engagement, Joanna Mendelson.
Caring community: Farkas added that the grant will help the federation's Community Engagement initiative — which runs community service days as well as the cohort-based Rautenberg New Leaders Project (NLP) for young adults, among other programs — to increase the number of Jews engaged in civic life and advance partnerships with civic and religious leaders across the region. One concrete way that the funding will extend the federation's reach is the increase in the number of service days, in which people volunteer to help the community in various capacities. In 2022, the federation offered six service days and reached about 4,000 people; in 2023, it has scheduled 18 service days.
helping hand
Jewish and Israeli humanitarian organizations join earthquake relief efforts
In the hours and days since a massive, 7.8-magnitude earthquake struck southern Turkey last Monday, dozens of Jewish and Israeli organizations — along with aid agencies from all over the world — have dispatched teams to help with relief efforts as the death toll climbs above 24,000. "Israel's proximity to Turkey is undoubtedly one reason so many of our Israeli partners were able to get to the scene so quickly after the devastating disaster," Naomi Lipstein, the communications manager for Olam, a network of Jewish and Israeli relief groups, told Madison Hahamy for eJewishPhilanthropy.
Added need: Sheba Medical Center, the largest medical center in Israel, is another Israel-based organization that has dispatched teams to provide medical humanitarian relief, recently operating in Ukraine and Kenya. In Turkey, there are around eight medical reserve officers assisting in the Israeli Defense Force's humanitarian effort — in the next month, the IDF plans to rotate out and Sheba will begin running the Israeli humanitarian operation, according to Yoel Hareven, head of Sheba Global. Brian Abrahams, the CEO of American Friends of Sheba Medical Center — the fundraising arm of Sheba Medical Center — noted that Sheba's sees its "mandate in the world" as being part of humanitarian relief efforts. This mandate, he added, has only increased over the past few years due to the coronavirus pandemic, war, and an influx of natural disasters.
Back to basics: The American Jewish Joint Distribution Committee, also known as The Joint, has worked specifically with Turkey's Jewish community and population more broadly to assist with previous earthquake and other disaster responses. In response to last week's catastrophe, they immediately sent a team to the disaster zone to help distribute blankets, food and direct survivors to shelter. Leora Wine, JDC's director of disaster response, arrived in Turkey 33 hours after the earthquake initially struck. The initial response, she said, is focused on attending to people's most basic needs — the "bottom of the bottom" of the Maslow pyramid — and making sure that people afraid to sleep in their homes have hot soup, water, blankets and a general feeling of safety. She noted that these efforts are often communal and not just relegated to foreign humanitarian organizations— everyone who is able to help does what they can.
Long-term plan: ??IsraAid has worked in over 60 countries. Similar to JDC, they focus both on immediate relief and long-term recovery and resilience. According to Yotam Polizer, the group's CEO, the teams he dispatches will often spend five to seven years in one location, rather than just a few months. In Turkey, the organization has a team of nine people on the ground in two different locations, which includes trauma specialists, water engineers, and people with operations and logistics experience who are helping to provide immediate relief in the form of heating and winter clothing. At the same time, they are training local people to build capacity while also partnering with local organizations to help make the work sustainable. "This crisis in terms of Turkey, in terms of climate disaster, is the worst we've seen in years," Polizer said, noting the widespread disaster and inaccessibility of many places. "People go to areas more accessible or highlighted on mainstream media, but if you go two miles down the road, there's a small village equally devastated or more that has received zero support."
game-changing tool
A case for Jewish nonprofits to use ChatGPT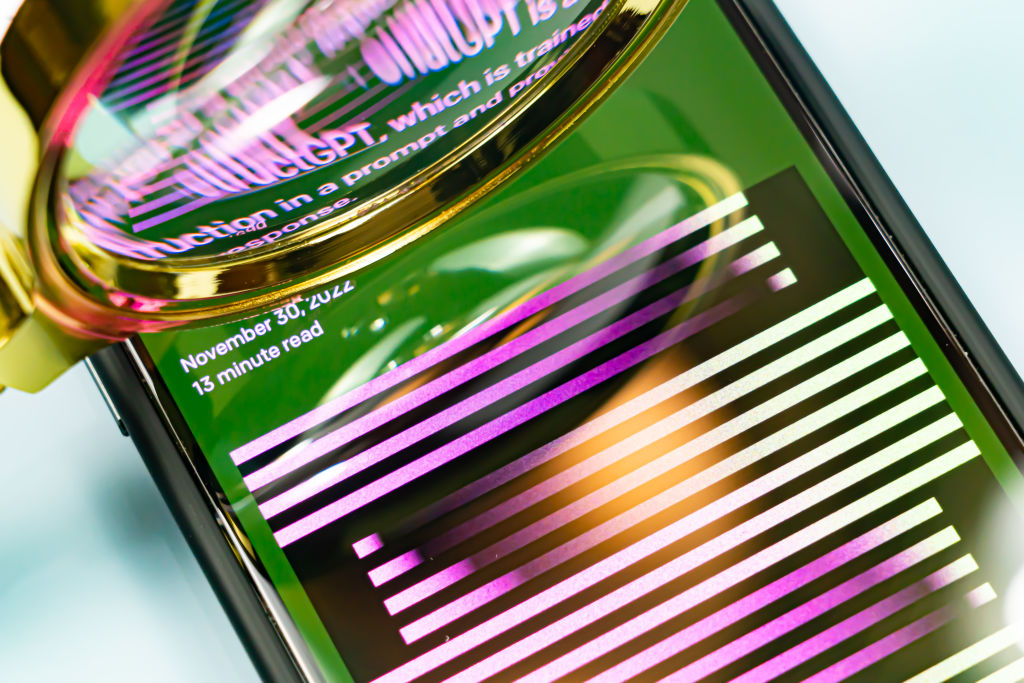 "The power of ChatGPT and the Jewish value of tikkun olam are two concepts that, at first glance, might seem unrelated. However, upon closer examination, it becomes clear that these two ideas are in fact closely linked and share important similarities," writes Bradley Caro Cook, executive director of CareerUpNow.org, in an opinion piece for eJewishPhilanthropy.
Making the world a better place: "Jewish nonprofits have a long and proud tradition of serving their communities with compassion and care. In an era of rapidly advancing technology, it is essential that these organizations embrace new tools to reach their goals. ChatGPT is one such tool that can help Jewish nonprofits to achieve their goals more efficiently and effectively."
Communication processes: "One of the key benefits of ChatGPT is its ability to understand and respond to natural language queries. This makes it easier for organizations to communicate with their constituents, answer their questions and provide them with the information they need. By incorporating ChatGPT into their operations, Jewish nonprofits can streamline their communication processes, saving time and resources while improving the quality of their interactions with their stakeholders."
people give to people
Three key indicators to target your charitable giving
"Philanthropy is about impact and donors want to know that their charitable gift – their investment in an idea or an organization – will have a meaningful and lasting impact," writes Randy E. Spiegel, a consultant at R&D Philanthropy, in an opinion piece for eJewishPhilanthropy.
Competency: "While the trend has been to find 'the next big idea,' too often organizations hire young people full of passion and potential, who find themselves frustrated by researching, reporting and doing just about anything other than what they came in to do. Lean away from organizations that spend so much time trying to make their case that they squander the time, talent and resources they need to get things done."
Capacity: "Target your charitable giving, by first considering only the organizations that align with your personal interests and values. Then apply the same due diligence you would in your own business; look for capable people with great ideas and assess their capacity and potential for success."
organizational reset
Rethinking the Jewish community relations proposition
"As we move well into the 21st century, American society, as has been documented, is rapidly changing, as has this nation's politics. In response to these challenges, the Jewish community relations field is also shifting its focus," writes Steven Windmueller, emeritus professor of Jewish communal studies at Hebrew Union College-Jewish Institute of Religion, in an opinion piece for eJewishPhilanthropy.
New direction: "In December, Jewish Council for Public Affairs (JCPA) released a major policy statement in connection with its work, 'The New Jewish Council for Public Affairs: A Changing Political Environment Brings a Strategic Reset.' The document has drawn minimal response, with only few publications reporting on this transformational change."
Opt-in focus: "What is core to this significant recalibration? 'The reset takes place against a backdrop of rising antisemitism, racism, bigotry and hate, and polarization, and continued threats to our democracy.' In this current context, national agencies and local community relations structures have been responding from the outside in, often pushing back against the statements and actions of organizations and political leaders who have been critical of Israel and at times hostile to American Jewish institutions and to core Jewish interests. This new framework will empower a nimble JCPA to develop national coalitions with an opt-in focus, to trend-spot emerging issues and demographic trends and provide to the community relations field opportunities for engagement around JCPA-focused issues."
Worthy Reads
Bridging the Divide: In The Jerusalem Post, the Orthodox Union's Rabbi Moshe Hauer writes to both Israelis and Diaspora Jewry about the reactions to the Israeli government's proposals. "American Jewish leaders need to deploy a different kind of hyperbole about Israel. It is time to put aside talk of the end of democracy, the onset of fascism, the deprivation of human rights and religious coercion. Instead, we can and therefore must express our complete confidence in the enduring quality of Israel's vibrant democracy… Caution in Israel is warranted, as well. While those on both sides of Israel's political divide must continue to advance their policy debates vigorously, they must recognize that on the sidelines of their political battlefield sit America's Jews, watching carefully and deciding whether they will be able to identify with the outcome. To paraphrase Ahad Ha'am, more than American Jewry has maintained Israel, Israel has maintained American Jewry." [JPost]
Charity Corrective: Charity and justice, "the practice of giving without expecting anything in return," should be what motivates philanthropy to curb the outcome of "corrupting public morality," Joelle Alfalo writes in a Jerusalem Post opinion piece: "Most damagingly, Israel has allowed Jewish philanthropic foundations to take over many of the functions and responsibilities of the state itself, undermining its very sovereignty. This large-scale involvement of foreign philanthropy (at the level of several hundred million dollars a year) corrupts public morality by absolving the government from its duty to confront social, educational, and cultural problems. Furthermore, it enriches a tiny stratum of activists who control the flow of funds and tend to behave as unbearable 'philanthropic colonialists.'Many of these donors are motivated by a true love for the State of Israel. They wholeheartedly believe that they are contributing to the development of the country, helping the needy, and advancing tikkun olam, the Reparation of the World, which requires justice and charity. However, they are mostly unaware of the negative implications of their actions. Hannah Arendt underlined the risk of mutual hatred between donors and their beneficiaries: On the one hand, the donors enjoy the honors bestowed on them, and the power, real or imaginary, that their money buys them, while simultaneously hating the beneficiaries who are unable to extricate themselves from their backwardness. On the other hand, the beneficiaries flatter the donors while at the same time hating them in proportion to their own dependence on them. In this way, philanthropy can easily deteriorate into "philanthropic colonialism." [JPost]
Housing the Unhoused: Tipping Point Community, a group attracting support from the Silicon Valley tech community, is innovating solutions for the burgeoning homelessness population in the Bay Area, Eden Stiffman writes in The Chronicle of Philanthropy. And although government policies may be hard for philanthropy to change, funding can change things on the local level. "Tipping Point and its financial support was a catalyst for bringing city government and nonprofit service providers together to work in new ways. Its $100 million contribution helped spur innovation and legitimized promising solutions before government dollars could follow. Since its founding in 2005, Tipping Point has become a fundraising powerhouse in the Bay Area. It gets money from tech entrepreneurs and other philanthropists in the region to support education, employment, and housing, among other issues. This $100 million, raised primarily from a group of 14 donors and known as the Chronic Homelessness Initiative, is the largest charitable pledge to address homelessness in the city's history. It also targeted resources to a population that philanthropy has historically neglected. Adults who are chronically homeless are among the most vulnerable and costly segment of the homeless population to serve…Financial executive Charles Schwab and his wife, Helen, gave Tipping Point $65 million. Tipping Point worked with the Housing Accelerator Fund, a nonprofit that raises government and private dollars to build new affordable housing and protect existing units. The fund used $50 million of the Schwabs's gift to acquire a privately owned parking lot, fund design and approvals, and start construction." [ChronicleofPhilanthropy]
Empowering Philanthropy: Thinking about all the funding provided to political campaigns, Elise Westhoff, writing in the Washington Examiner, considers "what even a fraction of those dollars could have accomplished through strategic philanthropy.": "There is an entire ecosystem of high-impact charitable organizations working every day to address complex social problems. They do so through direct community investments as well as by developing smarter policy ideas for elected leaders to implement…[E]ducation is closely tied to another pivotal issue: the economy. As individuals, we may feel powerless to help those who struggle to make ends meet during tough economic times. But this is where strategic philanthropy shines. Nonprofit organizations are uniquely positioned to equip people with the tools they need to secure higher-paying jobs and break cycles of poverty… [N]onprofit organizations and the philanthropy that supports them do far more than just address temporary needs, such as helping people learn a skill or earn a paycheck; they instill confidence and a sense of meaning and purpose in the individuals and families they serve. Effective philanthropy empowers people to transform their lives and achieve self-sufficiency for the long term — something that government is not well-equipped to do. Given the current state of our government and economy, now is the time for people to reacquaint themselves with the power of civil society to address tough societal issues, improve lives, and advance the proven values that have guided us for hundreds of years: liberty, opportunity, and personal responsibility." [WashingtonExaminer]
Around the Web
The Azrieli Foundationannounced a $3.75 million gift to create the Azrieli Center for Excellence in Engineering Education in Israel. The foundation has previously contributed more than $11.5 million to Jerusalem's Azrieli College of Engineering…
Yale Universityreceived a $25 million gift from the Starr Foundation, chaired by Maurice R. "Hank" Greenberg, in support of financial aid at Yale's school of medicine…
New York-based Jewish Communal Fund released its 50th anniversary giving report. Key findings include: As a collective, fundholders distributed 24% of charitable assets in fiscal year 2022; more than one-third of funds distributed 50% or more of the balance in their funds to charities…
In the year since Russia invaded Ukraine, the 15 member charities of the British Disasters Emergency Committee have raised more than $432 million in support of humanitarian efforts in the war-torn country…
Magen David Adom, Israel's national EMS organization, and Hatzolah Air, a New York-headquartered and volunteer-run aviation charity that provides emergency medical air transport, have formed a partnership that will put MDA's flight paramedics aboard Hatzolah Air and MDA Medevac helicopters to provide medical evacuations in Israel…
Hillel Ontario, the largest regional Hillel in the world, released findings from a student pulse check survey that was completed over the past three months. Of those who participated in the survey, 75% of respondents believed that Hillel was the most important voice for Jewish students on campus, and 68% indicated that Hillel was their 'go to' for Jewish experiences on campus; additionally, 56% of respondents said they have downplayed their Jewishness in interpersonal interactions; and almost 30% reported getting assistance around mental health with over half wanting additional support…
The Rabbi Sacks Legacy has launched the Rabbi Sacks Scholars program, a Jewish educational and leadership initiative for 27 academics, educators and community leaders who shared a personal connection with Rabbi Sacks. The immersive program will enable participants to delve into Rabbi Sacks' teachings, improve their professional skills and bring his Torah to global audiences…
Rabbi Marvin Hier, the founder, CEO and president of the Simon Wiesenthal Center and its Museum of Tolerance, announced he will be retiring after more than 40 years at the institution. Hier plans to train his successor…
Rabbi Yitzchak Schochet has withdrawn from New York City's Park East Synagogue's rabbinic search, opting to remain as rabbi of London's Mill Hill United Synagogue…
Matt Plen, chief executive of Masorti Judaism UK, is stepping down after 10 years in the position. He will be succeeded by Rachel Sklan, currently the organization's deputy chief executive…
Meredith Woocher has joinedThe Covenant Foundation as director of learning…
In her latest column for eJewishPhilanthropy, on the weekly parsha, Erica Brown, vice provost for values and leadership at Yeshiva University, writes, "We live in an age where technology has allowed us to be more productive than ever but has led to people feeling more overwhelmed than ever. The day seems to never end. There are no boundaries between work and home life. Exhaustion is high. Satisfaction is low. Energy ebbs."…
Rebbetzin Henya Federman, co-founder and co-director of Chabad Lubavitch of the Virgin Islands, died at 40…
Pic of the Day
Keren Kayemeth LeIsrael – Jewish National Fund, held the biggest Tu B'Shevat seder in Europe last week, in Paris. More than 1,600 guests attended. The Revivo Project, one of the most popular bands in Israel, performed at the event.
Birthdays
Radio broadcaster for the New York Mets, Howard "Howie" Rose…
Rabbi and Talmudic scholar, also emeritus professor of economics at New York University, closely identified with the Austrian school of economic thought, Yisroel Mayer Kirzner… Former chair of the Toronto-based Mackenzie Institute think tank, he was a North York and Toronto City Councillor, Norman "Norm" Gardner… Professor at American Jewish University in Los Angeles and scholar of biblical literature and Semitic languages, Ziony Zevit… Longtime host of the tabloid talk show "The Jerry Springer Show," former Democratic mayor of Cincinnati, Jerry Springer… Newsletter editor specializing in U.S. intelligence, military and foreign policy issues, Jeff Stein… U.S. Sen. Richard Blumenthal (D-CT)… Professor of anthropology at the University of Toronto, author of 'I Did Not Know You Were Jewish' and Other Things Not to Say, Ivan Kalmar… Former CEO of the Cleveland Browns and president of the Philadelphia Eagles, Joe Banner… Former president of the United Jewish Community of Ukraine, Ihor Kolomoyskyi… Casting director, Amy Sobo… President and CEO of the congressionally chartered National Constitution Center in Philadelphia, Jeffrey Rosen… Internet entrepreneur best known as the co-founder of Zynga, Mark Pincus… Immediate past chair of national women's philanthropy of The Jewish Federations of North America, Rochelle "Shelly" Kupfer… Former senior speechwriter for Treasury Secretaries Geithner and Lew and speechwriter for Senator Frank Lautenberg, Mark Cohen… Retired Israeli soccer player, he made 89 international appearances for Israel and won nine league championships, Alon Harazi… Founding partner of Drowos Wealth Management Group of Wells Fargo Advisors, Bryan M. Drowos… Publisher of Southern California's Jewish Link Magazine, Dov Blauner… Corporate crisis correspondent at Reuters, Mike Spector… Director of media relations for Columbia University, Samantha Slater… Principal at Health Supply America, Jonathan Neuman… Director of philanthropy at LPPE LLC, Daniel Sperling… Founder and owner at Miami's Cadena Collective, Alejandra Aguirre…