Your Daily Phil: An update on CCAR ethics + Foxman's fears on synagogue security
Good Wednesday morning!
In today's Your Daily Phil, we talk to the CCAR's Rabbi Hara Person on an apology regarding ethics complaints from the Reform rabbinical association and feature op-eds from Abe Foxman on synagogue security and HUC-JIR's Steven Windmueller on the themes of Rosh Hashanah. Also in this newsletter: Michael L. Stern, Beatrice Weber and William and Dana Starling. We'll start off with a dispatch from last night's FIDF gala in New York City.
Israeli Prime Minister Yair Lapid got a break from campaigning at home and diplomacy abroad as he addressed the Friends of the Israel Defense Forces Gala in New York City last night.
Lapid arrived at the gala hours after landing in New York for his first United Nations General Assembly as Israel's leader. On the first day of the trip, he met with Jordan's King Abdullah II as well as Turkish President Recep Tayyip Erdogan — the first meeting between the two countries' leaders in 14 years.
Lapid will address the U.N. on Thursday, a chance for him to represent Israel on the world stage just weeks before he stands for an election whose outcome remains anything but certain. His Yesh Atid party is running second to former Prime Minister Benjamin Netanyahu's Likud, but the parliamentary blocs supporting the two men appear to be evenly split ahead of the Nov. 1 vote.
The prime minister spoke to a friendly audience, offering traditional messages about Israel's military abilities, democracy and defense of global Jewry. He opened his speech with the story of his grandfather's murder in the Holocaust, and closed with a paean to the importance of bipartisan support for Israel in Congress — name-checking both of the past two presidents.
"[The United States] stood by our side when President Trump signed the Abraham Accords and when President Biden signed the Jerusalem Declaration," he said, referring, respectively, to the 2020 normalization agreements between Israel and several Arab countries, and the 2022 document affirming the key principles undergirding the U.S.-Israel alliance. "This bipartisan friendship is one of the cornerstones of Israel's security. It is touching and, most importantly, it cannot be taken for granted."
The gala hosted Israel's top diplomatic brass in North America: Israel's U.N. Ambassador Gilad Erdan, Ambassador to the United States Michael Herzog, Ambassador to Canada Ronen Hoffman and New York Consul General Asaf Zamir. The gala honored Peter Weintraub, FIDF's outgoing national chairman, who did not announce a total amount raised at the event, but called on large donors to stand up, state their names and pledge (mostly) large donations, which ranged from $50 to $100,000.
There was a moment of confusion during the mega-donor roll-call, when one donor announced that he would be giving "chai elef,"or $18,000, in honor of Weintraub and his wife, Ellen. "Wait, chai for me and chai for Ellen, or chaitogether?" Weintraub responded. It was the latter: $36,000 in total.
SAYING SORRY
In apology 9 months after ethics report, CCAR notes changes but says more work needs to be done
When the Central Conference of American Rabbis, the Reform movement's rabbinical association, published an investigation of its process for handling ethics complaints last December, it came with a lengthy checklist of proposed changes. Last week, nearly nine months later, CCAR published a lengthy apology, along with a chart detailing its progress reforming its ethics code. The chart notes steps taken to address many, though not all, of the reforms recommended in the report, reports eJewishPhilanthropy's Ben Sales.
New acknowledgement: The apology also acknowledges something that the investigation didn't cover: allegations of discrimination against women and LGBTQ rabbis in the organization's placement system, which is crucial in helping rabbis find pulpit positions. "We apologize for this pain and continue to reflect on this difficult history," the letter said. "Although our placement system has evolved in significant ways in recent years, we would be remiss if we did not acknowledge the past."
Continued work: Rabbi Hara Person, CCAR's chief executive, told eJP that CCAR receives about two sexual misconduct complaints per year, and agrees that more work remains. She said the CCAR is "absolutely" committed to implementing all of the recommendations of the Alcalaw report. So far, the organization, which has an annual budget of roughly $6 million, has spent nearly $1 million on the report itself, and has created a three-person department to work on the ethics system. The group will vote on changes to its ethics code at a meeting in December.
ANTISEMITISM
What keeps me up at night? Our sense of responsibility on security
"I have often been asked during my life of fighting antisemitism: 'What keeps you up at night?' I would get this question from members of the media, donors, lay and communal leaders within and outside of the Jewish community, everyday synagogue-goers and even those not affiliated with any Jewish institution or movement," writes Abraham Foxman, director emeritus of the Anti-Defamation League, in an opinion piece for eJewishPhilanthropy.
Repetitive questions: "I can say unequivocally, today as I pen this, that what keeps me up are the repetitive questions that continue to swirl around in my head: Are we safe enough? Are we doing everything we can to protect our precious community? Are we taking the reality that antisemitism continues to pose a myriad of threats to us seriously enough? Are we devoting enough resources? Are all of us playing a part in helping to improve our security?"
Missing innate understanding: "Thinking about the answers to these questions – particularly as another High Holiday season approaches – prompts me to always revert back to how Jewish communities outside of the United States have approached their security dating back several decades. European, South African, Latin American and Australian Jews possess this seemingly innate understanding about their personal responsibility to security that has not yet permeated the consciousness of grassroots American Jewry."
REFLECTION
Challenging times, critical moments: Rosh Hashanah 5783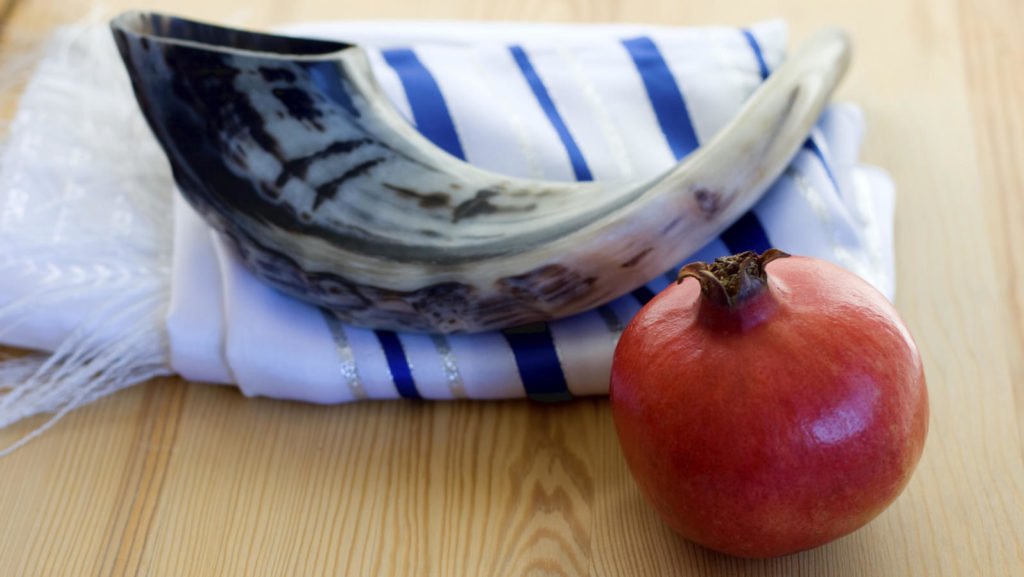 "The Jewish New Year symbolizes a time of reflection, as we personally and collectively assess our individual relationships and examine the state of our community. Each fall, these Days of Awe afford us that special period of reflection on the Jewish condition… The genius of Judaism is found in its calendar, setting aside time for this form of self-encounter," writes Steven Windmueller, interim director of the Zelikow School of Jewish Nonprofit Management at Hebrew Union College-Jewish Institute of Religion, in an opinion piece for eJewishPhilanthropy.
Common themes: "Indeed, in reviewing the themes of High Holiday messages in past seasons, one finds a degree of convergence, as specific issues would either globally or regionally emerge, setting the framework for sermon topics and Rosh Hashanah conversations. In 1947, rabbis in the greater Detroit area, as an example, collectively agreed to address the issue of Black-Jewish relations in that city. In 1956, as he routinely did, Rabbi Mordecai Kaplan gathered his Jewish Theological Seminary students and some of his rabbinic colleagues to introduce the theme of 'happiness' as a baseline priority. Indeed, during periods of great upheaval and transition, including the rise of Nazism in the 1930s, the fight to establish the Jewish state in the 1940s and the civil rights era of the 1960s, rabbis would address these overarching considerations."
Personal reflective points: "As we prepare for 5783, we are confronting a number of critical Jewish themes. On one level, we come to this moment anticipating an opportunity to repair our personal friendships, reimagine our place within the communal orbit, and reenvision the broader edgings of our global Jewish space… Yet, even beyond these internal and personal reflective points, we seem as a people and as a society to be facing an array of structural and operational challenges that are ripping our social fabric apart. As we gather this year, a type of weariness appears to be taking hold, as an outgrowth of the pandemic's imprint on our lives, combined with a level of frustration that today clouds our politics."
Worthy Reads
Empowering Refugees: Los Angeles high school student — and Diller Teen Tikkun Olam Award winner — Sienna Nazarian and a classmate, Lily Sind, launched the Refugee Empowerment Project in 2020. They have helped more than 1,000 refugees and recruited 120 teen and adult volunteers along the way, Eric Berger reports in the Jewish Telegraphic Agency: "'Because we were so young, it was hard to establish a sense of credibility,' Sienna said. 'We had to basically convince all of these established partner refugee organizations that we had the ability to make a meaningful impact and actually have operational programs.' These programs include creating lesson plans for learning English; training volunteers on how to communicate with refugees and respond to their trauma and needs; and starting orientation tours for refugees of Los Angeles landmarks, providing information in their native languages about their new neighborhoods, important contacts and details on American slang, among other information. Most of the Refugee Empowerment Project's clients come from the Middle East or Central America." [JTA]

Patagonia Motives: An analysis by Philip Rojc in Inside Philanthropy takes a look at the possible motivations behind Yvon Chouinard's decision to transfer ownership of the apparel company Patagonia to a nonprofit and a trust: "On the one hand, the Chouinards' move has been praised as an elegant way to orient the clothing brand's proceeds wholly toward environmental causes… while retaining family oversight regarding the direction of the business…On the other, critics have pointed out that the restructuring avoids potentially hefty capital gains, gift or estate tax bills that would have been owed had Chouinard sold the company outright or transferred it to his heirs. Additionally, while it's still unclear how the Holdfast Collective will use its expected annual haul of $100 million in Patagonia profits, the new organization's 501(c)(4) designation holds fewer restrictions on political activity and advocacy spending." [InsidePhilanthropy]
Community Comms
Be featured: Email us to inform the eJP readership of your upcoming event, job opening, or other communication.
Word on the Street
President Joe Biden and First Lady Jill Biden are hosting a first-ever Rosh Hashanah reception at the White House on the morning of Friday, Sept. 30.
Hebrew Union College-Jewish Institute of Religion and Hillel International launched a collaborative partnership to build a professional development pipeline, starting in college, that will enable students and Hillel professionals to become Jewish leaders. Together, the organizations will address the declining interest in religious leadership…
Ahead of Rosh Hashanah, the International Fellowship of Christians and Jews is providing more than $8 million to help Israeli families with purchases of food and clothing. Among the beneficiaries of the holiday support are thousands of immigrants who have been forced out of their homes since the Russian invasion of Ukraine…
The Marcus Foundation and JCC Association of North America announced a $3 million grant to send 300 children of active-duty Jewish military service members to Jewish overnight camp from 2023 to 2026 through JWB Jewish Chaplains Council. The grant will be structured to cover the cost of fees for up to four weeks at a camp affiliated with the JCC movement for up to three consecutive summers…
JewishGen, an affiliate of the Museum of Jewish Heritage – A Living Memorial to the Holocaust in New York City, announced a new partnership with the Central State Historical Archives of Ukraine to aid in the effort to preserve historical records at risk of loss and destruction amid Russia's invasion of the country…
The Orthodox Union announced a pair of new initiatives created in partnership with Secure Community Network, the umbrella security organization for the American Jewish community. One is designed to increase the security of Orthodox Jewish synagogues; the second is intended to increase the reporting of antisemitic incidents in the Orthodox Jewish community through an online portal…
The population of Israel stands at just over 9.5 million, according to updated data issued Tuesday by Israel's Central Bureau of Statistics. Of that total, 74% are Jewish, 21% are Arab and 5% are neither.…
Michael L. Stern, a partner at Stonehill Capital Management, was appointed president of the New York-based Jewish Communal Fund…
Beatrice Weber will succeed Naftuli Moster as the executive director of Young Advocates for Fair Education, effective Oct. 3…
The University of North Carolina received a $25 million commitment from William and Dana Starling to establish a suicide prevention institute in the department of psychiatry of its medical school…
Bloomingdale's launched b the change, a new platform that will define its next era of social purpose. The retailer has partnered with the Fashion Institute of Technology (FIT) of the State University of New York to establish the Bloomingdale's x FIT Sustainable Innovation Fund, a collaborative endeavor that will curate philanthropic and sustainability-centered efforts for the platform…
Pic of the Day
Nearly 1,200 students at three ORT schools in Ukraine — two in Kyiv and one in Chernivtsi — have returned to their classrooms in person. A few hundred are still being educated at home by their parents, and will be able to take their exams and graduate as usual.
Birthdays
One of the highest-grossing Hollywood box office producers of all time, Jerry Bruckheimer…
President of The American Jewish Joint Distribution Committee, Mark B. Sisisky… Chair of the board of the Jewish Community Relations Council of New York, Cheryl Fishbein… Professor at Harvard Law School, Cass Sunstein… and his wife, with whom he shares a birthday, administrator of the U.S. Agency for International Development, Samantha Power… Member of the Knesset for the Likud party, Yisrael Katz… International president of the Women's League for Conservative Judaism, Debbi Kaner Goldich… Owner of Total Wine & More, the largest alcohol retailer in the U.S., he is now a member of the House of Representatives, David Trone (D-MD)… Professor of political science at Tel Aviv University and professor emeritus at Georgetown, Yossi Shain… One-half the renowned film-making team of the Coen Brothers, Ethan Jesse Coen… Attorney, author, conservative talk show host, Mark R. Levin… Retired managing director of equity trading at Goldman Sachs, Andrew Berman… Co-founder of the private investment firm Centerbridge Partners, Jeffrey Aronson… Russian businessman who fell out of favor with President Putin, now living in Israel, Leonid Nevzlin… Janet Bunting… SVP at polling firm Greenberg Quinlan Rosner Research, Anna Greenberg…. Emmy Award-winning talk show host, actress and producer, Ricki Lake… Guitarist and music producer in Israel, Nachman Fahrner… Managing editor of the New York Jewish Week, Lisa Keys… Member of the Maryland House of Delegates, from District 16 in Montgomery County, Marc Alan Korman… Assistant professor of radiology at Duke, he is an Olympic gold medalist in swimming, Dr. Benjamin M. Wildman-Tobriner… Managing director at Scott Circle Events, Sienna Girgenti… COO of TAMID Group, Nathan Gilson… Dual Master's candidate at the Harvard Kennedy School and Harvard Divinity School, Mia Appelbaum… Rap musician, known professionally as Token, Benjamin David Goldberg… Senior director at FTI Consulting, Scott Frankel… 2015 Covenant Award recipient, author of a series of courses for the Melton School of Adult Jewish Learning, Sandra Lilienthal… Director of the board of Jewish education Chicago-JTeach.org, Alissa C. Zuchman…
Email Editor@eJewishPhilanthropy.com to have your birthday included.