Your Daily Phil: An esports fundraiser for teens + Doubling down on day school investment
Good Monday morning!
Yesterday saw a somewhat unusual Jewish fundraiser: While the event raised money on behalf of a popular cause — aid to Ukraine — it was held entirely via a 12-hour livestream; guests included an Israeli who streams a feed of himself playing esports, in addition to an Olympic gold medalist; and the dollar goal was small: just $1,200.
The reason for the modest number and unorthodox roster is that the fundraiser's target audience was Jews ages 12 to 18. Called a "TzedakaThon," the event was put on by Lost Tribe, a Jewish group that aims to engage teens through esports, social media and other virtual spaces. The goal of the fundraiser was to teach about the Jewish value of charity and create a culture of giving.
"I don't want to say it's not a big number, because on one hand, it's a huge number when you're talking about kids [who] aren't engaged in the community," said Lenny Silberman, Lost Tribe's founder and CEO. "You know, it's a dollar here, it's $5 there, it's $10, whatever it should be. It adds up. Changing culture takes time."
Lost Tribe has engaged more than 61,000 teens since it launched in February 2018. Silberman said his primary goal is to engage the large percentage of Jewish Gen-Zers who have stepped away from Jewish life after their b'nai mitzvah. The organization went all-virtual when COVID-19 hit, and now has nearly 24,000 followers on TikTok. Six hundred teens log into its Discord channel every day.
The group connects Jewish teens on various social media platforms, including Twitch and Discord, which are both popular with gamers. It also offers Jewish education through experiences on the popular game Minecraft, and hosts regular events on Jewish holidays.
The TzedakaThon ran yesterday from 10 a.m. to 10 p.m. EDT, raising money for Ukraine relief via the Jewish National Fund. Its headliners included Jewish TikTok comedians Kyle Gordon and Eitan Levine, as well as Snacksss — an Israeli gamer with an average of 10,000 views per stream — who played "FIFA 22", a soccer video game.
Attendees tuned in to hear from four-time Olympic gold-medal swimmer Lenny Krayzelburg, who came from Ukraine to the U.S. when he was 8, and watched a challah-making demo by Challah Back Girls, four sisters who bake and sell challah to raise money for racial justice.
Participants also had opportunities to win devices such as an Xbox, PS5, Oculus or Nintendo Switch, along with other prizes.
NATIONAL ACTIVISM
Jewish women in the abortion debate say they're fighting for their cause in a changed world
For large Jewish women's groups, some of which have supported reproductive rights for decades, the recent Supreme Court ruling overturning Roe v. Wade has spurred action — from statements condemning the decision to national campaigns and fundraising drives. While the stigma around abortion isn't gone, the issue of reproductive rights is much more in the public eye than it was 50 years ago, reports eJewishPhilanthropy's Esther D. Kustanowitz.
Abortion before social media: Before Roe v. Wade guaranteed a constitutional right to abortion in 1973, Susan Weidman Schneider said women seeking the procedure would feel an "often scary solitude." Abortion was criminalized across much of the country, and it came along with the shame of being pregnant, especially for women who were unmarried. "You were surrounded by people who hated you, who scorned you, who wished for the pregnancy that you knew you had to end to continue, without the sisterhood and sometimes brotherhood that surrounds people now," Weidman Schneider, 78, the editor-in-chief of Lilith magazine, told eJewishPhilanthropy. "Social media did not exist in those years of whispered clues to abortion providers."
'Abortion is healthcare': Now, after the Supreme Court overturned Roe in its recent ruling, Dobbs v. Jackson Women's Health Organization, the situation has changed. Sheila Katz, CEO of the National Council of Jewish Women, told eJP that 50,000 people have participated in NCJW's activism for abortion rights surrounding the court decision, by doing things like signing a letter or coming to a vigil. For NCJW, the current campaign is the latest expression of about a century of support for reproductive rights. "It's not just an issue of dignity, it's an issue of life and death," Katz said. "The Jewish community has to be a united front to say 'abortion is healthcare'; we need to have access to care for our communities and the people in them."
Halacha is 'far more complicated': Bethany Shondark Mandel, a columnist and editor of the conservative children's book series Heroes of Liberty, said, "A lot of Jewish organizations believe that abortion is a Jewish issue, completely ignoring the Jewish law] on the very narrow circumstances where that might be the case." She added that statements by the Haredi umbrella group Agudath Israel, which supported the Dobbs decision, and the Orthodox Union, which did not take a position on it, "were completely drowned out by more secular and left-leaning organizations [that] have misrepresented Jewish law and used it as a political cudgel when the reality is far more complicated."
DOUBLE DOWN
Making big bets on Jewish day schools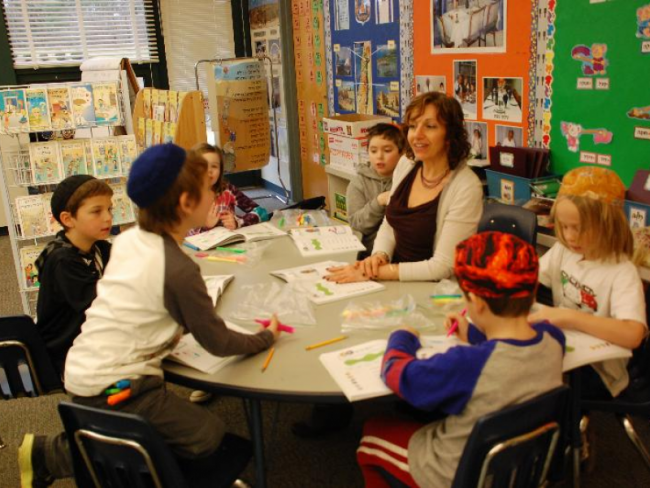 "Passion. Gratitude. Investment. Inspiration. These are just some of the words we could use to describe the palpable positive energy of Prizmah's 2022 Day School Investor Summit in May," write philanthropists Sarena Koschitzky and Ann Pava in an opinion piece for eJewishPhilanthropy.
Double down: "Excited to seize the moment and use the positive momentum to drive even more growth and stability for the field, attendees engaged in learning and conversations around affordability, enrollment, talent, excellence and the value of a day school education. Based on our experiences in our home communities of Toronto and West Hartford, Conn., as well as what we learned and witnessed at the summit, we know that now is the time to 'double down' on investments to Jewish day schools."
Impact: "We know what challenges need to be addressed, we know the potential our schools have and we are pooling our resources — intellectual, interpersonal and financial — to create measurable impact that will set the field up for continued success."
Worthy Reads
Building Inclusion Culture: Funders are well-positioned to play key roles in creating a culture of belonging at Jewish nonprofit organizations, writes Heidy Zohar Ramirez in an opinion piece on the Jim Joseph Foundation's website: "Designing a culture of belonging (or creating dedicated spaces) is an investment that has the potential to nurture the capacity of historically marginalized individuals, in a reciprocal and equitable way, thereby helping to build thriving organizations that are innovative and better equipped to solve problems, find creative solutions, and best meet the needs of their constituents. Who better to find solutions than the individuals experiencing the problems firsthand? To understand these needs, individuals (and both young and older generations) also need to be included in decision making conversations. I have been fortunate to work for two organizations that shared a genuine desire to transform the 'traditional' ways in which we understand how foundations and synagogues operate… Funders are in the especially powerful position to play an active role in shaping their organization's culture and that of grantee-partners. I value the opportunity to be part of culture building. In our Jewish tradition, we are consistently reminded of our obligation to care for those around us and raise our voices in the face of oppression." [JimJosephFoundation]

Good or Great: While a great fundraiser can help an organization get to the next level, not everyone has the attributes to be an extraordinarily successful fundraising professional,  Duke Haddad writes in NonProfitPRO: "Five qualities that make a good fundraiser great are humility; enthusiasm for the ask; excellent oral, written and listening skills; a broad set of interests; and moxie. Fundraisers must seek to continuously improve their craft. They must practice asking for the gift and enjoy the thrill of this adventure. They need to understand that in a productive solicitation, it will involve 75% listening and 25% talking. Fundraisers, who exchange with prospects about a variety of subjects, must believe in their cause and expect every ask to be successful… Some top fundraising skills every professional should have include great interpersonal skills, commitment to a cause, determination, perseverance, honesty, adaptability and storytelling skills." [NonProfitPRO]
Community Comms
Lead. Apply for the Fall 2022 online cohort of the Certificate in Jewish Leadership, presented by Spertus Institute in partnership with Northwestern University.
Be featured: Email us to inform the eJP readership of your upcoming event, job opening, or other communication.
Word on the Street
The Solomon R. Guggenheim Museum announced a $15 million commitment from Gail and Alfred Engelberg and the Engelberg Foundation to endow the museum's arts education programs. The education center — once named for the disgraced billionaire Sackler family, which agreed to pay $6 billion for its role in the opioid epidemic — will be renamed The Gail May Engelberg Center for Arts Education…
Linda Maurice was named executive director of the Jewish Council of North Central Florida, the umbrella organization for the Jewish communities of Gainesville, Ocala and the surrounding area…
Sam Dubin will join the Jewish Community Relations Council/AJC of Detroit as assistant director on Aug. 29…
"Philanthropy & The City 2022," a new five-episode video series from The USC Center on Philanthropy and Public Policy and TheKresge Foundation will debut next month…
HP Inc. announced a $30 million partnership with the Global Business Coalition for Education to provide technology and learning materials to assist displaced Ukrainian children…
Pic of the Day
At an art installation on Friday in the former Jewish district of Warsaw, a man attaches ribbons with the names of Jewish inhabitants of the city's Nazi-era ghetto. The ceremony marked the 80th anniversary of the start of Nazi Germany's mass deportation of Jews from the Warsaw Ghetto to the death camp of Treblinka.
Birthdays
Retired MLB pitcher from the small Jewish community in the Dominican Republic, he maintains a kosher home, José Bautista…
Warsaw Ghetto Uprising participant and Holocaust survivor, she is the subject of the 2021 documentary "I am Here," Ella Blumenthal… Former publisher/editor-in-chief of Jewish Lights Publishing, Stuart M. Matlins… Cinematographer, whose work includes "The Rocky Horror Picture Show" and "The Empire Strikes Back," Peter Suschitzky… Former member of the New York City Council, Alan N. Maisel… Born in Casablanca, Morocco, entrepreneur and film producer, he produced "The Woman in Red" and "Weekend at Bernie's," Victor Drai… Former IDF brigadiergGeneral, he was part of Operation Entebbe in 1976, later a member of Knesset, Efraim "Effi" Eitam… Voiceover artist, Peter Grossman… Chairman of Vibrant Capital Partners and chair emeritus of the Weitzman National Museum of American Jewish History in Philadelphia, Philip Darivoff… Screenwriter, director and producer, Darren Star… Pulitzer Prize-winning author and journalist, she is a staff writer at The Atlantic, Anne Applebaum… Israeli journalist, television news anchor and author of a nonfiction book and a novel, Oshrat Kotler… National director and CEO of Friends of the Israel Defense Forces, Rabbi Steven Weil… Born in Baku, Azerbaijan, he is a New York City-based criminal defense attorney, Arkady L. Bukh… Head coach of the men's basketball team at Kent State University, Rob Senderoff… SVP of health policy and advocacy at PR firm Weber Shandwick, Erin Seidler… Film and television actor, Michael Welch… Baseball pitcher on the Israeli national baseball team, now a real estate broker at Avison Young, Joseph "Joey" Samuel Wagman…
Email Editor@eJewishPhilanthropy.com to have your birthday included.