Your Daily Phil: A tale of two galas + Moneyball Judaism
Good Tuesday morning!
In today's Your Daily Phil, we report from two galas happening concurrently in New York City, and feature an op-ed by Rabbi Joshua Rabin about what Oakland Athletics executive Billy Beane can teach us about Jewish philanthropy. Also in this newsletter: Jesse Eisenberg, Jessica Hecht and the late Amy Winehouse.

On the 11th floor of a chic event space in Tribeca, guests in formalwear noshed on wine and cheese and mingled with actors who have appeared in acclaimed TV shows and films. Cameras snapped as the actors posed with guests.

You'd be forgiven for not knowing that last night's event was a benefit on behalf of the Workers Circle, which was once a mutual aid society associated with socialism. Now, the group focuses on social justice activism and preserving Jewish culture, most notably through a Yiddish-language program that serves more than 1,000 people.

For Ann Toback, the group's CEO,hosting a gala to raise money is one more way the group is following in the footsteps of its founders who, she said, "would be OK" with the event. The Workers Circle has an annual budget of $3 million and had a fundraising goal last night of $200,000.

"I think it makes sense; we evolved," she told eJewishPhilanthropy. "In our earliest days, we were funded by fraternal benefits and we used those benefits to help the immigrant population… We're taking their activism forward, and they knew as well as we do, activism needs resources."

Aiding in the fundraising for the group, formerly known as the Workmen's Circle, were the two actors who attended: Jesse Eisenberg, who is currently appearing as the title character in the Hulu series "Fleishman Is in Trouble," and Jessica Hecht, who has appeared in the shows "Breaking Bad" and "Friends" and who received the Workers Circle Activism Award.

Eisenberg, who was dressed in a dark suit over a sweater, with shaggy hair and glasses, told eJP that the organization's work speaks to his values. His father is a board member, and he spent time chatting with attendees, including talking to one guest at length about Holocaust survivors.

"When I started reading about it, I realized it was an intersection of all the things I'm interested in, the values with which I was raised and the ethos I try to live my life by," Eisenberg said of the Workers Circle. "We're culturally Jewish liberals, and my favorite thing about Jewish culture is curiosity and interest in the world, and valuing social justice."

Hecht's history with the group goes back further. Her grandmother worked for the organization as a social worker, and an old, enlarged photo of the two of them — with Hecht as a child — was displayed near the bar. "I remember it very fondly from my childhood," Hecht said. "I certainly went to the doctor with her at the Workers Circle… It's a lovely history."

The theme of the event, and of much of the group's current work, was protecting democracy and campaigning for voting rights. While the group is rooted in its history, Toback framed democracy promotion as a battle for the future.

"We are in this fight for our democracy for the long haul," she said, also mentioning "our commitment to training young people to be leaders in our movement, to be lifelong activists."
scene yesterday
UJA Wall Street Dinner mixes personal stories with calls to fight antisemitism
The aspect of the UJA-Federation of New York Wall Street Dinner that may have stood out the most was a number: $31 million, the amount raised that night — a haul that exceeds the annual budgets of many Jewish organizations. But last night, the personal tone of the awardees' speeches belied the event's astronomical numbers, the dark designer suits and cocktail dresses, and the kosher catered food on offer, reports eJewishPhilanthropy's Ben Sales.
The themes: Overall, the night brought together 1,400 people — double last year's attendance but lower than that of 2019 — to hear about UJA-Federation's themes of aiding Ukraine, addressing the legacy of COVID-19, ameliorating food insecurity and fighting antisemitism. Eric Goldstein, the group's CEO, said that in recent years, UJA's total annual grantmaking has risen from $155 million to $175 million and is likely to grow further.
Condemning Kanye: CNN host Van Jones, the keynote speaker, opened his speech with "an apology for the silence of my community" regarding discrimination against Jews. Jones, who is Black, invoked his Jewish godmother in calling for a renewal of the Black-Jewish civil rights alliance, and condemned Kanye West, now known as Ye, for his stream of antisemitic remarks. To loud applause, he repeated, "Ye, nay! Ye, nay! Ye, nay! No more, no more, no more."
The awardees: Solita Marcelli, the chief investment officer for the Americas at UBS, won the Alan C. Greenberg Young Leadership Award, and Daniel Loeb, CEO of Third Point, a hedge fund, won the Gustave L. Levy Award. "Jewish outreach really matters, and you never know when it's going to click," Loeb said in his speech. Marcelli spoke about her experience as a Turkish Jewish immigrant to the U.S. When she attended her first UJA Wall Street Dinner two decades ago, she said, "That evening seemed a little different than it does tonight. I don't remember anyone who looked or sounded like me — a woman, an immigrant, with an accent."
home run philanthropy
Moneyball Judaism: 'Winning' an unfair game
"The Jewish communities that shaped me were rich in love, but seldom rich in financial resources. I cannot recall any instance where these communities became the recipient of a significant donation of the variety that would be featured in eJewishPhilanthropy or The Jewish Week. I always found it incredibly unfair," writes Rabbi Joshua Rabin, founder of the "Moneyball Judaism" newsletter, in an opinion piece for eJewishPhilanthropy.
Lacking logic, engendering jealousy: "While I never wavered in my belief that these communities were impactful and essential, it was frustrating to feel like other people did not see what I saw. And worse, I felt that there was no internal logic as to why certain organizations were well-funded, and others were not; wouldn't it make more sense for communal resources to be first spent on the organizations that made the greatest impact? To me, this state of affairs felt like a bizarro version of the Matthew Effect, where the rich got richer and the poor got poorer for no discernible reason. In such a climate, it is impossible not to become extremely jealous, even a smidge angry. Who wouldn't be?"
Gaming the system: "For years, I struggled with how to thrive as a professional in the Jewish world as it is, as opposed to the Jewish world as I would like it to be. Then I discovered the book Moneyball: The Art of Winning an Unfair Game. Nearly 20 years ago, Michael Lewis published Moneyball, the story of how Billy Beane and the Oakland Athletics used data and market inefficiencies to outperform baseball teams with far larger payrolls. To this day, it's my favorite book about leadership because it provided me with an alternative mental model to the learned helplessness that I often experienced."
Information is money: "Moneyball is a story about necessity. The Athletics did not have deep pockets, so they could not use their checkbook to buy effectiveness; the world was not fair. Instead, Beane, the team's general manager from 1997-2016, won an unfair game because he realized that information is as valuable as money, if you know how to use the information to your advantage."
Worthy Reads
Breaking the Philanthropic Mold: Today's economic reality is transforming U.S. philanthropy, Abby Schultz writes in Barron's, including a change in how philanthropists evaluate their gifts: "Over the past 30 years, donors had moved toward 'impact measurement,' a means of tracking the effectiveness of their grantees, says Amir Pasic, dean of the Lilly Family School of Philanthropy at Indiana University. Yet there is growing concern that this approach, with its rigid donor-conceived templates, may not be generating the best outcomes and so some donors — such as [MacKenzie] Scott — are breaking the mold, Pasic says. 'If you're convinced that an organization is doing wonderful work, is connected to the community that needs the most help… the best thing you can do is give them the resources and decide how best they use it.' An example of this approach in practice is the Democracy Frontlines Fund, a collaboration of foundations established by Crystal Hayling, executive director of the Libra Foundation in San Francisco. The fund's decision-making is decentralized to put control in the hands of the grassroots organizations it serves. The approach is a way "to demonstrate the legitimacy of philanthropy," by shifting power away from those who give." [Barron's]
Around the Web
William and Tiffany Meyer have given $8.5 million to the Jewish Federation of Palm Beach County, Fla. The local community foundation will now be named after William Meyer…
Mira Marcus was named a board member of Tel Aviv Global, a company under the auspices of the mayor's office that facilitates tourism, economic development and international communications for the city…
Lisa Springer was named associate provost for continuing and digital learning at the Jewish Theological Seminary…
Lori Tessel was named director of development for the Western Region at the Simon Wiesenthal Center in Los Angeles…
The Jewish Federations of North America is now sending Russian- and Ukrainian-speaking skilled volunteers to aid Ukrainian refugees in Moldova, Spain and the Czech Republic. The program has already sent more than 100 volunteers to work with refugees in Hungary and Poland…
Stanford Universitylaunched S-JAN, a Jewish alumni network, following an autumn string of antisemitic incidents in the local Jewish community…
A music therapy room named for the late British Jewish singer Amy Winehouse opened at CPotential, a North London children's charity that treats children with conditions such as cerebral palsy, global development delay or acquired brain injury. Winehouse's parents, Mitch and Janis, cut the ribbon at the opening…
Pic of the Day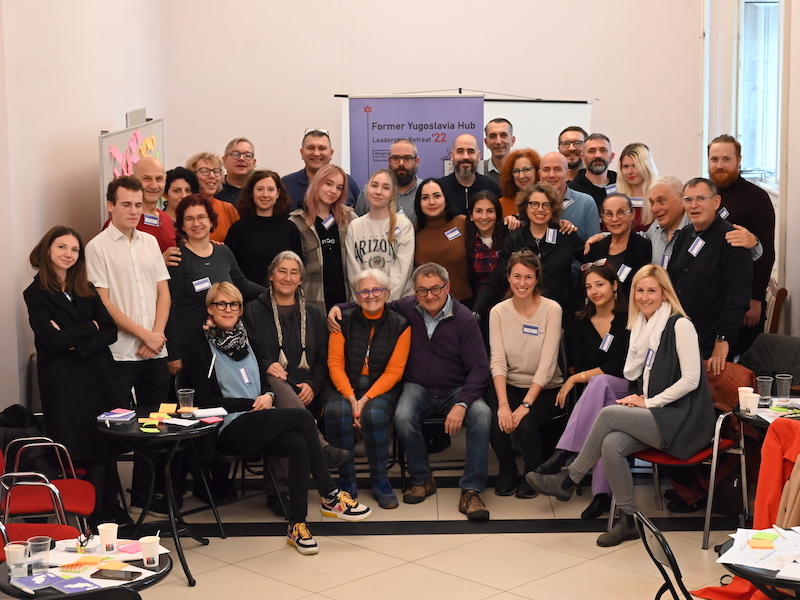 Thirty senior Jewish leaders from 13 Jewish communities across the former Yugoslavia attended a three-day leadership seminar last week in Belgrade organized by JCC Global and Haver Serbia.
Birthdays
Founder of Susan G. Komen (named after her late sister), she also served as U.S. ambassador to Hungary and chief of protocol of the U.S., Nancy Goodman Brinker…
Judy Clark… Moshe Hochenberg… Former member of the National Assembly of Quebec for 20 years, Lawrence S. Bergman… Renowned artist whose sculpture, photography, neon and video works appear in museums worldwide, Bruce Nauman… Israeli-born producer and art collector, Arnon Milchan… Senior U.S. district judge for the Northern District of Ohio, he serves on the executive committee of the Jewish Federation of Cleveland, Judge Dan Aaron Polster… Cell and molecular biologist, he is the director of research and professor at Cold Spring Harbor Laboratory, David L. Spector… Founder of Craigslist, the San Francisco-based website used around the world, Craig Newmark… Film and television actress, Gina Hecht… Faculty member at Harvard Law School since 1981, she served as dean of Harvard Law School from 2009 to 2017, Martha Minow… Author of a bestselling novel, Arthur Sulzberger Golden… SVP and general counsel at United Airlines, Robert S. Rivkin… Former EVP and COO of the Inter-American Development Bank, Julie T. Katzman… Emmy Award-winning producer, writer, director, actor and comedian, Judd Apatow… Member of Knesset for the Likud party since 2015, Yoav Kisch… Professor of economics at the University of Chicago, Michael Greenstone… Professor of history and public affairs at Princeton University, he is the son and grandson of rabbis, Julian E. Zelizer… Founder of Orange Grove Communications, Amir Mizroch… Managing director in the NYC office of PR firm BerlinRosen, Dan Levitan… Editor-in-chief at The Air Current, Jon Ostrower… Atlanta native, now a venture capitalist in Israel, Ilan Regenbaum… Licensed community association manager in South Florida, Beth Argaman… Head of the Mediterranean, Middle East and Africa program at Rome's Istituto Affari Internazionali, Andrea Dessì… Joe Blumenthal…