Your Daily Phil: A synagogue at Babyn Yar + Moishe Houses open back up
Good Thursday morning!
Starting in July, a majority of the world's hundred-plus Moishe Houses will again be providing the full complement of monthly programs — such as Shabbat dinners, parties and service opportunities — that they offered to their communities before the pandemic, the organization's chief program officer, Tiffany Harris, told eJewishPhilanthropy.
Most of the offerings will be in-person, although 28 houses in the global network for young Jews, who receive a rent subsidy in exchange for creating programming, are located in parts of the world where such gatherings are not yet possible. In those houses, online programming continues.
"We want to hold off on doing some kind of celebration because we have community builders where the situation is very different," Harris said.
Moishe House has observed some signsof progress. For six months, no one has drawn on the COVID-19 relief fund the organization created to support residents who were struggling financially, Harris said. In the United States, the organization is offering grants to improve outdoor programming spaces to Moishe Houses preparing to welcome back guests.
But even in the U.S., some residents are still feeling nervous about going back to "normal" life, said Harris, who once lived in a Moishe House herself. "I think I wouldn't have been sure about having huge Shabbat dinners in my living room," she said. "We want to be able to ramp up capacity now but there might be some people who will not be ready yet, and that's OK."
A LIVING MEMORIAL
Praying at Babyn Yar
When the architect Manuel Herz was asked to design a prayer space on the grounds of the Babyn Yar Holocaust Memorial Center (BYHMC), which is located on and around the site of the ravine in Kyiv where Nazis shot about 100,000 people, including 34,000 Jews, over two days in 1941, he was deeply honored, but didn't want to create a typical, minimalist Holocaust memorial, he told eJewishPhilanthropy's Helen Chernikoff.
Prayer and playfulness: "The crime was so monumental that no monumental architecture can match the crime," he said. Instead, he built a "book." The wooden structure — which isn't technically a synagogue according to Jewish law, although it looks and functions as one — opens and closes like a child's pop-up book. "It goes to the core of what the synagogue is," he said. "We come together, we open the book, the Torah, we read it and it opens up a world. A world of stories, morals, love and law."
Holocaust of bullets: Herz's determination to depart from the canon of memorial architecture complements the mission of the center itself, which is dedicated to telling a part of the Holocaust story that it is still new to many people — that of the "the Holocaust of bullets" — the killing of 2.5 million people in Eastern Europe who weren't transported to concentration camps, but instead murdered near their homes, said BYHMC's deputy CEO, Ruslan Kavatsiuk. "Babyn Yar is the biggest symbol of this story," Kavatsiuk said. "How do you tell it? There are no artifacts. This is something that has been in the shadows."
The guy who does the synagogues: No monument was erected in Babyn Yar until 1976, and that one honored citizens and prisoners of war — but not Jewish victims specifically. The first Jewish memorial, a menorah-shaped monument that stands near the new synagogue, was unveiled in 1991. The idea of a synagogue came from philanthropists — many of them Russian and Ukranian — who support the foundation, a group that includes Mikhail Fridman, Pavel Fuks, Ronald Lauder and Victor Pinchuk, said Rabbi Yaakov Bleich, an American who moved to Kyiv in 1989 to help rebuild the Jewish community and now serves as chief rabbi of Ukraine. "I said, 'You want to build a synagogue, let's call the guy who does the synagogues, he's one of the most popular synagogue designers in the world," Bleich said, referring not to Herz, but to an architect who specializes in synagogues. He soon realized, however, that the philanthropists weren't looking for a typical synagogue.
FREQUENCY MATTERS
Pew 2020: Frequency and flourishing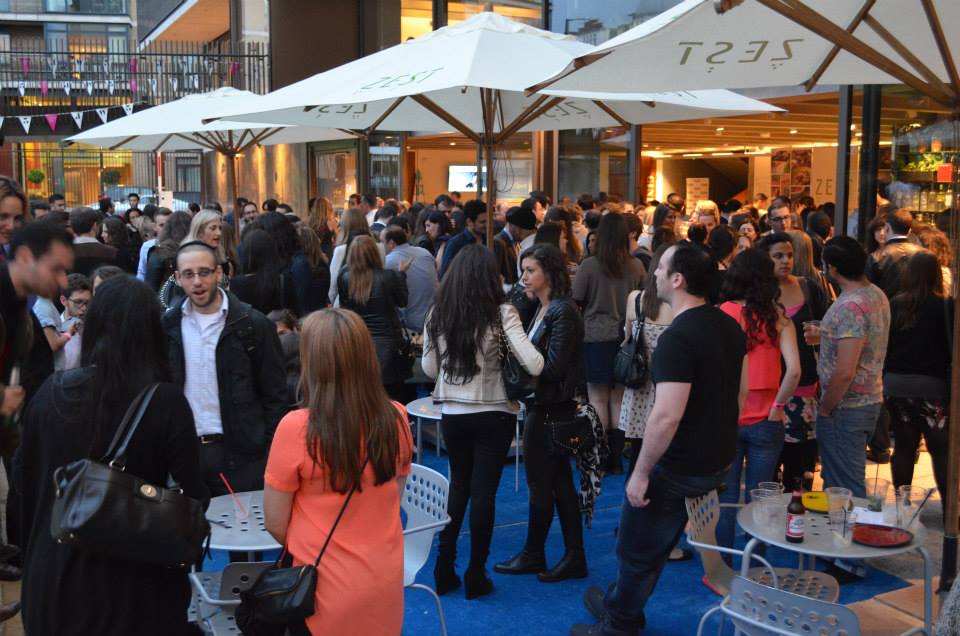 "Out of the copious amounts of data that is Pew 2020, what most jumped out at me was the finding that Jews with higher levels of traditional religious observance… are also much more likely than those of lower levels of traditional religious observance to participate in Jewish cultural activities," writes Rabbi Dan Horwitz, the outgoing CEO of the Alper JCC Miami, in an opinion piece for eJewishPhilanthropy.
Cultural Jews: "While I'm well aware of and appreciate the 'cultural Jew' construct, I don't think I fully realized that religious Jews are consumers of Jewish culture at a much higher clip than self-described cultural Jews are themselves! So – call me crazy – but perhaps one of the key takeaways of this most recent edition of Pew is that Jewish cultural organizations striving to secure their futures should actively encourage folks to take on a more traditional Jewish religious practice if they hope to have a more committed audience!"
Frequency matters: "Many years ago, I worked for Hillel on campus and I was also part of the early team at Moishe House. Both of those organizations, at the time, measured a 'highly engaged participant' as someone with whom there was a quarterly touchpoint. That is, if you had a young adult choosing to do something Jewish at least once every three months, that young adult was deemed 'highly engaged.' Thankfully, both organizations have shifted to a much more robust engagement approach, recognizing what the Pew data seem to make clear: frequency of participation in Jewish life matters, and begets additional participation."
ERR ON THE SIDE OF CAUTION
A 'new normal' for in-person seminars
"We did something I wasn't sure would be possible. In April we hosted a nine-day immersive, in-person retreat for our Bronfman Fellows who had spent over a year learning together solely over Zoom. It turned out to be an unforgettable experience that reminded us of how much has been missing over the last 14 months," writes Aaron Steinberg, the deputy director of the Bronfman Fellowship, in an opinion piece for eJewishPhilantheropy.
Our approach: 'We took a conservative approach to running our program. All attendees participated in a robust regimen of testing both prior to arrival and onsite, masks and distancing were required throughout the seminar, attendees were encouraged to be vaccinated (ultimately over 50% of the group was vaccinated). I'm happy to report that we had no known or suspected cases of COVID-19 connected to the seminar."
Err on the side of caution: "Over the course of a two-week span, our seminar attendees took multiple PCR/NAAT COVID tests. To many this seemed excessive and there's no question that we were being very cautious. There was a significant expense to this much testing, and there was the small risk that a false positive could really complicate things, but we felt that extra precautions such as this would give us the confidence to move forward with the program."
Worthy Reads
Sharpening The Ask: The corporate philanthropy organization Pledge 1%, which since 2014 has asked founders of companies such as DocuSign and PagerDuty that are soon to go public to donate 1% of their resources, is now asking specifically for 1% of outstanding equity, reports Connie Loizos in TechCrunch. The organization aims to help the companies and their industries develop good philanthropic habits at that early stage by helping them set up corporate donor-advised funds before the initial public offerings. "Hopefully, we'll have a conversation in five years and have a good chuckle of how we even had to talk about [startups donating equity] because it will just be the norm," said Pledge 1%'s CEO, Amy Lesnick. [TC]
Inspiring Gift: At least 11 historically black colleges and universities are reducing or cancelling debt in tuition, fees and fines owed by their own recent graduates, reports Sara Weissman in Inside Higher Ed. The cancellation is possible because of federal relief funding related to the COVID-19 pandemic and an upsurge in philanthropy after the killing of George Floyd last May, and inspired by the gift of billionaire Robert Smith, who cleared $34 million in student loan debt for Morehouse College graduates in 2019 when he spoke at the school's commencement. "You add inspiration like Mr. Smith and others and then you add in opportunity, like Congress has made available, and now you have a perfect storm during what has been one of the most turbulent times for African American students," said Lodriguez Murray, senior vice president of public policy and government affairs at the United Negro College Fund. [InsideHigherEd]
Good Work: In The Conversation, Stephen Beban surveysworkplace wellbeing initiatives such as Amazon's "AmaZen booths," intended to help employees experience periods of relaxation, and explains that such programs disappoint workers when they aren't accompanied by corporate commitment to employee health, competent management and reasonable job descriptions. The problem isn't the AmaZen Booths themselves, which are a contemporary iteration of successful workplace mental health programs, but the reality that many employers who offer such programs still believe stress will boost productivity. "Having a well-branded initiative on wellbeing is never enough by itself, especially if many employees' everyday experience of work is that it is intense, strenuous and toxic," Bevan writes. [Conversation]
Beating The Clock: In Harvard Business Review, Abbie J. Shipp reveals that as a scholar who studies time management, and a high-achieving person who used time management techniques to optimize her efficiency at both work and play, she didn't understand the dark side of those techniques until her health began to fail. She had a breakdown that lasted until she slowed down to really think about the work she was doing, and realized that despite her professional bona fides, she had an excessively literal notion of time that emphasized deadlines and rules to the detriment of her creativity and happiness. "Time management was no longer my friend," Shipp writes. "I began to focus on work as a series of meaningful events rather than a fixed, hourly schedule." [HBR]
Community Comms
Excel: Applications now being accepted for Spertus Institute's leadership program for Jewish communal executives. Deadline June 30.
Apply! Want to join the team at Jewish Insider/eJewish Philanthropy? We're looking for a top-notch philanthropy editor. Learn more here.
Be featured: Email us to inform the eJP readership of your upcoming event, job opening, or other communication.
Word on the Street
The Mellon Foundation is committing $125 million for guaranteed income and full-time employment opportunities to up to 2,700 artists to reinvigorate arts and culture in New York State during its recovery from the pandemic… Dr. Miriam Adelson has been appointed executor of her late husband's estate, according to a Securities and Exchange Commission filing… To prepare for a boost in Jewish tourism, the Tbilisi Jewish community has launched a new website to serve Jewish visitors to Georgia… A 16-year struggle to obtain a get reached its end Tuesday in a precedent-setting case opened in the rabbinical courts of Tel Aviv, which ended in the Beit Din in Brooklyn, N.Y.… Proposals to redraw constituency boundaries could see significant changes to seats that are home to the U.K. Jewish communities, including Hendon and Golders Green, becoming a single parliamentary seat… The American Jewish Committee launched AJC Farsi, with Persian-language social media accounts on Twitter, Instagram and YouTube… Israel's tech sector broke a new capital-funding record this week, with firms raising a total of $10.5 billion since the start of the year, matching the total raised in the whole of 2020, a record year, in less than half the time….
Pic of the Day
The anti-hunger organization MAZON celebrated its 36th anniversary on Tuesday with an online fundraising event that featured culinary icon Joan Nathan baking an Italian-Jewish cheesecake.
Birthdays
Belgian singer-songwriter, known as Blanche, Ellie Blanche Delvaux…

Author of several award-winning books about her experiences before, during and after the Holocaust, Aranka Davidowitz Siegal… TV journalist and the author of 13 books, Jeff Greenfield… Physical therapist at the University of Pennsylvania Health System, Andrea Sachs… Strategic communications director at the Generation to Generation program powered by Encore[dot]org, Stefanie "Stef" Weiss… Former Attorney General and then Governor of New York, Eliot Spitzer… President of Pharmore Drugs, Avi H. Goldfeder… Blogger and columnist for the Chicago Sun-Times,Neil Steinberg… Film, television and stage actress, Gina Gershon… Actress and the older sister of comedian Sarah Silverman, Laura Silverman… Israeli actress, Avital Abergel… Veteran of 9 NFL seasons as an offensive tackle, now an athletic coordinator for a high school in Austin, Mike Rosenthal… Associate VP of strategic partnerships at the Birthright Israel Foundation and director of community education at NYC's Congregation Kehilath Jeshurun, Rabbi Daniel Kraus… Associate professor at the Johns Hopkins University's School of Advanced International Studies in Washington, Yascha Mounk… Anchorman at Israel's Channel 10 News, Matan Hodorov… Editor-in-chief of The Algemeiner, Dovid Efune… Executive director of the Encounter Programs, Yona Shem-Tov…

Email Editor@eJewishPhilanthropy.com to have your birthday included.