Your Daily Phil: 76ers owners back Israeli girls' basketball + World Jewish Relief opens U.S. branch
Good Friday morning!
In today's edition of Your Daily Phil, we profile the 48ers girls' basketball initiative funded by 76ers owners Josh and Marjorie Harris. We also feature op-eds from Erica Brown and Steven Windmueller. Also in this newsletter: Florence Eiseman, David Kasher and Youth United Against Racism. We'll start with the launch of World Jewish Relief USA in Los Angeles.
For less-distracted reading over the weekend, browse this week's edition of The Weekly Print, a curated print-friendly PDF featuring a selection of recent Jewish Insider, eJewishPhilanthropy and The Circuit stories, including: The buzz is gone: Ben Smith and the end of social media-driven journalism; The Israeli opposition official fighting for more women at the table; Criticism of Jordan is getting louder, but not from Congress; Nides: 'Democracy is alive and well in the State of Israel'; Could brewing civil war in Sudan unravel its relations with Israel?; Israeli chef Eyal Shani brings Tel Aviv vibe to Dubai Marina; Saudi Arabia beats targets in energy, tourism, jobs for women; and Jewish-run group breaks ground on new housing development for neurodiverse adults in L.A. Print the latest edition here.
In addition to our regular Weekly Print, this week we've made available a PDF version of all five installments of Jewish Insider's investigative series "Who Killed Kesher's Rabbi?" Print the full series here.
Just a few days before Saturday's coronation of King Charles III, about 100 guests made their way to British Consul General Emily Cloke's private residence in Los Angeles' Hancock Park neighborhood on Wednesday evening, stepping inside and then — passing under a photograph of Charles' mother, the late Queen Elizabeth II — out to the back garden to mark the launch of World Jewish Relief USA, the U.S. branch of the U.K.'s main Jewish overseas aid organization, World Jewish Relief, reports eJewishPhilanthropy's Esther D. Kustanowitz from the event.
Over hors d'oeuvres, wines and cocktails, the attendees learned the organization's plans for its American expansion, its current humanitarian efforts around the world, particularly in Ukraine, and its origins helping Jewish refugees during and after the Holocaust.
The organization is now building out a board and a staff in the United States and drumming up support from the community. "All of us want to respond to the devastating human suffering caused by war and catastrophe," Board of Trustees Chair Maurice Helfgott said at the launch. "World Jewish Relief is the vehicle that we built to translate our collective desire into timely, practical impact."
Among the appointments to the American branch was Rabbi Dina Brawer, a recent transplant from the U.K., who will serve as the inaugural executive director for World Jewish Relief-USA. Cultivating partnership in the U.S. and having WJR-USA registered as a 501(c)(3) is part of the organization's 90th anniversary strategy to expand its capabilities, Brawer said at the event, and to "inspire new models and forge partnerships that change lives."
World Jewish Relief has sent nearly $13 million in humanitarian aid to Ukraine, assisting over 180,000 individuals affected by the war, evacuating 9,438 people and delivering 330 metric tons of food to 168,000 people, an organizational representative told eJP. "We have applied 30 years of on-the-ground experience, plus specific expertise in disaster management, to provide medical aid, food packages, psychological and employment support to 200,000 people there in 215 towns and cities across Ukraine," said Helfgott, who visited Kyiv earlier this year to see the organization's efforts on the ground firsthand.
"We are at a point in time when the world feels incredibly fragile, politically, economically and ecologically," Brawer said. "The world said 'never again,' yet prejudice and persecution have continued, with wars displacing millions, and leaving their scars on survivors," she said.
Hoop hopes
The 76ers' Josh and Marjorie Harris back Israeli girls' basketball initiative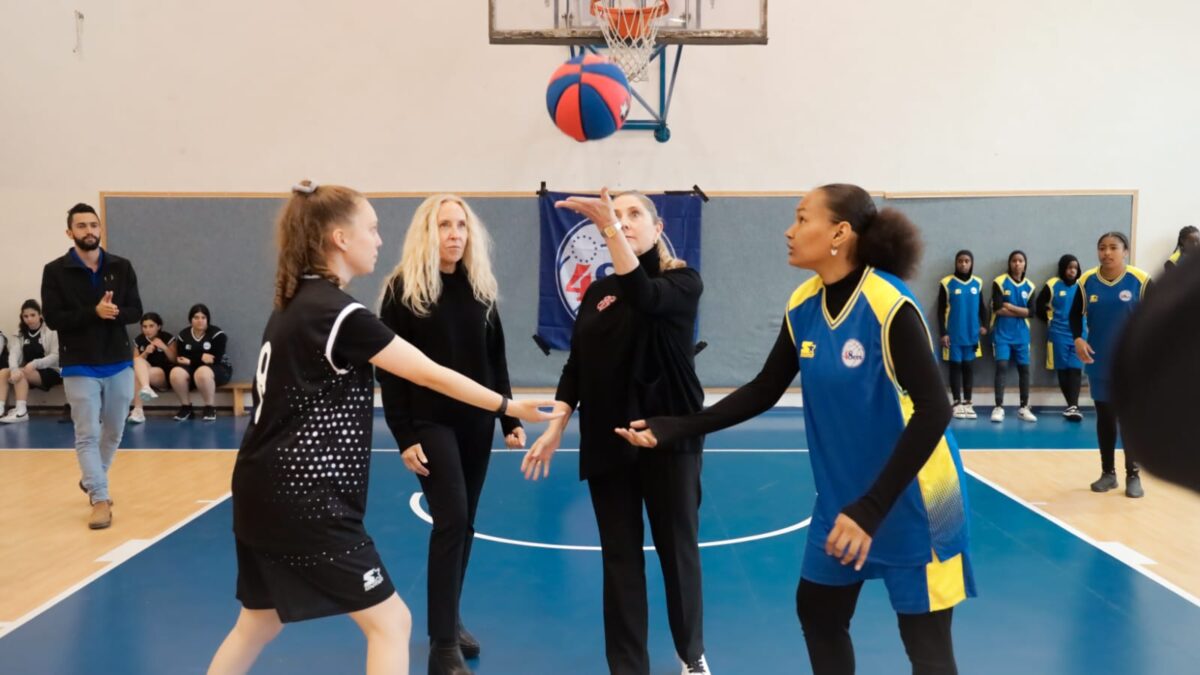 The Leyada School gymnasium in Jerusalem was a sea of ponytails and pinneys on a recent Tuesday afternoon, as dozens of Israeli middle school girls battled it out on the basketball court for the day's top honors, reports Jewish Insider's Melissa Weiss for eJewishPhilanthropy. The skidding of sneakers on polished wood and thud of basketballs meeting the floor were punctuated — and at times drowned out — by cheers, whistles and encouraging shouts from their coaches. The players, some of whom had spent hours traveling to the tournament, barely noticed at first when a similarly ponytailed, sneakered woman walked into the gym. But within a few minutes of Israeli First Lady Michal Herzog's arrival, she was swarmed by players. Accompanying Herzog was Philadelphia 76ers co-owner Marjorie Harris.
From 1776 to 1948: Harris, who owns the Philadelphia NBA team with her husband, Josh, first got involved in youth sports in Israel more than a decade ago. "We decided we wanted to do something to help the Ethiopian community in Jerusalem and the whole country," she explained to eJP before the tournament, "and we thought using the power of basketball would be a great tool and a great avenue." So in 2015 the Harrises helped create the 48ers, a youth basketball league for boys. Since the founding, the couple has given in excess of $1 million toward the project, Josh Harris told eJP. Its name is a nod to the year of Israel's founding, in the same vein as the Philadelphia 76ers. The Harrises soon joined forces with Liran Gerassi, the founder and CEO of The Equalizer, a nonprofit that incorporates sports and education into programming for Israelis who live in the country's geographic, and often socioeconomic, periphery.
Catalytic converters: Harris defined her and her husband's philanthropic efforts as "catalytic," pointing out that both she and her husband have finance backgrounds. "We like to look at philanthropy like you look at a startup or a nimble business: How do you measure success?" she said. "And I think in philanthropy, people tend to get nervous about that. 'If I don't prove I'm doing well, they're going to pull the money,' which isn't necessarily the case. It's OK, well, how can we do it differently? How can we do it better? And so we like to think of ourselves as catalytic in that we can get behind in an organization, help them financially, get involved in ways that maybe we can be helpful with our experience, and then help them take off with the goal that they would eventually find other sources of income and grow and be a little more self-sufficient."
Leveling the playing field: Harris' ultimate goal is to expand the girls' program in Israel so that there are an equal number of girls' and boys' teams. Gerassi added that they are considering training the current players so that they can return later on as coaches and assistant coaches in an effort to encourage more girls to participate. Sports, Harris said, is "an even playing field; it's a place where it doesn't matter what you look like, where you come from, what your religion is. It is the great equalizer, and it's also a great bonder of people, because it's a unified experience and purpose, and something people can really get behind."
The Torah of Leadership
Scrupulous leadership: Thoughts on Parshat Emor

"I've always loved the word 'scrupulous,' even though it can be a mouthful to pronounce. It offers the subtle combination of meticulousness, thorough attention to details and the moral quality of avoiding wrongdoing in the smallest of ways," writes Erica Brown, vice provost for values and leadership at Yeshiva University and director of its Rabbi Lord Jonathan Sacks-Herenstein Center, in her weekly column for eJewishPhilanthropy, "The Torah of Leadership."
Leadership at its best: "It communicates the nexus of careful, intentional thought and deed in relationship with honesty, integrity and righteousness. It describes leadership at its best. Sadly, we don't expect our leaders to be scrupulous today when it comes to ethics. We've lowered the bar so much that some leaders step right over it."
Scrupulous behavior: "At the heart of scrupulous behavior is the understanding that small acts of misconduct can grow over time into larger acts of moral corruption, and small acts of honesty can grow a reputation of trust. Who would you hire, the person who takes paper clips home or the person who asks before taking something for personal use?"
Memories and reflections
One professional's 50-year journey
"After serving in the Jewish communal space for 50 years, I thought it helpful to reflect on my career and share some of my experiences and insights. I found myself thinking about my path which led me to more than my share of extraordinary encounters and transformational historic moments. This is the second of a two-part series reflecting on my tenure of service. The first part dealt with leadership challenges; in this piece we are introducing a series of on-the-ground experiences," writes Steven Windmueller, interim director of the Zelikow School of Jewish Nonprofit Management, in an opinion piece for eJewishPhilanthropy.
Building community: "Meeting George S. would help to transform a community (Albany, N.Y.) as this very private individual would by his generosity help inspire a community to establish an endowment campaign that would reshape Jewish life in that setting. George S. was a small donor to the federation and had not played any significant role in the community, yet we were able to convince him of the importance of estate planning and with that came a significant gift to the federation. This initial gift would help to launch the Albany federation's (now the Federation of Northeastern New York) endowment fund."
Worthy Reads
No Family Drama, Please: In The Chronicle of Philanthropy, Isa Catto offers some advice on how fundraisers can avoid awkward family feuds. "Turf wars are common in families, but nonprofits can get caught in the crossfire when philanthropy is involved. The Windsors have hardly cornered the market on family acrimony, but their public and sad deterioration reminds us how fragile families can be. Throw money or fame into the mix, and families can get even more volatile… So how should a fundraiser navigate philanthropic families? Here are some tips. Treat people as individuals… Consider family dynamics when accepting big gifts… Tread lightly when philanthropic couples divorce… Mixing board members and family members can be risky… Appearances deceive… Almost all of this advice is common sense, but sometimes common sense gets overshadowed by the pursuit of connection and grants." [ChronicleofPhilanthropy]
Letting Kids be Kids: Erik Ross, a U.S.-born priest living in Switzerland who frequently visits Israel, reflects on the Jewish woman from Milwaukee, Wis., behind a mid-century revolution in children's clothing in The Times of Israel. "Baby — more exactly, children's — clothes are the star of one of the greatest Jewish success stories in Milwaukee. I was reminded of this on a recent trip to the Midwest when I stopped at Jewish Museum Milwaukee… A window in that museum tells of the illustrious Milwaukee brand, Florence Eiseman Children's Clothing Design… Who was Florence Eiseman, and why is her stuff in museums?… Eiseman understood and respected the child as a child. In the early '50s, she resisted competitors' party dresses that made kindergarteners look like Parisian matrons. Today, I'd like to think she would be fighting the slink-wear being pushed on the schoolyard set… I suspect Florence Eiseman knew what Maria Montessori knew. She surely knew it better than I: in loving the child, you form the child. And children change the world." [TimesofIsrael]
Around the Web
The Jewish Future Pledge launched The Jewish Youth Pledge, an effort to strengthen ties between Jewish youth organizations and their alumni…
Charitable giving in the U.K. totaled a record $15.9 billion in 2022, an increase of $2.5 billion over the previous year…
The Philadelphia Holocaust Remembrance Foundation, in partnership with public arts nonprofit Mural Arts, announced plans to bring a mural to the Horwitz-Wasserman Holocaust Memorial Plaza on Ben Franklin Parkway in 2024. The mural will be the first large-scale, publicly commissioned Holocaust mural in the United States…
The Wabash Center, which funds higher education in religion and theological studies, awarded $30,000 in new funding to Reconstructing Judaism. With this support, the Reconstructionist Rabbinical College will partner with the Inside Out Wisdom and Action Project on integrating the project's curriculum with faculty members. Separately, Reconstructing Judaism was awarded $40,000 from the Jewish Community Foundation of Greater Hartford, Conn., to continue the Auerbach Entrepreneurial Grant Program…
Four national funding partners — Alice L. Walton Foundation, Ford Foundation, Mellon Foundation and Pilot House Philanthropy — announced the Leadership in Art Museums initiative. Over the next five years, the funders will commit over $11 million in funding to museums to increase racial equity in leadership roles such as curators, conservators, collections managers, community engagement staff, educators and other senior leaders…
Microsoft has partnered with Start-Up Nation Central to help Israeli agrifood tech startups augment their AI-powered models for sustainable farming solutions…
The Hadar Institute announced it will open a branch in California – to be dubbed Hadar West Coast – which will be led by Rabbi David Kasher. New programming will be offered in Los Angeles and the Bay area. Kasher currently serves as senior rabbinic educator at Kevah…
Deirdre Munley will join JPro as the organization's first chief strategy officer, effective June 7. Munley currently serves as chief strategy and operating officer at Gateways: Access to Jewish Education…
Jonathan Omer-Man, a rabbi and pioneer in Jewish meditation, died at 89. Omer-Man was also the founder of Metivta, an egalitarian, nondenominational Jewish community based in Los Angeles that emphasizes learning Jewish texts and meditation…
Philanthropist Steven Fisher, founder and chairman of Fisher Capital Investments, the venture capital arm of Fisher Brothers, died at 63…
Pic of the Day
Hiraa Zouabi from the northern Israeli village of Kfar Misr, left, and Noa Belnik from the town of Beit Shean, participants in the USAID-sponsored Youth United Against Racism program, speak to the crowd at the initiative's closing event last night at the Ein Dor Museum in the Galilee.
Birthdays
President and CEO of The Jewish Federations of North America, he was previously CEO of Hillel and a U.S. congressman, Eric David Fingerhut…
FRIDAY: Senior U.S. district judge for the Northern District of Illinois, Robert W. Gettleman… Journalist, columnist, author, writer of the "Letter from America" column for The International Herald Tribune, Richard Bernstein… Best-selling author of 20 novels featuring fictional Manhattan prosecutor Alexandra Cooper, Linda Fairstein… Retired chief judge on the Maryland Court of Special Appeals, Peter B. Krauser… Docent at NYC's Metropolitan Museum of Art, Ruth Klein Schwalbe… Member of the Knesset, almost continuously since 1988, for the Haredi parties of Degel HaTorah and United Torah Judaism, Moshe Gafni… President of American Jewish World Service, Robert Bank… David Shamir… Managing director of Lauder Partners, Gary Lauder… Pulitzer Prize-winning author of three nonfiction books, historian and journalist, Tom Reiss… Executive director of Susan Wexner's Legacy Heritage Fund Limited, Yossi Prager… Television writer and producer, known for "The Simpsons," Josh Weinstein… Special education consultant and nanny, Nancy Simcha Cook Kimsey… Owner of D.C.-based PR firm Rosen Communications, Nicole Rosen… Director of public relations at UJA-Federation of New York, Emily Kutner… Executive director of Micah Philanthropies, Deena Fuchs… Head coach of the football team at the University of Arizona, Jedd Ari Fisch… President of Charleston, S.C.-based InterTech Group, Jonathan Zucker… Lara Berman Krinsky… Former Israeli national soccer team captain, he also played for Chelsea, West Ham United and Liverpool in the English Premier League, Yossi Benayoun … Mayor of Bat Yam, Israel, Tzvika Brot… Member of the Pennsylvania House of Representatives, Michael H. Schlossberg… Former professional golfer, now a fifth-year resident in orthopedic surgery at NYU Langone, David Bartos Merkow… Partner at New Enterprise Associates, Andrew Adams Schoen… Maxine Fuchs… Blake E. Goodman… Gayle Schochet…
SATURDAY: U.S. senator (R-AL) until this past January, Richard Shelby… Senior fellow at the Hoover Institution at Stanford U, previously a Columbia U law professor, a U.S. District Court judge and State Department legal adviser, Abraham David Sofaer… Longtime media executive Gerald M. "Jerry" Levin… Novelist, playwright and human rights activist, professor of Latin American studies at Duke University, Vladimiro Ariel Dorfman… Professor of law and philosophy at the University of Chicago, Martha Nussbaum… Israeli theoretical physicist and astrophysicist, he is best known for his work on gamma-ray bursts and on numerical relativity, Tsvi Piran… Partner at Wilmer Cutler Pickering Hale and Dorr, she is a former deputy attorney general of the U.S., Jamie S. Gorelick… Former prime minister of the United Kingdom, he later served as the special envoy of the Quartet on the Middle East, Tony Blair… President emeritus of the Jerusalem College of Technology / Lev Academic Center, Noah Dana-Picard… Director of the Jewish studies program at Northeastern University, Lori Hope Lefkovitz… Vice chairman and co-founder of Boston-based HighVista Strategies following 23 years at Goldman Sachs, he is the former board chair of Beth Israel Deaconess Medical Center, Daniel Jick… Member of the board of trustees of the Jewish Federation of Greater MetroWest NJ, Sheri Goldberg… Los Angeles-based attorney and real estate entrepreneur, Daniel Todd Gryczman… Los Angeles-based television personality, actress, writer and video blogger, Shira Lazar… Chief communications officer and head of investor relations at aMoon Fund, Brachie Sprung… Conductor, pianist, clarinetist, and composer, he is currently music director of The Louisville Orchestra and Britt Festival Orchestra, Edward "Teddy" Paul Maxwell Abrams… Founder at ALC Hospitality, Alyse Cohen… VP on BlackRock's corporate executive team, Benjamin Levine… Associate at Courtside Ventures and advisor to the board of directors of the Atlanta Hawks, Oliver Ressler…
SUNDAY: Investor who converted Chris-Craft Industries from a small boat business into a large media holding company, then sold Chris Craft to Rupert Murdoch in 2001 for $5.3 billion, Herbert J. Siegel… Member of the New York State Assembly from 1993 to 2022, Sandra R. "Sandy" Galef… Senior member of the Mobile, Alabama law firm of Silver, Voit & Thompson, Irving Silver… Napa, Calif.-based media executive and podcast host, Jeffrey Schechtman… Theatrical producer at Press the Button Productions in Monterey, Calif., Jane J. Press… Former member of the Knesset for the Shas party, Rabbi Meshulam Nahari… Former deputy secretary of state, deputy national security advisor, currently the dean of Johns Hopkins SAIS, James Braidy "Jim" Steinberg… Director of many commercially successful films including "Fast Times at Ridgemont High," "National Lampoon's European Vacation," "Look Who's Talking" and "Clueless," Amy Heckerling… Professional poker player and hedge fund manager, Daniel Shak… CEO of Rationalwave Capital Partners, Mark Rosenblatt… Emmy Award-winning film, television and music video director, Adam Bernstein… Founder of JewBelong, Archie Gottesman… Chairman and CEO of Hertz, Stephen Scherr… Former member of the Virginia House of Delegates, Mark H. Levine… CEO of the American Jewish Committee, he was previously a member of Congress for 12 years, Theodore Eliot "Ted" Deutch… Senior advisor to House Democratic Whip Rep. Katherine Clark, Keith Stern… Former member of the Knesset who served as interior minister and justice minister, she now chairs Kardan Real Estate Group, Ayelet Shaked… AIPAC national board member and the regional political chair for AIPAC's Northeast Region, Yana J. Lukeman… Head of platform sales at Stripe, Robert Warren Saliterman… Head of School at Manhattan Day School, Pesha C. Kletenik… Social entrepreneur, winemaker and CEO of Napa Valley's OneHope, Jake Kloberdanz… Director of strategic initiatives for the Port of Los Angeles, Arthur L. Mandel… CEO of Austin-based Harris Media, Vincent Robert Harris… Las Vegas-based fashion blogger, model and writer, known as Bebe Zeva, Rebeccah Zeva Hershkovitz…