700+ Jewish Campus Leaders Gather for Hillel International Global Assembly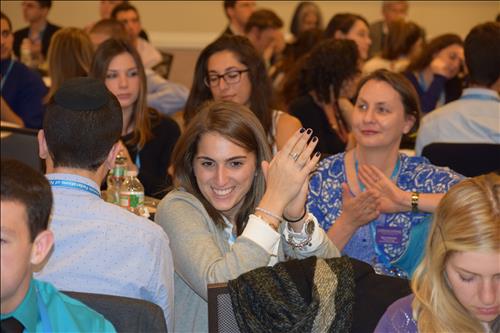 More than 700 staff members and leaders from Jewish communities on campuses around the world will come together today for the Hillel International Global Assembly. The second annual convention of its kind, the Global Assembly has proven to be a powerful opportunity to share best practices, teach new skills and build a community among Hillel staff from countless different colleges and universities.
Funded in part through a generous partnership with the Ruderman Family Foundation, this year's Assembly will include innovative mental health services training for Hillel professionals and groundbreaking discussions of inclusion in campus Jewish communities. Jay and Shira Ruderman, President and Israel Director, respectively, of the Foundation, will explore how campus Hillels can be at the forefront of suicide prevention, mental illness identification and treatment and inclusion of Jews with all kinds of disabilities. The session will address how to build communities of care on college campuses and how to instill values of inclusion in the broader Jewish community.
According to Eric D. Fingerhut, President and CEO of Hillel International, "This year's Global Assembly brings together inspirational leaders, top-notch educators and dedicated staff from every part of the Hillel International family. There is no better opportunity for us to reflect on how we meet the needs and safeguard the wellbeing of all of our students, learn new and innovative techniques from one another, and recommit ourselves to the worthy goal of inclusion."
Other highlights of the Global Assembly include:
An exploration of "The New Frontier of Jewish Pluralism" and the building of pluralistic communities on campus with Dr. Yehuda Kurtzer, President of the Shalom Hartman Institute.
A series of presentations and conversations on keeping and recruiting excellent talent and building excellent workplace policies and culture, part of the Hillel Talent Initiative.
A set of discussions and training sessions on how to host productive programs about Israel on campus and how to best address Boycott, Divestment and Sanction campaigns.