Your Daily Phil: The Jewish Agency's Russia problem + Larry Summers calls for community college donations
Good Friday morning!
Israeli officials will fly to Russia following a court filing by the Russian Justice Ministry seeking to halt The Jewish Agency for Israel's operations in the country.
The court filing, which was first reported on Thursday, was submitted in Moscow and comes following an earlier letter from the Justice Ministry ordering The Jewish Agency to cease operations. The court will hold a hearing on the matter next week. The Jewish Agency is a quasi-governmental body that facilitates aliyah, or Jewish immigration to Israel, and Russia is alleging that the group violated privacy laws in collecting data on prospective immigrants, which it has done for decades without issue.
According to an official familiar with the matter, the filing may be a response to Israel's support for Ukraine, or may be related to Israeli airstrikes in Syria or other disputes between Israel and Russia. But the organization itself is staying mum.
"The Jewish Agency wishes to clarify that a preliminary hearing on this matter, which is a continuation of the legal process, has been set for July 28," the organization said in a statement. "As we have previously stated, we are not making any comment during the course of the legal proceedings."
The action against The Jewish Agency comes after a deluge of Russian Jews has come to Israel in the nearly five months since Russia's invasion of Ukraine. According to figures The Jewish Agency shared with eJewishPhilanthropy on Friday morning, 53,000 Russians have come to Israel since Feb. 24, 17,000 of whom have immigrated to Israel. In that same period, 32,000 Ukrainian Jews have come to Israel, 12,000 of whom have immigrated.
In the meantime, the Israeli government is taking the threat seriously. The Israeli delegation will include officials from the Prime Minister's Office and Ministries of Diaspora Affairs, Immigration and Justice.
The court filing is in retaliation for Israel's opposition to the invasion of Ukraine, Israeli Diaspora Affairs Minister Nachman Shai tweeted. "Russian Jews will not be held hostage by the war in Ukraine," he wrote. "The attempt to punish The Jewish Agency for Israel's stance on the war is deplorable and offensive. The Jews of Russia cannot be detached from their historical and emotional connection to the State of Israel."
The Jewish Agency has about a dozen offices across Russia. The prospect of the agency shutting its doors there recalls decades during which Jews were prohibited from leaving the Soviet Union.
"The Jewish community in Russia is deeply connected with Israel," Israeli Prime Minister Yair Lapid said in a statement. "Its importance arises in every diplomatic discussion with the Russian leadership. We will continue to act through diplomatic channels so that The Jewish Agency's important activity will not cease."
GOING LOCAL
Larry Summers: Donate to community college over the Ivy League
Wealthy donors who give to "relatively elite four-year institutions" should also donate to, and get involved with, community colleges in order to grow the U.S. workforce, said Larry Summers, an economist who has served as president of Harvard University and secretary of the treasury, Lev Gringauz reports for eJewishPhilanthropy.

Transformative gift: "Find a local community college and give 10% as much money and 10% as much time to helping them," said Summers, who is Jewish. "It would be transformative." Summers made the comments at the Aspen Security Forum on Thursday in Aspen, Colo. Though the forum is largely focused on national security and foreign policy issues, concerns about rising inflation and supply chain disruptions have been featured in several sessions.

Smaller numbers: Summers appealed to the influential Aspen crowd to make a difference. "One lesson I've learned: a naming opportunity at a community college goes for about one-fifteenth the price that it does at an Ivy League school," he said. "So if you want a building named after you or a professorship named after you, there are bargains on offer, and you'll actually do much more for the world."

Read the full story here.
PARSHA PHIL: PINCHAS
Come forward and stand up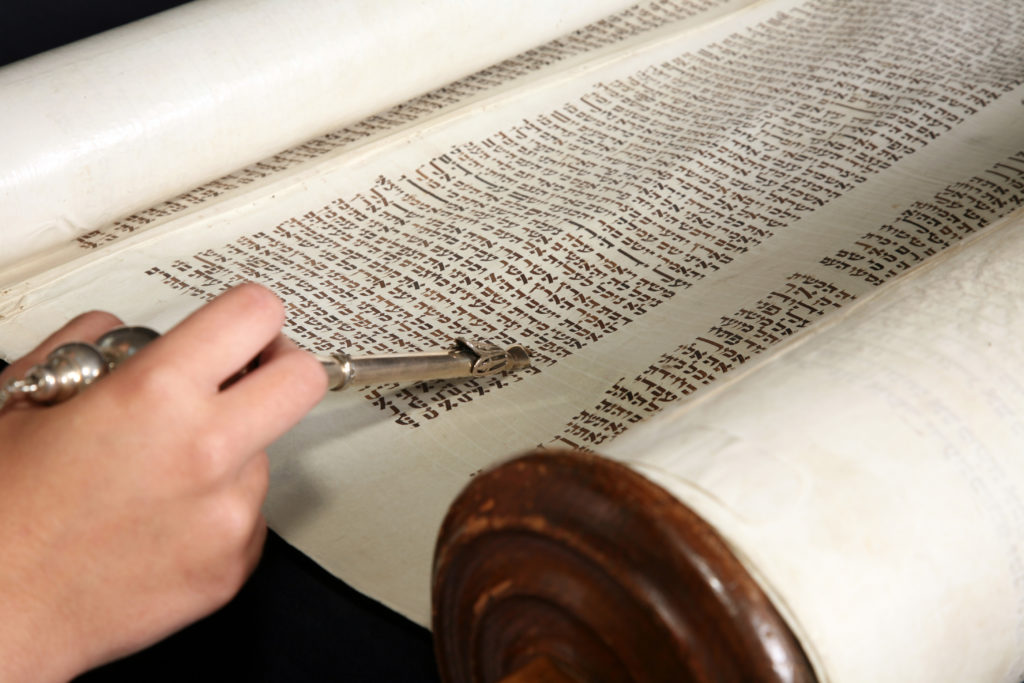 Most people who read the Torah have heard of Pinchas, for whom this parsha is named. But there are other names in this parsha that we must learn, repeat and not forget: Mahlah, Noa, Hoglah, Milcah and Tirzah," writes Sara Shapiro-Plevan, CEO of The Gender Equity in Hiring Project, in this week's Parsha Phil column for eJewishPhilanthropy.
'Only daughters' mentioned: "These five women, the daughters of Zelophehad, of the tribe of Menashe… are named in this week's Torah portion, as the text documents the census of the Israelite families in Numbers 26:34: 'Now Zelophehad son of Hepher had no sons, only daughters. The names of Zelophehad's daughters were Mahlah, Noa, Hoglah, Milcah, and Tirzah.' These daughters merit a mention in the text not because of their own merits but because their father had no sons. The only reason they could step into prominence and power was because of the absence of sons. At the opening of Chapter 27, they are named again."
Get to know their stories: "For many of us 'classically' educated in Jewish schools that followed the Jewish calendar, the stories of the daughters of Zelophehad are not well-known or even known at all. Like Tisha B'Av, it's a summertime text — in other words, not taught during the academic year at yeshiva, day school or Hebrew school. The names Mahlah, Noa, Hoglah, Milcah and Tirzah don't take up space in our understanding of Torah texts. We have to get to know them and choose to incorporate their stories into our story."
PASSION
Camp: Just what the doctor ordered
"Growing up in Westchester County, N.Y., most of my friends were Jewish and went away to summer camp. My friends would come back from camp, and I would come back from the beach when the school year began… My friends would talk about camp, the friends they made, color war and the connections to their camp family that they still have today. I certainly never felt deprived by any means, but I always wondered how they were so enamored by a place where they were apart from their families for weeks or months at a time," writes Dr. Jake Kleinmahon, a pediatric cardiologist, in an opinion piece for eJewishPhilanthropy.
We all need a change of scenery: 'Earlier this year, I was asked if I would be interested in being the camp doctor for a week at the Union for Reform Judaism's Jacobs Camp in Mississippi. I can say as a gay, Jewish person from the Northeast, I thought this experiment might go quickly south. But with the incredibly long hours at my job as a pediatric heart transplant cardiologist wearing on my mental health, I felt that a break to practice a different type of medicine in a different environment might reignite my passion for practicing medicine. Don't get me wrong, I love my job, but the stress of caring for very sick children, not to mention the constant battle against misinformation around the science of COVID-19, is exhausting."
Many challenges: "I showed up at Jacobs Camp excited, but also quite nervous. What would the atmosphere be like? Would I be trusted by parents whom I've never seen or met? Could I practice medicine just for the love of being a doctor? I was also quite nervous about being gay at a camp in the middle of Mississippi. I had the opportunity to be the camp doctor in the middle of Pride Month, but could I show my pride? Would I be accepted? My family was invited to come for the weekend, but how would people welcome my husband and children?"
Worthy Reads
Renewing Jewish Israeli Culture: According to a new survey, Israelis want to see increased diversity in cultural activities, Zvika Klein reported in The Jerusalem Post; the survey marked the inauguration of the Diaspora Affairs Ministry's new directorate for Jewish Renewal, founded in partnership with a nonprofit called Panim-The Israeli-Judaism Network and with a budget of nearly $17.4 million to be divided equally between the ministry and Panim: "Through this directorate, it is hoped that organizations in Israel will be able to connect to Jewish traditions and culture in their own unique way…Ministry Director-General Tziona Koenig Yair said, 'The State of Israel's investment in Jewish heritage and culture in all its forms is a necessary and precedent-setting investment…There is no 'one way' to be a Jew and the public in Israel deserves to express their Jewish identity in a way that suits them,' she said." [JPost]
Community Comms
Be featured: Email us to inform the eJP readership of your upcoming event, job opening, or other communication.
Word on the Street
Lauren Danneman of Philadelphia and Yudi Gross of Boca Raton, Fla., are the new co-chairs of The Jewish Federations of North America's national young leadership cabinet…
Delivering Good, which provides retail and manufacturing companies with charitable ways to manage their surplus goods, has named Matthew Fasciano as its new president and CEO. He replaces Lisa Gurwitch, who stepped down in January to join the American Jewish Joint Distribution Committee
Angelo McClain will retire as CEO of the National Association of Social Workers at the end of the year. He has led the group since 2013…
MetLife Foundation announced grants totaling $25 million in support of efforts to drive inclusive economic mobility by addressing the needs of underserved and underrepresented communities around the globe…
Pic of the Day
On the final day of the track and field competition at the 21st Maccabiah Games in Jerusalem, American participants walked away with several medals. In the Under-18 800-meter race, Ari Greenberg (right) won gold, adding to the two silver medals he won in the 4×400 and 4×100 relays.
Birthdays
Pianist and composer of many Disney movie musical scores, Alan Menken…
FRIDAY: Israeli actress Gila Almagor… Former British Conservative Party member of Parliament, Anthony Steen CBE… Historian, author and professor (now emerita) at the University of Wisconsin-Madison, Judith Walzer Leavitt… British biochemist and professor at the University of Dundee in Scotland, Sir Philip Cohen… Actor, director and comedian, Albert Brooks (born Albert Lawrence Einstein)… Owner of Nodel Parks, Richard Martin Nodel… Owner of Baltimore's Seven Mile Market, Hershel Boehm… Born in Norwalk, Conn., and now based in Munich, Germany, where he is the managing director of a public affairs firm and works to ensure that the Holocaust and its many victims are not forgotten, Terry Swartzberg… Judge of the U.S. District Court for the District of Columbia since 2011, Judge Amy Berman Jackson… Member of AJC's Jewish Religious Equality Coalition, Cindy Masters… Former secretary of veterans affairs, David Jonathon Shulkin… Founding partner of the D.C.-based intellectual property law firm, Greenberg & Lieberman, Stevan Lieberman… Television journalist and news anchor, David Shuster… Pentagon speechwriter Warren Bass… Owner of West Bloomfield, N.J.-based Saltsman Industries, Daniel A. Saltsman… Former Pentagon official, now a consultant on operations and political intelligence, Jonathan Freeman… Contemporary artist living in Brooklyn, Dustin Yellin… Director of the field operations team at the Pew Charitable Trust, Elise Rachel Shutzer… Nominee as an associate justice on the New Jersey Supreme Court, her confirmation is still pending, Rachel Wainer Apter… Former White House assistant press secretary, now the managing editor of podcasts at NBC News, Reid Cherlin… White House correspondent, Andrew Grant Feinberg… General treasurer of the state of Rhode Island, he is one of six candidates running in the upcoming Democratic primary for Congress (RI-2), Seth Magaziner… Executive director of the American Sephardi Federation, Jason Guberman-Pfeffer… Actor best known for his role in the Freeform series "Pretty Little Liars," Keegan Phillip Allen… Director of business operations at CertifyOS, Maor Cohen… Talia Thurm Abramson… Serial entrepreneur and product strategist in Silicon Valley, Yoela Palkin… Actor and voice actor, he starred as Eric in Netflix's "Santa Clarita Diet," Skyler Gisondo… Michael Suissa… Past board chair of Fuente Latina and CEO of Siegman Consulting Services, Fred Siegman…
SATURDAY: Banker who distributed $60 million to his 400 employees when he sold City National Bank of Florida in 2008, Leonard L. Abess… Former U.S. ambassador to the Netherlands, now chair of the Harry and Jeanette Weinberg Foundation, Fay Hartog-Levin… Retired judge on the U.S. Court of Appeals for the Ninth Circuit, Judge Alex Kozinski… Businessman and real estate investor, Alexander Rovt… Academy Award-winning film producer ("Titanic"), Jon Landau… Proprietor of Oy Vey Jewish Bakery and Delicatessen in Terre Haute, Ind., Chavah Stair… Freelance journalist, she is the widow of Daniel Pearl and wrote a book about his kidnapping and murder in Pakistan in 2002, Mariane Pearl… Director of the Smithsonian's Arts and Industries Museum, Rachel Eva Goslins… U.S. Sen. Raphael Warnock (D-GA)… Dov M. Katz… Freelance television writer and author of two books, Joel Stein… Psychologist in private practice in both Manhattan and Great Neck, Long Island, Lynn Glasman…. Activist Monica Lewinsky… Music producer and songwriter, Jonathan Reuven "J.R." Rotem… Professor at Georgetown University Law Center, Itai Grinberg… Mayor of Minneapolis, Minn., Jacob Lawrence Frey… Sports studio host and play-by-play announcer for Westwood One, Sirius XM and ESPN, Jason M. Horowitz… Reporter for The Washington Post covering education issues in the District of Columbia, Perry Stein… Starting right fielder for Team Israel at the 2017 World Baseball Classic, Zach Borenstein… Joseph Stern…
SUNDAY: Former U.S. ambassador to Romania and senior counsel at Covington and Burling, Alfred H. Moses… Founder and chairman at Chicago-based housing developer The Habitat Company, Daniel Levin… Pulitzer Prize-winning investigative reporter who worked for ABC News and CBS's "60 Minutes," Lowell Bergman… Israeli physician, author and playwright, he is the younger brother of former Israeli PM Benjamin Netanyahu, Iddo Netanyahu… Political consultant known for his role in both of President Obama's presidential campaigns, Joel Benenson… Los Angeles-based business and real estate attorney, Michael Jeffrey Bordy… Radio anchor and reporter on both CBS nationally and NYC's WCBS, Michael Sugerman… Member of Congress (D-FL-13) and former governor of Florida, Charlie Crist… Russian oligarch and chairman of the Board of Patrons of The Conference of European Rabbis, Boris Mints… Judge of the United States Court of Appeals for the Third Circuit, Judge Patty Shwartz… Director of the AIPAC Senior Fellows program for the Florida regional office, he is a retired NFL player who played for the Packers (1986-1990) and the Cowboys (1991-1992), where he won in Super Bowl XXVII, Alan "Shlomo" Veingrad… Partner in the Kentucky-based law firm of Frost Brown Todd and author of The Liberal Case for Israel, he was the first-ever Jewish statewide elected official in Kentucky, Jonathan Miller… President of Access Computer Technology in West Bloomfield, Mich., he is a rabbi, entrepreneur and social media expert, Jason Miller… President and CEO of the Jewish Federation of Greater Los Angeles, Noah Zvi Farkas… EVP and CFO of Morgan Stanley, Sharon Yeshaya… Actress, screenwriter and director, Lauren Miller Rogen… Co-founder and partner at Orfin Ventures, Adam Finkel… Account supervisor at Havas Formula, Sarah Citrenbaum… Associate at Quinn Emanuel, Shlomo Klapper…
Email Editor@eJewishPhilanthropy.com to have your birthday included.