Your Daily Phil: Tenement Museum's new development strategy + Building a unified vaccination program for children
Good Monday morning!

Lorie A. Slutsky, who joined the New York Community Trust as an intern in 1977 and was named president in 1990, is retiring after leading the community foundation through Hurricane Sandy, Sept. 11 and the coronavirus pandemic. The foundation has awarded more than $5 billion in grants during her tenure.

The Gary Sinise Foundation Avalon Network, which Home Depot co-founders Bernie Marcus and Arthur M. Blank helped the actor and activist create by each donating $20 million, has announced a grant of $12.5 million to the Tulane University Center for Brain Health. The network focuses on the cognitive and mental health of veterans and first responders.

The Jewish Federation of Madison, Milwaukee Jewish Federation, Wisconsin Jewish Conference and Wisconsin Council of Rabbis are calling on six University of Wisconsin system campuses, including the flagship in Madison, to modify next year's calendar because the first day of classes conflicts with Rosh Hashanah.

In May, the environmental charity Sadeh in the United Kingdom will open what it's calling Europe's first kosher eco-hotel in a 17th-century manor house on its fruit and vegetable farm in Kent.

Six Pittsburgh-area Jewish nonprofits, including the Jewish Association on Aging and Hillel Academy, have received COVID relief from the Jewish Federation of Greater Pittsburgh, which has distributed an additional $500,000 in aid, bringing its total to $8.2 million.

A new nonprofit, PresentMemory, whose mission is to facilitate the sharing and preservation of personal stories by the families of Holocaust survivors, is collaborating with Haggadot.com, the personal Haggadah website.
NEW SOURCES
The Tenement Museum shakes up its development strategy
The Tenement Museum, which tells the story of the waves of immigration that have passed through and transformed New York City, is about to reopen after a year-long closure due to the COVID-19 pandemic. But its new leader says the museum's business model will never be the same. Before the pandemic hit, the museum boasted more than 200,000 annual visitors and revenue of about $12 million. Almost 80% of that revenue, however, was contingent on in-person access to the museum. Now the museum is planning to diversify its sources of revenue to prevent a similar near-catastrophe in the future, Annie Polland, the president of the museum, who took the helm in January, told eJewishPhilanthropy. "I don't know that we want to get back to 80% earned income and 20% philanthropy," she said. "That's great, it means there's a public for what we do. But that model didn't work when there was a big pandemic. We need something better."
A new, wide net: Even before last spring, the Tenement Museum's board and staff were trying to increase revenue from fundraising, but the pandemic accelerated their efforts, said Scott Metzner, co-chair of the museum's board of trustees and president of the Janus Property Company. "If we had a gigantic snowstorm, we lost a week of revenue," he said, adding that the board is looking to foundations, corporations and small donors as sources of support.
Everyday donors: Individuals played a big role in saving the museum last spring, Polland said. About 4,000 people from almost every state in the country donated to the museum after an April New York Times article publicized its plight. The museum's virtual gala, scheduled for April 29, is an effort to thank those individuals, who collectively donated almost $5 million. As of last Friday afternoon, 1,200 households had signed up, Polland said. "Aggregating a lot of small-dollar gifts adds up to significant money," Metzner said. "At first that happened almost by chance, but now we're looking at it in the same way political fundraisers do, and the way Amazon sells things like toaster ovens."
#summer2021
Needed: A unified home-camp-school vaccination partnership
"With many Jewish students leaving for summer camp or travel in June and some of them not returning until mid-August, I began wondering about how we can ensure maximum vaccinations considering this population's mobility during the summer months," writes Dr. Deborah Skolnick-Einhorn in an opinion piece for eJewishPhilanthropy.
Opportunity: "This strikes me as the moment for the most robust and urgent Home-Camp-School partnership we have ever had. Ensuring that adolescent students/campers have the opportunity for vaccinations, wherever they are this summer, will mean a world of difference for our camps and our schools. Although our schools have demonstrated this year that we can operate safely with unvaccinated students and teachers alike, vaccinations would dramatically ease the constraints of this past year for the children, families and our community institutions."
Coordinated approach: "How can our field work together – alongside our local health departments and providers – to ensure access? How can we create a unified effort so each institution is not inventing the wheel alone, even as they are juggling so many other machinations to get summer and fall planned and underway? What might be the role of the Foundation for Jewish Camp and/or Prizmah in helping us share knowledge, practice, and craft a unified, coordinated approach to maximize vaccinations and improve health outcomes for summer and fall in our interconnected institutions?"
caring for our staff
Meeting the changing needs of camp staff … before the summer
"The circumstances we all find ourselves in today — muddling, struggling, and adapting through the pandemic with good moments and bad — dictate the need to reexamine the staff lifecycle before camp begins," write Amy Bram, Stacey Smalley, Ben Portnoy, Jacqui Kalin, Drea Lear, Karen Garelik and Miriam Loren in an opinion piece for eJewishPhilanthropy.
Staff needs: "It behooves us to consider what our staff members are experiencing with a focus on their mental, emotional and social health needs. It begins with conversations, staff applications and interviews in which we ask them to think about and share how their lives have been impacted by the pandemic. It is important that we are present and non-judgmental as we listen to their answers and respond with empathy and support."
Implementation: "Maimonides teaches us that 'the soul is subject to health and disease, just as is the body…' and Youth Mental Health First Aid teaches us that the primary protective factor against mental health struggles is the presence of at least one trusted adult. Camp is the ideal place to combine these two powerful teachings."
Worthy Reads
Full Disclosure: The pending Supreme Court case Americans for Prosperity Foundation v. Beccerra, in which two nonprofits are challenging a California law that requires them to reveal their major donors, looks like a case of two conservative organizations challenging a liberal state's regulations, but the historical context is far more complicated, explains Joseph Mead in the online academic journal HistPhil. The tension is between the act of charitable solicitation — a form of protected free speech — and the government's interest in regulating it to discourage fraud and self-dealing. "However the Court rules on this specific dispute, the analytical choices that the Court makes could have broader implications for regulating charity," Mead concludes. [HistPhil]
Charitable Roots: The Patrons and Their Poor: Jewish Community and Public Charity in Early Modern Germany, by Debra Kaplan, and Natan M. Meir's Stepchildren of the Shtetl: The Destitute, Disabled, and Mad of Jewish Eastern Europe, 1800-1939, reveal that contemporary questions about poverty and charity are not new, asserts Magda Teeter in the New York Review of Books. While early Christian Europe honored poverty as a religious virtue, that attitude changed during the first major period of urbanization, and Jewish communities were influenced by that shift. They began to restrict begging and turned charity into a bureaucracy controlled by an elite donor class. [NYRB]
Building Extension: The Ford Foundation has deemed its $1 billion program Building Institutions and Networks Initiative (BUILD), launched in 2015 to experiment with multi-year and general operating grants, a success, reports Mike Scutari in Inside Philanthropy. More than 85% of grantees said their organizations were significantly stronger due to BUILD, and Ford is extending it by another $1 billion. "To go back on the program now would be a tremendous mistake," said Kathy Reich, the program's director. "So we didn't. We're moving forward." [InsidePhilanthropy]
New Names: Of the 338 individuals, families, foundations, organizations, governments and other entities that donated more than $1 million to Harvard University in the fiscal year 2020, only eight were individual women — compared with 51 men — who made their donations publicly, write Virginia L. Ma and Kevin A. Simauchi in The Harvard Crimson. However, women tend to give anonymously more than men do, and also to spread out their giving, which means women might be more of a force in philanthropy than the study might indicate: "Ten years ago it was mostly you focused on the couples, and you didn't really see that many female billionaires, and now they're much more prevalent," said Linda Durant, who serves as vice president of development for the Council for Advancement and Support of Education. [TheCrimson]
Community Comms
Fellowship: Nominate a Jewish professional for Hadar's Jewish Wisdom Fellowship. Deadline is April 14.

Apply! The Jewish Council of the Emirates Community Centre seeks a Dubai-based Executive Director.

Apply! The Kirsh Foundation seeks a full-time NY-based Program and Special Initiatives Coordinator.

Apply! Want to join the team at Jewish Insider/eJewish Philanthropy? We're looking for a top-notch philanthropy editor. Learn more here.

Be featured: Email us to inform the eJP readership of your upcoming event, job opening, or other communication.
Word on the Street
The Brandeis University Board of Trustees has reached an agreement with current president Ronald D. Liebowitz for a five-year contract extension… Rabbi Gabe Greenberg has been named executive director at Penn Hillel … The U.K.'s Charity Commission has appointed an interim manager to the East London-based Beth Yosef Foundation… Leap Ambassadors Community, a learning community of top-social sector leaders, has released Performance: How Great Donors Invest in Grantee Success… Amazon and the Hebrew University of Jerusalem have signed an agreement for a collaborative research project on quantum computing hardware… Sixty years ago yesterday the trial of Nazi war criminal Adolf Eichmann opened in the Jerusalem District Court…
Pic of the Day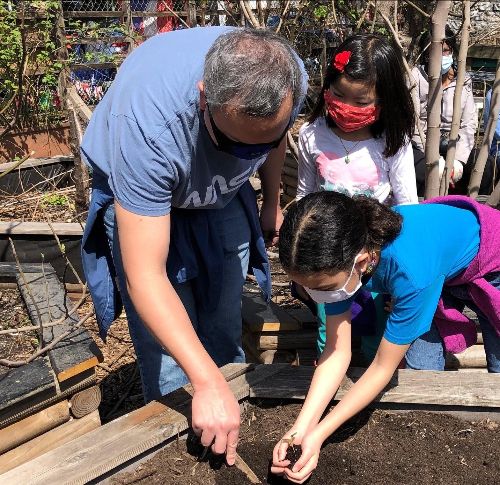 On Saturday, Repair the World held a day of service at Bushwick City Farm in Brooklyn, part of a series of events the group has organized to celebrate National Volunteer Month
Birthdays
Chief Executive of the Board of Deputies of British Jews, recently appointed to the House of Lords, Baroness Joanna Merron…
Founder and chairman of Christians United for Israel, Pastor John Charles Hagee… Attorney and bestselling novelist, Scott Turow… Television producer and chairman of the Liverpool Football Club and the Boston Red Sox, Thomas Charles Werner… Senior Vice President at UJA Federation of New York, Stuart Tauber… Washington, D.C. attorney, Norman B. "Norm" Antin… U.S. District Court Judge for the Southern District of New York, Judge Paul A. Engelmayer… Twin brothers, both real estate agents starring in the Netflix original series "Selling Sunset," Jason and Brett Oppenheim… Actress, director and writer, Jordana Spiro… Realtor and VP for Keller Williams in Cambridge and Somerville, Massachusetts, Ilya Jacob Rasner… President at National Student Legal Defense Network, Aaron Ament… California State Senator, Henry I. Stern… Member of the Seattle City Council, Daniel Aaron Strauss… Comedian, writer and actress, Ilana Glazer… Israeli actress, winner of Best Actress at the Venice Film Festival, Hadas Yaron… Actor Larry Saperstein…