Your Daily Phil: Octogenarians compete at Maccabiah Games + A new model for Jewish storytelling
Good Monday morning!
Combating antisemitism continues to be a focus of Hillel International, which is placing a special emphasis on reaching administrators, the organization's president and CEO, Adam Lehman, told Jewish Insider's "Limited Liability Podcast."
According to a 2021 survey conducted by Hillel and the Anti-Defamation League, 33% of Jewish students reported personally observing or experiencing antisemitism on campus. Overall, 15% of students said they felt uncomfortable sharing their Jewish identity.
"That's really bad… In some of our surveys, we've seen that 15% climb to 40 or 50%," Lehman said. "Can you imagine if the LGBTQ community was out saying, 'We cannot express ourselves, we're gonna actually be undercover.' Obviously, that's the way it was for many minority communities… It's not an option."
The impetus for the Campus Climate Initiative, launched last year, originated from the organization's observations that college and university leadership lacked training and preparation to address antisemitism on their campuses. Forty-five university administrators attended a summit in April on antisemitism hosted by Hillel.
"We have to engage university leaders in this process," Lehman said. "This cannot be just the focus of Jewish organizations and student leaders. We need administrators to take responsibility for taking on antisemitism in the same way they focus on other forms of bias, discrimination and injustice."
The ultimate measure of success, he added, comes when Jewish students feel safe and comfortable on campus. To achieve that, he outlined several suggested actions administrators could take to implement change, including incorporating antisemitism awareness into faculty, staff and student trainings and preparing bias response teams to become better attuned to how and where antisemitism appears.
Lehman maintained that criticism of Israel does not always represent antisemitism, but argued that efforts by organizations both on and off campus to "specifically demonize Israel in ways that, sadly, are so divorced from fact or reality," result in criticisms that often become intertwined with antisemitic tropes and language.
"If you talk to members of Gen Z… they're often trying to differentiate between intent and impact, Lehman observed. "When people Talmudically twist themselves into pretzels trying to show why anti-Zionism is not antisemitism, look at the impact. The impact is that Jewish students are often ostracized, alienated or face concrete bias from faculty from teaching assistants and even beyond."
GOLDEN AGES
At Maccabiah, octogenarian competitors make a racket playing tennis
When Joseph Schwartz's son Jason came to him and said he wanted to try out for the 21st Maccabiah Games for his 50th birthday, Schwartz, 81, a lifelong tennis player who competed in college, thought it was a great idea. "I said to my son, 'I'll be your coach!'" Schwartz recalled. "And he said, 'No, I want you to be here with me.'" The retired court stenographer ended up qualifying for the Maccabiah Games in Israel, which run through July 26, in the "Super Extra Grand Master" division for athletes who are older than 80, one of 12 athletes in that age bracket at the Maccabiah, reports Melanie Lidman for eJewishPhilanthropy.
Multigenerational jocks: Like Schwartz, many of the "Super Extra Grand Master" athletes are part of families with multiple generations of competitors, though not always in the same sport. One of the athletes Schwartz may meet on the clay courts is Leonardo Rozenblum, 81, a lifelong tennis player and Maccabiah athlete from Uruguay, whose son is also competing in the half-marathon. Rozenblum's long-time doubles partner, 82-year-old fellow Uruguayan Eugenio Garfinkle, is part of a three-generation Maccabiah family — with a son and grandson competing this year in football.
Staying limber: In Florida, Joseph Schwartz maintains an energetic schedule. He plays tennis three to four times a week, but said the secret to staying competitive on the court past 80 is getting serious about stretching. "You have to constantly stretch, and you have to be active," he said. "Tennis gives you a purpose or reason, if you want to continue to play and do something you love, you need to make sacrifices, things that keep you strong."
PROFILE
Reboot Studios: A new model for Jewish storytelling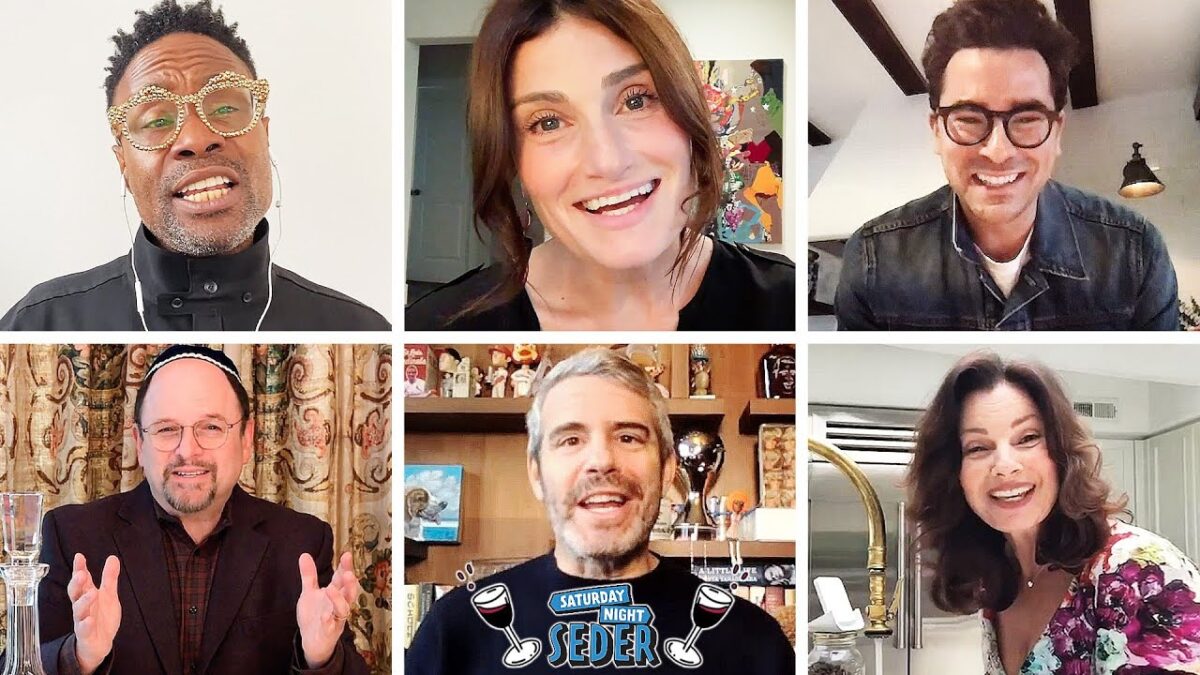 "Jews are people of the book, though in truth the book is simply one medium of our time. We are a community of storytellers, our customs passed through words from generation to generation. The Torah was originally shared as an oral tradition, evolving into scrolls, and finally into the book which now defines us. But the potential channels for telling stories have expanded with each passing year, and that growing opportunity sparked the launching of Reboot Studios this July," writes David Katznelson, CEO of Reboot, in an opinion piece for eJewishPhilanthropy.
New Jewish stories: "Our initial slate of projects explores identity, community and diversity, anchored in the Jewish commitment to healing the world. Steered by a board of influential/prominent advisors, we aim to be a beacon for artists who want to tell new Jewish stories, and for production companies looking to bring these stories to the world. Reboot Studios will invest in interdisciplinary content for theater, television, film, music, photography and publishing. We are focused on hopeful stories that unwind and address prejudice and antisemitism, that shine light in the darkness, finding new meaning in our traditions."
'Saturday Night Seder' started the ball rolling: "The idea for the Studio came after Reboot executive-produced a multitude of projects across all media, including the widely hailed virtual Passover production 'Saturday Night Seder,' with Reboot board member Benj Pasek and stars such as Jason Alexander, Billy Porter, Henry Winkler, Pamela Adlon and Cynthia Erivo. Most recently, Reboot supported the launch of the HBO film 'The Survivor,' hosting a Reboot Ideas conversation with the USC Shoah Foundation featuring director Barry Levinson, actor Ben Foster, and producer Matti Leshem, moderated by Sami Sage, co-founder of Betches Media."
Worthy Reads
Get Behind Jewish Camps: In a wide-ranging interview with the "Jerusalem Post Podcast," Julie Platt, who recently became the chair of The Jewish Federations of North America, highlighted the value of Jewish summer camps, which Platt identified as an especially strong tool for a strong Jewish identity: "I actually think Jewish camping is one of the secret sauces that responds to what you're saying. We've done a tremendous amount in the Jewish camping space, which is a piece of affordability that we can bite off without waiting. I come to this job from having previously been the chair of the board of the Foundation for Jewish Camp for four years and I am the product of Jewish camp. Day school education is astronomically expensive. It's on the agenda of every Jewish organization of how do we crack it and who's going to be successful at the kind of endowment funds that are necessary. I don't know the answer. I'll simply tell you… to know that it is recognized as a huge problem, the expensiveness across the spectrum of getting kids into a Jewish day school education, but camp is one of the things that has been successful and that we can afford to get behind. You can read literally any study of Jewish life in America. You send a kid to a Jewish summer camp, their relationship with the Jewish people will last a lifetime." [JerusalemPost]
Community Comms
Be featured: Email us to inform the eJP readership of your upcoming event, job opening, or other communication.
Word on the Street
Pinchas Goldschmidt, who until recently served as the chief rabbi of Moscow, has expressed concerns that Russia may move to prevent Jewish citizens from leaving the country, in a return to Cold War-era Soviet policy…
Richard Armstrong will retire in 2023 as director of the Solomon R. Guggenheim Museum and Foundation…
Rock singer Billy Corgan of The Smashing Pumpkins will perform a charity livestream show on July 27 to benefit the victims of the Fourth of July parade shooting in Highland Park, Ill., that killed seven people and wounded more than 30…
Rabbi Dow Marmur, rabbi emeritus at Toronto's Holy Blossom Temple, died at 87…
René Slotkin, one of the few surviving "Mengele twins" who suffered medical experiments at the hands of Dr. Josef Mengele during the Holocaust, died at 84…
Pic of the Day
The latest class of the Beren-Amiel and Straus-Amiel Emissary Institutes of Ohr Torah Stone, which send educational and rabbinic ambassadors to Jewish communities around the world, will join 280 emissaries in 96 cities across 34 countries — including destinations across North and South America, Europe, Asia, Africa and Australia.
Birthdays
Co-CEO of the Executive Council of Australian Jewry, Alexander Ryvchin…
Theoretical chemist who won the 1981 Nobel Prize in chemistry, Roald Hoffmann (born Roald Safran)… Founding partner of NYC-based law firm Davidoff Hutcher & Citron, Sidney Davidoff… President of the Jewish Genealogical Society of the Conejo Valley and Ventura County, Jan Meisels Allen… Former three-term mayor of Edmonton, Alberta, Stephen Mandel… Former prime minister of Peru, Yehude Simon Munaro… Executive director of the MLB Players Association for 26 years and since 2010 at the NHL Players Association, Donald Fehr… Beverly Hills resident, Felisa Bluwal Pivko… Finance, real estate and nursing home executive, Leonard Grunstein… COO of the World Jewish Restitution Organization, Mark Weitzman… Former Israeli Police spokesman, he is now a senior national radio broadcaster in Israel and an international talk-show host, Elihu Ben-Onn… Seattle-area consultant, Elihu Rubin… Former deputy finance chairman of the RNC, Elliott B. Broidy… Former minister for congressional affairs at the Embassy of Israel to the U.S., he was previously the Israeli ambassador to Belarus, Martin Peled-Flax… Partner at Clifford Chance, Philip Wagman… CEO and co-founder at Let's Bench, a publisher of customized keepsake prayer books and benchers, Yitz Woolf… Associate professor of cybersecurity law at the U.S. Naval Academy, Jeffrey Michael Kosseff… Deputy director of the White House National Economic Council until two months ago, David Kamin… Editor of Alma, Molly Tolsky… Senior creative strategist at MissionWired, Lauren Friedlander… CEO of Moving Traditions, Shuli Karkowsky… Senior spokesperson at the U.S. Department of Treasury, Julia Krieger… Editorial content director at Gemini, Philip Rosenstein… Managing editor of The Circuit, Jonathan Ferziger… Former chair of the World Union of Jewish Students, Yosef Tarshish… Izi Doenyas… Ted Rosenberg…
Email Editor@eJewishPhilanthropy.com to have your birthday included.