Your Daily Phil: Len Saxe on counting the American Jewish population + Why some nonprofits survived COVID
Good Wednesday morning!

M2: The Institute for Experiential Jewish Education will announce tomorrow that it is launching a fellowship that aims to disseminate an educational framework — "18 Jewish Things a Young Jew Should Know, Care About, and Be Able To Do by Age 18" — which will help educators articulate their organizations' goals and strategize ways to meet them, M2 CEO Shuki Taylor told eJewishPhilanthropy.

The framework, written by Barry Chazan of the Spertus Institute of Jewish Learning and Leadership and Ben Jacobs of The George Washington University, proposes dimensions of Jewish life that educators can use to shape their curricula and goals, such as "Feel part of a chain of Jewish tradition, as both recipients and co-creators." Another dimension: "Regard Judaism as a relevant source of wisdom for their questions about life and its meaning." And another: "Understand the meanings and performance of Jewish mitzvot."

"When we at M2 first read it, we were intrigued by the impact it could have, and thus built a model for how it could ignite significant change within the field of Jewish education," Taylor said. Commissioned by the Jim Joseph and Marcus Foundations, the Maimonides Fund and the Charles and Lynn Schusterman Family Philanthropies, it was published in 2019 by the NYU Applied Research Collective for American Jewry.

The 18-member fellowship class includes a mix of national and local organizations, from Birthright Israel North America to Northwestern Hillel. Each member directs Jewish education strategy, programming and policy for their organization.

The fellowship will last 18 months, and is broken down into five phases, each of which culminates in the production of certain materials, such as lists of goals, reports, feasibility analyses and road maps.
ASK A PROFESSIONAL
Counting American Jews, and checking the work
One would think that a small group would be easy to count. When it comes to the Jews, one would be wrong. Professor Leonard Saxe and his team at Brandeis University have been working on this problem since the Steinhardt Foundation for Jewish Life, with a gift of $12 million, endowed a research institute at the university about 15 years ago. Saxe says he has developed a methodology that results in a more accurate census, and that there are 7.6 million American Jews, according to his latest survey, compared with a 7 million estimate in the 2019 American Jewish Yearbook and a 5.7 million estimate by Sergia DellaPergola, also in 2019. Saxe spoke with eJewishPhilanthropy about the intellectual and spiritual challenges of counting people. 
Helen Chernikoff: What was the mood in the field of Jewish demography when you started?
Leonard Saxe: If you go back to the National Jewish Population Survey (NJPS) of 2000-2001, the narrative of the "vanishing American Jew" had taken hold. That study suggested that even amid large-scale immigration from the former Soviet Union, the population was in decline due to assimilation and intermarriage. That was when I came into the field. I didn't think that was correct. I didn't think that was a reliable study. Turns out, coming up with an estimate of the American-Jewish population is an enormously complicated task, and I've spent the last 15 years trying to come up with a way to do it better. It has taken us all that time to compile sufficient data and publish in academic journals to validate our methodology.
HC: Why is it so hard to count the American-Jewish population?
LS: We are small, and what used to distinguish us — specific names, living in Jewish neighborhoods — no longer does. Because of the U.S. Constitution, and the traditional separation between church and state, the census doesn't include a question of religion or ethnicity in a way that would enable us to measure the Jewish population.
So in most surveys, political polls, for example, we know there should be 50% men and 50% women, because that's what the census tells us. And if in a survey we get 60% women and 40% men, we can do what's called "weighting." We adjust our figures to represent the population. We can do that with age, and income, and place of residence. But we don't have that census information about who is a Jew, so we have no way of weighting these surveys.
Pesach 5781
Our second pandemic Pesach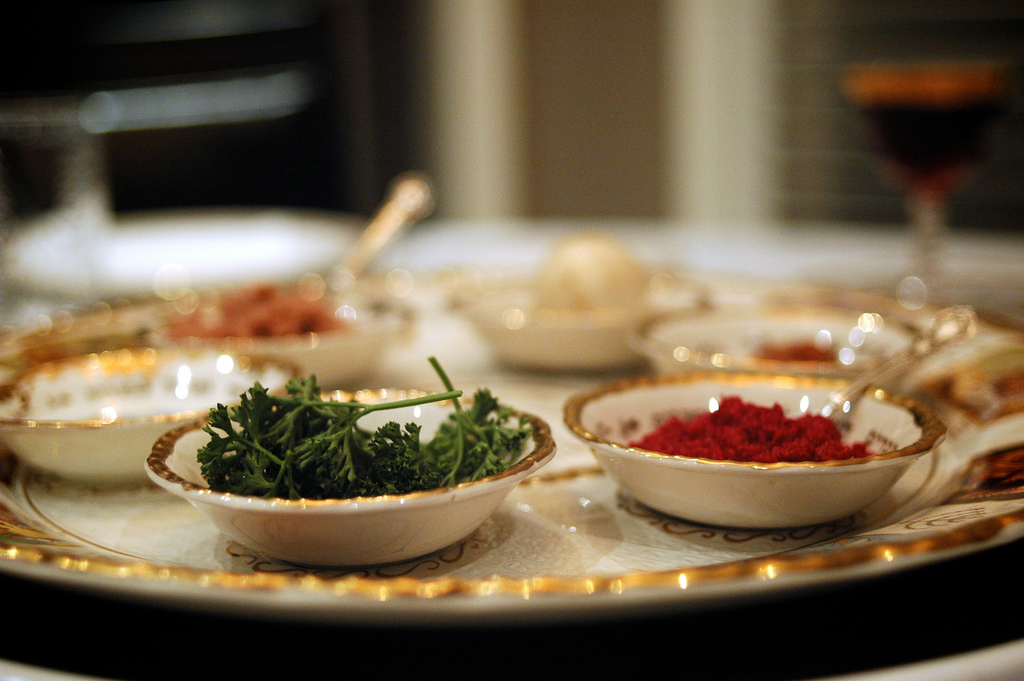 "'Next year — in person!' we whispered to ourselves or called out in semi-unison with our Zoom guests at last year's Pesach Seder. Now it is that 'next year,' and although we are vaccinated or on our way there, this year's Passover celebration is once again different from all other years," write Forrest Yesnes and Dr. Betsy Stone in an opinion piece for eJewishPhilanthropy.
Questions: "How do we make sense of a second Pesach inside of the COVID-19 pandemic? How do we reckon with a second holiday apart, when the first one was devastating enough? How do we mark this anniversary? How do we make meaning from this holy festival when we are as burnt out, exhausted, and over it as we are? How do we sit around a table when those who used to join us there are gone?"
Reimagining Seder: "The Seder itself may be the key that unlocks these chains that bind us to the difficulties of this last year. Consider these reimagined rituals for the 5781 Seder, and let us know what else you are thinking about that helps you feel supported and inspired this Pesach season."
Lessons learned
Why are some nonprofits surviving COVID-19 and some are not?
"The COVID-19 pandemic has taught us so many lessons. If your board and staff have not taken a pause yet to discuss and understand it, you should," writes Natasha Dresner in an opinion piece for eJewishPhilanthropy.
The conversation: "'What lessons have we learned through this unexpected crisis?' is one way to approach this conversation. The other is, "Why and how did our nonprofit make it through it when other similar nonprofits had to close their doors?"
Mission first: "They never wavered from their North star, and continued to be driven by their fundamental values and mission. They asked, 'What does this crisis mean for our mission? And how do we best deliver it?' vs. 'What expenses do we cut so that the organization can survive?'"
Worthy Reads
Look Again: Nonprofits whose missions are informed by faith account for two out of every five dollars spent on safety net services in six representative American cities, yet among the largest 15 private foundations, faith-based organizations receive only 12% of safety net funding, write Peter Grunert, Devin Murphy and Jeri Eckhard of The Bridgespan Group in the Lilly Family School of Philanthropy's Insights Newsletter. This blindspot on the part of large institutional philanthropy keeps them from serving vulnerable populations. "Despite recent declines in religious affiliation, nearly three out of every four Americans remain religiously affiliated – with Black, Latinx, rural and low-income communities actively engaging in their faith at higher rates," they note. [Insights] 
Closer Together: Toxic polarization can undermine the work nonprofits are doing, writes Andrew Hanauer, CEO of the One America Movement, in a blog post on the website of the Center for Effective Philanthropy. Working to mitigate that toxicity doesn't mean everybody has to agree on everything; it also doesn't demand a submissive attitude on anyone's part. What does have to change is the unexamined, and usually false, belief that people who disagree don't have anything in common. "We are getting so good at signaling our virtues through yard signs and social media posts, and I think we need to really challenge the idea that that's the equivalent of actually achieving justice," Hanauer suggests. [CenterEffectivePhilanthropy]
Green Shoots: A new national initiative called Mosaic issued $3 million in grants last month to try to foster a grassroots environmental movement by funding training, conferences and research. A group of 16 leaders comprising a range of stakeholders, from big funders to local organizations, allocated the grants, reports Michael Kavate in Inside Philanthropy. "We saw this to be a very promising opportunity to have a structure and a design from the very beginning that focused on power shifting, power sharing and power building," Angela Adrar, who represented the Climate Justice Alliance on that committee, said. [InsidePhilanthropy]
Unintended Consequences: The $160 million campaign led by Bloomberg Philanthropies and the nonprofit Campaign for Tobacco-Free Kids against e-cigarettes had an impact, causing their use by middle-school and high-school students to decline sharply from 2019 to 2020, writes Marc Gunther in The Chronicle of Philanthropy. Yet others who work to reduce deaths from smoking say the campaign against vaping is likely to do more harm than good, because e-cigarettes can help smokers quit. "Michael Bloomberg has done great things for public health," Kenneth Warner, an anti-tobacco activist and researcher, said. "But he is way off base on this."[ChroniclePhilanthropy]
Community Comms
Apply! The Kirsh Foundation seeks a full-time NY-based Program and Special Initiatives Coordinator

Apply! Want to join the team at Jewish Insider/eJewish Philanthropy? We're looking for a top-notch philanthropy editor. Learn more here.
Be featured: Email us to inform the eJP readership of your upcoming event, job opening, or other communication.
Word on the Street
Andrea Fram Plotkin and Shaun Hoffman have been appointed, respectively, chief of staff to the CEO at JDC and executive director of JDC Entwine… Rabbi Jan Uhrbach will serve as the interim Pearl Resnick dean of JTS's Rabbinical School and dean of the Division of Religious Leadership for the 2021-22 academic year… More than 30 members of Congressparticipated in MAZON's 12th Annual National Hunger Seder… The British government has confirmed refusing to give a get will be recognized as a form of domestic abuse…
Pic of the Day
A Chabad-Lubavitch community in Fort Worth, Texas, makes shmurah (guarded) matzah for Passover, which starts on Saturday night. Its kosher status mandates that the ingredients are supervised throughout the production process.
Birthdays
Canadian women's ice hockey three-time all-star player with the Boston Pride of the National Women's Hockey League, Kaleigh Fratkin…
Award-winning classical pianist, Byron Janis… Beverly Hills-based estate planning attorney, Ronald M. Kabrins… HR director at Bond Distributing Company and a board member of The Associated, Rochelle "Ronnie" Footlick… Member of the House of Lords and star of the UK's version of The Apprentice, Baron Alan Sugar… Former CEO of Microsoft, owner of the NBA's Los Angeles Clippers, Steve Ballmer… Attorney in Tarzana, California, Paul Marshall Leven… Jewish community activist in Austin, Deborah E. Rudy… Managing partner at Joslynda Capital, Michael Weiss… Retired NASA astronaut and a veteran of four space shuttle missions, he had a mezuzah on his bunk in the space shuttle, Scott Jay "Doc" Horowitz… Poet and professor of fine arts, design and art history at Hofstra University, Martha Hollander… Former professional wrestler under a series of ring names including "The Star of David," Barry Horowitz… President of American Jewish University, Jeffrey Herbst… CEO of The Female Quotient, Shelley Zalis… CEO of The Female Quotient, Shelley Zalis… Former official at UJA-Federation of New York, now at NYC's 92nd Street Y, Laura Spitzer… Actor who is best known for his portrayal of Dr. Chris Taub on the Fox medical drama series "House," Peter Jacobson… Political commentator and columnist, he works for the U.S. division of Israeli tech firm HackerU, Fred Menachem… Chief communications officer and advisor to Israel's U.S. and U.N. ambassador Gilad Erdan, Ruth Marks Eglash… Former senior advisor to the Assistant Secretary of Treasury for Tax Policy, Aharon Friedman… Rabbi of Congregation Beth Israel — West Side Jewish Center on 34th Street in Manhattan, Jason Herman… Actor best known for his role as FBI Special Agent Aram Mojtabai in NBC's "The Blacklist," Amir Arison… Director of marketing at Window Nation, Eric Goldscher… Executive editor at Bloomberg Green, Aaron Rutkoff… Famed NYC photographer now working for the  MTA, Marc A. Hermann… Retired MLB and Team Israel pitcher, he is now a pitching analyst for the Chicago Cubs, Josh Zeid… Chief of Staff for Congresswoman Lois Frankel (D-FL-21), Joshua D. Cohen… Venezuelan-born celebrity chef on NBC's "Food Fighters," she is a caterer and a private chef in Los Angeles, Deborah Benaim… Founding director of the Orthodox Union's Impact Accelerator, Jenna Nelson Beltser… COO at Bnai Zion, Justin B. Hayet… Competitive pair skater who with a partner were the first pair representing Israel to qualify for an Olympics, Andrea "Anya" Davidovich…