Your Daily Phil: Grinspoon's 'Aspen in August' + AJC's new 'Forgotten Exodus' podcast
Good Monday morning!
Around 80 funders and philanthropists are in Aspen, Colo., at the invitation of the Harold Grinspoon Foundation for "Aspen in August," an annual gathering to discuss Jewish communal priorities and evaluate ongoing projects.
"These couple of days together…in this spectacular setting help us to relax and regroup and reconnect," Winnie Sandler Grinspoon, president of the Grinspoon Foundation, told eJewishPhilanthropy. "These gatherings always lead to further conversations and partnerships, and deepening relationships, which is what it's all about."
Participants will hear from speakers such as Joshua Foer, the co-founder of Sefaria, and Noa Tishby, Israel's special envoy for combating antisemitism and the delegitimization of Israel. More informally, some sessions involve hiking or biking, creating easy opportunities for schmoozing – perhaps the most important part of any Jewish gathering.
The Grinspoon Foundation will also be celebrating shipping its 50-millionth children's book as part of the PJ Library initiative, launched in 2005 to deliver Jewish children's books to families and encourage Jewish education and identity-building.
"It's a moment to reflect on what 50 million books are creating for Jewish families across 35 countries and counting," Grinspoon said. Families have likely had "many conversations around a Jewish theme or topic. That conversation may not have happened…had the family not taken the time to read a book about a value or a custom or a holiday celebration."
Grinspoon regularly experiences firsthand how far PJ Library has reached – including on Sunday, when the "Aspen in August" participants had lunch at a public park. The check-in table included a PJ Library sign, which immediately attracted attention.
"There were at least five families of children who came up to the table and said, 'Is this PJ library?'" Grinspoon said. "'I love PJ library, I have those books, I know that program,' [the families said]. We didn't even have a book on the table. There was no book in sight."
The Aspen gathering was started in the 1970s by Harold Grinspoon, founder of the foundation, where he would bring friends out for retreats. At 93, Harold is happy to still be able to attend, Grinspoon said.
Aspen is "a place that's been very special to him," Grinspoon said. "He wanted nothing more than to be back out here this year…and he is very energized by this gathering. It's very nice to have him able to experience it yet again."
PODCAST PLAYBACK
New podcast spotlights the exodus stories of Middle Eastern Jews
For the family of memoirist Carol Isaacs, it was the 1941 Farhud, or pogrom, that uprooted them from their Iraqi homeland – among some 800,000 Jews who were forced out of their long-thriving Middle Eastern communities shortly before and after Israel's creation. Now, the little-known plight of the Jews from the Middle East and North Africa is getting airtime on a new six-part podcast series by the American Jewish Committee titled "The Forgotten Exodus," which premieres today, reports Matthew Koessler for eJewishPhilanthropy.
Overlooked: This series is unique in that it narratively illustrates the experiences of the Jewish exodus from Arab lands, an exile story that is often overshadowed by those of Jews hailing from Eastern Europe. "We often view the Jewish world through an Ashkenazi lens; we talk about the Holocaust but not the Farhud in Iraq," said Manya Brachear Pashman, a religion writer and the host of AJC's podcasts. "When we talk about Jews in the Middle East, we often talk about Israel. But for thousands of years Jews lived all over the Middle East with rich vibrant cultures."
Broad appeal: The series deliberately focuses on the stories of acclaimed writers, athletes and others whose stories, organizers believe, will resonate with the wider Jewish community. "I wanted to illustrate that these people are making contributions to art, culture, diplomacy and athletics, among many fields," said Brachear Pashman. "They yielded these wonderful contributions to society."
Finding inspiration: "Sharing [MENA Jewish] stories is vital not only for the totality of world Jewish history, but for highlighting how those who fled, and their descendants, have rebuilt their lives in Israel and other countries of refuge, where they resettled and, inspiringly, started over again," said AJC CEO David Harris, whose wife, Giulietta Boukhobza, escaped Libya. (Boukhobza's story is told in "The Forgotten Exodus.")
USING DATA TO TELL A STORY
Lessons learned from an experiment of the study of Jewish L.A.
"As associate chief program officer, learning and impact, at The Jewish Federation of Greater Los Angeles, I am spearheading a new department focused on research and evaluation," writes Shira Rosenblatt in an opinion piece for eJewishPhilanthropy.

Not just a science: "As an evaluator and researcher, I was accustomed to reading articles filled with charts, tables and loads of numbers. Creating reports outlining the essential analyses to answer research questions for community studies is more than a science… Translating the science into reports that inspire meaning requires one to leverage a different kind of expertise that bridges the science of data with the knowledge of the strengths, limitations and proclivities of the community. We believe that wrestling with this tension will make data relevant and inspire conversation and change in communities."

Presentation is critical: "We knew that presenting data in a 100- or 150-page report with endless text and extensive tables was not going to reach the typical L.A. Jew. There would be too much of a gap between numbers and meaning. As we researched how Jewish and secular organizations presented their research studies, we gravitated to those with eye-popping charts, interactive navigations and dynamic stories to tell."

Process first: "The vision of wanting it to be inviting and accessible to the everyday member of the L.A. Jewish community meant that we focused on enticing visuals and fewer long tables with just numbers. Instead, we highlighted 'call outs' to guide the reader. Despite the reality that the thematic reports would be limited in length to 10-30 pages, the process of determining what would comprise each report took much additional time, energy and consideration. The collaboration was fruitful and challenging."

Read the full piece here.
Worthy Reads
Getting Creative: Combining some of the familiar components of traditional text study with "Open Studio Process" arts techniques, Rabbi Adina Allen created the Jewish Studio Project, a new way to study sacred texts, Suzanne Kling Langman writes in Gleanings, an e-journal from the Jewish Theological Seminary: "Allen [co-founder/creative director of JSP] shared a recent example of a half-day intensive around Pesah that focused on the well-known phrase 'with a strong hand and an outstretched arm,' referring to the way in which God took us out of the narrow straits of Mitzrayim. First, Allen invited the participants to consider what it felt like to imagine their own body empowered in that way: What does strength feel like? What is the bodily experience of reaching out one's arm? The group started with a spiritual grounding and intention setting — which for Jewish Studio Project means 'what you would like to gain from the art-making practice," said Allen, 'moving from a statement of 'I want' and turning it into a vision of what one can receive from the creative process of text study.' The next step is havruta study, what Allen calls, using the local parlance of Silicon Valley, 'sacred Jewish technology.' Bringing together people with diverse experiences opens up possibilities, said Allen." [Gleanings]
Community Comms
Be featured: Email us to inform the eJP readership of your upcoming event, job opening, or other communication.
Word on the Street
Sunday marked the 20th anniversary of the terrorist bombing in the Frank Sinatra cafeteria on the Hebrew University Mt. Scopus campus. Four Israelis and five foreign nationals were killed in the 2002 attack, including American Pardes students Marla Bennett and Ben Blustein, and 85 injured, 14 of them seriously…
Birthright has partnered with Experis Academy, a high-tech training program, to launch Birthright Code, a six-month program for new immigrants to learn coding skills to help them integrate into Israel's startup culture…
The Ford, Getty Trust, MacArthur and Mellon foundations announced the transfer of the Johnson Publishing Company archive to the Smithsonian National Museum of African American History and Culture and to the Getty Research Institute, a program of the Getty Trust. In addition, the Getty Trust committed $30 million to process and digitize the archive…
The University of Houston Athletics Department received an anonymous $10 million pledge to support its planned football development center…
Philanthropist and community activist Arlene Kaufman died at 78. Among other philanthropic initiatives she was involved with, Kaufman — with her husband Sandy Baklor — launched the Kaufman-Baklor Challenge Grant in the Palm Beaches; the initiative contributed $1 million to the Jewish Federation of Palm Beach County…
Pic of the Day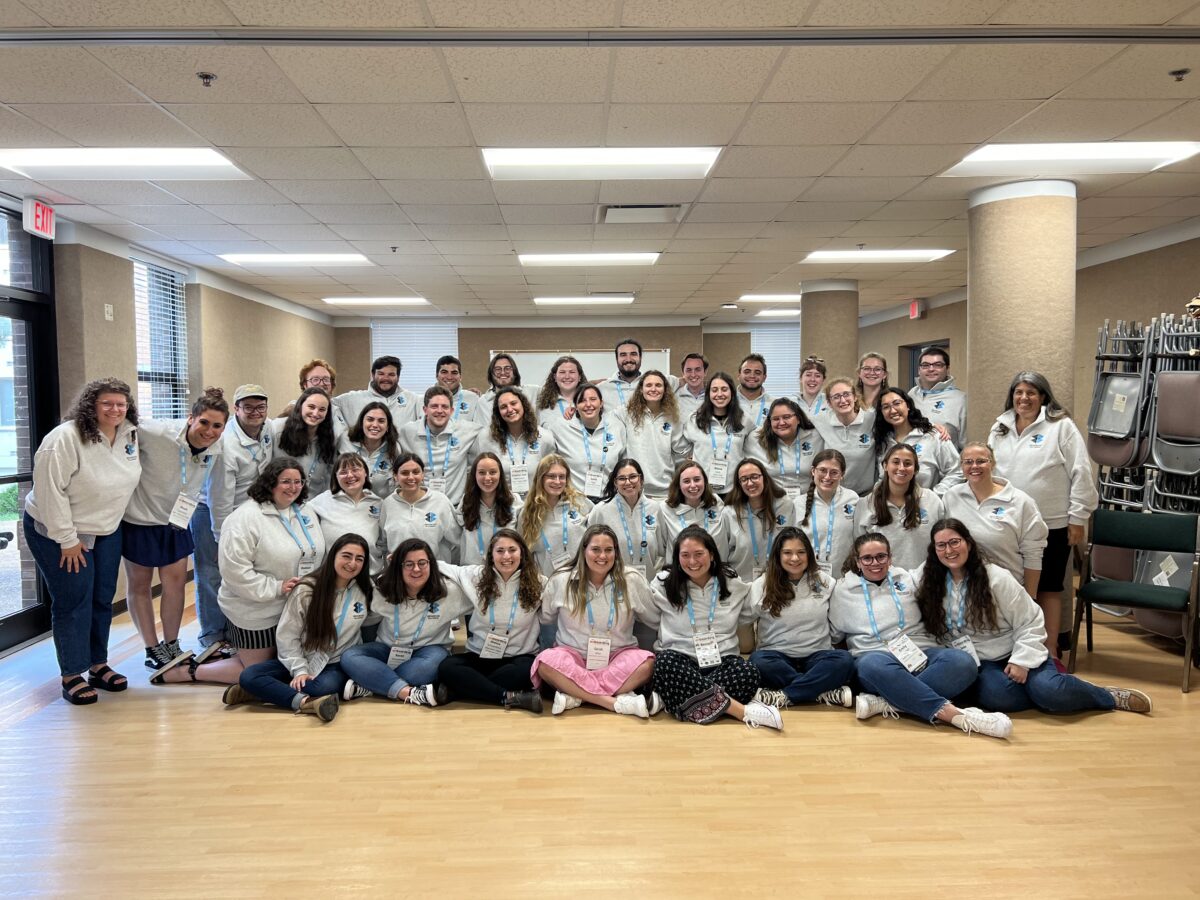 Hillel International's most recent crop of 43 Springboard Fellows, campus professionals who start their career in a two-year, paid training program, were among those gathered for Hillel's New Professionals Institute last week at Washington University in St. Louis.
Birthdays
CEO of National Council of Jewish Women, Sheila Katz…
Culver City, Calif., resident Allene Prince… Formerly CEO of Cendant Corporation, now CEO of 54 Madison Partners, Henry Silverman… Israeli film director and screenwriter, winner of the Israel Prize and professor emeritus at Tel Aviv University, Ram Loevy… Founder and chairman of NYC-based Midtown Equities, Joseph Cayre… U.S. district court judge for the Southern District of New York, now on senior status, Judge Jed S. Rakoff… Former president of Brandeis University, now president of the Cleveland-based Mandel Foundation, Jehuda Reinharz… British businessman, he has been described as "the father of British venture capital," Sir Ronald Mourad Cohen… Israeli-born businessman and film producer, later CEO of Marvel Studios, he won the 2019 Academy Award for best animated feature, Avi Arad… Second-generation owner of a Los Angeles flooring business, Eric Kalman Biren… President of Hadassah, Rhoda Smolow… Media analyst and host of "MediaBuzz" at Fox News, Howard Kurtz… Director of New York government relations at Agudath Israel of America, Yeruchim Silber… U.S. career diplomat now serving as ambassador to South Korea, Philip Seth Goldberg… CEO of Atlanta's Jewish Family & Career Services, Terri E. Bonoff… Professor of psychiatry and neuroscience at the Mount Sinai School of Medicine, Rachel Yehuda… Policy director in the D.C. office of Brownstein Hyatt Farber Schreck, Andrew "Drew" Littman… Former senior rabbi of the British movement for Reform Judaism, now a rabbi at London's Bromley Reform Synagogue, Laura Naomi Janner-Klausner… Former U.S. ambassador to Israel, now a distinguished fellow at the Atlantic Council, Daniel B. "Dan" Shapiro… Producer for CBS's "60 Minutes," Shachar Bar-On… Professor of mathematics at Princeton and Hebrew U, winner of the 2010 Fields Medal, Elon Lindenstrauss… CEO of Goliath Records and former president of Def Jam Recordings, Paul D. Rosenberg… CEO of NYC's Quantum Media Group, Ari Zoldan… Partner in Climate Capital, Jessica Alter… Founder and CEO of Moishe House, David Cygielman… Chief communications officer at The Center for Strategic and International Studies, H. Andrew Schwartz… Chief operating officer at Jewish Community Relations Council of New York, Noam Gilboord… VP of public relations at Burford Capital, David Helfenbein… Board-certified family physician, Dr. Mor Toledano Shapiro…. Cross-country skier who competed for the U.S. at the Wwinter Oolympics in 2014 and 2018, Noah Hoffman… Operations manager at Elmwood Capital Group, Yael Rabin… Miami-based attorney, Asher Perez… Television, stage and film actor, Benjamin "Ben" Rosenfield… Executive director of American University Hillel, Jason Benkendorf…
Email Editor@eJewishPhilanthropy.com to have your birthday included.