Your Daily Phil: Funding programs for South African youth + Atra training rabbis for new roles
Good Monday morning!
In today's edition of Your Daily Phil, we look at an initiative bringing extracurricular activities to underprivileged communities in South Africa, and spotlight how Atra — formerly the Center for Rabbinic Innovation — is approaching rabbinic outreach. Also in today's newsletter: Ann and Jerry Pava, Rabbi Shirley Idelson and Rachel Sumekh.
Purim in Jerusalem can feel like an alternate reality, something out of a dystopian movie. Men dressed in torn marching band uniforms stumble down the street, carrying fallen soldiers over their shoulders, ranting a mumbled language they are inventing as they go. Kids with beards painted on their faces lean against ancient buildings, puffing fake cigarettes as they watch their dads scream and bounce with bottles in hand as techno music pulses through the air.
It can be a tough day to be a recovering alcoholic. Many ex-drinkers feel left out, Eric Levitz, the executive director at the AZ House, a kosher shomer Shabbat rehab located in the East Jerusalem neighborhood of Pisgat Ze'ev, told eJewishPhilanthropy. "There's this underlying [feeling] that all my friends are out there," he explained. "It's a time of year everyone parties hard… There's a lot of glamor and excitement about it."
The AZ House was founded with a $50,000 donation from Moshe Zalman Olive, who lost his son, Avraham Zev Olive — whom the program is named after — to the disease. Olive's donation covered a fourth of the annual fees to operate what was then a 15-bed men's recovery house. The rest came from smaller donations. "A thousand dollars here," Levitz said. "Two thousand dollars here. Five hundred dollars there. A food donation there. Building donation there. Someone will pick up our grocery bill. Someone picks up our electric bill. Then another $5,000. It was month-to-month-to-month for many years."
Today, the program costs about $10,000 to put one person through; approximately $300,000 annually. Levitz said they don't receive any government funds because that would restrict who could be hired and increase the overhead to the point that the program could no longer be free. "The way that government funds are given to these types of places is that they give you per person, so now you've incentivized yourself to take the wrong people who don't want to be here."
For the first year and a half, Levitz and another staff member worked 100-hour weeks. "Then one [ex-attendee] was like, 'I'm gonna send you guys home' and then it started this trend," Levitz recalled. He said that ex-attendees said to him, "We came here for free and it saved our lives, and between all of us we can take this on." Since then, night shifts are covered by volunteers who work one night per week or every 10 days. "At this point," Levitz said, "we are indebted to them."
For the AZ House community, Purim is a time to help others. "Purim is about giving," one volunteer said. "It's about God being in our lives when we don't even see it. There's no doubt in my mind that there was something that kept me alive because I had a lot of friends that did the same things, but just were not fortunate. They died. God was there when I couldn't be there for myself."
bringing it home
South African Jews create a foundation to bring education tools to underprivileged youth
Cecil and Ruth Hershler grew up in Cape Town, South Africa, during apartheid, but only awakened to the extent of the injustice around them in their early 20s. It started when they read an article in the Cape Argus on Feb. 2, 1972, highlighting the "cramped" and "badly lit" classrooms in the only Black high school at the time, Fezeka, where instead of proper toilets, students were given a temporary structure of "galvanized iron sheds with pail system toilets." A Cape Times article shortly afterwards detailing the 5.2 million South African rand annual increase in government funding — equal to nearly $300,000 today — to build schools for white students brought the disparity home, the Hershlers told Daniela Cohen for eJewishPhilanthropy.
In the community: Today, the Hershlers are the founders of Education without Borders, which supports 400-500 underprivileged youth in South Africa per year through after-school programs in mathematics, science, English and leadership, as well as mentorship opportunities at schools in disadvantaged communities. "It was a great idea to do an after-school tutorial system. But who's going to do it? The teachers are already burned out, they're overloaded. They've just got to try and get through their syllabus. Our learners are so far behind, it's an unwinnable situation for them," said Cecil Hershler. "So, we stumbled on the idea of using students, especially those university and college students, and graduates from school who have managed to get out of the township and succeed …. We went to them, and we said, 'This is the way you can help your country. We will pay you a stipend. But more importantly, you're giving back and [even] more importantly, you're giving hope.'"
Living legacy: Although he didn't know anyone directly in his family affected by the Holocaust while growing up, Hershler said he has been deeply affected by those stories and what they revealed about the nature of discrimination. "If you read up on the beginnings of fascism in Germany in the '30s, it all started with small discriminations… similar things to what was happening in apartheid South Africa, which eventually became a total imbalance permanently. We are working with the legacy of that injustice to this very day," said Hershler. "I think this issue of injustice to people, whether you actually are conscious of it or not, as a Jew, it's burned into you."
Friendraising: "A lot of our friends in Canada are Jewish, [so] that was the first constituency we appealed to, to our South African friends to come onto the board and help us," said Hershler. "Gradually it's of course become much more diverse, and we're now at least 50/50, non-Jewish and Jewish, working together on the same cause." Plans to rebuild the school came together faster than anticipated, and the Hershlers decided to take out a second mortgage to be able to continue the process. They then began to organize fundraising activities, starting with the performance of the Athol Fugard play, "Valley Song," which Cecil acted in, and after six years, paid back the debt while growing their base of EwB supporters. Today, EwB has branches in South Africa, Canada, Australia and, most recently, the U.S.
on the hill
Senate group proposes legislation to expand tax deductions for charitable giving
A bipartisan group of 11 senators introduced legislation last week that aims to expand tax deductions for charitable giving, with the goal of incentivizing higher levels of giving to charitable organizations, houses of worship and religious organizations, Jewish Insider's Marc Rod reports.
Details: The Charitable Act would allow taxpayers who choose not to itemize their deductions to receive an additional tax deduction of up to one-third of the standard deduction for non-itemizers (the base-rate tax deduction available to taxpayers who do not itemize their deductions). This would translate to up to a $4,500 deduction for individual filers and $9,000 for married couples filing jointly in 2023.
Community support: A range of charitable organizations are supporting the legislation, including the Jewish Federations of North America. "When disaster strikes, when tragedy hits, when crises befall us, everyday Americans want to step up and lend a hand, often by supporting the nonprofit sector's vital work," JFNA's senior vice president for public affairs, Elana Broitman, told JI. "This policy would help ensure that more people are able to give and help nonprofits do what they do best: serve their communities."
Who's in: The Charitable Act is sponsored by Sens. James Lankford (R-OK), Chris Coons (D-DE), Catherine Cortez Masto (D-NV), Marco Rubio (R-FL), Maggie Hassan (D-NH), Raphael Warnock (D-GA), Susan Collins (R-ME), Amy Klobuchar (D-MN), Gary Peters (D-MI), Tim Scott (R-SC) and Jeanne Shaheen (D-NH).
Read the full story here and sign up for Jewish Insider's Daily Kickoff here.
leveling up
Atra — formerly the Center for Rabbinic Innovation — seeks to support rabbis in a changing world
While some rabbis are still associated with the traditional pulpit leadership model, serving in established synagogues or at educational institutions, today's spiritual leaders serve various roles within their communities, across denominations and contexts. From fiery sermonizers to innovative educators, from community advisors to emergent community founders, the changing appearance of the rabbinate creates a need for Jewish spiritual leaders to receive additional investment and training — to meet contemporary communal needs and build a stronger national network of rabbis, eJewishPhilanthropy's Esther D. Kustanowitz reports.
Teaching teachers: Launched more than six years ago as the Center for Rabbinic Innovation – a small, incubated program in the Office of Innovation, which is fiscally sponsored by Hillel International – Atra, as the organization is now known, trains and supports rabbinic leaders from all backgrounds to adapt their practice for the real world, to help them grow professionally and propel their leadership. Atra's new name invokes the Aramaic phrase "mara d'atra," meaning the teacher or rabbi who serves a particular place, a hat tip to the modern ubiquity of places where rabbis can be found. Over the next three years, the organization expects to expand its outreach to rabbis and other Jewish spiritual leaders, as well as bring 45 organizational partners into the emerging conversation about what makes a rabbi, Rabbi Shira Koch Epstein, Atra's executive director, told eJP.
'A key gateway': "We believe that rabbis are a key gateway, models and change agents for Jewish identity, meaning, ethics and practice for the Jewish people," said Barry Finestone, president and CEO of the Jim Joseph Foundation. "There's a demonstrated need for more skilled rabbis as leaders in the North American Jewish community. Rabbinic training as a field has been under-resourced. Importantly, Atra has developed practical and effective ways to provide relevant, needed training for rabbinic leaders serving in the field across the denominational spectrum and in a range of settings."
challenges and opportunities
Living a Jewishly fulfilling life
"As philanthropists committed to a vibrant traditional Jewish community that is relevant, accessible and meaningful to contemporary Jews, we were struck by the most recent report from Nishma on the Orthodox community," write Ann and Jeremy Pava, trustees of Micah Philanthropies, in an opinion piece for eJewishPhilanthropy.
Common denominator: "Approximately 95% of Jews across the Orthodox spectrum (the Open Orthodox to the Hasidic), and across gender, either strongly agree or agree somewhat that they find their lives Jewishly fulfilling. Despite the many challenges in the Orthodox community revealed by the study – from the cost of Jewish education, the cost of maintaining a Jewish home, issues of abuse, the agunah challenge and growing antisemitism – a common denominator across Orthodoxy is a strong sense of Jewish fulfillment. It is important to consider why this is so and what lessons the broader Jewish community can learn from this."
Meaning to life: "The study reveals near universal observance of the major halachic precepts — Shabbat, kashrut, taharat mishpacha (family purity). These are no doubt all difficult to observe, but these mitzvot, along with an aspiration to observe all mitzvot, provides meaning and purpose to life."
a zionist holiday
Masters of our own destiny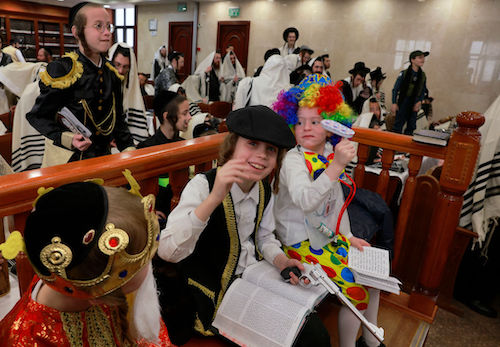 "Purim is, in fact, the story of the Diaspora in a nutshell. It is the story of living at the mercy of capricious kings, being called 'globalists' and 'disloyal,' being always 'different,' always 'tolerated,' never fully accepted," writes Andres Spokoiny, president and CEO of the Jewish Funders Network, in an opinion piece for eJewishPhilanthropy.
On probation: "Like German Jews in the 1930s, Esther and Mordechai were fully assimilated… Like American Jews are realizing now, it didn't matter that Persian (or Spanish, or Polish or French) Jews had been loyal citizens and faithful servants of the king. They were always 'the other,' the weak link, the ones that can be easily discarded when politically expedient. Jews were (and are) always on probation; always needing to show their bona fides, always trying to reach to moving goalposts for their acceptance."
Something we make happen: "I know; the Diaspora wasn't only that. It was also enormous creativity, cultural richness and incredible works of genius. But it was a traumatizing life, always dependent on others, always under the sword of Damocles of people's intolerance. As Isaiah Berlin said, even our best works, like the novels of Kafka, the symphonies of Mendelssohn, or the insights of Freud are marked by trauma and an almost pathological desire to be accepted. Zionism came to correct that. It made Jews masters of their own destiny again. It demanded to change history, from something that happens to us to something that we make happen."
a modern shtetl
Jewish cohousing: Rethinking 'spiritual' communities
"Jewish cohousing is designed to restore Jewish community and social connection to daily life. It uses the Danish model of cohousing which, like an Israeli moshav, combines intentional community, shared spaces and private homes," writes Roger Studley, founder of Urban Moshav, in an opinion piece for eJewishPhilanthropy.
Lower East Side locale: "Historically, Jews also typically lived in community. We stayed together as a people through persecution in biblical times and dispersion in diaspora by living connectedly in Jewish villages, neighborhoods and yes, even shtetls. We returned from exile and established kibbutzim and moshavim, close-knit Israeli communities where neighbors did all manner of things together, from draining swamps and farming to eating meals and raising kids. We came to the U.S. and created a thriving Jewish village on the Lower East Side. Community has sustained us; it is in our bones."
Compartmentalized lives: "But today, most Jews don't live in community. Our lives, in particular our Jewish lives, tend to be compartmentalized. We experience and express our Jewishness when we find ourselves at a synagogue, a wedding, a funeral or a Passover seder, but then we exit these Jewish bubbles and spend our daily lives in a secular world with our Jewish selves waiting for the next opportunity to emerge from hibernation. We don't have immediate, regular, proximal connection to other Jews."
Worthy Reads
Stories from the Pandemic: "Around the world, we are collectively in the process of navigating and making sense of our 'new normal.' In some parts of the world, COVID continues to pose a significant threat to the health, safety and wellness of their community." According to Jen Schiffer, writing in eJewishPhilanthropy, "In the world of early childhood education here on Long Island, we find our community in the process of redefining our roles." Schiffer continues, "Our ECC children and their teachers are able to talk and interact freely without the barrier of a mask. We are able to hold events indoors, and for some of our families, they are welcome inside our school building for the first time since their child started school two years ago. It is crazy to think about that – a child has been attending our preschool for two years, and the parent has never set foot inside? These are the stories we will tell for years to come about our time 'doing life' during a global pandemic." [eJP]
Jewish Jersey Strong: A new survey of the Northern New Jersey Jewish community, funded by the Berrie Foundation and The Jewish Federation of Northern New Jersey, is informing a new strategic plan for the federation that addresses its findings, Joanne Palmer reports in The Jewish Standard. The community's previous study was in 2014, the federation's CEO, Jason Shames, said: "'[The study] validates our sense of the community as tightly connected to Israel; we were a little but only a little surprised that antisemitism was the number one issue on everyone's mind. We already had hired a community security director…The study shows many opportunities in terms of engagement. We heard from people who want to get involved in the community; the puzzle is how to engage them….It showed us the changing nature of Jewish life in northern New Jersey,' he continued. 'It's not just about religion. It's religion and theology plus something else. It's an incredible opportunity for us and for synagogues to think about the programs and services they offer. It speaks to the strength of our community.' 'The foundation has been a funder and partner of the federation, and we've been in conversation with Jason and the team there about how to understand the community and how to provide for it for many years,' [Berrie Foundation CEO Idana] Goldberg said. 'We understand that you can't do that without data, so we funded the survey so that we can use the data for decision making about what to fund.'" [TheJewishStandard]
Crossing Paths: On the Lake Institute's website, Rabbi Sandy Eisenberg Sasso considers the links between art, religion and philanthropy. "It is well known that active members of religious communities are more likely to be philanthropic. And of course, much philanthropy goes to support religious institutions. On the other hand, the relationship between art and philanthropy appears, on the surface, to be unidirectional. But while much philanthropy is directed to support artistic endeavors, art is not just a beneficiary of philanthropic largesse, but a benefactor as well. In a way, art, religion, and philanthropy arise from the same source. They come from keen attentiveness to the world, outside us and within us. In Hebrew we ask one another for our attention with the appeal, sim lev. It means 'place your heart.' As the poet Mary Oliver reminds us, 'attention is the beginning of devotion.' Attentiveness, with your whole heart, is the driving force behind creativity, spiritual devotion, and generosity." [LakeInstitute]
Around the Web
Rabbi Shirley Idelson has been appointed director of Hebrew Union College-Jewish Institute of Religion's Zelikow School of Jewish Nonprofit Management effective this summer. Idelson previously served as director of the Hornstein Jewish Professional Leadership Program at Brandeis University and dean of HUC-JIR New York…
Rachel Sumekh has been appointed project executive of the Jewish Funders Network's National Affinity Group on Jewish Poverty. Sumekh is the founder of Swipe Out Hunger…
Jewishgigs[dot]com, a marketplace for "gig" economy work has launched. The platform, a project of BBYO and Moishe House, connects those hiring for part-time job opportunities with freelancers who provide services throughout the North American Jewish community…
Prizmah: Center for Jewish Day Schools and the Jewish Education Innovation Challengelaunched the Jewish Day School Educators Pipeline Working Group, a facilitated, yearlong effort to build the pipeline of Jewish day school educators…
Celia Livshin has joinedRepair the World as senior director of national partnerships strategy. Livshin comes to Repair from BBYO…
Newman's Own FoundationnamedAlex Amouyel as its incoming president and chief executive officer, starting in April. She is the outgoing executive director of MIT Solve…
The United Nations World Food Programme announced the appointment of Cindy McCain as executive director, effective April 5…
The London-based Institute for Jewish Policy Research released "Grounding Jewishness: How attached do Jews feel to Israel, Europe and the countries in which they live?"…
Dictionary[dot]com is replacing "anti-Semitism" — written with a hyphen and a capital-S — with "antisemitism"…
Montefiore Einstein received a $100 million donation to the Albert Einstein College of Medicine from an anonymous donor. The gift, one of the largest in Einstein's history, will support biomedical research and provide direct financial support to students…
New York City's Trinity Church Wall Streetawarded more than $57 million in grants in 2022, the largest grant-making year in the church's history…
The Institute for Nonprofit Practice received a $1.8 million grant from the Barr Foundation to support the ongoing expansion of INP's programs over the next three years…
The Women's Philanthropy Institutereleased "Moving Money and Shifting Power for Social Justice: Voices of Wealthy Next-Gen Donors." The report explores how a small group of young, wealthy donors are engaging in social justice philanthropy, including their motivations, behaviors and challenges…
In her latest column for eJewishPhilanthropy on the weekly parsha, Erica Brown, vice provost for values and leadership at Yeshiva University, writes, "Today, with no centralized worship space, clothing still communicates authority, but you don't have to be a priest for clothing to matter. 'To be a leader,' Rabbi Jonathan Sacks writes, "you don't need a crown or robes of office. All you need to do is to write your chapter in the story, do deeds that heal some of the pain of this world, and act so that others become a little better for having known you.'"
Pic of the Day
In recognition of Purim, the 12th Jerusalem Marathon, which takes place on March 17, revealed the marathon's mascots in the image of a lion and a lioness. The figures were chosen to symbolize all runners.
Birthdays
Former chairman of the Federal Reserve of the United States for 18 years, Alan Greenspan…
Centenarian known as "Philadelphia Phil," the founder of a successful advertising agency, he achieved fame during the Eagles 2018 run to a Super Bowl championship, Philip Basser… Writer, lecturer and professor emeritus of Jewish communal service at HUC-JIR Los Angeles, Steven Windmueller… Actor and director, he directed "When Harry Met Sally" and "A Few Good Men," Rob Reiner… Television personality, author and libertarian pundit, John Stossel… Musical theatre lyricist and composer, Stephen Schwartz… Member of the New York State Senate, Shelley Mayer… Actor, comedian and sports show host, Tom Arnold… Aliza Tendler… Senior marketing manager at Momentum, Judy Victor… Founder of Talenti Gelato & Sorbetto which he sold to Unilever in 2014, he has since co-founded Iris Brands, Joshua Hochschuler… Head of innovation communication at Bloomberg LP, Chaim Haas… Senior director for business development and client services at NYC-based Jewish Communal Fund, Michelle Lebowits… Former football quarterback who played on six NFL teams, he is a member of the National Jewish Sports Hall of Fame, Sage Rosenfels… Israeli journalist and author of the book Revolt: The Worldwide Uprising Against Globalization, Nadav Asher Eyal… Managing director at Berkshire Partners, a Boston-based investment firm, he was the body man and then deputy chief of staff for former President George W. Bush, Blake L. Gottesman… Fourth-generation developer, owner, and operator of commercial real estate throughout the Eastern U.S., Daniel Klein… Natalie Lazaroff… Israeli fashion model, Esti Ginzburg… Artist Tova Suissa… Founder of FTX known as SBF, Sam Bankman-Fried… Associate at Williams & Connolly, Riley Clafton… Sandra Brown… Nelson Katz…
TUESDAY: Nationally syndicated columnist for The Washington Times since 1984, Suzanne Bregman Fields… President emeritus of the California Institute of Technology, he is the 1975 Nobel Prize laureate in Medicine, David Baltimore… Former bureau chief for the AP in Kuala Lumpur, New Delhi, London and Tokyo, president of the National Press Club in 2014, Myron Belkind… Former chairman and CEO of The Walt Disney Company, Michael Eisner… Geneticist and 2017 Nobel Prize laureate in Medicine, Michael Rosbash… Retired media executive, she was a member of the first co-ed class at Yale College in 1969, Ruth Barbara Jarmul… Chairman and general trust counsel of Fiduciary Trust International, Gail Ehrlich Cohen… Award-winning freelance journalist, author and adjunct professor at the University of Maryland, Anne Farris Rosen… British barrister and a member of the House of Lords, he is the long-time chair of the British Legal Friends of Hebrew University, Lord David Philip Pannick… Executive director of Academic Exchange, Rabbi Nachum Braverman… Democratic political strategist, now the director of finance at Four Directions, Lewis H. Cohen… Professor of philosophy at Johns Hopkins University and the author or editor of several books about Baruch Spinoza, Yitzhak Yohanan Melamed… Academy Award-winning actress, Rachel Weisz… Assistant news director for D.C.'s NBC4 News and an adjunct professor of journalism at American U, Matt Glassman… Brooklyn-based political consultant and attorney, Michael Tobman… Member of Israel's diplomatic corps since 2010, he has been the spokesperson of the Embassy of Israel in Washington since 2018, Elad Strohmayer… Television news anchor and author of four bestselling finance guides, Nicole Lapin… Israeli actress and singer, Ester Rada… Author, popular science writer, spaceflight historian, YouTuber and podcaster, best known for writing Breaking the Chains of Gravity, Amy Shira Teitel… Climate deals reporter at Axios Pro, Alan Neuhauser… Attorney in Reno, Nevada, Sasha Ahuva Farahi… Digital marketing manager at Angel City FC, Rachel Zuckerman… Digital engagement director at AIPAC, Cory Meyer… Comedian, actress, and screenwriter, known professionally as Sarah Squirm, Sarah Sherman… Executive Director of Women's League for Conservative Judaism, Rabbi Ellen S. Wolintz-Fields… Jake Hirth… Yaakov Spira…