Your Daily Phil: Fresh push for security funding + Avodah launches Institute for Social Change
Good Wednesday morning!
Up to $126 million over three years will be injected into local Jewish security efforts beginning next month, a timeline that has been accelerated due to Saturday's hostage situation at a synagogue in Colleyville, Texas.
The funding, from the Jewish Federations of North America's (JFNA) LiveSecure program, is divided into two batches: $18 million for the Secure Community Network (SCN), which coordinates security for Jewish institutions, and $36 million in grants for local Jewish federations to create their own security infrastructures. JFNA hopes for the $36 million to be matched on a two-to-one basis in local donations, which would bring in an additional $72 million.
So far, only about $40 million has been raised by JFNA, CEO Eric Fingerhut told eJewishPhilanthropy. But instead of waiting until fundraising is completed, JFNA will begin disbursing funds in early February to SCN, and also start working with local federations to assess their security needs and find matching donors.
Out of the 146 local federations, fewer than 50 have full-time security directors. LiveSecure hopes to get the other 90-plus to hire their own and build out security plans with SCN's help. The largest Jewish communities tend to have security programs, so the initiative will focus on areas with smaller Jewish populations.
The funding is a major increase in federations' spending on security. Prior to this initiative, federations collectively spent about $30 million per year on security. "We know that these incidents can happen anywhere. There's simply no connection to [whether] it's a big city or a small city," Fingerhut told eJP. "This is a very expensive element of Jewish life now."
STAYING SAFE
After security training 'success' in Colleyville, experts turn to small communities
As they look back on the hostage situation at a synagogue in Colleyville, Texas, last Saturday, Jewish security officials find themselves caught between two conflicting reactions, reports eJewishPhilanthropy's Ben Sales.
A "success story": On one hand, the incident was a "success story" for Jewish security groups, said Secure Community Network CEO Michael Masters: The rabbi and worshippers at Congregation Beth Israel received training from experts and, in the face of a gunman, used the lessons from those trainings to escape unscathed.
Confronting a new scenario: But the attack was a reminder of how many smaller Jewish communities lack security infrastructure. And security watchdogs say a hostage situation presents confounding new questions. Masters said people trained to look for signs that a visitor to synagogue is disturbed or unstable might be thrown off if a potential assailant displays a pleasant and friendly demeanor, as was the case on Saturday in Colleyville. "Particularly given the diversity within our community, we want to make sure that people are not devolving toward looking at simple appearance to make judgments," he said.
Training congregants to guard the door: Some experts say the answer is to train congregants — who are more familiar with regular attendees — to take charge of security matters. That's what the Community Security Service, whose budget grew from $360,000 in 2019 to $2 million today, is banking on: The group has given security training to volunteers at nearly 200 synagogues, mostly in the Northeast, and is now focusing on reaching synagogues across the country.
Bonus: Jeffrey Cohen, one of four hostages held at gunpoint for 11 hours at Congregation Beth Israel in Colleyville, Texas, over the weekend, told Jewish Insider's Matthew Kassel on Tuesday that Americans need to challenge instances of antisemitic rhetoric wherever they occur as part of an effort to forestall attacks against Jews that have occurred with increasing regularity in recent years.
heard yesterday
Mayorkas, Garland, Wray speak to synagogues, Jewish community organizations
Homeland Security Secretary Alejandro Mayorkas, Attorney General Merrick Garland, FBI Director Christopher Wray and several other administration officials joined a briefing on Tuesday afternoon with representatives from more than 1,500 synagogues and Jewish organizations to discuss the weekend attack on the Beth Israel synagogue in Colleyville, Texas, and discuss how communities can better protect themselves, Jewish Insider's Marc Rod reports. The Zoom call was organized by the Orthodox Union and Conference of Presidents of Major American Jewish Organizations.
Line in the sand: Orthodox Union Advocacy Center Executive Director Nathan Diament told JI the senior national security officials all made "very clear, strong statements identifying this as an antisemitic event that targeted the Jewish community" — something that some federal officials appeared hesitant to do in public statements over the weekend.
Making it personal: Garland, who is Jewish, noted the regular presence of police cars at his own synagogue. "It was very powerful, for example, to hear the attorney general of the United States say, 'When I go to my synagogue, there's a police car outside,'" Diament said. "And not just because he's the attorney general who is attending that synagogue but the police car is there because of the Jewish community's situation. And also to hear the Homeland Security secretary personally identify with the community, it's a very strong message, very reassuring."
Funding fight: The officials also discussed the Nonprofit Security Grant Program, which provides nonprofits, including religious groups, with funding for security improvements. Beth Israel was a past NSGP recipient, but the grant fund fulfilled less than half of all applications for 2021 funding. The administration did not submit a specific NSGP budget request to Capitol Hill for 2022, and Congress is currently poised to hold funding at its current level in its 2022 spending bill. Conference of Presidents CEO William Daroff said that both Garland and Mayorkas expressed their support for "fully funding" the NSGP on the call.
High praise: Daroff said that the presence of so many top officials on the call speaks to "the intense level of engagement by the federal government in the issues related to the hostage-taking in Colleyville." He continued, "the engagement by the administration, by the Justice Department, Homeland Security and the White House has been remarkably helpful and remarkably cooperative."
Bonus: Rep. Kathy Manning (D-NC), a former president of the precursor to The Jewish Federations of North America who pushed for the NSGP's creation in the early 2000s, reflected on that experience to JI on Tuesday. "I will never forget sitting in that room explaining to the vice president [Dick Cheney] why we felt so vulnerable and why we American Jews now felt that we were potential targets for terrorism," she said. "We have an even greater need for those security grants [now] than we did when we first lobbied for that money all those years ago."
THIS IS WHAT COMMUNITY LOOKS LIKE
True justice requires that we show up
"Three years ago, I was with a Jewish delegation at the Women's March in Washington, D.C., led by the visionary JWOC (Jewish Women of Color) Marching. As we gathered to walk over, Dr. Koach Baruch Frazier drummed and led us in call and response: 'This is what community looks like. This is what the family looks like. This is what the Jews look like,'" writes Sarra Alpert, director of the Avodah Institute for Social Change, in an opinion piece for eJewishPhilanthropy.
Collective action: "As I've worked toward the launch of the new Avodah Institute for Social Change, that moment has been coming to mind: the soul-filling warmth of shared purpose in dark times, the love found in collective action. Yes, this is what our Jewish communal family can and does look like, in all its beauty and complexity. Those of us who gathered that day did not all agree with each other or with everything about the event. But we knew we could still march together, work towards a better world together and continue to figure out the hard stuff as we went. The question for us at Avodah has been: How can we build more pathways to moments like that one, a clearer map of the many ways that more Jewish institutions can be a part of deep, sustainable, effective and accountable work for justice in all of its challenges and joy?"
Theory of change: "For a long time, Avodah's work was focused on a smaller and more specific slice of the Jewish population: emerging leaders already committed to justice work. Through our Service Corps and Justice Fellowship, we developed and honed the key elements of our theory of change: that if individuals get to develop deep and trusting relationships, bring their full and complicated selves to their justice work, and both joyfully draw on and productively struggle with Judaism's rich traditions and history, their leadership can change the Jewish organizational and communal landscape."
Worthy Reads
Fellow to Know: In The Circuit, Tamara Zieve profiles Loay Alshareef, a UAE-based Saudi influencer who is using his platform to build bridges between different players and people in the Middle East. "Today, he is a prominent face among movers and shakers in the region who have embraced the Abraham Accords, normalization deals signed in September 2020 between Israel, the United Arab Emirates and Bahrain, and are working to strengthen people-to-people ties between those countries and beyond. He's caught the attention of Israeli, U.S. and Gulf leaders, and frequently meets with prominent figures visiting the UAE, where he has lived since 2020." [TheCircuit]
Safety First: In The Atlantic, Juliette Kayyem, a former assistant secretary for homeland security, explains the intricacies and challenges of devising security plans for her family's synagogue as she herself is not Jewish. "At airports, stadiums, even schools, safety and security procedures are put in place to protect the essence of the institution itself: travel, recreation, education. We may not like the fortress aesthetic, but we've come to accept it. But what if the essence of a place is that it is defenseless? What if its ability to welcome others, to be hospitable to strangers, is its identity? What if vulnerability is its unstated mission? That is the challenge I hadn't considered. I tread carefully here speaking of a religion that I know only through marriage." [TheAtlantic]
Event Planning: In the Chronicle of Philanthropy, Lisa Schohl collects some advice for planning hybrid fundraising events in uncertain times. "Fundraising events bring in critical dollars for nonprofits, and after nearly two years of social distancing, many groups want to throw their doors open wide and welcome donors back to in-person events. But as the Omicron variant has shown in the pandemic's latest twist, it's not that simple. Some donors are eager to interact in person, but others prefer to stay online. To reach everyone — and meet revenue goals — some charities are creating hybrid fundraising events that engage both groups." [ChronicleofPhilanthropy]
Community Comms
Employee Experience Survey 2022: Get data to become an even better place to work! Register by March 15 for Leading Edge's survey.
Lead. Apply for the 2022 cohort of the Certificate in Jewish Leadership, presented by Spertus Institute in partnership with Northwestern University.
Be featured: Email us to inform the eJP readership of your upcoming event, job opening, or other communication.
Word on the Street
Nik Kafka, the founder and CEO of Teach a Man to Fish, an organization that addresses the lack of opportunity for young people trapped in a cycle of poverty, is the 2022 recipient of The Charles Bronfman Prize…
Albert Bourla, chairman and chief executive of pharmaceutical company Pfizer Inc., was awarded the Genesis Prize for his efforts in leading the development of a COVID-19 vaccine. The Greek-born Bourla, the son of Holocaust survivors, plans to donate his prize to projects aimed at preserving the memory of Holocaust victims, especially in Greece…
Professor Tobias Jung of the University of St Andrews has been elected the new president of the European Research Network on Philanthropy, effective later this month…
Bloomberg Philanthropies named the 15 winning cities of the 2021-2022 Global Mayors Challenge…
The Ford Foundation invested $500,000 to support and expand the Institute for Nonprofit Practice in New York City…
Responding to criticism of an insufficient response to antisemitism on campus, the University of Southern California announced it will create a new advisory committee on Jewish life at the university consisting of students, faculty, staff and community members…
Pic of the Day
Children in Poltava, Ukraine, made holiday cards this week for delivery with sweets to elderly neighbors. The project is supported by the community and the local Joint Distribution Committee-supported Hesed social welfare center.
Birthdays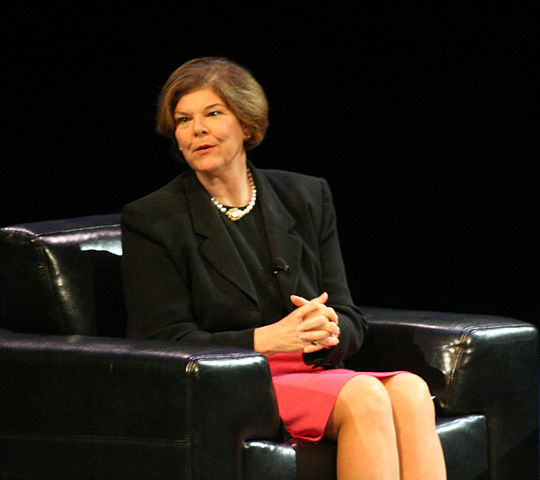 Retired after 40 years as a news reporter and White House correspondent for ABC News, Ann Compton…
The inspiration for the fictional character Gidget in a book written by her father, Kathy Kohner-Zuckerman… Professor emeritus at Columbia Law School and former chairman of the Conference of Presidents of Major American Jewish Organizations, Richard Berenson Stone… Rebbe of the Hasidic dynasty of Belz since 1966, Rabbi Yissachar Dov Rokeach… CEO of Charleston, S.C.-based InterTech Group, Anita Zucker… Professor at the University of Pennsylvania Law School, Amy Laura Wax… Former speaker of the Knesset following a stint as chairman of the Jewish Agency, Avraham Burg… President and CEO of PayPal, Daniel H. Schulman… Stoughton, Mass., resident, Hillery Bauman… Jay Susman… Los Angeles-based attorney and founder of American Trial Attorneys in Defense of Israel, Baruch C. Cohen… Retired speaker of the UK's House of Commons (2009-2019), his family name was originally Berkowitz, John Simon Bercow… British diplomat, he is now the director of the Diplomatic Academy at the British Foreign Office, Jon Benjamin… Governor of Illinois since 2019, J.B. Pritzker… Chief Washington correspondent for ABC News, Jonathan Karl… Co-founder and former CEO of Circ MedTech, Tzameret Fuerst… Lecturer at the University of Maryland's Center for Jewish Studies and senior adviser to Enter: The Jewish Peoplehood Alliance, Scott Lasensky… UAE minister of state and the UAE's ambassador to the U.S. since 2008, Yousef Al Otaiba… Journalist, creator and motivational speaker, Jessica Abo… DC-based senior director of policy and political affairs at AJC, Julie Fishman Rayman… VP of income security, child care and early learning at the National Women's Law Center, Melissa Boteach… Isaac Ike Wolf… Assistant director of policy and government affairs at AIPAC, Alex Bronzo… Gastroenterologist in Boston and a former ice dancing champion, Dr. Loren Galler Rabinowitz, …. Actor, he has already appeared in over 25 films and is now a main character in Amazon's "Hunters," Logan Lerman… Director of national expansion at Skills for Chicagoland's Future, Emily Berman Pevnick… Founding chair of JCDS, Boston and Hebrew at the Center, Arnee Winshall…
Email Editor@eJewishPhilanthropy.com to have your birthday included.