Your Daily Phil: Colleyville highlights importance of security training + AEPi's new CEO
Good Tuesday morning!
The rabbi and congregants who were taken hostage on Saturday at Congregation Beth Israel in Colleyville, Texas, credited security training by Jewish organizations for helping them survive the ordeal and escape the gunman.
"First of all, we escaped. We weren't released or freed. We escaped because we had training from the Secure Community Network on what to do in the event of an active shooter. This training saved our lives — I am not speaking in hyperbole here — it saved our lives," Jeffrey Cohen, one of the hostages, wrote on Facebook yesterday.
The hostages took subtle actions to increase their chances of survival, Cohen wrote: They edged progressively closer to the exit doors, kept the gunman engaged in conversation (and persuaded him to release one hostage), and Cohen called 911 and surrounded himself with chairs. After more than 11 hours, Rabbi Charlie Cytron-Walker yelled "Run!" and threw a chair at the gunman, and the hostages burst through the doors to safety.
Security training at Jewish institutions has ramped up in the two decades since 9/11 and especially in the three-plus years since the 2018 Pittsburgh synagogue attack. The Secure Community Network (SCN), which coordinates security nationwide for Jewish institutions, trained 17,000 people in 2021, including at synagogues, and has a staff of more than 25 dedicated to that effort. The Community Security Service (CSS), which trains volunteer congregants to guard their synagogues, has worked with 6,500 volunteers at almost 200 institutions — a number that increased more than 50% in the last 18 months. CSS recently began a partnership with the Anti-Defamation League, which had also trained Congregation Beth Israel on security.
Both CSS and SCN told eJP that they hoped to expand their synagogue security programs in 2022.
Ben Sales has officially joined eJewishPhilathropy as a news editor. You can reach him at ben@ejewishphilanthropy.com with story ideas and news tips. Welcome, Ben!
exclusive
Alpha Epsilon Pi names Rob Derdiger new CEO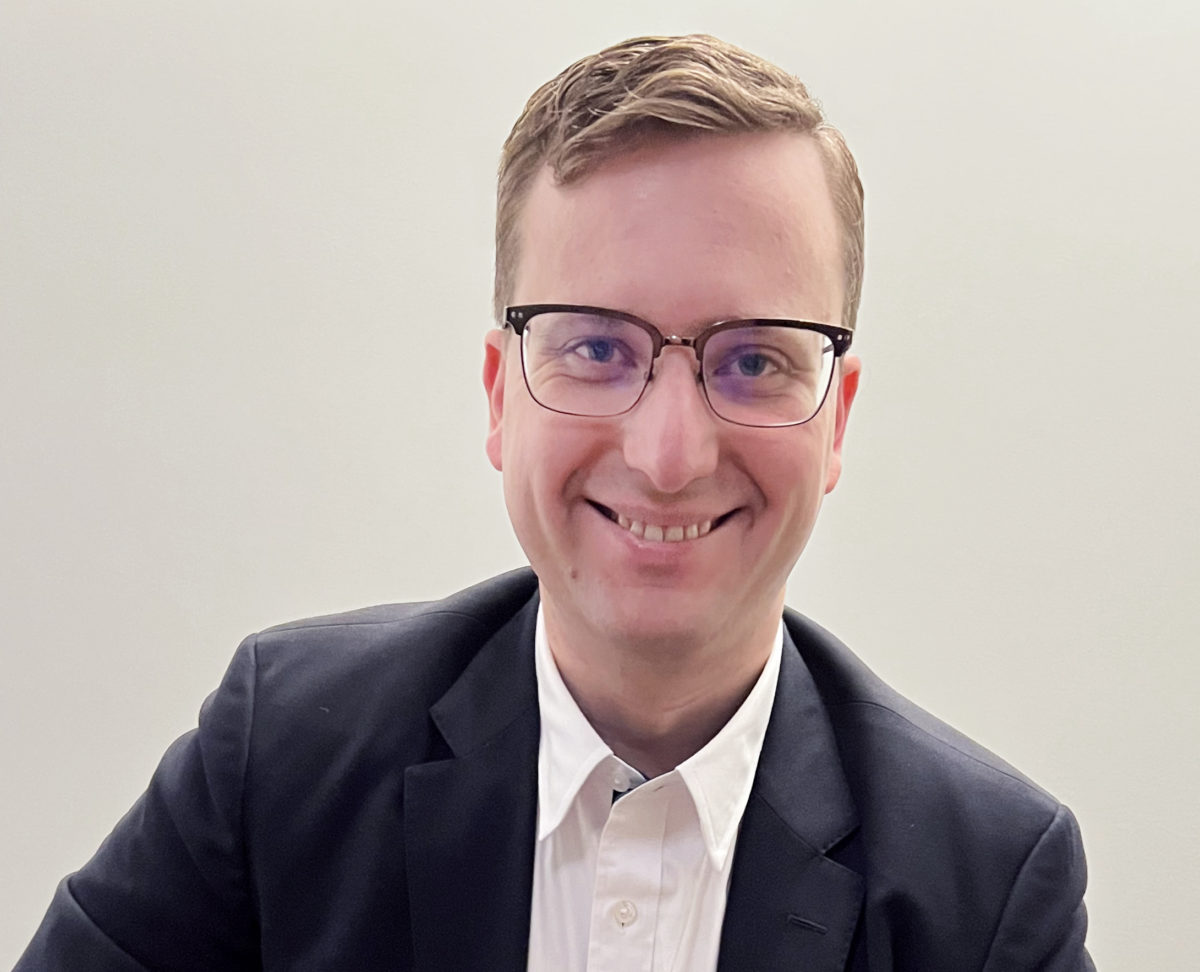 Alpha Epsilon Pi (AEPi), the prominent Jewish fraternity, named Chicago native Rob Derdiger as its new chief executive officer, reports eJewishPhilanthropy's Esther Kustanowitz. Derdiger succeeds former CEO Jim Fleischer, who died in October following a three-year battle with cancer. Founded in 1913, AEPi has more than 100,000 living alumni; there are 6,000 current undergraduate AEPi members on 160 different campuses.
A challenging time: Derdiger takes the helm of the fraternity at a challenging time for Jewish students, who face increasing hostilities around Israel issues on their campuses, and amid an uptick in antisemitic incidents nationwide.
Fraternity and philanthropy: Derdiger called philanthropy a "key element and a core element of our Judaism and our Jewish identity," adding that AEPi's goal is "to help inspire and create philanthropic individuals. We want our members to come out of college knowing more about philanthropy, and specifically about Jewish philanthropy, knowing how to identify what causes are important to them and how to engage in philanthropic work." Each chapter participates in its own philanthropic efforts, with support, resources and training from the national fraternity. "Ultimately, the chapters and the members are the ones that are in the learning laboratories on campus, and they are doing it themselves often for the first time," he added. "The more you give, the more you get back, as I think with all things in the Jewish community."
Measuring impact: One of Derdiger's goals – which he developed with Fleischer – was for AEPi to be more data-driven, he told eJP, noting that data collection and member education are among the priorities moving forward. "I want AEPi to be not only the best fraternity, not only the best Jewish student organization, but among the top Jewish organizations in the world, to make sure that the things that we say we do, the things that I know impacted me and continue to impact me, are impacting every single one of our our members and impacting them throughout the course of their life… Today there are more Jewish men on campus than ever before in history. And the opportunity for AEPi is incredibly large to make sure that those students are part of the Jewish community and part of the Jewish conversation."
education and awareness
The time is now to get serious about safety
"Over the last 36 hours, our Jewish communities have had multiple opportunities to come together to support one another and our friends in Colleyville, Texas, utilizing the platforms we have all come to know well during the COVID-19 pandemic…
On a Zoom Sunday hosted by the Secure Community Network and Anti-Defamation League, there was one significant takeaway: lots of new staff and change through the pandemic has left us vulnerable," writes Jason Plotkin, program director of Congregation Emanu El in Houston, in an opinion piece for eJewishPhilanthropy.
Changing staff and changing building use: "The turnover of staff not only in the nonprofit space but across the business sector is well documented. It is called 'The Great Resignation.' … But the change facing our houses of worship and Jewish institutions is not limited to personnel… How many of us have changed the hours and days we are open, particularly as we have gone forward and back with being in-person, working from home or some combination of the two?"
More changes: "How many of our schools have changed the way they do things such as carpooling in an effort to limit the extra bodies in the building and keep our children safe? And how have we altered the way we utilize spaces, perhaps placing meetings in unusual spots or moving our services to larger spaces to allow social distancing? As we have navigated these changes with both personnel and some of the examples above, we have likely put things such as security training on the back burner."
A time to reassess: "Our minds have been lost in updating COVID protocols, taking on additional responsibilities that we never knew were needed and training new staff members… Saturday's hostage incident in Colleyville provided a chance to assess our Jewish institutions' vulnerabilities."
Worthy Reads
Hollywood Headache: Rolling Stone's Tatiana Siegel looks at the controversy surrounding the newly opened Academy Museum of Motion Pictures, which omitted the stories of Jewish refugees who pioneered the film industry in Los Angeles. "Haim Saban, who made a $50 million donation to the museum with his wife Cheryl — the single largest gift to the institution — was one of those with influence who spoke up. 'Cheryl and I firmly believe that the Jewish contributions to the film industry, from its founding to today, should be highlighted,' he tells Rolling Stone. 'We shared our perspective with the Academy Museum's management and appreciate that they are taking our feedback seriously.'" [RollingStone]
Open Season? On Substack, Daniel Gordis highlights a spate of recent incidents that have thrust the Jewish community — and Israel — into the spotlight and drawn accusations of antisemitism. "Why is it not surprising? Because it's relentless, week in and week out, directed at Jews or directed at Israel. From the left and from the right. From [David] Bateman to [Andrew] Sullivan to Big Duck, each different in myriad ways, the chiseling and attacking is relentless. (And we haven't so much as mentioned Colleyville.) It's not surprising. And truthfully it's no longer all that shocking, either. It's hunting season. Recognizing that might help explain some things that this little country of ours does that get people incensed. Sometimes we're right, sometimes we're wrong. But what animates Israel is the fact that long ago, because we were fashioned in Herzl's image, this was a place that cultivated 'the ability to spot danger in time.' And that has made all the difference." [Substack]
Community Comms
Be featured: Email us to inform the eJP readership of your upcoming event, job opening, or other communication.
Word on the Street
eJewishPhilanthropy has been recognized as one of the top 20 philanthropy magazines and publications, based on traffic, social media followers, domain authority and freshness…

Imam Abdullah Antepli joined Jewish Insider's "Limited Liability Podcast" for a special episode in the wake the Colleyville attack. Antepli issued a plea for the North American Muslim community to consider the antisemitism in its midst…
The recently expanded Ramat Gan Museum of Israeli Art suspended operations last week after failing to reach a compromise with 47 artists who asked to withdraw from its inaugural exhibition…
Hebrew Union College-Jewish Institute of Religion's School of Education launched the inaugural yearlong Teaching Impact Fellowship…
Audra Berg has been appointed president & CEO of The Jewish Federation of Broward County, Fla., effective Feb. 14…
The Laurie M. Tisch Illumination Fund awarded grants to 14 New York City-based organizations working to expand access to mental health services…
The University of Pennsylvania received an $18 million gift from Scott Shleifer and his wife Elena to support a program that offers resources to first-generation college students…
Dartmouth College in Hanover, N.H., announced a $40 million gift from a donor who wishes to remain anonymous, that will allow the college to expand its longstanding need-blind admissions policy to include international students…
The Bill & Melinda Gates Foundation committed $50 million in support of a new antibody research initiative with the potential to impact HIV treatment and the prevention of malaria…
The Ann & Robert H. Lurie Children's Hospital of Chicago received a $6.45 million gift from members of the Pritzker family to support the Pritzker Department of Psychiatry and Behavioral Health…
Rabbi Israel "Sy" Dresner, one of the earliest Freedom Riders in the 1960s, died at 92…
Pic of the Day
Repair the World's Crown Heights Leadership Cohort along with Brooklyn volunteers clearing and filling the Classon Community Fridge in Prospect Heights on Martin Luther King Jr. Day.
Birthdays
Baltimore-born basketball player, dubbed by Sports Illustrated as the "Jewish Jordan" in a 1999 feature, Tamir Goodman…
Israeli businessman and former member of the Knesset, Shlomo Eliahux… Founder and executive chairman at PodcastOne, he also founded Westwood One, Norman Pattiz… Retired executive director of the Israel on Campus Coalition of Greater Washington, Judy Novenstein… Publisher of a weekly community newspaper in Boston, David Jacobs… Senior editor at The 74 Media, JoAnne Wasserman… Microbiologist and professor of biology at Wichita State University, Mark A. Schneegurt… 2016 presidential candidate and former governor of Maryland, Martin O'Malley … President of Aspen Square Management, Jeremy Pava… Strategic advisor for Olami, Rabbi Yitz Greenman… Journalist and author, Beth Kobliner… Senior rabbi of Golders Green United Synagogue in London, Rabbi Dr. Harvey Belovski… VP of government and airport affairs at JetBlue Airways, Jeffrey Goodell… Former MLB All-Star and Gold Glove catcher, now a real estate investor, Mike Lieberthal… VP for communications and government affairs at Princeton University, Gadi Dechter… Samara Yudof Jones… Actor and screenwriter, best known for his role in the CBS sitcom "How I Met Your Mother," Jason Jordan Segel… Known for his web series "Jake and Amir" (with Jake Hurwitz), Amir Blumenfeld… Chief advancement officer at the Jewish Federation of Broward County, Fla., Stacey Rubenfeld… Deputy political director of the Midwest Region of AIPAC, Talia Alter… Pitcher for the Atlanta Braves with the most NL wins in the past three seasons, Max Fried… Linda Rubin…
Email Editor@eJewishPhilanthropy.com to have your birthday included.