Your Daily Phil: Arthur Dantchik stops funding Kohelet Forum + Jewish groups help NYC migrants
Good Friday morning!

In today's edition of Your Daily Phil, we report on Jewish groups' efforts to assist the record number of migrants who have arrived in New York City over the past year, and feature opinion pieces from Julie Platt and Jeremy J. Fingerman, and Erica Brown. Also in this newsletter: Courtney Tessler, Luc Bernard and Damar Hamlin. We'll start with Arthur Dantchik ending his financial support for the Kohelet Policy Forum.

For less-distracted reading over the weekend, browse this week's edition of The Weekly Print, a curated print-friendly PDF featuring a selection of recent Jewish Insider and eJewishPhilanthropy stories, including: Jewish-led initiative helps 450 Afghan girls, women get to Canada after U.S. withdrawal; Delaware congressional candidate Sarah McBride casts herself as a staunch supporter of Israel; On Loop, an ancient matchmaking tradition becomes modern; Meet the Israeli actress telling the story of Israel's creation – on Netflix.Print the latest edition here.

Jewish American businessman and philanthropist Arthur Dantchik has stopped funding the Kohelet Policy Forum think tank, the institution that developed many of the core aspects of the government's proposed judicial overhaul, and is calling for "healing and national unity" in Israel, according to the Israeli financial newspaper Calcalist, reports eJewishPhilanthropy's Judah Ari Gross.

In a statement, the billionaire Dantchik, co-founder and managing director of the financial services firm Susquehanna International Group, said he was halting his donations to "think tanks in Israel, including the Kohelet Policy Forum."

The Kohelet Policy Forum refused to discuss the matter, telling eJP, "We do not comment on individual donors." Dantchik is the organization's largest donor, having reportedly provided tens of millions of shekels to the group over the years. The Kohelet Policy Forum, which was founded in 2012, is one of Israel's largest and most influential right-wing think tanks, employing dozens of researchers and lobbyists and maintaining close ties with politicians from the Likud and Religious Zionism parties in particular.

Dantchik has faced significant criticism for his support for the Kohelet Policy Forum. Earlier this year, an Israeli protest group took out a full-page advertisement in his local Jewish newspaper, the Philadelphia-area Jewish Exponent, calling for him to "get [his] hands off our democracy." Israelis and American Jewish supporters have also protested outside his home.

It was not immediately clear if Dantchik's cessation of funding Israeli think tanks includes groups like the Shalom Hartman Institute, which he has also supported. The Shalom Hartman Institute responded: "No comment."

Read the full story here.
Love the stranger
Jewish groups step up as NYC declares no more shelter space for migrants
As New York City runs out of room in shelters to house the tens of thousands of asylum seekers that have poured into the city in the last year, Jewish groups are scrambling to ramp up their resources and help find temporary shelter, reports eJewishPhilanthropy's Haley Cohen. This Shabbat marks one year since the halls of New York's Port Authority Bus Terminal turned into a makeshift immigration center when Texas Gov. Greg Abbott began busing asylum seekers to New York City.

One year later: But just before the Aug. 5 anniversary, New York City Mayor Eric Adams announced last weekend that the city's shelters are full. Adams, who has offered no explanation for the situation, has called for state and federal assistance. "This situation has totally broke down," Alexander Rapaport, executive director of Masbia, a kosher food pantry and soup kitchen that has been helping migrants, told eJP. "There are only so many beds you can take over and more and more people arrive. No one wants to allow their school gymnasium to become a shelter. For us to sustain what we do, there needs to be an appetite from donors."

Memories of our past: Rabbi Marisa Elana James, director of social justice programming at Congregation Beit Simchat Torah (CBST) in Manhattan, the world's largest LGBTQ synagogue, said she is inspired to help asylum seekers — particularly those from the LGBTQ community — from a Jewish perspective and her family's history. "I think about my own great-grandparents coming to New York and they had very little support," she told eJP. "Our entire story that we tell every year from the Torah is a story of leaving one place to another and rebuilding a life elsewhere, whether it's Abraham or the Exodus from Egypt. And throughout history, every single Jewish family has some story of dislocation."

Read the full story here.
Camp connections
Building the Jewish future one bunk at a time
"Prominently displayed on the wall of the dining room at Camp Ramah in the Poconos is a colorful illustration of a tree with leaves bearing the names of donors. 'As others have planted for me, so shall I plant for future generations,' reads the accompanying Talmudic quote. The sign reminds us that summer camp does indeed create a deep and lasting commitment to the Jewish future," write Julie Platt, board chair of Jewish Federations of North America, and Jeremy J. Fingerman, CEO for the Foundation for Jewish Camp, in an opinion piece for eJewishPhilanthropy.

Especially now: "At a time of rising concern about the fraying ties to Jewish community on the part of the younger generations, it is critical that we elevate Jewish camping in the broader philanthropic Jewish community, and work to convey the message that Jewish camps are essential in building Jewish identity, creating lifelong Jewish friendships and nurturing future Jewish leaders. The immersive camp experience was transformative for both of us – and for our own children – in terms of developing our sense of confidence, independence and commitment to Jewish life and community, and we need to bring this experience to as many children as possible, far beyond the 20% that currently attend a Jewish overnight or day camp."

Good all around: "Adults who attended camp in their youth were significantly more connected to the Jewish community, involved in Jewish causes and more likely to donate their time and resources to Jewish organizations. Subsequent studies have consistently affirmed these results. In addition, Jewish camps help young Jews to develop a strong connection to Israel. This summer, a record number of over 1,500 Jewish Agency for Israel shlichim (emissaries) are teaching Hebrew and bringing Israeli culture to young campers."

Read the full piece here.
The Torah of Leadership
Leadership and the destination postcard: Thoughts on Parshat Ekev

"In this week's Torah reading, Ekev, we are given a beautiful set of images to describe the Land of Israel: 'Your God is bringing you into a good land, a land with streams and springs and fountains issuing from plain and hill; a land of wheat and barley, of vines, figs, and pomegranates, a land of olive trees and honey; a land where you may eat food without stint, where you will lack nothing; a land whose rocks are iron and from whose hills you can mine copper' (Deuteronomy 8: 7-9)," writes Erica Brown, vice provost for values and leadership at Yeshiva University and director of its Rabbi Lord Jonathan Sacks-Herenstein Center, in her weekly column for eJewishPhilanthropy, "The Torah of Leadership."

Something to look forward to: "The people listening knew they had traveled a long way through different places symbolized by food. They reminisced about the foods of Egypt, but the taste of this food was, by and large, bitter…. Now, so close to the finish line of this trek, Moses gave them a new set of foods and a new set of hopes. The Land of Israel is a place of sweetness, not bitterness… Moses offered the Israelites what leadership experts Dan and Chip Heath call a 'destination postcard' in their book Switch: How to Change Things When is Hard."

Share the wealth: "We conclude with a challenge, then and now. Once the Israelites were settled, safe and productive in their own land, would they remember the tastes of slavery enough to see and address poverty and pain in others still suffering? In his Haggadah, Rabbi Jonathan Sacks reminds us that, 'We cannot enjoy the food of affluence while others eat the bread of affliction. We are not fully free if others are oppressed.' As we read this parsha, it's a good time to think about those who struggle to put food on their tables and consider volunteering at a shelter or donating to a local food pantry. When we have more than enough, it's time to help those still embittered by the taste of hunger."

Read the full piece here.
Worthy Reads
Better for Some, Not Better for All: In Candid's Philanthropy News Digest, Rachel Schnoll, CEO of the Jewish Communal Fund, and Steven Green, a senior program officer at the Jim Joseph Foundation, reflect on the ongoing effects of inflation on nonprofits. "As two funder representatives in the nonprofit sector, we have seen the negative impact of high inflation in recent years on the charitable organizations we hold dear. Thankfully, funders are stepping up to help grantees manage rising costs. But more needs to be done — especially as people are getting used to inflation… grantee organizations in various issue areas continue to grapple with the negative effects of inflation on their budget. Immersive travel programs, for example, face increased airfare and other travel expenses. Overnight camps face rising tuition costs of 6 to 8 percent. Jewish community centers face increased program and maintenance costs. At the same time that social service agencies are experiencing increased demands at their food banks and shelters, the cost to provide these services has increased significantly." [Candid]

Misunderstanding the Holocaust: In The Times of Israel, Charlie Summers interviews Yehuda Bauer, the doyen of Holocaust historians. "At 97, Israel's preeminent Holocaust historian… is keeping busy in his home in Jerusalem's tranquil Beit HaKerem neighborhood. Shouldering the workload of a much younger man, he's translating documents for Yad Vashem while working on a new book he expects to be out by next year… The looming question of whether the Holocaust will be remembered by future generations, a concern of the organized Jewish community for decades, doesn't seem to bother Bauer. He's more worried about its misrepresentation. 'The memory of the Holocaust is being preserved, very often in a bad way, with misunderstandings, wrong conclusions and wrong analyses. But it's always there,' he said." [TOI]
Around the Web
Representatives from dozens of civil society groups, including several Jewish organizations such as the Anti-Defamation League, National Council of Jewish Women and HIAS, have signed a letter to congressional leaders on the fourth anniversary of the deadly shooting in El Paso, Texas, calling on them to "unequivocally denounce white supremacist, anti-immigrant rhetoric and its use by members of Congress, and encourage members of your caucuses to refrain from using this dangerous rhetoric"…

Second Gentleman Doug Emhoff visited NYJ Camps in Pennsylvania yesterday, the camp he attended as a child, where a soccer field was named after him…

The Greenville, S.C., Jewish Federation hired Courtney Tessler, a board member since 2015, as its inaugural CEO…

A virtual Holocaust museum, "The Voices of the Forgotten," is being created inside the Fortnite video game by game designer and artist Luc Bernard…

Jewish groups in the United Kingdom are again calling for the Islamic Revolutionary Guard Corps to be labeled a terrorist organization after members of the Iranian military group have been allowed to speak on university campuses…

Damar Hamlin, a safety for the Buffalo Bills NFL team, is partnering with a company, B Generous, that allows funders to "donate now, pay later," which is meant to make it easier to give money to charity online…
Pic of the Day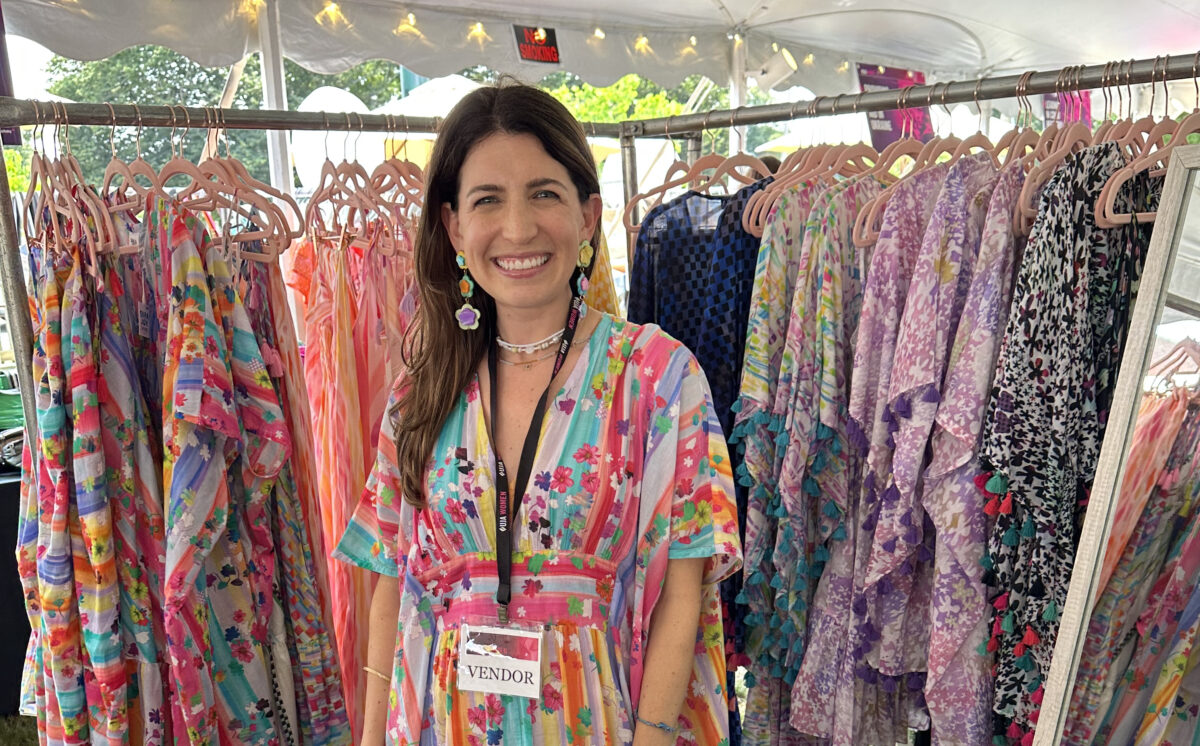 Fashion designer Sara Annapolen stands in front of her racks of clothes at UJA-Federation of New York's annual trunk show yesterday at the Bridgehampton Historical Society on Long Island. The event, which has run for more than a dozen years, featured 60 vendors selling designer clothing, jewelry, home goods and more. Twenty percent of all sales benefit UJA.

Annapolen told eJewishPhilanthropy's Haley Cohen that UJA's mission is important to her because "raising Jewish children in this crazy world feels scary at times. This is a way to support the Jewish people and show my kids that."
Birthdays
Chairman of The New York Times Company and publisher of The New York Times, Arthur Gregg (A.G.) Sulzberger…

FRIDAY: Professor emerita of American history at Yeshiva University and Stern College, she is an expert on the history of McCarthyism, Dr. Ellen Wolf Schrecker… Talmudic scholar and a leader of New York's Sephardic Jewish community, Rabbi Eliyahu Ben Haim… President at Salco Mechanical, Michael Salzberg… Philanthropist and board chair of the Jewish Funders Network, Marcia Riklis… SVP and chief growth officer at the NYC HQ of the Anti-Defamation League, Frederic Lewis Bloch… Former Ashkenazi chief rabbi of Israel, Rabbi Yona Metzger… Retired professor in Memphis, Sheldon Dan… Longtime member of the Knesset for Likud including multiple ministerial positions, Silvan Shalom… Executive producer of "Live with Kelly and Ryan," Michael Gelman… 44th president of the United States, Barack Obama… Mayor of Chicago until three months ago, Lori Lightfoot… Attorney general of Minnesota, Keith Ellison… Administrative manager at Edelman, Helen Lapkovsky… Global editorial director for PwC and editor-in-chief of PwC's management magazine strategy+business, Daniel Gross… Editor-In-chief of Cuepoint at Medium, he is known as Shecky Green, Jonathan Miles Shecter… U.S. representative (D-NY) and the minority leader of the House, Hakeem Jeffries… Chief political correspondent for Fox News, Bret Baier… Broadcast meteorologist at WJLA-TV in Washington, D.C., Steven Rudin… Washington director of Bend the Arc Jewish Action, Rabbi Jason Kimelman-Block… Director-general of the United Nations Educational, Scientific and Cultural Organization (UNESCO), Audrey Azoulay… Columnist and senior editor at Politico, Michael Schaffer… Founder and president of Democracy: A Journal of Ideas, and former White House speechwriter, Andrei Cherny… SVP and head of the D.C. office of Team Lewis, Caren Beth Auchman… CEO of Something Major, a leadership coaching and advisory firm, Randi Braun… Assistant director in the geostrategic business group at EY-Parthenon, Ben-Ari Boukai… CRO and co-founder at Riverside[dot]fm, Jonathan Keyson… Placekicker for the NFL's Minnesota Vikings, Greg Joseph… Natalie Roberts… Evelyn Murphy…

SATURDAY: Former New York State senator for 34 years, now of counsel at Ruskin Moscou Faltischek, Manfred Ohrenstein… Chairman of Delphi Capital Management, Robert Rosenkranz… Former Israeli ambassador to France and former minister of health, Yael German… Author of many nonfiction books, including The Portable Curmudgeon, Zen to Go and Advice to Writers, Jon Winokur… Historian, Nazi hunter and director of the Simon Wiesenthal Center in Jerusalem, Efraim Zuroff… Banker, once known as "Austria's woman on Wall Street" and founder of Bank Medici, Sonja Kohn… Former Soviet refusenik, he served as speaker of the Knesset for seven years, Yuli-Yoel Edelstein… Intellectual property and entertainment attorney based in Ithaca, N.Y., Howard Leib… Member of the British House of Lords, he was chief executive of the Office of the Chief Rabbi Lord Sacks and then chief executive of the United Jewish Israel Appeal, Baron Jonathan Andrew Kestenbaum… Songwriter, author, political columnist and noted baseball memorabilia collector, Seth Swirsky… Murray Huberfeld… Chair of the department of Jewish history at Baltimore's Beth Tfiloh Dahan High School, Neil Rubin, Ph.D…. Actor who starred in "Weekend at Bernie's," his father and grandfather were both rabbis, Jonathan Elihu Silverman… President at ConservAmerica, Jeffrey Kupfer… Former member of the Knesset for the Kulanu party, Roy Folkman… Director of the Center for Middle East Policy at The Brookings Institution, Natan Sachs… Investment and foundation manager at Denver-based Race Street Management and a board member of JFNA, Cintra Pollack… VP of government affairs at WISPA, Matt Mandel… Former director of responsible innovation at Meta / Facebook, now a congregational rabbi, Zvika Krieger… Member of the comedy duo Jake and Amir, Jacob Penn Cooper Hurwitz… Longtime member of the Israeli national soccer team who also played in Europe's UEFA Champions League, Gil Vermouth… Senior manager of validation at Menlo Labs, Lila Cohn… Product engineer at Platform[dot]sh, Abby Milberg… Recent graduate of Harvard Law School, Michael E. Snow… State affairs advisor at the Johns Hopkins Center for Gun Violence Solutions, Lisa Geller… Leslie Saunders… Program officer, Schusterman Fellowship at Charles and Lynn Schusterman Family Philanthropies, Anyu Silverman… National director of communal relations at J Street, Sam Berkman…

SUNDAY: Century City-based partner at the Jaffe Family Law Group, Daniel J. Jaffe… E-sports executive and casino owner, he is a three-time winner of the World Series of Poker, Lyle Berman… Founder and spiritual leader of The Elijah Minyan in San Diego, Wayne Dosick… Professor emerita and former dean at Bar Ilan University, Malka Elisheva Schaps… Austrian businessman with many U.S., Israeli and Eastern European investments, Martin Schlaff… Former state Treasurer of Virginia and then Virginia secretary of finance, Jody Moses Wagner… Professor of public diplomacy at The Fletcher School of Tufts University, she was formerly under secretary of state for public diplomacy, Tara D. Sonenshine… Professor of psychiatry at The George Washington University Medical Center, Alan J. Lipman, Ph.D…. Israeli diplomat who previously served as Israel's consul general in NYC, Alon Pinkas… NASA astronaut who spent 198 days on the International Space Station, he brought bagels from his family's bagel store in Montreal into space on his first mission into orbit, Gregory Chamitoff… Chair of White & Case's white collar practice group, Joel M. Cohen… VP of public affairs and strategic communications at the American Council on Education, Jonathan Riskind… CEO of Elluminate since last month (formerly known as the Jewish Women's Foundation of New York), Melanie Roth Gorelick… Recent vice-chair of the board of directors at the Jewish Community Federation of San Francisco, Susie Sorkin… Television and radio sports anchor on ESPN and ABC, Mike Greenberg… Chief economist at The Burning Glass Institute, Gad Levanon, Ph.D…. Former boxing commentator and co-host of ESPN's "This Just In," Yiddish-speaking Max Kellerman… Co-founder and former CEO of Uber, Travis Kalanick… E-sports executive and casino owner, he is a three-time winner of the World Series of Poker, Lyle Berman… Actress, director and screenwriter, Soleil Moon Frye… PR consultant, Jeffrey Lerner… Chief creative and culture officer at an eponymous firm, Rachel Gogel… Winner of two gold medals in swimming at the 2008 Summer Olympics in Beijing, Garrett Weber-Gale… Special assistant to the assistant secretary of defense for space policy, Corey A. Jacobson… VP and head of content at Embodied, Jessica I. Goldberg… Reporter at the San Antonio Express-News, Elizabeth Teitz… School safety activist and former student at Marjory Stoneman Douglas High School, Hunter Pollack…

BIRTHWEEK: Journalist and former congressional candidate, Matthew Foldi (was Thursday)…