The Babyn Yar Holocaust Memorial Center (BYHMC) has launched a traveling art exhibition which commemorates the victims of the Babyn Yar massacre in Ukraine during September 1941, one of the largest mass-killings of Jewish people by the Nazi regime during the Holocaust. The exhibition, which has opened to coincide with International Holocaust Day, was formally launched this morning by Natan Sharansky during a private event at the House of Commons hosted by Mike Freer MP.
The exhibition will open to the public at JW3 in London on Monday 4th February running until Thursday 28th February.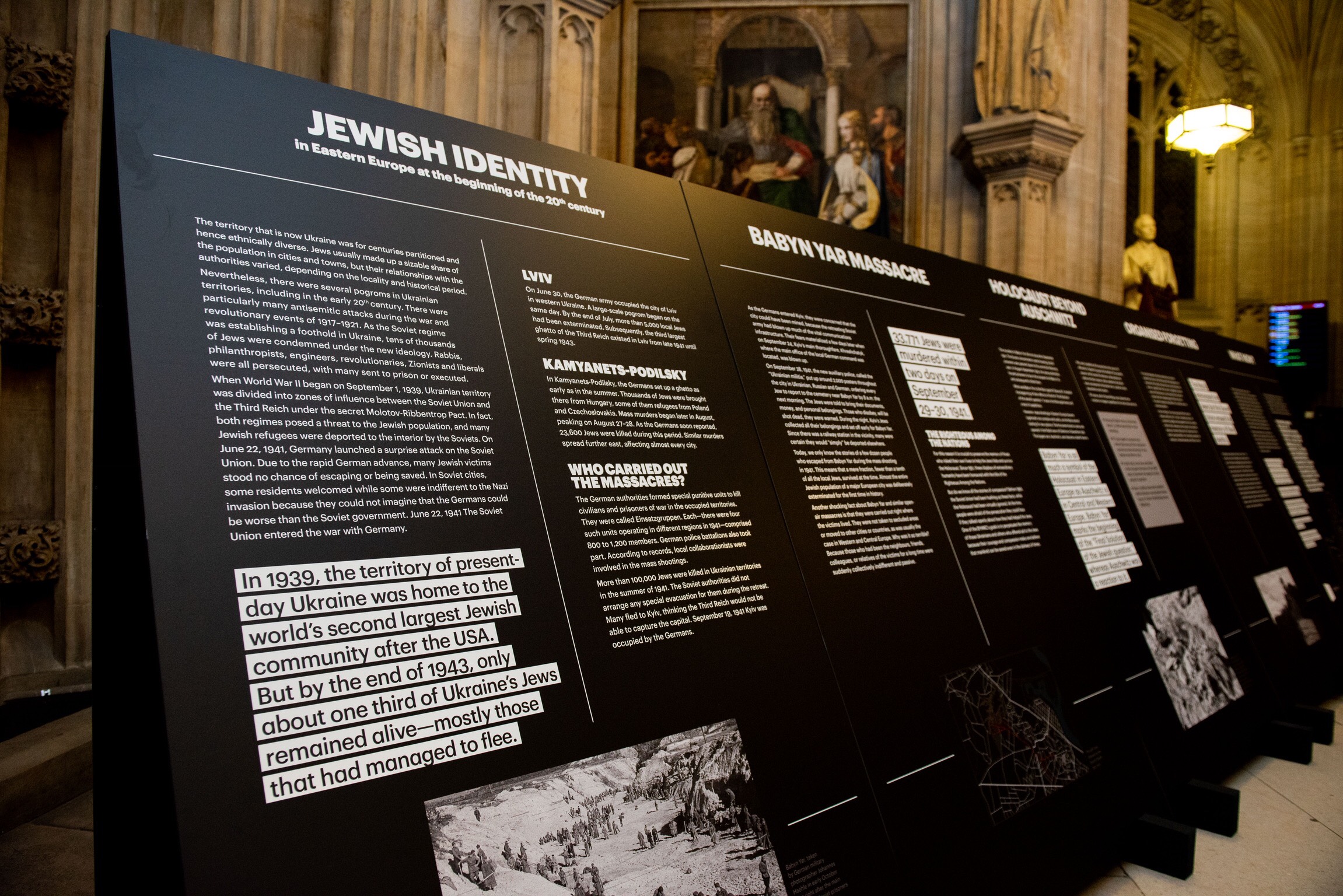 The BYHMC has developed this travelling exhibition to build support for its mission and to educate people about the tragic events of Babyn Yar, a widely under-told story. The exhibition consists of educational posters which provide an overview of the massacre, which international scholars estimate led to the murder of over 100,000 Jewish people, with nearly 34,000 shot over the course of two days alone (September 29th – 30th 1941). There were also non-Jewish victims of the massacre, including Roma people, psychiatric patients, Ukrainian nationalists, political prisoners and underground fighters.
Both internationally and in Ukraine itself, many people remain unaware of the scale and impact of this massacre – which is accepted by historians and scholars as one of the largest mass-killings during the Holocaust. The BYHMC aims to use the exhibition to call for greater awareness of the events that occurred at Babyn Yar, and use the tragedy's legacy to educate audiences on the human rights violations that are occurring today.
The Babyn Yar Holocaust Memorial Center is a nonprofit educational institution that documents and commemorates the Holocaust, in particular the Babyn Yar mass shootings of September 1941. The term Babyn Yar itself refers to a ravine in the Ukrainian capital of Kyiv, which was the site of the massacres carried out by the Nazi regime and Ukrainian collaborators. Whilst the Babyn Yar tragedy is a reference to the massacres carried out in the ravine itself, the Nazi occupation of Ukraine lasted for more than two years, from September 1941 – November 1943.
On the 75th anniversary of the massacre in 2016, a founding group of world-renowned philanthropists (Mikhail Fridman, Pavel Fuks, German Khan, and Viktor Pinchuk) came together with prominent Ukrainian politicians (the President of Ukraine, the Prime Minister of Ukraine and the Mayor of Kyiv) to sign a declaration of intent, establishing the Babyn Yar Holocaust Memorial Center.
As this project plays an essential role for the European and international community, today among people who sit on the BYHMC's Supervisory Board are prominent leaders and politicians like Irina Bokova, Director-General of UNESCO (2009 – 2017); Aleksander Kwasniewski, President of Poland (1995-2005); Joe Lieberman, U.S. Senator Connecticut (1989 – 2003); Joschka Fischer, Foreign Minister and Vice Chancellor of Germany (1998 – 2005), and others. The Supervisory Board of the BYHMC is chaired by the Soviet dissident and human rights activist, Natan Sharansky.